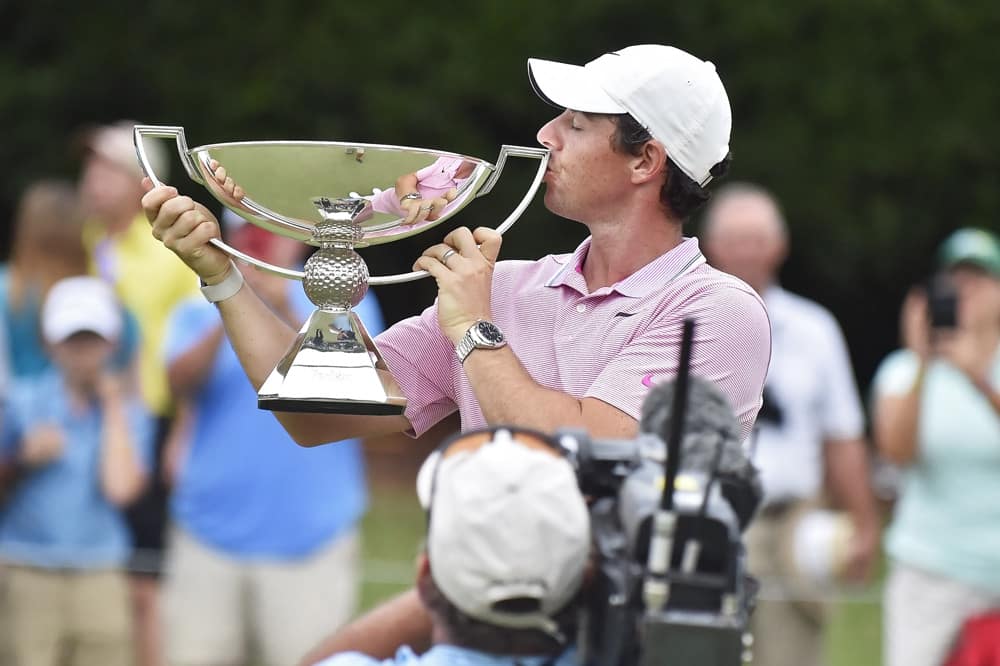 Though it looked in March that the PGA Tour would never get here, we've finally made it to East Lake Golf Club as the Top 30 players in the FedEx Cup Standings tee it up Atlanta, GA. It's time for the Tour Championship Golf Preview.
Here's everything to know about the event before placing a single wager on it.
The Field
Leading the field in the FedEx Cup Standings as we head to East Lake is Dustin Johnson, who is absolutely on fire right now. Over his last four starts, Dustin Johnson has a win and two runner up finishes and has gained an unbelievable 2.45 strokes per round tee-to-green over that stretch. With the staggered leaderboard to start the Tour Championship, he'll begin the tournament at -10.
Right behind him on the leaderboard is Jon Rahm, winner of last week's BMW Championship after a scorching weekend to chase down the leaders. Rahm gained over seven strokes tee-to-green and over 4.5 strokes putting across Saturday and Sunday before draining a dramatic 66 foot birdie to defeat Dustin Johnson in the sudden death playoff. Rahm begins the Tour Championship at -8.
Here is how the rest of the field will start the tournament, which begins on Friday and ends on Labor Day:
Notable players who did not advance to East Lake include Tiger Woods, Jason Day, Adam Scott, Matthew Wolff, Bubba Watson, Louis Oosthuizen, Paul Casey and Matthew Fitzpatrick. We'll see all of them next in two weeks at the U.S. Open.
The Golf Course
East Lake Golf Club is the oldest golf course in Atlanta, and was the home course of the legendary Bobby Jones himself. While it was first built in 1904, it was redesigned by Donald Ross in 1913, adding yet another titan of the game to the Club's lore. Donald Ross redesigned both the No. 1 and No.2 golf courses on the property, with both nines ending at the clubhouse. Its status as a prestigious southern golf course was subsequently elevated, with the Club hosting numerous notable amateur tournaments as well as held the Ryder Cup in 1963.
Over the years, the reputation of East Lake Golf Club deteriorated due to suburban flight and a decay in the surrounding city neighborhood. This changed in 1993 when local businessman Tom Cousins purchased the Club with the intent to both inject capital into the surrounding neighborhood to revitalize it, as well as restore the golf course to the original Donald Ross design. Cousins brought in Rees Jones in 1994, the son of Robert Trent Jones and responsible for redesigns such as Torrey Pines and Bellerive Country Club, who lengthened the golf course, re-positioned and re-shaped the bunkers and restored the greens to the original Donald Ross specs.
This was enough to attract the PGA Tour to bring its Tour Championship (which at that time was played in the fall) to East Lake in 1998, and starting in 2005 it became the permanent home of the season finale of the PGA Tour: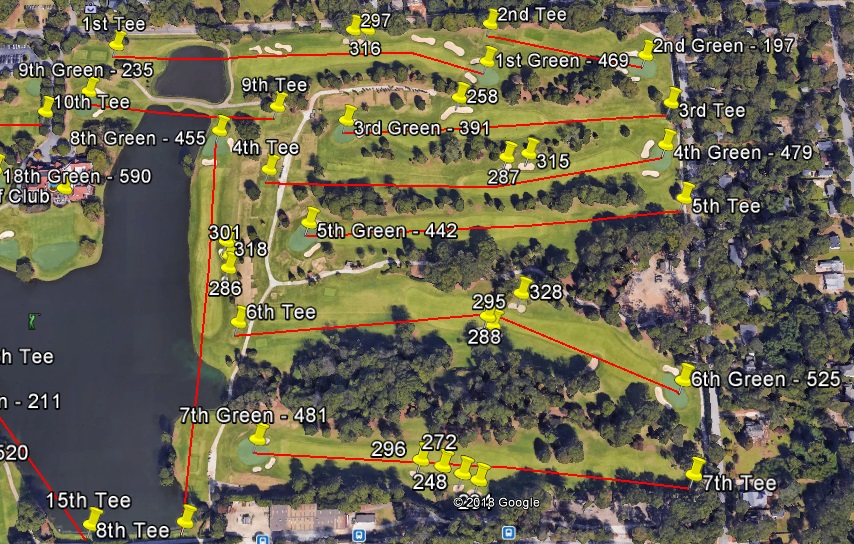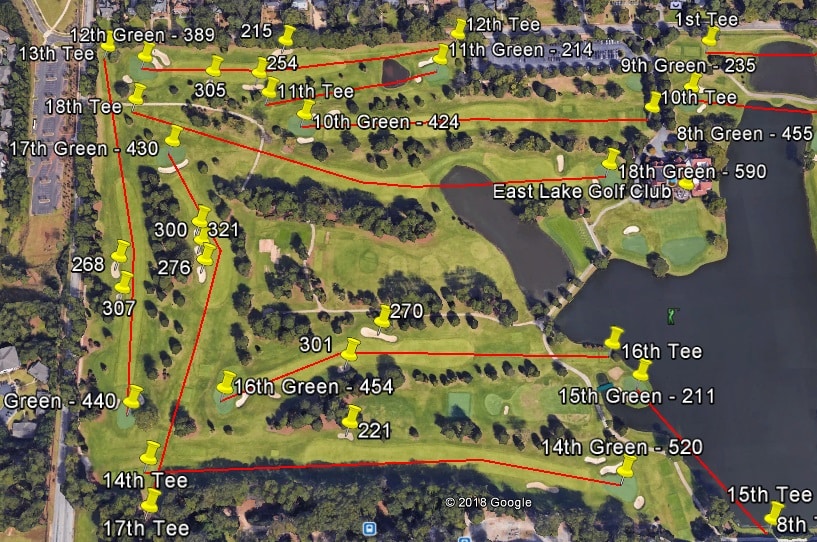 The property essentially sits in a giant bowl, with both the front and back nines playing uphill starting at East Lake to the far eastern and western edges of the property. Most of the hallmark Donald Ross design features are here. Narrow fairways, strategically placed fairway bunkers, thick bermuda rough and dog legs make the golf course a demanding one off the tee. The greens have good undulation to it as well, meaning that while being in the rough at East Lake isn't all that penalizing players need to be at least on the correct side of the fairway to be able to fire at certain pin locations. However, Rees Jones didn't do that great of a job restoring the greens surrounds, which aren't as dynamic and challenging as how other architects have redesigned Donald Ross golf courses.
In past columns, one of my biggest gripes about the Tour Championship has been the fact that East Lake Golf Club is the permanent host. It has a great story, both with its history and its comeback to relevance, however there's nothing that really wows me about the place. And in my mind, if I wanted to put my season ending finale on showcase wouldn't I want to try and host it on some of the best and visually interesting golf courses in America? The PGA Tour clearly wants this event to be its Super Bowl, so why not create a rotation every year to the best of the best golf courses in America to really make this event shine?
But I'm done ripping on the place, because I have a new whipping boy that draws most of my ire on this event – the format of this "playoff".
The FedEx Cup Playoffs never seem to have gotten this format right. For years, the event had a convoluted points system that even a CPA has a hard time keeping track of shot to shot (including me, who by day is a CPA). For many years, it created scenarios that the winner of the Tour Championship didn't necessarily win the FedEx Cup, an embarrassing situation for a sport that wants to create a Championship for its playoffs. It tried to rectify it a bit by resetting the points system to ensure that if someone entering the Tour Championship in the Top 5 of the standings won at East Lake, they'd automatically win the FedEx Cup.
After once again seeing another golfer win the Tour Championship yet not come home with the FedEx Cup title, the PGA Tour completely blew up the points system with a whole new format. Points were scrapped at the Tour Championship in favor of awarding strokes to players to start the tournament. The leader of the FedEx Cup Standings entering East Lake would begin the tournament at -10, while 2nd-5th would start -8, -7, -6 and -5, respectively. 6th-10th would begin the tournament at -4, 11th-15th would begin at -3, 16th-20th would begin at -2, 21st-25th would start at -1 and 26th-30th would begin the tournament at level par. This would then ensure that whoever finished with the lowest score (including any head start strokes awarded) would win both the Tour Championship and win the FedEx Cup title.
I typically don't like to swear in this column unless it's for a good reason…but what the actual fuck is this shit? This is the PGA Tour's Grand Finale, and we're going to give players strokes at the beginning of the tournament like it's a goddamn Net Handicap Club Championship?!?! What a pile of steamy hot bullshit.
I'm not the only one who thinks this format is a pile of steamy hot bullshit. Do you know who else hates it too – the Board of the Official World Golf Rankings. They looked at this Net Handicap Club Championship and told the PGA Tour to stick it where the sun doesn't shine and announced that they wouldn't award any official world golf points rankings from the event. This ruffled the feathers of the PGA Tour, who ultimately agreed to maintain a "shadow leaderboard" that actually tracks who performed the best over the course of four rounds that can be provided to the OWGR to award world ranking points.
In plain English – what this means is they've created a situation where the PGA Tour could give one golfer credit for winning the Tour Championship, yet the OWGR will give the player with the lowest 72 hole score (without the head start) first place points for winning the Tour Championship and award them a victory in their database.
I know – batshit, mind numbingly stupid, right?
Thankfully, the PGA Tour avoided this nightmare scenario when Rory McIlroy won both the Club Net Championship and the Club Gross Championship in 2019. But let's say Jon Rahm and Dustin Johnson go head-to-head once again this weekend at East Lake and Jon Rahm shoots -12 over four rounds. If Dustin Johnson finishes one shot back of him then he is awarded the win while Jon Rahm accrues first place world rankings points in the Official World Golf Rankings.
But this nonsense, laughable format isn't the only huge problem with the FedEx Cup Playoffs. Overall, the biggest problem with this format is that it's not really a playoff. The PGA Tour also is caught in an identity crisis of what it values more – what happened in the playoffs or what happened in the regular season.
Case in point – take Dustin Johnson, the hottest player on the planet right now. What's Dustin Johnson's reward for winning at the Northern Trust and coming within a 66 foot birdie putt from Jon Rahm from winning both playoff events? Anywhere from 2-6 stroke lead over anyone in the Top 10 that could be easily overcome by just one bad round from Dustin Johnson. Gee, thanks for the advantage PGA Tour.
On the flip side of the coin, Marc Leishman has played absolutely horrendous golf of late. Leishman has missed 4 of his 8 cuts since the PGA Tour resumed in June, all his metrics are a mess and he just finished dead last at the BMW Championship with an aggregate score of +30. Woof. Yet there was almost never a doubt that Leishman wouldn't make it to East Lake and qualify for the Tour Championship because he recorded a win and a runner up back in February. That all but assured his place in the Tour Championship even though he played like an 8 handicapper last week.
In fact, only five players who won an event in this shortened PGA Tour season failed to make it to the Tour Championship. As for the other 20 different winners on tour this year (which happen to make up 2/3 of the field) they all comfortably made it into East Lake with very little doubt as to whether they would. If winners have about a 66% chance of making it to East Lake anyways, how is this tournament any different than the Sentry Tournament of Champions, other than the fact we're awarding strokes to certain players to try and rig the ultimate outcome?
Can we just cut all this nonsense and determine the Tour Championship by match play, which is a real elimination style playoff and one that wouldn't give an average sports fan an aneurysm if you tried and explained how the champion is crowned? I completely understand the PGA Tour's fear that match play might end producing a less-than popular finals with non-household names. But I think what the PGA Championship showed is that while the looming specter of a post-Tiger world looms, there are so many young and exciting players ready to take the torch. There hasn't been this much star power on the PGA Tour since probably the mid-1970's that it would be almost impossible not to have an intriguing final four players vie for the FedEx Cup.
And if the PGA Tour insists that it wants some insurance on the top names making it to the elimination bracket, then do 36 holes of stroke play with top players getting a few strokes as a built in advantage. Then they play over Wednesday and Thursday until we get to a Top 16, which would also provide for some great drama when 3 or 4 guys are left to fight for the last remaining spot in the bracket. After that, hold single elimination match play across Friday through Sunday until a champion is crowned.
But that would just make too much sense, right?
Betting Strategies
There are two ways to bet on this tournament. The first is to approach this tournament like any other one – a 72 hole stroke play event. Books will offer pre-tournament odds on the lowest 72 hole score of the tournament that excludes the staggered leaderboard start. That means assessing the golf course as is and what styles it suits.
Here's a plot chart from DataGolf showing what attributes historically are most important at East Lake: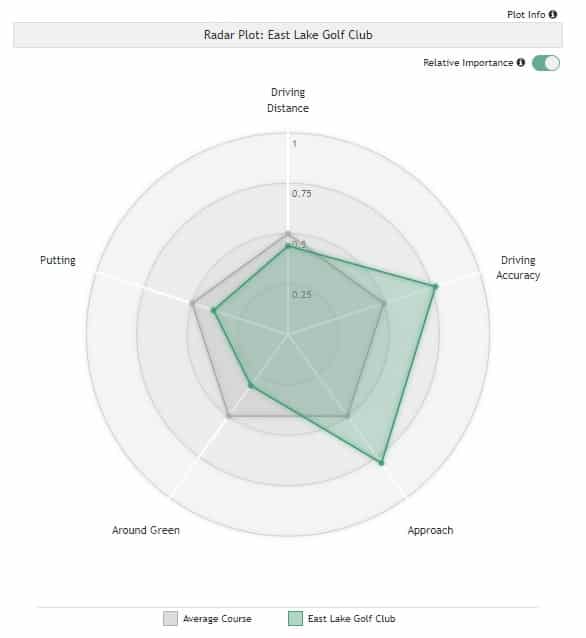 This plot chart isn't all that unusual for a Donald Ross type golf course. While it's always an advantage for a bomber at whatever golf course they go to, on Donald Ross tracks accuracy off the tee is quite important because hitting out of the fairway onto undulated greens is an advantage. If a player is going to miss a fairway it better be on the correct side of it, otherwise, they have no shot. And for the times they do get a good look at the green, one's iron play needs to be on point in order to access certain tucked pin locations for good looks at birdie.
One may make the mistake of looking at past winners of the Tour Championship and see a bunch of bombers win it. Rory has won the Tour Championship twice. Xander Schauffele won it as a rookie in 2017. And Justin Thomas and Tony Finau always seem to play well at East Lake. But all these guys not only hit the ball a long ways, but they also hit it relatively straight compared to other guys on the PGA Tour, or at least hit it in the general vicinity of where they need to hit it for the best looks at the green. In addition, recent winners of the Tour Championship also include Jim Furyk, Brandt Snedeker, Jordan Spieth, Henrik Stenson and Billy Horschel, who at the time of their victories were known more for their accuracy and iron play than with their distance off the tee.
Other golf courses with data plot charts similar to East Lake include TPC River Highlands, TPC Twin Cities, Innisbrook, Muirfield Village, TPC Deere Run, Sedgefield Country Club and Sea Island. Players in the field with strong histories on these golf courses include Bryson DeChambeau (though more from Svelte Bryson instead of Bulky Bryson), Billy Horschel, Hideki Matsuyama, Patrick Reed, Webb Simpson, Daniel Berger, Harris English, Kevin Kisner, Kevin Na, Rory McIlroy and Tony Finau. It's not a requirement to bet on any of these guys this week, but it provides a template of the types of players one should expect to fair well at East Lake.
The other way to bet on the event is who will win the Tour Championship itself. This includes the staggered leaderboard and the odds are adjusted accordingly to strongly favor those towards the top of the leaderboard to begin the tournament.
Bettors may look at a Dustin Johnson's 10 shot advantage over the last placed golfer and think it's not all that insurmountable, and toss out a lot of bets on a bunch of longshots. But the bettor would be ignoring both how the golf course scores as well as how this staggered scoring really does narrow down the list of winners to, at best, 10 players.
For starters, East Lake is a Par 70 golf course with only two Par 5's, so right off the bat there goes two holes with both significant birdie and eagle opportunities to try and make up the deficit. In addition, winning scores under par at East Lake don't normally escape the low teens. Over the last five years, the winners score has ranged from -9 to -13 and the median score per round is even par 70. Only 46% of all rounds completed at East Lake are under par, which goes to show there just isn't a lot of opportunities to make a ton of birdies to make up a deficit more than 5 or 6 strokes.
In addition, if the staggered start was implemented for every Tour Championship over the last 10 years, only Jim Furyk would have started the Tour Championship outside the Top 10 and had a shot to win the FedEx Cup. And even he would have had to beat #7 Luke Donald in a playoff to do it. For everyone else, all the Tour Champions would have started the tournament at least at -4, and eight of the last 10 would be winners of a staggered start leaderboard would have started inside the Top 5.
The cards are stacked against someone starting at -3 or worse to actually win the FedEx Cup, so if you're looking at placing a bet on who will lift the trophy on Sunday it better be someone starting at least at -4. There's the possibility that someone like Rory McIlroy or Xander Schauffele can make a charge to get close, but realistically the field has been reduced to a group of 10 players who can actually lift the cup.
Lastly, it's very important to know what you're betting on this week. Make sure your book clarifies that the odds offered are either to lift the trophy or who gets the lowest 72 hole gross score. If it doesn't specify, you can eyeball the difference if Dustin Johnson or Jon Rahm have stupidly high odds like 2/1. If it looks around 10/1 for them, that means its most likely for a low 72 hole gross score. But if you don't know which one you're betting on, your tempting long shot might have virtually no chance of producing a winning ticket.