We've hit the end of the road on the 2017-2018 PGA Tour season, as the Top 30 players in the standings head to East Lake Golf Club in Atlanta, GA to vie for both the Tour Championship and the $10 million prize as FedEx Cup Champion.
This week marks a tiny anniversary for me – my first golf column on SportsGamblingPodcast.com was recapping the 2017 Tour Championship. But my main focus of the column wasn't on Xander Schauffele's breakthrough win or Justin Thomas capping off his incredible 2017 season with a cool $10 million, but rather on how stale the formats of both the FedEx Cup and the Tour Championship were. Though it has been tinkered with over the years, the scoring was confusing to the average viewer and it lacked the drama that a playoff format should normally deliver.
Since I wrote that column, the PGA Tour has looked at the FedEx Cup and made several changes starting in 2019. For one, they've reduced the number of events from four to three so that the playoffs wrap up by Labor Day. This is a much welcome change and one I wholeheartedly support. While I'm a junkie who loves star-studded events, it's hard for me to juggle both the NFL and the FedEx Cup during September. The move takes the playoffs away from the college and pro-football season and should bring in many more casual viewers on weekends.
And just yesterday, another significant change for the 2019 Tour Championship was announced to make it easier for the casual fan to understand and marry the FedEx Cup Champion to the winner of the Tour Championship. Seeing this news pop up in my feed on Twitter yesterday afternoon was a very pleasant surprise and I was very eager to find out exactly what the change would be (though I wasn't thrilled that I needed to completely scrap what I was planning to write).
What was revealed was really, really disappointing.
I see what they're trying to accomplish – they want to avoid another situation of having two guys on the podium on Sunday afternoon where one guy trophy is handed the Tour Championship trophy and the other is handed a cartoon sized check for $10 million. In this format, golfers are awarded strokes before the tournament based on their ranking after the BMW Championship to give them a head start over the field. Therefore, the golfer with the lowest score by combining their head start and their tournament performance will win both the tournament and the FedEx Cup. It's very similar to the current playoff format of NASCAR.
Pardon my French, but this is complete bullshit.
What's most idiotic about this format is, once again, the FedEx Cup over-complicates things and creates an event that isn't really a playoff. The whole point of a playoff is to reward a singular golfer who beats the field so there isn't any dispute on who the true champion is. While this idea does technically solve the problem of tying the Tour Championship winner to the FedEx Cup, it still creates the issue that the best golfer at East Lake won't always be the FedEx Cup Champion. It'll just be the guy who plays well enough with his free strokes to beat the field. Basically, the Tour Championship turns into your standard club championship with handicaps.
Worse yet, they're going to award the guy with the lowest score (including the head-start strokes) with an official tournament win. Um, what? Maybe I'm being a bit too stubborn of a golf purist, but you're telling me it's possible for someone who didn't put together the lowest combined four rounds to say they won the golf tournament? What a farce, and if the Official World Golf Rankings also decides it'll award the winner full first place points then it makes that ranking system even more of a joke than it already is.
Can we just cut the nonsense and incorporate match play into the Tour Championship to make it a true playoff? Could we devalue the long regular season and not reward the best golfers all year at the end? Possibly – but that's not a problem with most other sports now, is it? Even college football, who for years argued that a playoff would ruin a regular season, finally was dragged kicking and screaming into creating a small, four-team playoff.
And what happened? Ratings went through the roof and both the programs and the networks raked in copious amounts of cash. Why – because of the drama and satisfaction an elimination format playoff provides to casual fans.
But even if I can't get the dream of a March Madness-style 32 man knockout tournament like I want, I'm willing to compromise to protect the sanctity of the regular season. Here's how I think everyone can be made happy:
1. Please, for the love of god, move the event from East Lake Golf Club. It's a tired golf course and doesn't offer any unique architecture or characteristics that fans don't see at any other event on the schedule.
In terms of layout and design, East Lake Golf Club is as vanilla as it gets:
Front Nine
Back Nine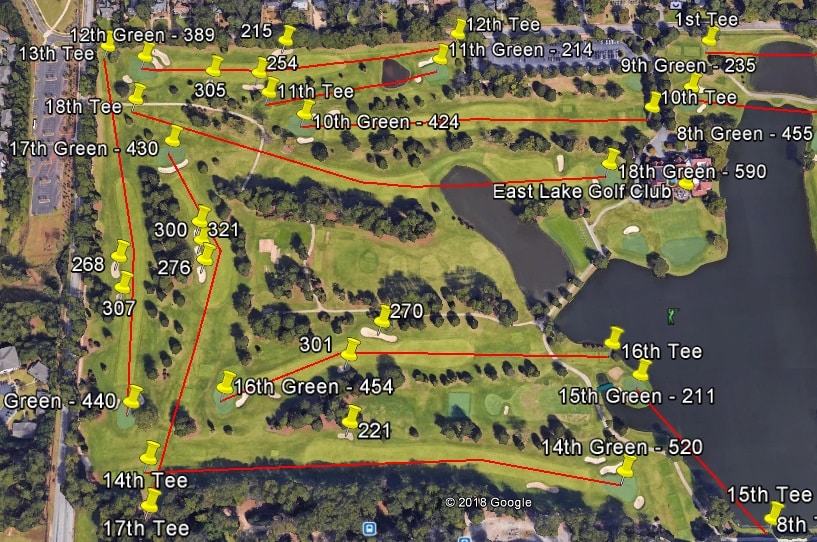 At least the PGA Tour did the right thing by flipping the nines so that the back nine includes the long Par 3 15th onto a peninsula green and the 18th is a reachable Par 5. For TV purposes, the back nine should be the more interesting side because it's featured more prominently on the telecast.
But other than that – **yawn**. Yes, I'm aware that the golf club has helped revitalized a struggling neighborhood and its foundation does wonderful things for the community. And yes, I'm aware that it's the home course of Bobby Jones. But there is nothing about East Lake that screams "Tour Championship Vibe".
If the PGA Tour wants to treat the Tour Championship as it's Super Bowl, then make it feel like a Super Bowl by moving it to different big boy golf courses around the United States (or Canada!) each year. I'm sure there's a lot of logistics (particularly with the club members) that would need to be worked out, but how cool would it be to hold the Tour Championship at Pebble Beach? Or Bethpage Black? Or hell, even The Greenbrier after they lost their permanent spot on the summer schedule. It would give the season-ending event a unique look to the viewer every year and give something to look forward to (yo, they're playing the 2024 Tour Championship at Pinehurst!).
2. Bring in the Top 30 after the BMW Championship like always, start the event on Wednesday and carry over the existing standings.
3. Play a mini-stroke play event and cut the field to the Top 16 golfers in the FedEx Cup standings after 36 holes. Make it more penal that if one of the top guys completely bombs out it increases the likelihood they don't advance. Or, if the PGA Tour is so enamored with the idea of awarding strokes to golfers before the tournament, take the head-start format they have starting in 2019 and cut the field to the lowest 16 golfers after 36 holes.
4. Match-Play to decide the winner – play from 16 to 8 on Friday, 8 to 2 on Saturday and then have a mano y mano showdown on Sunday for the trophy and the huge payday.
Is this perfect? No – but this checks a lot of boxes for both casual fans and the PGA Tour. For the fans, it's an exciting format that clearly points to a true champion by the end of Sunday. For the PGA Tour, it ensures that the knockout round will have several big stars because the overall regular season is taken into account to decide the match-play bracket.
Most importantly, I think this would energize the golfers as match play tends to bring out a certain edge and competitiveness in them. As much as the players say winning the FedEx Cup is one of the top achievements in golf, at the end of the day it's just a giant cash grab. But by adding the element of match play, it might make winning the title a little bit sweeter and increase the trophy's importance when a golfer looks back at his career.
********
For the the 2018 Tour Championship it's business as usual – if anyone in the Top 5 of the FedEx Cup Standings wins the Tour Championship, they win the FedEx Cup. If it's anyone outside of the Top 5, then that can lead to a situation where the winner of the Tour Championship isn't the FedEx Cup Champion
In terms of how to identify contenders for your bets or DraftKings lineup, while historically this event sees a leaderboard comprised of elite ball-strikers, relying on just the season-long statistics isn't good enough. With only 30 golfers competing this weekend, the top of the leaderboard will always be comprised of the ones who rank highly in most ball-striking statistics.
Therefore, I'm looking at recent performance going back to the Bridgestone, particularly with how well golfers are striking their approach shots. East Lake is a second shot golf course where hitting the correct level or side of the Donald Ross greens is paramount for success.
Here's who I like this week (with odds courtesy of mybookie.ag and DraftKings values):
The Favorites:
Rory McIlroy – 7.5/1, $10,700
Justin Rose – 8/1, $11,400
Dustin Johnson – 9/1, $11,300
Tiger Woods – 11/1, $9,500
Justin Thomas – 11/1, $10,300
Brooks Koepka – 12/1, $10,000
Any one of these golfers are good picks to win the Tour Championship based on their recent play. Since the WGC Bridgestone, all of them have averaged over a Stroke Gained Tee-To-Green and while none of them has won a FedEx Cup event in 2018, they all were in the conversation at some point to take home the trophy. Because of the importance of good ball-striking with their irons, Dustin Johnson, Tiger Woods, Justin Thomas and Brooks Koepka have statistically been much stronger than Justin Rose and Rory McIlroy in this category over the last several tournaments. I'd favor building your DraftKings lineup around them or taking that side in a matchup prop over Rory and Rose (though it should be noted that Justin Thomas is battling a wrist injury at the moment).
Other Contenders:
Hideki Matsuyama – 20/1, $8,800: It certainly seems like Hideki Matsuyama is over the wrist injury that ruined most of his 2018 season. Over his last four tournaments he's averaged 1.43 Strokes Gained Tee-To-Green and 1.25 Strokes Gained – Approach. While he doesn't have a fantastic track record at East Lake, his ball-striking right now is more than good enough to end his season on a high note. Not only do I like his futures and DraftKing price, but on mybookie.ag he's +105 against Jason Day in a matchup prop. I like Matsuyama head to head against Day, who has struggled with his approach shots during the playoffs.
Francesco Molinari – 22/1, $8,200: While Molinari hasn't played at the level that led him to three victories in six starts (including his 2018 Open Championship), his form at the moment is certainly good enough to deliver a strong finish at East Lake. Molinari missed the cut at the Northern Trust and then skipped the Dell Technologies at TPC Boston, but came back at the BMW Championship for a T8 finish. Even despite his missed cut, he's averaged 1.79 Strokes Gained Tee-To-Green and 1.15 Strokes Gained – Approach during the playoffs. When Molinari was dominant, it was his pinpoint precision with his irons that carried him. With those in tip-top form heading into East Lake he could wrap up his magical 2018 with the Tour Championship.
Tommy Fleetwood – 25/1, $7,900: Like Molinari, Tommy Fleetwood has enjoyed a wonderful PGA Tour season after spending most of his career playing in Europe. Unlike his Ryder Cup teammate, though, he lacks a victory stateside in 2018. While I don't think he'll win, I'm listing him here because of his matchup prop against Jon Rahm at -115. Rahm hasn't been very sharp since the PGA Championship with his irons, and Fleetwood's elite ball-striking should propel him past Rahm on the leaderboard at East Lake.
Sleepers:
Gary Woodland – 50/1, $6,900: Woodland struggled following his win at TPC Scottsdale, but something clicked after the Open Championship and he's played excellent golf during that stretch. Since the RBC Canadian Open, Woodland has averaged 1.57 Strokes Gained Tee-To-Green, and though he's mostly known for his dominance off the tee he's averaged 0.85 Strokes Gained – Approach as well. Woodland has Top 10's in this event in both 2016 and 2014, and his recent form suggests another appearance on the first page of the leaderboard this weekend.
Kyle Stanley – 60/1, $6,100: Kyle Stanley was your overnight first round leader in last year's Tour Championship before three mediocre rounds knocked him down the leaderboard. But like the others I've listed he comes into the Tour Championship with his ball-striking in great form. Over his last five events he's averaged 1.40 Strokes Gained Tee-To-Green and 0.80 Strokes Gained – Approach. His results hasn't matched his ball-striking as well as he could hope for, but in a small field event he could scrape together four solid rounds with his irons for a Top 10 finish. You also can grab him at -110 over Marc Leishman, who has struggled mightily in his last ten events and probably can't wait for his season to be over.
Tour Championship DraftKings Lineup:
Brooks Koepka – $10,000
Tiger Woods – $9,500
Hideki Matsuyama – $8,800
Francesco Molinari – $8,200
Gary Woodland – $6,900
Kyle Stanley – $6,100