25. Mark Stoops (Kentucky)
Coach Stoops is just 44-44 as head coach of the Wildcats but he's really building Kentucky into a consistent bowl team. His first three seasons in Lexington were all losing seasons but now Stoops has rattled off four straight winning seasons. The past two seasons he's 18-8 and has a 10 win season.
24. Gus Malzhan (Auburn)
For a guy who seems to be on the hot seat often, Malzhan is doing a great job as the head coach of the Auburn Tigers. Coach Malzhan is 71-34 overall and the only concerning thing is he's just 2-5 in bowl games. Sure, he only has two double digit win seasons in eight years but he's in the arguably the toughest division of anyone conference in the SEC West.
23. Chris Klieman (Kansas State)
I knew Klieman was a good hire for Kansas State based off his resume at North Dakota State where he led the Bison to 4 FCS Championships and was 18-1 in the FCS Playoffs. Still, I figured it would take a year or two before he got things going in Manhattan, but no in Klieman's first year as head coach of the Wildcats he led K State to a 8-5 record including a win over the class of the Big 12 Oklahoma. They also lost 3 games by 4 points or less meaning this was close to an 11 win season for the Wildcats. Truly, an amazing job being done by Coach Klieman.
RELATED
Top 25 College Football Coaches in Group of Five Conferences

22. Jimbo Fisher (Texas A&M)
Coach Fisher is one of only a few coaches on here to quote on quote win a National Championship. Sure, there was no playoff back then but Fisher has quite the head coaching record at 100-32 overall. This is a huge year for Fisher who scored a huge contract at Texas A&M. After two years in College Station Fisher is just 17-9 while Kevin Sumlin boasted a 20-6 record his first two seasons at A&M. Fisher has a favorable schedule and a experienced team to have a great 2020. Fisher is an impressive 7-2 in bowl games.
21. Scott Satterfield (Louisville)
Scott Satterfield has quickly became one of the hottest coaches in America. Coach Satterfield has a career record of 59-29 and is responsible for bringing Appalachian State up from the FCS ranks to the FBS. Satterfield went 51-24 on the FBS ranks never missing a bowl since coming up and having three double digit win seasons. Last year Satterfield took the Louisville job where word was it was supposed to be a long rebuild but coach ended year one in Louisville with a 8-5 mark and a bowl win over a SEC opponent.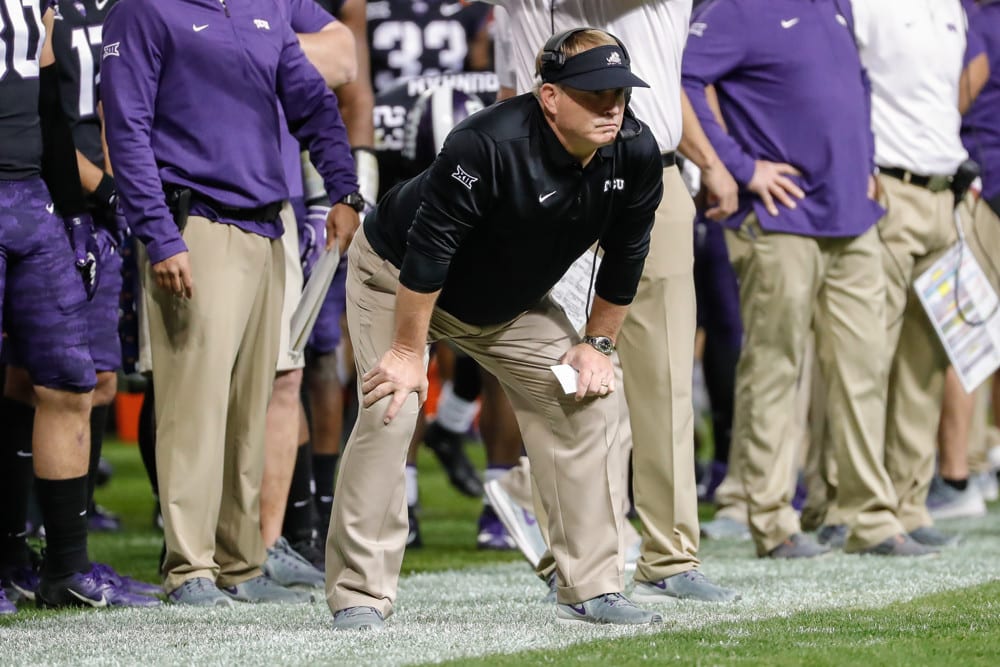 20. Gary Patterson (TCU)
TCU was once in the Conference USA when Gary Patterson first started his journey with the Horned Frogs. Then came the Mountain West conference and finally the Big 12. For each step of the way Gary Patterson has been successful. Patterson has a conference championship on all four conferences and a combined record of 172-70. For that alone perhaps he should be higher but Patterson is coming off a losing season in which TCU wasn't even bowl eligible. In fact he's 12-13 over the past two years but make no mistake Patterson is a great coach and I expect TCU to be bowling come winter.
19. Lincoln Riley (Oklahoma)
Lincoln Riley has done a great job at Oklahoma. His offenses have been some of the best in the country and he's done it with three different quarterbacks. However, one must wonder if they can actually get over the hill that is 12-2 which Riley has done in all three seasons in Norman. Sure, why would one complain with 12-2 seasons? I loved Riley's hire of defensive coordinator Alex Grinch which instantly made an impact and should continue to get better and give OU more of a chance to win a national championship.
18. Kirby Smart (Georgia)
Coach Smart is doing a great job at Georgia. He was so close to grabbing the Dawgs their first national championship in some time before Tua and Alabama shattered their dreams. Smart is 44-12 as head coach of the Dawgs but one must wonder if their window has passed? Mark Richt was 42-10 after the same amount of time in Athens. There's no denying that Smart is a good coach and I'd love to see him get to the top of the hill at Georgia.
17. Ed Orgeron (LSU)
Coach O is fresh off a national championship and I couldn't be more happy for him. Remember, this is the guy that Ole Miss fired and USC passed on. Just another example of the finding the right fit and evolving as a coach. Coach O is 56-36 as a head coach and has the LSU Tigers program looking as promising as ever.
16. David Cutcliffe (Duke)
Here's another Ole Miss coach that they fired although he had six winning seasons and only one losing season. Coach Cutcliffe is simply doing an amazing job. I don't think the best coach is necessarily the one who wins the National Championship and this is a perfect example. Duke was easily one of the worst power 5 football programs in all of America prior to coach Cutcliffe taking over. Since taking over the Blue Devils Cutcliffe has had one double digit win season and six bowl game appearances. Coach also won the ACC Coastal and took Duke to the ACC Championship in 2013. Talk about an absolutely amazing coaching job.
15. Jim Harbaugh (Michigan)
Look, I know he hasn't won a National Championship or beaten Ohio State yet but when you look at the body of work of what Harbaugh did at San Diego, Stanford and Michigan. He's made all of those programs better since his arrival. Stanford was awful prior to Harbaugh arriving. The same with FCS San Diego. Harbaugh is 103-40 as a college football head coach and although some think he should be on the hot seat at Michigan I'd argue that patience should be valued here. I could use a ton of examples but an easy one that I just mentioned above was look at Coach O. He was fired from Ole Miss and USC essentially and almost got the booted at LSU and now he's a national champion.
14. Dave Clawson (Wake Forest)
I'm a huge fan of Coach Clawson and I love the job he's doing at one of the hardest power 5 schools to win at. Clawson is just 36-40 at Wake Forest but don't let that record fool you he's doing an unbelievable job in Winston Salem. His first two seasons were just 3 win seasons with Wake but Clawson has now rattled off four straight bowl appearances and two eight win seasons at Wake Forest. Prior to Wake Forest Clawson won 10 games at Bowling Green and led them to three bowl appearances in five years. Go beyond that and Clawson did great things at Richmond and Fordham in the FCS taking them to the playoffs multiple years.
13. Brian Kelly (Notre Dame)
Coach Kelly love him or hate him has done a great job as a head football coach. Notre Dame was really struggling from the Charlie Weis era before Kelly took them over. Coach has built a pretty decent level of consistency in South Bend going 71-36 with the Irish. Sure, they haven't won a National Championship but he's finally got the Irish being a consistently good team. Prior to his time in South Bend he was the head coach at Cincinnati where he led the Bearcats to a undefeated regular season and a 34-6 record over three years. Before his time in Cincinnati Kelly had great stints at Central Michigan and Grand Valley State in the division two subdivision. Make no mistake Kelly is a good coach and perhaps in time can take Notre Dame to the promise land.
12. Pat Fitzgerald (Northwestern)
Northwestern used to be known as perhaps the worst power 5 program but then Pat Fitzgerald came to play linebacker for former head coach Gary Barnett and Northwestern football was changed forever. Sure, Coach Fitzgerald is coming off his worst season in Evanston but this guy can still flat out coach. Fitzgerald is 99-79 as head coach of the Wildcats including three 10 win seasons, a big ten west division championship and 10 bowl appearances in his 13 years as head coach. I expect Northwestern to rebound from last seasons disaster and make it back to a bowl game.
11. Bronco Mendenhall (Virginia)
Back when Virginia hired coach Mendenhall I knew they had finally done something right after a couple decades of struggling. Mendenhall is a proven winner as you saw with Virginia winning the ACC Coastal Division title last season. Mendenhall inherited a mess of a program so it's understandable he's 25-27 in Charlottesville but Virginia is hear to stay as a bowl team in the ACC. Mendenhall is 124-70 as a head coach. Mendenhall came from the Rocky Long school of coaching so defense is his specialty where the Cavs have emerged as one of the best defenses in the ACC.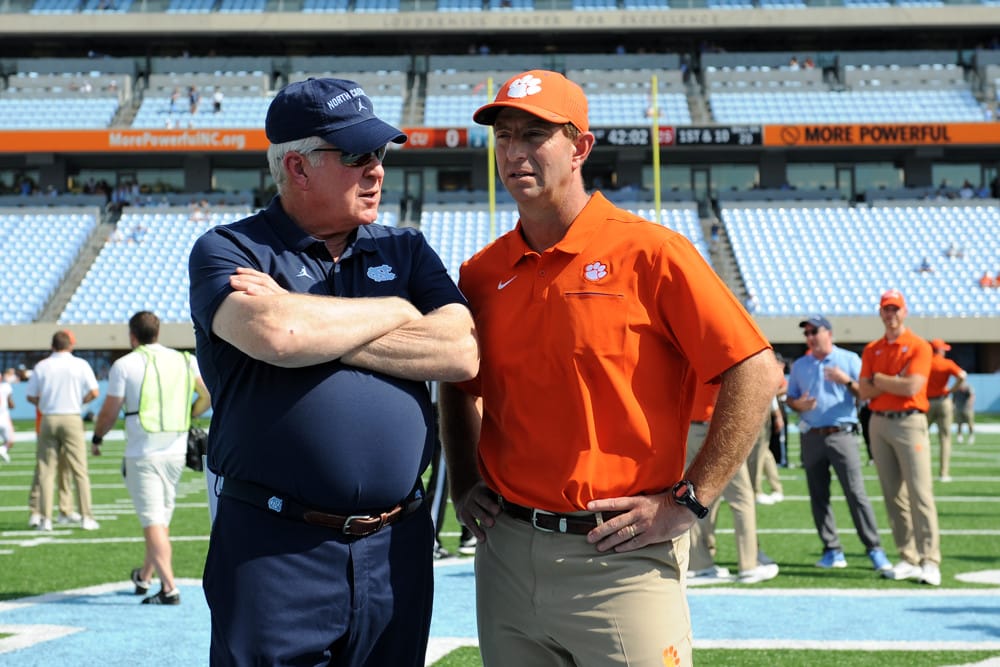 10. Mack Brown (North Carolina)
Coach Brown is back at Chapel Hill and if you pay attention to recruiting then you know the Tarheels are coming for everyone in the ACC. That includes you Clemson. Brown is in his 2nd stint with the Tarheels and has a record of 76-52-1 at UNC. His career record as head coach is 251-128-1 and he's one of the only coaches in FBS college football wh0's won a National Championship. I love what Brown has done with the UNC staff and he's won everywhere he's coached.
9. Dan Mullen (Florida)
Coach Mullen is a proven winner and all signs are pointing to him taking Florida back to a higher level where they were at under Urban Meyer. Mullen is a former Meyer assistant and he's currently working with a 21-5 record at Florida and a 90-51 record as a head coach. The job Mullen did at Mississippi State was one of the best over the past 20 years. Mullen is also 7-2 in bowl games.
8. James Franklin (Penn State)
Penn State fans were bummed when Bill O'Brien left for the NFL but it was a blessing in disguise when they landed James Franklin from Vanderbilt. Franklin is the guy who really brought back Penn State football. Sure, Ohio State has still dominated the Big Ten east but Penn State has been the 2nd best team in the division of late and that's because James Franklin. Franklin is 56-23 at Penn State and he's had three of four years of winning 11 games. Plus, Franklin's coaching job at Vanderbilt was truly remarkable.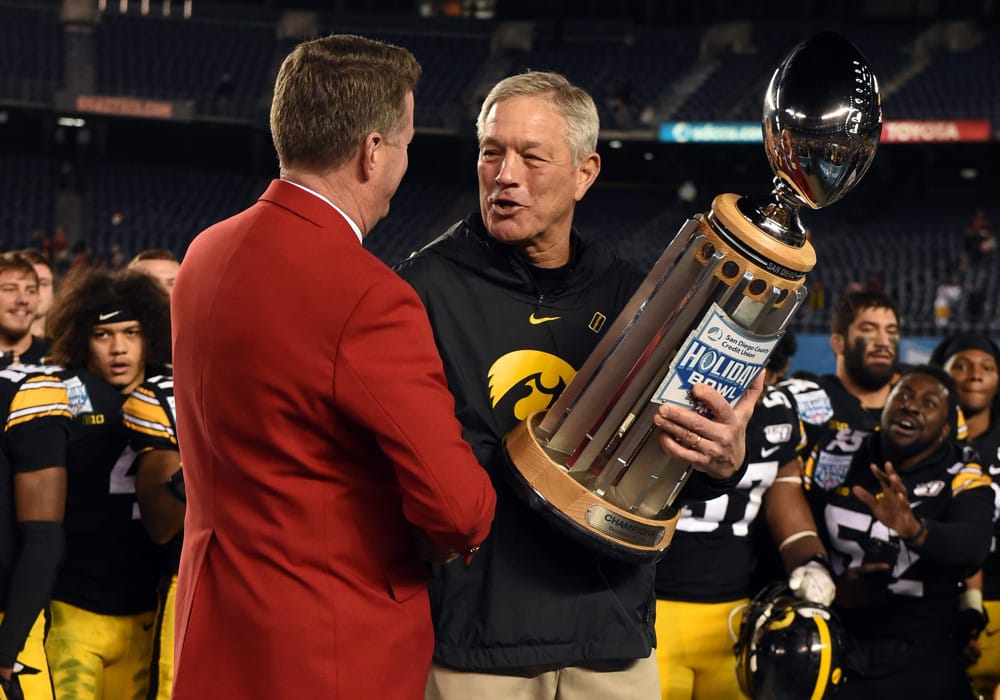 7. Kirk Ferentz (Iowa)
Coach Ferentz is entering his 22nd season and well he's been about the most consistent coach in College Football. Ferentz started in Iowa City in 1999 and he started with two losing seasons. Since then though, Iowa has only missed a bowl game once. Ferentz is 174-125 at Iowa and he's 9-8 in bowl games. Ferentz has 2 Big Ten Championships and he's had six double digit win seasons. That is one of the best coaching jobs ever.
6. Matt Campbell (Iowa State)
It's no secret the hardest coaching job in the state of Iowa and perhaps all of the power 5 programs not named Duke, Northwestern and Vanderbilt is Iowa State. Matt Campbell is turning the Cyclones into a household name at one of the hardest places to win in all of America. The Cyclones are just 26-25 under Campbell but don't get it twisted Iowa State has been to three straight bowl games and finished in the upper half of the Big 12 each year. Plus Campbell did great things at Toledo where he was 35-15 with the Rockets.
5. Kyle Whittingham (Utah)
Utah lucked up when they brought in the former BYU Cougar back in 1994 to coach the defensive line. Yes, Coach Whittingham has been in Salt Lake City with the Utes since 94 and he's been the real reason why they were able to step up to Power 5 level and succeed. Whittingham is 131-64 in Salt Lake City. Whittingham is also 11-3 in bowl games and let's not forget about his undefeated season in 2008 which included a sugar bowl win over Nick Saban and Alabama. That's as much of a National Championship as any of the others to me. Coach Whittingham is coming off a 11 win season at Utah and a Pac 12 South Championship. The guy can flat out coach.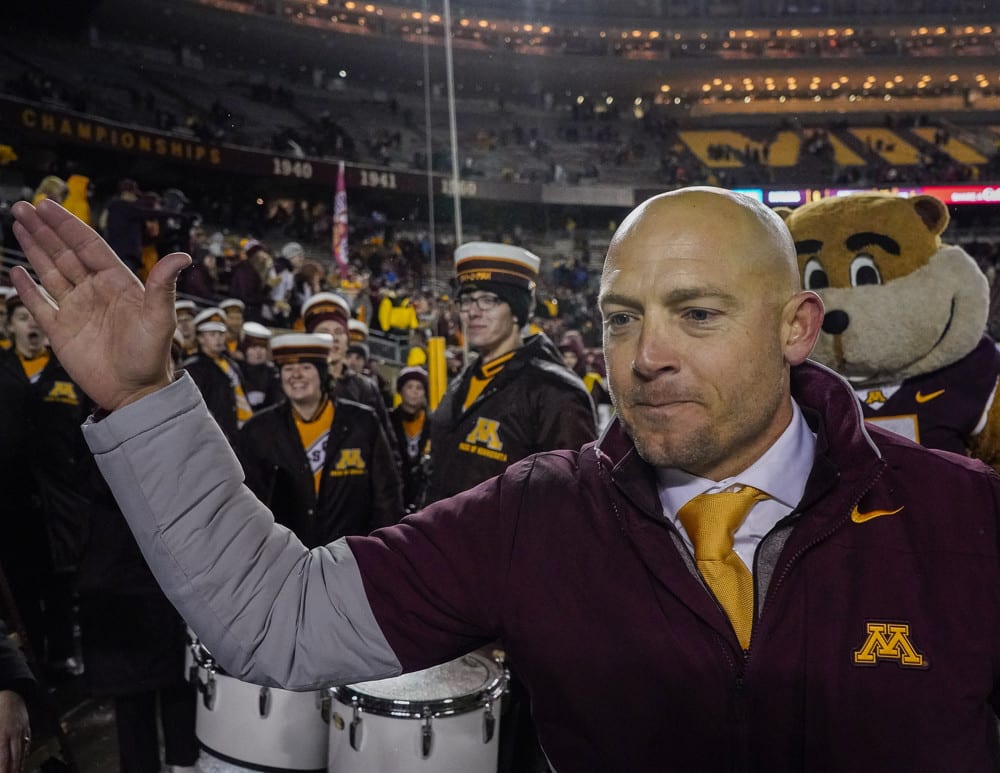 4. PJ Fleck (Minnesota)
You could make the case that PJ Fleck has been the best coach in the country over the past 5 years. Fleck led Western Michigan to 3 bowl games in 4 years including a 13-1 season in 2016. Then Fleck took over the Minnesota program and after a 5-7 opening season he led the Gophers to a bowl game in year two followed up with a 11-2 year three with a bowl game win over Auburn. Coach Fleck had Minnesota in the top 10 in the country and it's only been three years. That is truly remarkable. Watch out College Football because the "Rowing The Boat" is truly working.
3. Dabo Swinney (Clemson)
What coach Swinney has done at Clemson has been amazing there's no doubt about it. Sure, we always knew Clemson was more talented than their records indicated for decades before Swinney arrived. Yeah you could argue that Swinney came up in a perfect time where Miami and Florida State fell apart and Virginia Tech's legendary coach Frank Beamer was at the end of his run. Regardless, Swinney has Clemson at the highest level it's ever been and there's not any signs of the Tigers slowing down. Former Virginia Tech head coach Bud Foster told us Clemson almost hired him over Swinney. We love coach Foster but one can only imagine what would of happened had Clemson never hired Swinney. The guy has done a remarkable job at Clemson.
2. Nick Saban (Alabama)
I know, I know. How could I have Coach Saban at number 2? Look, Nick Saban has been an amazing coach there's no denying that but just hear me out. Alabama is used to winning and they spend money on winning more than almost any school. Alabama won National Championships in 1920's, 30's, 40's, 60's, 70's, & 90's. This program is built for it. Saban has been great but I expect Alabama to compete for National Championships. Then you look at Saban since he left LSU? Les Miles, Coach O win National Championships in Baton Rouge. Saban is an amazing head coach and his record of 243-65-1 is simply amazing. Saban is 152-23 at Alabama which is just insane.
1. Mike Leach (Mississippi State)
If you followed us over the years you know my opinion is that Coach Leach is simply amazing. He invented the Air Raid offense with Hal Mumme, that is now ran all over high school, college and NFL ranks. The Kansas City Chiefs and New England Patriots have recently benefited from wrinkles of the Air Raid. Coach Leach has had 11 win seasons at Texas Tech & Washington State and it wouldn't surprise me if Mississippi State will soon have one of those years. He's a master at coaching quarterbacks and offensive line. Sure, he's 139-90 as a head coach and that's nothing compared to Saban's but realize that Leach took over Texas Tech and Washington State when they were horrible the years prior. When Saban was at Michigan State he was good leading the Spartans to bowl games every year but never an 11 win season. Plus, Michigan State is known to be a better football coaching job than both Texas Tech and Washington State. Coach Leach built the offense that won Oklahoma a National Championship in 2000 and I can't wait to see what he does in Starkville.
RELATED
Top 25 College Football Coaches in Group of Five Conferences