I love the Group of Five just as much as I love the Power Five. I don't need name brand players to fill my void. Just give me some good ole football on a Saturday.
Group of Five is the starting ground for some of the best coaches. Nick Saban, Urban Meyer, Bobby Bowden, Chris Peterson, Lou Holtz, PJ Fleck, Pat Dye are just a few of the names that started there. So, if you only follow the Power Five, you should be aware of the following names. One of them could be the next big coach at your school.
It's been a little over a year since I last ranked them, so let's see how things have changed. Here are the 25 best college football coaches in Group of Five conferences.
25. Troy Calhoun (Air Force)
Calhoun should probably be higher but he did have a couple tough seasons before last years double digit win season. If Calhoun can back it up with another bowl game this year he should be in my top 10-15 range. He's done a great job in Colorado Springs.
24. Chad Lunsford (Georgia Southern)
Lunsford's not a coach who has been around a ton of programs, but his days at Georgia Southern go back to 2003. Georgia Southern has been a really good football program for decades. However, when Tyson Summers really hit rock bottom with the program, Lunsford stepped in and is now 19-13 as head coach. During both of his full seasons as head coach, Georgia Southern has been bowling.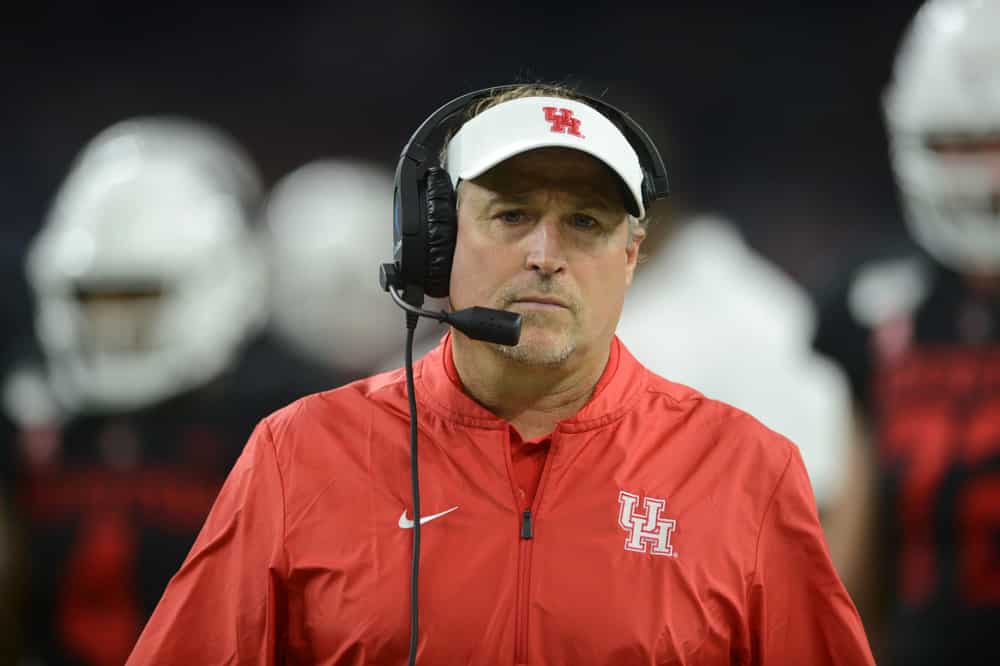 23. Dana Holgorsen (Houston)
Holgorsen is another coach from the long lineage of Mike Leach. I know some folks who were glad to see Holgorsen leave West Virginia for Houston, but let's be honest. Despite his first season at Houston, Holgorsen is still a top 25 Group of Five coach.
Sure, he's 2-5 in bowl games, but that also means he was pretty consistent at getting WVU in bowl games. He's 65-41 as a head coach and did win a Big East championship before the Mountaineers moved over to the Big 12.
22. Todd Graham (Hawaii)
Graham might be ranked higher, if you're just looking at the bowls he led his former teams to: Rice, Tulsa, Pittsburgh and Arizona State. However, he's done some weird shit. While at Pitt, he called some of his assistant coaches  "nothing but mercenaries" because they left to work under Rich Rodriguez at Arizona. Two weeks later, Todd jumped ship for the head coaching gig at Arizona State. And after only a year at Pitt!
If you can get past that, Graham has an overall record of 95-61. I expect him to do well at Hawaii based off what he's done elsewhere.
21. Jason Candle (Toledo)
Candle has only been a head coach for four years but he's already compiled a MAC coach of the year award and his Toledo Rockets have been bowl eligible every single year. However, his early success could be attributed to Matt Campbell leaving the program in great shape. After last year's 6-6 performance, this is a huge year for Candle.
Candle has a career head coaching record of 34-19. I think last year was more about dealing with a ton of injuries and the team bounces back this year.
20. Butch Davis (Florida International)
A longtime assistant to former Miami and Dallas Cowboys coach Jimmy Johnson, Butch has been successful everywhere he's been. Unfortunately, he also has a track record of his schools getting in trouble for stuff that happened under his helm.
I like Davis and really like what he's doing at Florida International. FIU beat Miami (FL) last year on the way to another bowl game. Davis is 86-59 as a head coach  and should rise in these rankings with another solid outing at FIU.
19. Doc Holliday (Marshall)
Holiday is in his 11th season at Marshall, with one conference championship, two divisional titles, and one Conference USA Coach of the Year award. This is Holliday's only head coaching experience and he's got a career record 78-51, including a 6-1 bowl record.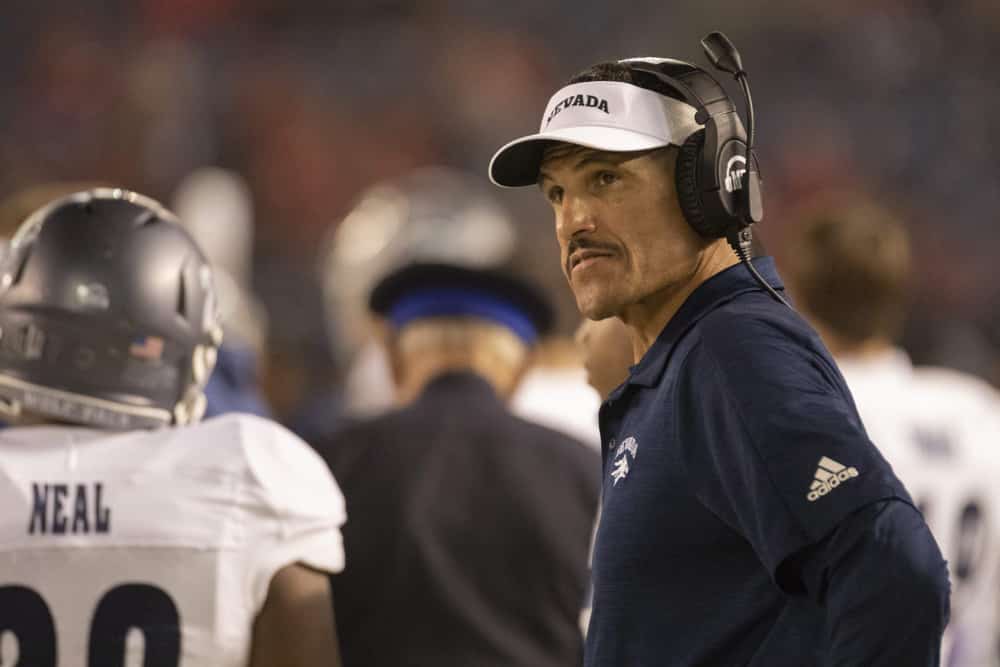 18. Jay Norvell (Nevada)
Norvell might be the only coach on here with a career record below .500, but he inherited a mess at Nevada. Still, he's gone bowling two out of his three seasons at the helm. Plus, Nevada has beaten Oregon State and Purdue the past two years, as well as a ranked San Diego State team. Norvell has the Wolfpack trending in the right direction.
17. Rod Carey (Temple)
Carey had a great run at Northern Illinois, winning two MAC championships and winning the division four times. In his first year at Temple, he led them to another bowl berth.
Carey has a career record of 60-35 and a MAC Coach of the Year award on the resume. The only negative with Carey is that his teams are 0-7 in bowl games.
16. Rick Stockstill (Middle Tennessee)
Stockstill is in his 15th season at Middle Tennessee and has been Sun Belt Coach of the Year twice and Conference USA Coach of the Year once. He's been a huge reason why the transition from Sun Belt to Conference USA has gone so smoothly.
Sure, he's just 2-6 in Bowl Games but Middle Tennessee schedules extremely aggressive out of conference. During his tenure, Stockstill has beaten Memphis, Maryland, Georgia Tech, Missouri, and Syracuse.
15. Sonny Dykes (SMU)
Sonny Dykes is in his third head coaching stint after being at Louisiana Tech and California. Sure, he is just 56-56 as a head coach, but is a former WAC Coach of the Year and look at what he has done at SMU. The former Mike Leach assistant is coming off a double digit win season at SMU and the Mustangs should be bowling again this year.
14. Kalani Sitake (BYU)
Kalani Sitake is just 27-25 as a career head coach. Yes, he's still in his first run as head coach of BYU but what's most impressive to me is that he's had the Cougars bowling three out of four years. That's while battling some of the hardest schedules in the nation. He's achieved wins over Arizona, Michigan State, Mississippi State, Wisconsin, Tennessee, USC and Boise State.
13. Josh Heupel (UCF)
You could argue Heupel walked into a perfect situation. Still, he's been money at UCF, especially considering how many QBs have gotten injured. He won a AAC Championship, had an undefeated regular season, and could've had an undefeated season if his starting QB not been injured.
In year two, he went 10-3 with a freshman starting at quarterback. Even the three losses were by a total of 7 points. His career record is 22-4. If coach has another great year, he'll probably be in my top five next year.
12. Bryan Harsin (Boise State)
Harsin is a great coach and he's really starting to excel at Boise. Harsin played QB for the Broncos in the late '90s and was an assistant under former Boise coach Chris Peterson. Harsin spent one year as head coach of Arkansas State where he won a share of the Sun Belt championship. Harsin is 71-22 as head coach of the Broncos and coming off a 12-1 regular season.
11. Luke Fickell (Cincinnati)
Luke has done an amazing job rebuilding Cincinnati to becoming one of the powers of the AAC. Sure, Fickell struggled as interim head coach of Ohio State just leading the Buckeyes to a 6-6 record but with Cincinnati he's hit ground running with back to back 11 win seasons after a 4 win season to start things off. Fickell turned down Michigan State to stay with the Bearcats so perhaps he's really in for the long haul in Cincinnati.
10. Jeff Monken (Army)
Coach Monken is just 40-36 at Army but that's actually incredible considering how bad Army was the decades before. Plus, coach has a career record of 78-52 and is 3-0 in bowl games and 7-3 in the FCS playoffs. Monken came over from Georgia Southern where he had a great run and has turned around this Army program. Sure, last year was tough going 5-8 but the two years prior he won 10 and 11 games at Army! That's incredible.
9. Frank Solich (Ohio)
Frank Solich is 75 years young and still doing quite a decent job at Ohio. I still think he got a raw deal at Nebraska. Coach Solich has a career record of 171-100 and has won a big 12 championship and coached for a national championship. He was fired from Nebraska after a 9-3 season! Think about that? What Nebraska wouldn't give for a 9-3 season these days. Solich went on to Ohio and five 9 win seasons and one 10 win season in Athens. in 14 seasons at Ohio he's only had two losing seasons both occuring in his first four years coach Solich can flat out coach.
8. Skip Holtz (Louisiana Tech)
My guy Skip Holtz. As a East Carolina fan I loved having Skip as coach of my pirates. Sure, Holtz left for South Florida and struggled there but he's regained what made him great at Louisiana Tech. Holtz is 56-36 at Louisiana Tech and coming off a 10 win season. For his career Skip is 144-107 and has 2 conference USA championships as well as a coach of the year award.
7. Chris Creighton (Eastern Michigan)
If you've listened to my college football based podcast "The College Experience" then you should know I'm a huge fan of Chris Creighton and what he has done at Eastern Michigan. I think you could make the argument he's done the best coaching job of anyone over the past decade considering just how bad EMU was prior to him. Sure, Creighton's career record at EMU is still 28-47 but this was the worst FBS program in the country when he got there. The past 4 years Creighton's teams have been good teams being bowl eligible three of the past 4 years. Creighton has also scored huge wins against some big boys like Illinois, Purdue and Rutgers. Sure, they aren't big name wins but considering where this program was at those are absolutely huge wins.
6. Will Healy (Charlotte)
I'm not sure how long Healy will be in Charlotte. Hopefully for a while but this is one of the hottest coaches in America. If you follow FCS football then I'm sure you noticed Healy's amazing turn around at perhaps the worst program on that level in Austin Peay. Charlotte having never been to a bowl and being a school that just created their football program within the last decade hired Healy last year and Healy delivered the teams first bowl game in their existence in just his first year at the helm.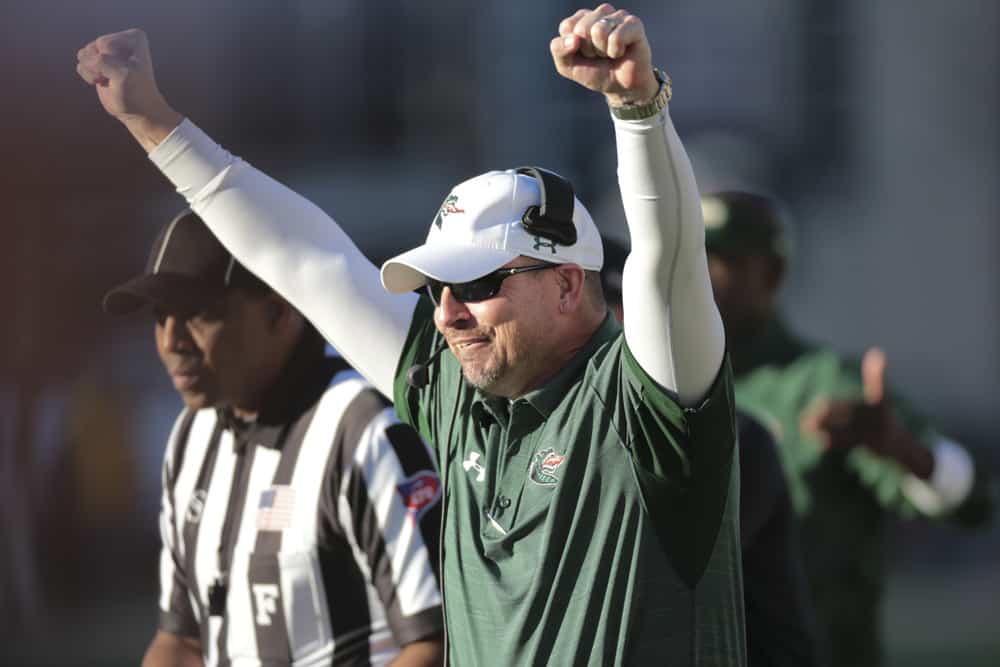 5. Bill Clark (UAB)
If you follow college football closely you have to love Bill Clark. The guy not only is a great coach but he stayed the course when the UAB president ended their football program and then returned to coach the Blazers after 3 years of no program. Clark's Blazers were projected to win one game or go winless upon the year of the Blazers return and Clark led them to a 6-6 season. Unbelievable coaching. Clark is 34-19 as UAB's coach and has never had a losing season.
4. Ken Niumatalolo (Navy)
Coach Niumatalolo is easily one of the best coaches in the country. Not only the group of five but the country. I remember when Arizona was on the verge of hiring Niumatalolo and their heisman hopeful QB Khalil Tate demanded they not hire him and the Wildcats backed away. What a mistake. Niumatalolo is 98-60 as head coach of Navy! Plus, he's got a winning record in bowl games. Coach has had three double digit win seasons at Navy and only two losing seasons in 12 years.
3. Willie Fritz (Tulane)
Coach Fritz is just 23-27 at Tulane but he inherited a mess and has now gone to back to back bowl games with the Green Wave. Fritz is doing a heck of a job at Tulane but that's not only why I have him ranked third, Fritz was absolutely money at his previous stops of Georgia Southern and FCS Sam Houston State. Fritz has a combined record of 177-96 and is undefeated in bowl games plus 7-3 in the FCS Playoffs. There's no denying it Fritz can flat out coach.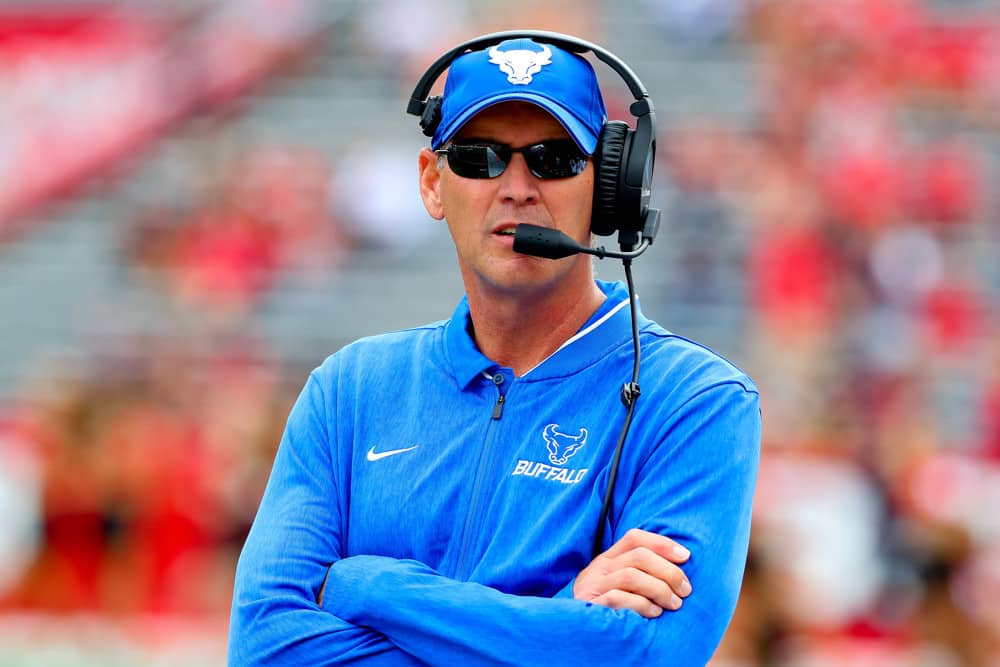 2. Lance Leipold (Buffalo)
Coach Leipold is another one of favorites to cover. I loved this hire when Buffalo first got him. I think this is one of the hardest jobs in the country and despite Leipolds 31-32 career record at Buffalo, he's been nothing short of fantastic for the Bulls. His first two years at the helm resulted in losing seasons but Leipold has rattled off three straight seasons of being bowl eligible and it's a safe bet they will be again this year. Leipold also has 6 yes 6 division three championships as head coach of Wisconsin-Whitewater along with 4 coaches of the year awards. Plus in 2018 he earned MAC coach of the year while leading the Bulls to the MAC Championship.
1. Craig Bohl (Wyoming)
Yes, my top group of 5 coach is coach Craig Bohl. I absolutely love the job he is doing with the Wyoming Cowboys. Bohl took over a really bad Wyoming program and although his record in Laramie is just 36-40 he has finally got the program going at Wyoming. The Cowboys have had 4 straight bowl eligible seasons and with four different quarterbacks. Bohl also has 3 FCS National Championships and is the man who really built North Dakota State into what they currently are. Bohl's career coaching record is 140-72 and you can bet Wyoming will be having more success as long as Bohl is coaching the Cowboys.