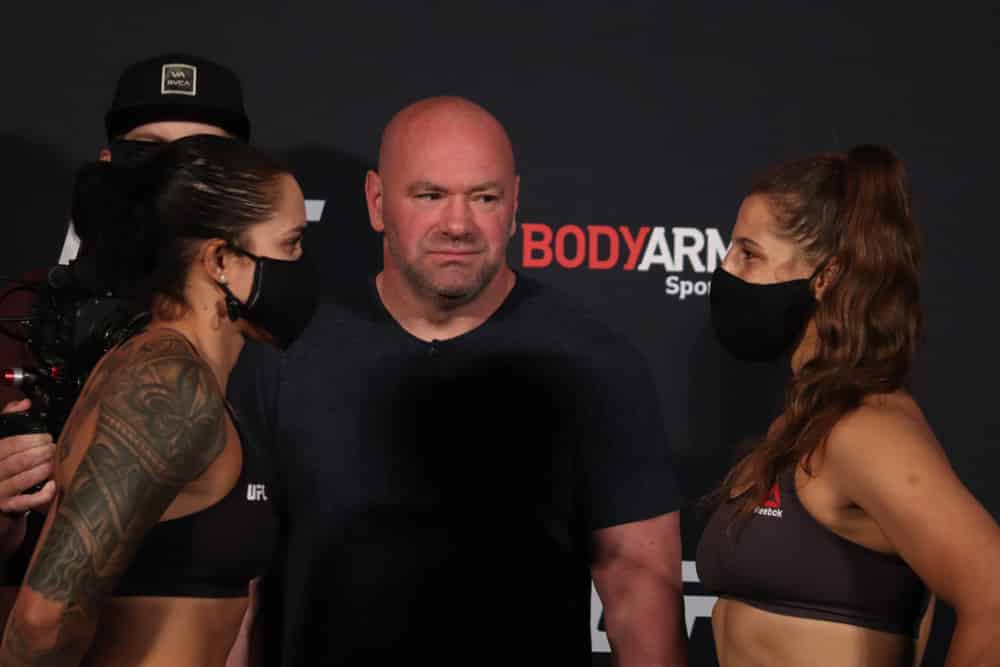 It's the weekend, which doesn't mean as much since the whole world is pretty much working from home and most things are still closed, but it does mean more UFC action to enjoy (and gamble on, of course).
UFC Fight Night: Eye vs Calvillo goes down tomorrow night from the UFC APEX in Las Vegas, but it's a stinker of a card. It hasn't helped matters that fighters keep falling out of the lineup every few minutes it seems, so it's a last minute, stitched together offering. But that doesn't mean it won't be fun and it doesn't mean we can't win ourselves a DraftKings tournament (or two).
Here is your winning team for Saturday night, courtesy of a me. You're welcome.
Merab Dvalishvili – $9,200
Merab Dvalishvili is the top average point scorer (93.8) on this card, so I don't mind paying a hefty sum for him. I had him pegged to win against his original opponent, Ray Borg, who dropped out of the fight yesterday due to family issues. Now 'The Machine' will be facing an octagon virgin, Gustavo Lopez, who will have less than two days to prepare for his UFC debut. Now I like Dvalishvili even more to score some big points for us on Saturday.
Cynthia Calvillo – $7,900
I'm buying one half of the main event – Cynthia Calvillo – on the cheap with my next selection. Her fight against Jessica Eye is a bit of a toss up, in my mind, but I think Calvillo's wrestling is good enough to get herself the W, and Eye tends to get taken down in her fights. Add in the fact that Calvillo averages the most points per fight (80.1) after Dvalishvili on this card, and it's a quality pickup for $7,900.
Go here for more UFC odds.
Julia Avila – $9,300
Another costly purchase in Julia Avila, but I'll make some more value buys later on to afford it. Avila is a big, strong, powerful puncher – just the type of fighter her opponent, Gina Mazany, typically struggles with. And Avila is normally a solid point earner as is (70.5 – fourth best on the card). Plus, Mazany already got cut by the UFC early last year and is only back because they needed a last minute fill in.
Charles Rosa – $7,900
Here's one of those aforementioned 'value buys' – Mr. 'Boston Strong', Charles Rosa. Rosa is a superb grappler, in constant motion on the mat, looking to finish off his prey. His opponent on Saturday, Kevin Aguilar, is a passive fighter when on the mat, which should play into Rosa's hands and maybe get us some nice points via a submission win.
Hannah Cifers – $7,500
Value, value, value. Hannah Cifers just lost two weeks ago to Mackenzie Dern, getting herself submitted. Which is probably why you can get her for a cheap price (not to mention the fact that she's lost two straight fights). But she looked damn good in the fight against Dern before getting herself caught and submitted by the Brazilian Jiu Jitsu ace. Her opponent on Saturday, UFC newcomer Mariya Agapova, is no Mackenzie Dern. Look for her to bounce back and score in the 70s for you on Saturday.
Tyson Nam – $8,000
Tyson Name is 0-2 in his UFC career and only averages 22.5 points. So why am I spending $8,000 on him. He's fighting a last minute replacement (I told you this card was stitched together), Zarrukh Adashev, who has only had four professional fights. And I ran out of money, so….