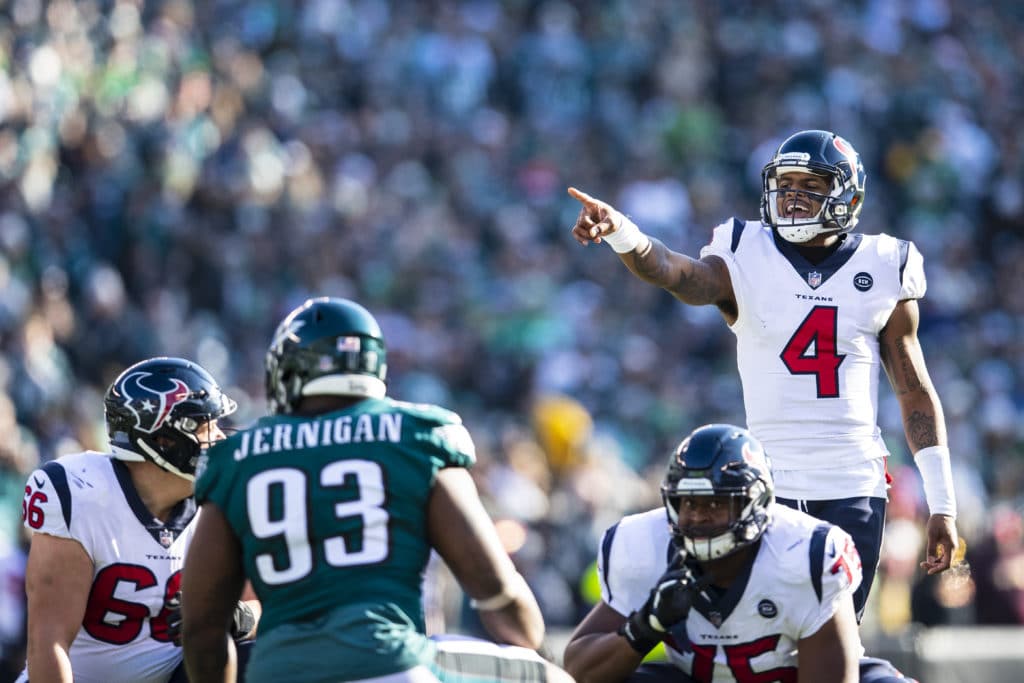 Hallelujah – the full NFL schedule has been released. We can now over-analyze it to death, haha. Along with the full schedule, we also have real actual lines that you can bet on. While it may seem crazy to bet on a game that won't start for 4 months, there's often some value if you get in early. So without further ado, here are my predictions for Week 1.
Houston Texans @ Kansas City Chiefs
Line: Chiefs – 10.5
Date/Time: Thursday, September 10th / 8:20 PM ET
With the exception of last year, we typically see the defending Super Bowl champions host the opening Thursday night game. We also usually see that team have a bit of a Super Bowl hangover. It will be interesting to see if a hangover impacts the Chiefs and if it causes a slow start to the season.
Kansas City has won their last 5 season openers and Andy Reid coached teams always look good when not playing the week before (season openers, coming off a bye, etc). For the Texans, it's all about how much not having DeAndre Hopkins negatively impacts the offense. My hunch here is that the spread is too high. Chiefs will win but the Texans will cover.
Pick: Texans
Seattle Seahawks @ Atlanta Falcons
Line: Seahawks – 1.5
Date/Time: Sunday, September 13th / 1:00 PM ET
These teams also played each other last year in Atlanta (week 8) and the Seahawks won 27-20. The Falcons may have only went 7-9 last year but they won their last 4 games. They'll carry that momentum into 2020, win a tight one at home, and exact some revenge from last year.
Pick: Falcons
READ ALSO
Madden Simulation Betting
NFL 2020 Schedule Interactive Prediction Grid
2020 NFL Schedule Release: 10 Weekly Underdogs to Watch
New York Jets @ Buffalo Bills
Line: Bills – 6.5
Date/Time: Sunday, September 13th / 1:00 PM ET
People are expecting big things from Buffalo this year. The addition of Stefon Diggs should help open up the offense and the defense is a top 10 unit in the league.
Meanwhile, the Jets haven't had a winning season since 2015. These two teams did split the series last year, but it should be noted that Josh Allen didn't play in the week 17 loss to the Jets. I feel like the 6.5 is baiting me to take the Jets but I just can't get behind Sam Darnold on the road.
Pick: Bills
Chicago Bears @ Detroit Lions
Line: Lions – 1
Date/Time: Sunday, September 13th / 1:00 PM ET
It will be interesting to see if Trubisky or Foles gets that starting nod at QB for season opener. Either way, regardless of who's under center, the best unit on the field will be the Chicago D.
The Lions are in rebuild mode and I'm not very fond of putting money behind Matt Patricia. The Lions have lost 4 in a row against the Bears and I don't see that streak being snapped anytime soon. I'll go Bears.
Pick: Bears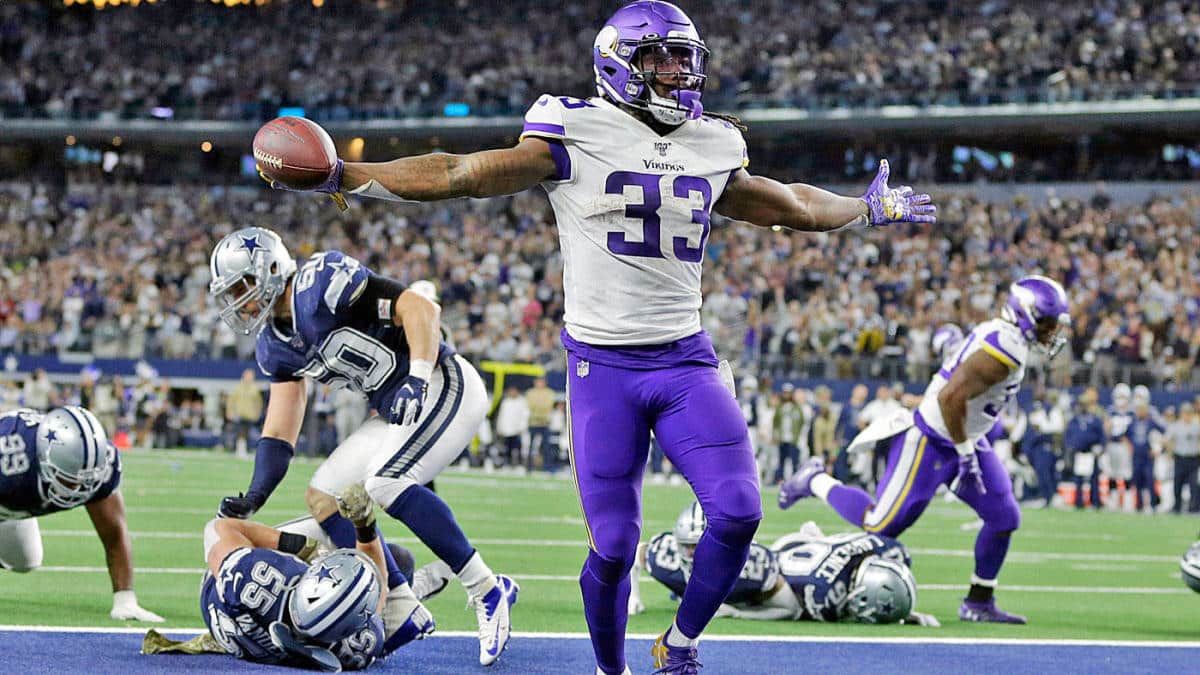 Green Bay Packers @ Minnesota Vikings
Line: Vikings – 3.5
Date/Time: Sunday, September 13th / 1:00 PM ET
The Vikings had a nice 2019 season, going 10-6 and winning the wild card game against the Saints. However, they did drop both of their games against the Packers last year and you're telling me that I'm getting more than a field goal? I like the hook here and I like the Packers to cover.
Pick: Packers
Miami Dolphins @ New England Patriots
Line: Patriots – 6.5
Date/Time: Sunday, September 13th / 1:00 PM ET
A lot of eyes will be on this game as the Brady-less Patriots start a new era in New England. Additionally, it will be interesting to see who starts at quarterback for the Dolphins. They have Fitzmagic so why roll out Tua (if he's healthy) against a highly ranked defense on the road? Assuming they go Ryan Fitzpatrick, I'll take the points here. Remember week 17 last year when the Dolphins went into Foxboro and won 27-24. The Pats may win but I expect a close game.
Pick: Dolphins
Philadelphia Eagles @ Washington Redskins
Line: Eagles – 5.5
Date/Time: Sunday, September 13th / 1:00 PM ET
If you weren't aware, I am unfortunately a Washington Redskins fan. This game has me torn. A home dog in an inter-division game getting 5.5 points has sparked my interest.
However, the Redskins went 3-13 last year (losing to Philly twice) and don't appear to be vastly improved this year. The offense, especially, is going to struggle while the defense has a chance to be respectable. Screw it, I'm going contrarian here and taking my Redskins. You have to think the public will be all over the Eagles.
Pick: Redskins
Las Vegas Raiders @ Carolina Panthers
Line: Panthers – 1
Date/Time: Sunday, September 13th / 1:00 PM ET
The Butler, Teddy B, will get his first start for the Panthers against the Las Vegas Raiders. The Matt Rhule era also begins in Charlotte, as the new coach puts the headsets on for the first time in the NFL. That's a lot of firsts, especially if training camp and/or the preseason is shortened due to Covid-19. I'll take the Raiders to win a close one.
Pick: Raiders
Indianapolis Colts @ Jacksonville Jaguars
Line: Colts – 7
Date/Time: Sunday, September 13th / 1:00 PM ET
Minshew Mania vs Old Man Rivers in his first game as an Indianapolis Colt. I like the prospects for the Colts this year but will it take some time to blend in the new faces?
The Jags may have only went 6-10 last season but they did beat the Colts 38-20 at home in the regular season final. I expect this matchup to more resemble Jags/Colts game in Indy last year where Jacksonville lost 33 to 13. Colts get off to a nice start and win by double digits.
Pick: Colts
Cleveland Browns @ Baltimore Ravens
Line: Ravens – 9
Date/Time: Sunday, September 13th / 1:00 PM ET
The Ravens are one of the favorites to win this Super Bowl this year while the Browns start the Kevin Stefanski era in Cleveland. The expectations last year were too high and the Browns never got things going. I expect them to improve their record in 2020 but playing in Baltimore is a rough way to start the season. The Ravens, and star QB Lamar Jackson, are a fine tuned machine and will be ready to rock right out of the gates.
Pick: Ravens
Los Angeles Chargers @ Cincinnati Bengals
Line: Chargers – 3.5
Date/Time: Sunday, September 13th / 4:00 PM ET
I'm assuming Tyrod Taylor will start the year at quarterback which will give rookie Justin Herbert time to acquaint himself with the NFL. Tyrod, and is mobility, is a better fit to play behind a bad offensive line than the statuesque Phillip Rivers. Taylor has been underrated and under-appreciated his whole career and I expect him to play well for the Chargers. I also like fading a rookie QB (Joe Burrow) is his first game.
Pick: Chargers
Tampa Bay Buccaneers @ New Orleans Saints
Line: Saints – 4.5
Date/Time: Sunday, September 13th / 4:00 PM ET
Tom Brady's first game as a Buccaneer vs Drew Brees and the New Orleans Saints will the most-watched NFL game of the week. Taking another road team is a risk but I think Brady will play well and the Bucs will cover.
I have the Saints winning by a field goal. Just think how good the Bucs may be when they have a QB who doesn't throw 4 interceptions each game.
Pick: Bucs
Arizona Cardinals @ San Francisco 49ers
Line: 49ers – 7
Date/Time: Sunday, September 13th / 4:00 PM ET
I expect the 49ers to still be angry over losing to the Chiefs in the Super Bowl and they'll attempt to take it out on the Cardinals. They swept the series last year and although I expect the Cards to be improved in 2020, this is a tough first test. I'll lay the points.
Pick: 49ers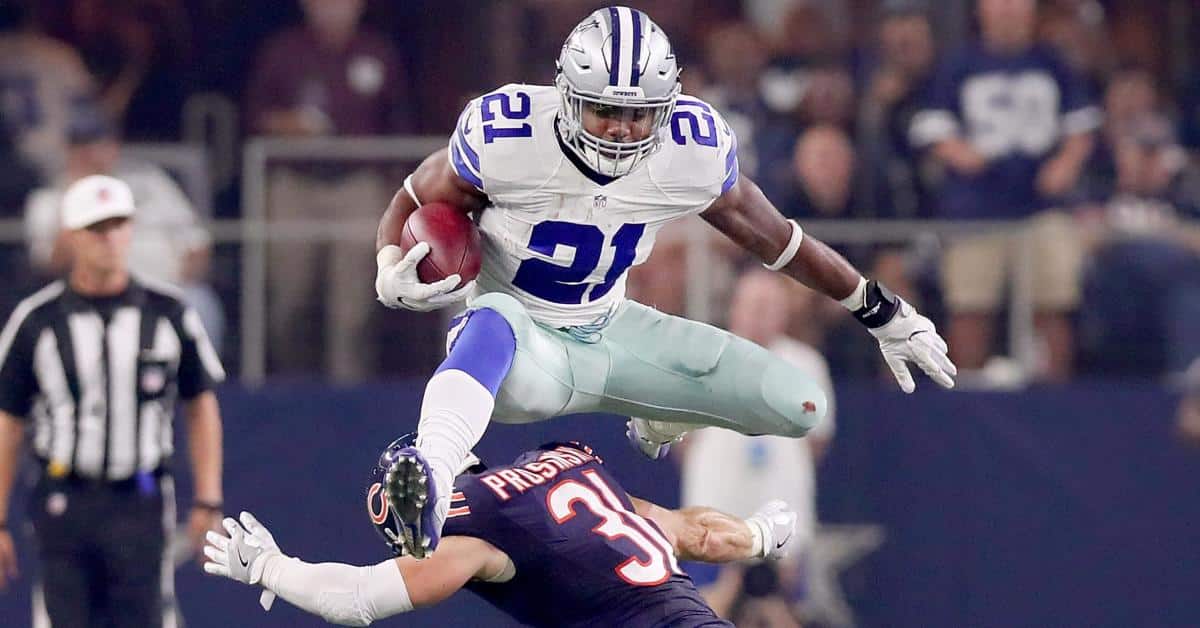 Dallas Cowboys @ Los Angeles Rams
Line: Cowboys – 2.5
Date/Time: Sunday, September 13th / 8:20 PM ET
The Mike McCarthy era starts in Dallas. While I don't think it was a great hire, anyone is an improvement over Jason Garrett, right?
Meanwhile, some of the shine has worn off on Sean McVay as his Rams only went 9-7 a season ago and missed out on the playoffs. One of those 7 losses was getting obliterated by the Cowboys in Dallas, 44-21. Now at home, I expect the Rams to get some revenge and beat the Cowboys. I can't pick Dallas, come on.
Pick: Rams
Pittsburgh Steelers @ New York Giants
Line: Steelers – 3
Date/Time: Monday, September 14th / 7:15 PM ET
Big Ben is back and while he's known for playing much better at home, this is against the lowly Giants and a defense that finished 27th in the league last year. I'll go Roethlisberger and the Steelers to win by a TD or so.
Pick: Steelers
Tennessee Titans @ Denver Broncos
Line: Broncos – 2.5
Date/Time: Monday, September 14th / 10:10 PM ET
This line smells to me. The Titans went 9-7 in the regular season last year before getting hot and riding Derrick Henry all the way to the AFC Championship game. Meanwhile the Broncos only went 7-9 but did beat these same Titans 16-0 in week 6 last year. I expect the public to be all over the Titans and therefore I'll go Broncos. I actually like some of the pieces John Elway is putting together and if Drew Lock can make a second year leap, Denver will be legit.
Pick: Broncos
READ ALSO
Madden Simulation Betting
NFL 2020 Schedule Interactive Prediction Grid
2020 NFL Schedule Release: 10 Weekly Underdogs to Watch