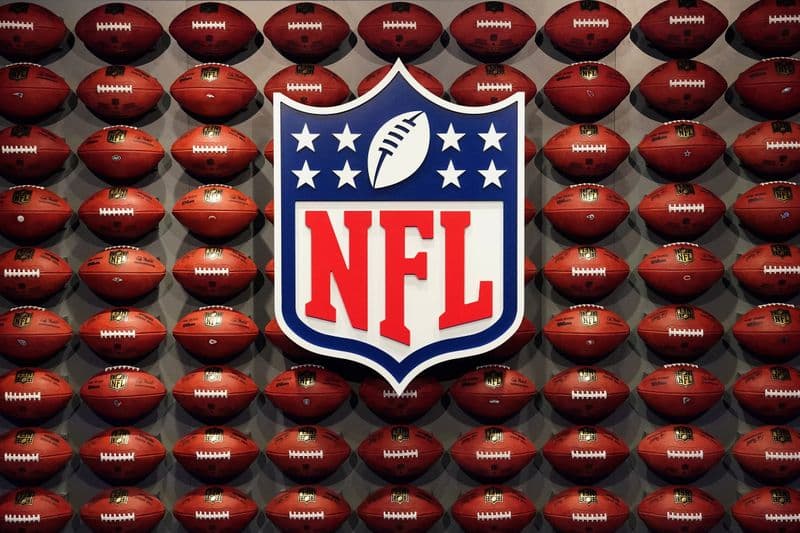 The NFL 2020 full season schedule is HERE! In an offseason loaded with some major household names on the move, the release of the scheduled matchups on paper is another time much like the NFL Draft that gives us a well-deserved escape from the surrounding circumstances. A time that I typically take for granted.
Upon Thursday's early evening three-hour launch party on ESPN, we're given a weekend to relish in our sacred teams' upcoming rivalry forecast, mark our calendars in ritualistic fashion, and even don some gear while we do it.
Let's take a look at week-by-week matchups that are of prime interest, particularly with Daily Fantasy ideology in mind.
(And never will I take this for granted again.)
READ ALSO
Madden Simulation Betting
2020 NFL Schedule Release: 10 Weekly Underdogs to Watch
Week One
A sizeable number of divisional matchups found in Opening Weekend, and as to be expected.
We're treated to the first of hopefully several Brady/Brees showdowns to come in the next two years, and I can already smell chalk from months away!
Also, [likely] another narrative-thumping Brian Flores defeat of Bill Belichick stands out as how my season as a Pats fan will kickoff.
And most notably, a rematch of the AFC Divisional Round from 2019 between the reigning World Champion Kansas City Chiefs and the Houston Bill O'Briens! This will be a new look for the Texans, taking the field for the first time without their best wide receiver of all time in now-Arizona Cardinal DeAndre Hopkins.
Week Two
Alas, another Thursday Night Football game that couldn't fail to disappoint.
The Atlanta Falcons and Dallas Cowboys should prove to be a popular game for DFS, and an intriguing one at that. Or you'll simply want to roster a ton of Dallas. Maybe that's just me…
Week Three
In Week Three, we get a Tuck Rule rematch of the Raiders and Patriots, all while missing the centripetal figure of the occasion in Tom Brady (see: Bucs). We'll see if the disdain remains on behalf of the Raider Nation as they take it out on Stidham/Hoyer.
Oddly, I get a sense of under-the-radar DFS plays stemming from the Redskins/Browns Sunday morning matchup.
A Kansas City/Baltimore Showdown slate on Monday Night Football will more than compensate for Thursday Night's triumph between the Dolphins and Jaguars (seriously, HOW does this happen every Thursday ala Groundhog's Day?).
Week Four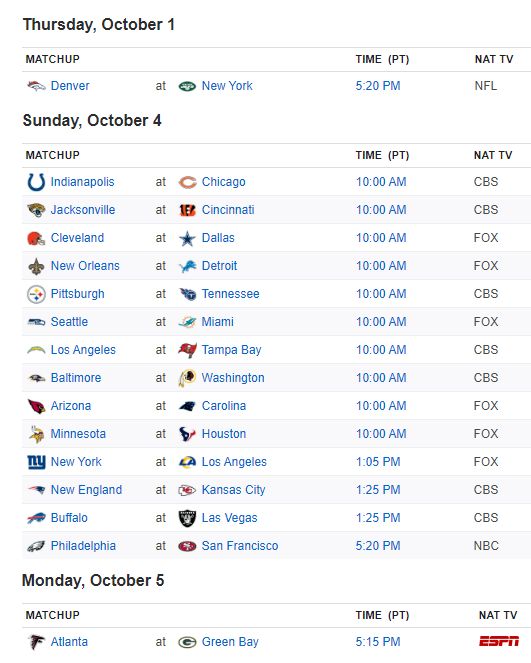 Week Four features some very interesting matchups regarding fantasy purposes, and one in particular being the Vikings at Texans game. The over/under on this game should be pretty sizeable, but I suppose time will tell on an offense that traded one of the most consistent wide receivers in recent memory for one of the most inconsistent running backs of the past ten years. Let's go William Fuller!
Week Five
First set of bye weeks approaches…
Week Six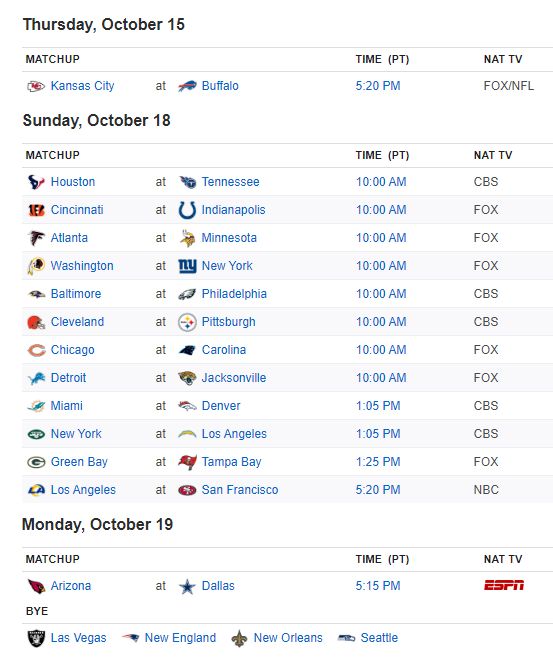 Week Seven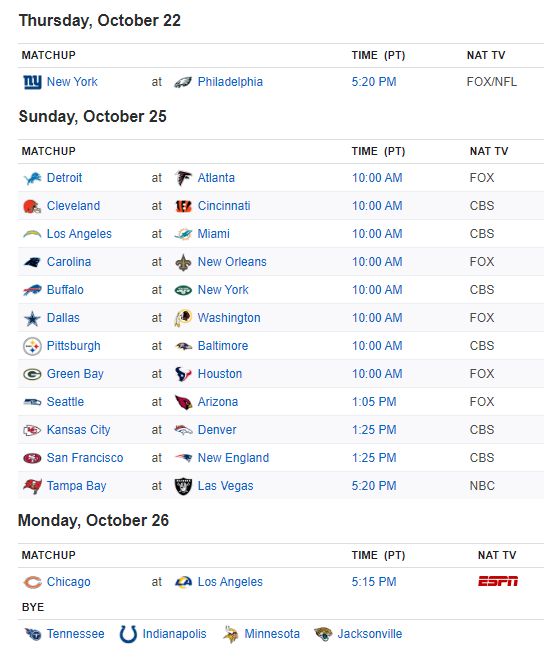 The SGP Bowl between the Ryan 'Real Money' Kramer New York Giants and the Sean 'Stackin The Money' Green Philadelphia Eagles! Thursday Night Football gets it RIGHT!
Week Eight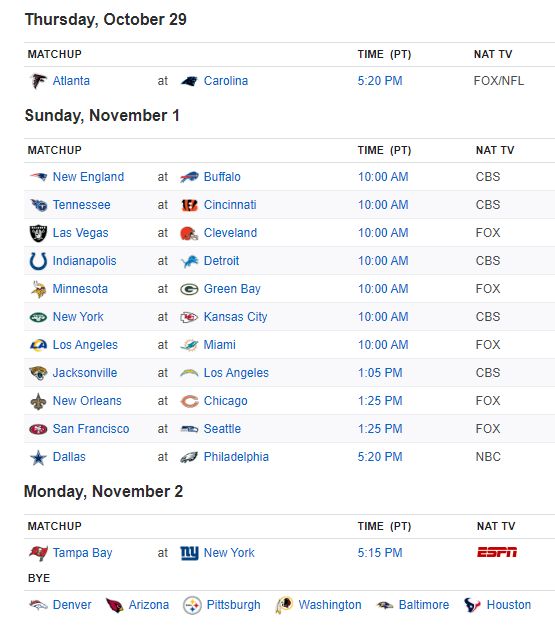 Week Nine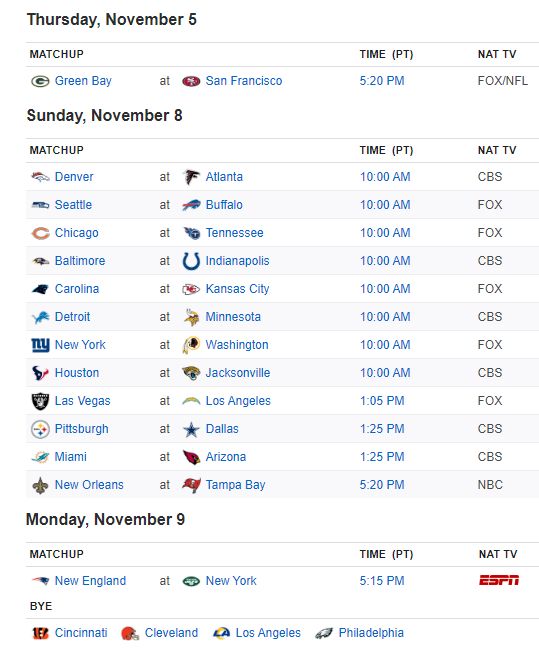 Tampa Tom v. Brees, Volume 2, along with a stellar single-game slate between Green Bay and San Francisco on Thursday Night.
Week Ten
Week Eleven
The first Melvin Gordon Revenge Game!
Week Twelve
An incredible Daily Fantasy Thanksgiving, all quite savory matchups.
Week Thirteen
Week Fourteen
Week Fifteen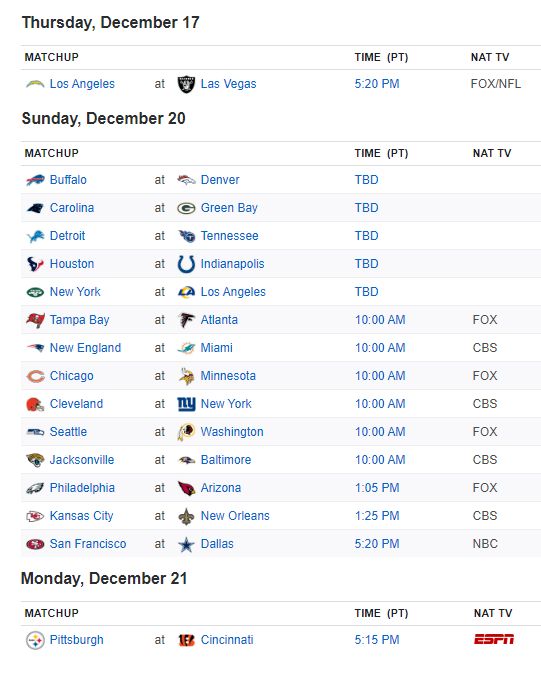 Week Sixteen
And the second Melvin Gordon Revenge Game!
Week Seventeen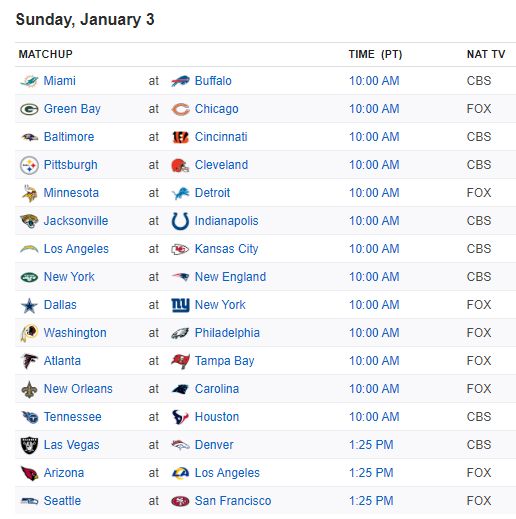 READ ALSO
Madden Simulation Betting
2020 NFL Schedule Release: 10 Weekly Underdogs to Watch