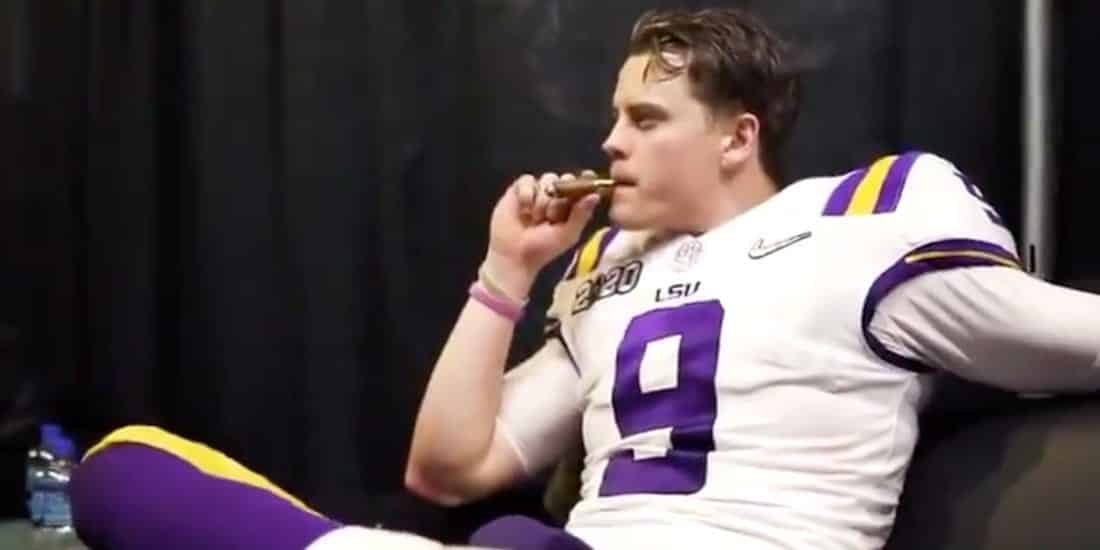 The great thing about NFL Mock Drafts is it's one of the few things they can't take away from us sports fans right now! To be honest I'm excited for our first ever Virtual NFL Draft, sure I'm going to miss Roger Goodell being booed, but the idea of these computer illiterate old school football guys trying to figure out video conferencing is going to lead to some hilarious side effects. Imagine explaining Zoom video settings to Dave Gettleman, good luck!
READ OUR OTHER NFL MOCK DRAFTS
Shawn Burns 1.0
Sean Green 1.0
Ryan Kramer 1.0
Colby Dant 1.0
Podcast
The College Experience
Sean Green's NFL Mock Draft 1.0
#
Team
Pick
Pos
College
1


Bengals

Joe Burrow
QB
LSU
Joe Burrow aka the true 'Tiger King' is about to be unleashed on the league and hopefully for Bengals fans he turns into Joe Atomic as he destroys anhilates defenses.
2


Redskins

Chase Young
DE
Ohio State
Ron Rivera has the Redskins switching to a 4-3 and Chase Young is exactly that kind of edge rusher you need when facing Carson Wentz and the much crappier Rayne Prescott and Daniel Jones.
3


Lions

Jeff Okudah
CB
Ohio State
Lions need to win now and also have a big whole from the Darius Slay trade, Okudah is by all accounts the best CB in the draft.
4


Giants

Tristan Wirfs
OT
Iowa
The Giants will overlook their glaring need at QB and go for the best tackle on the board, likely falling in love with combine superstar Tristan Wirfs.
5


Dolphins

Justin Herbert
QB
Oregon
Chan Gailey came out of retirement to coach Miami's offense, and favors an athletic QB Justin Herbert seems like an ideal match in South Beach.
6


Chargers

Tua Tagovailoa
QB
Alabama
The Chargers have already moved on from Philip Rivers and his 10 children, with Tyrod Tyalor already named starter for 2020 the Chargers can afford to take their time with Tua.
7


Panthers

Derrick Brown
DT
Auburn
He's getting comps to Reggie White and while my childhood will never be ruined if Derrick Brown signs in Green Bay the fact that he gets mentioned in the same sentence as White says it all.
8


Cardinals

Isaiah Simmons
LB
Clemson
Every week on the DFS podcast we picked the TE facing Arizona's defense and now is there chance to kill our Draft Kings gold mine by drafting an athletic LB that can also play safety.
9


Jaguars

Jerry Jeudy
WR
Alabama
The Jags appear to be tanking for Trevor Lawrence while still giving Minshew a final shot to revive some mania. Jay Gruden as the new OC would really enjoy having Jeudy while scheming up plays.
10


Bowns

Andrew Thomas
OT
Georgia
The Browns actually did the smart thing in the off season and brough in OT Jack Conklin, they still need help on OL and 6' 5" stud Andrew Thomas seems like a can't miss, but somehow the Browns will fuck this up.
11


Jets

Jedrick Wills
OT
Alabama
Jets also need help at OL and will feel they got a steal here by selecting this SEC stud OT.
12


Raiders

Henry Ruggs
WR
Alabama
The Raiders needed help at WR and signed veteran loser Nelson Agholor to their roster so they still need more help. Hard to imagine Jon Gruden passing on a WR with a 4.27 speed and unlike Agholor actually catches the ball.
13


49ers
via IND

CeeDee Lamb
WR
Oklahoma
CB pick here could make sense here with Richard Sherman's best days behind him, but Kyle Shanahan will be going full on Gus Johnson sound byte if he can snag CeeDee Lamb.
14


Buccaneers

C.J. Henderson
CB
Florida
The Bucs pass defense was 30th last year in pass yards allowed per game and improving their secondary is a huge priority. Henderson is the full package, bringing size, speed and cover skills to a trouble TB defense.
15


Broncos

Javon Kinlaw
DT
South Carolina
Denver addressed some offensive needs in free agency and adding Kinlaw to a DL that has Von Miller and Bradley Chubb returning for injury may give their Mahomey in KC something to worry about.
16


Falcons

Trevon Diggs
CB
Alabama
Dan Quinn is hanging on by a thread in ATL, add a CB that can contribute year one can help the Falcons hang on in a super competitive NFC South.
17


Cowboys

K'Lavon Chaisson
DE / OLB
LSU
The Cowboys need some help on outside pass rush to go opposite of Demarcus Lawrence. One glaring issue with Chaisson is he doesn't have any major off the field issues so unclear if he will fit in with Randy Gregory and Aldon Smith.
18


Dolphins
via PIT

Josh Jones
OT
Houston
Herbert thrived behind a great Oregon OL and Miami needs to do everything they can to protect him long term, Jones will be a solid OT for years to come.
19


Raiders
via CHI

Jordan Love
QB
Utah State
Two things I'm sure of when it comes to Jon Gruden he loves QBs and very clearly hates Derek Carr. Gruden is on a 10 year deal and Love is the perfect passion project for Gruden who can help him "get his shit going mentally."
20


Jaguars
via LAR

Patrick Queen
LB
LSU
The hot tub in the Jaguars stadium seems to make more sense then their overall strategy where they unloaded a ton of defensive talent last year and this offseason. They need a lot of help Queen is a good start at LB.
21


Eagles

Justin Jefferson
WR
LSU
Don't be shocked if the Eagles move up and get Ruggs, especially if he falls out of the top 12. The Eagles need help at WR and Jefferson had an amazing 2019 including a 4 TD game against OK in the playoffs.
22


Vikings
via BUF

Tee Higgins
WR
Clemson
Stefon Diggs being sent to BUF the Vikings could really use a productive WR on a rookie contract and Tee Higgins fits that mold.
23


Patriots

Cole Kmet
TE
Notre Dame
Bill Belichick loves the TE position, so much so that he turned a blind eye to gigantic red flags with murdering sociopath Aaron Hernandez. Cole Kmet reminds me of Gronk if Gronk had the grades to get into Notre Dame.
24


Saints

Jeff Gladney
CB
TCU
Saints moved on from Eli Apple and Jeff Gladney could be a great replacement. He brings foot speed and swager to a defense that is going to have it's hands full in the NFC South.
25


Vikings

Yetur Gross-Matos
DE
Penn State
With the Vikings likely losing Everson Griffen and his eight sacks, makes sense to take a pass rusher like
26


Dolphins
via HOU

D'Andre Swift
RB
Georgia
Swift is a pretty bad ass name for a RB and he seems like the best on in this class. Three first round picks means using a one on a RB isn't an insane move.
27


Seahawks
via KC

Cesar Ruiz
C
Michigan
With Seahawks current Center in limbo, Ruiz makes a lot of sense, he's a 6' 3" 307 lb road grader which is perfect for the Seahawks who love to run the ball* (except on the goal line in the Super Bowl when I have Lynch as MVP at +400)
28


Ravens

Kenneth Murray
LB
OK
Baltimore has a history of stud LBs and Murray could add a chapter of his own.
29


Titans

Jaylon Johnson
CB
UTAH
If TEN expects to compete long term against teams like KC their pass defense needs to #TitanUp and Johnson can certainly help with that.
30


Packers
via NO

Denzel Mims
WR
Baylor
Mims dominated at the Senior Bowl and specializes in jump balls and contested catches which is a perfect match for Aaron Rodgers who isn't afraid to throw to covered WRs.
31


49ers
via IND

Xavier McKinney
S
Alabama
Xavier probably doesn't fall this far, but if he does the 49ers need help at safety and could be a steal.
32


Chiefs

Kristian Fulton
CB
LSU
The Chiefs have the offensive side of the ball figured out but could definitely use some help at CB especially after losing Fuller.