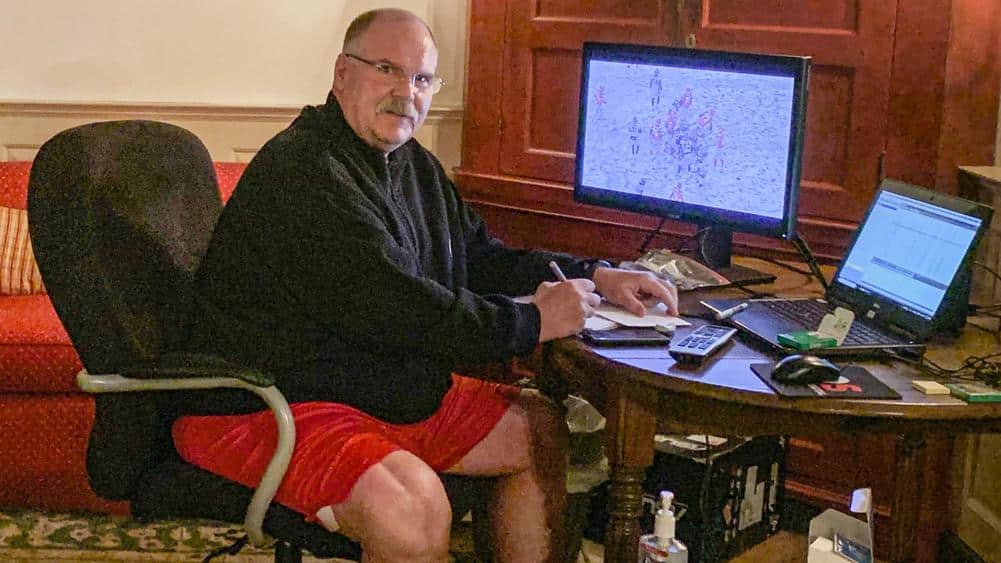 Podcast Recap
The guys welcome on Walter Football (@WalterFootball) for their annual NFL Mock Draft podcast taking turns making every pick for the first round, including some NFL Draft Props Walter Football is high on. Plus the guys give out their latest picks for Degen Madness.
READ OUR OTHER NFL MOCK DRAFTS
Ryan Kramer 1.0
Sean Green 1.0
NFL Mock Draft Podcast Results
#
Team
Pick
Pos
College
1


Bengals

Joe Burrow
QB
LSU
2


Redskins

Chase Young
EDGE
Ohio State
3


Lions

Jeff Okudah
CB
Ohio State
4


Giants

Tristan Wirfs
OT
Iowa
5


Dolphins

Justin Herbert
QB
Oregon
6


Chargers

Tua Tagovailoa
POS
College
7


Panthers

Derrick Brown
DT
Auburn
8


Cardinals

Isaiah Simmons
LB
Clemson
9


Jaguars

CJ Henderson
CB
Florida
10


Bowns

Jedrick Wills
OT
Alabama
11


Jets

Mekhi Becton
OT
Jets
12


Raiders

Jordan Love
QB
Utah State
13


49ers
via IND

CeeDee Lamb
WR
Oklahoma
14


Buccaneers

Andrew Thomas
OT
Georgia
15


Broncos

Jerry Jeudy
WR
Alabama
16


Falcons

K'Lavon Chaisson
OLB
LSU
17


Cowboys

Javon Kinlaw
DT
South Carolina
18


Dolphins
via PIT

Josh Jones
OT
Houston
19


Raiders
via CHI

Henry Ruggs III
WR
Alabama
20


Jaguars
via LAR

Patrick Queen
LB
LSU
21


Eagles

Jalen Reagor
WR
TCU
22


Vikings
via BUF

Brandon Aiyuk
WR
ASU
23


Patriots

Xavier McKinney
S
Alabama
24


Saints

Jeff Gladney
CB
TCU
25


Vikings

AJ Terrell
CB
Clemson
26


Dolphins
via HOU

D'Andre Swift
RB
Georgia
27


Seahawks
via KC

Yetur Gross-Matos
EDGE
Penn State
28


Ravens

Kenneth Murray
LB
Oklahoma
29


Titans

Austin Jackson
OT
USC
30


Packers
via NO

Denzel Mims
WR
Baylor
31


49ers
via IND

Jaylon Johnson
CB
Utah
32


Chiefs

AJ Espenesa
DE
Iowa
NFL War Room Comparison

Chargers GM Tom Telesco (left) vs. Giants GM Dave Gettleman

*Notice the difference in monitor-to-paper ratio on each desk pic.twitter.com/3LLfF3ZVJQ

— Kevin Boilard (@KevinBoilard) April 15, 2020
Podcast Transcription
Speaker 0 (0s): This NFL mock draft addition to the sports gambling podcast is presented by MyBookie daddy G Vegas may be close, but the casino at MyBookie is open 24 seven here's a promo code, an SGP, and get up to $1,000 in bonus bets. mybookie.ag promo-code SGP to play winning get paid. Am I a bookie? We're also brought to you by D Jen madness. We're giving away $3,000 in our virtual NCA tournament, courtesy of barking dog partners. The games are streamed on her video channels.
Plus you can bet on the games including live wagering at MyBookie. Go to sports gambling podcast.com/contest for all the info we're also brought to you by ACE per head. ACE is the leader in paper ed providers and they make it super easy to start your own sports book. Plus ACE is offering up to six weeks free. Oh really? spread.com/s GP that's ACE per head.com/s G you're listening to the sports gambling exclusively on S.G.P..
Speaker 1 (1m 27s): get your fucking shot.
Speaker 0 (1m 35s): Ooh, welcome everyone to the sports. Gambling podcast I have Sean stacking the money. Green. We'll type partner and pigs. Ryan real money. Kramer Tavin and cream dog. Mock draft mock draft mock draft mock draft my favorite kind of draft the fake draft Sean, why, why do you prefer the fake draft over the real draft? Because you get to control the giants fate in the mock. Draft uh, I mean I'm mostly Edelman, not involved in the fake draft you know, I think mock draft or something that may, maybe it's just me, but I feel like mock drafts are irritating me more as I get older.
Really? Yeah. Cause now that you know, every, every moment is precious. Who the fuck has the time for this shit? Well, apparently us cause we were doing a mock draft podcast Oh, I'm sorry. Keep those thoughts inside. I loved great way to start the mock. Draft podcast this is a complete, it was attack. Yeah. We just a superstar. Mock draft superstar. The greatest mock drafter you've, you've probably never, you've probably heard of if you listen to us, Sean's constantly plugging their site. But big fan of Walter football joined us to do our own mock draft and we'll get to that in just a second.
But of course, check in with a little a Degen madness but it is the NFL mock trap. Podcast so, Oh, just hearing that sweet, sweet NFL facts theme song, NFL. They're saying it's going to happen. Ryan don't want to jinx it, but you know it's definitely happened in the NFL virtual draft that's right. All the profits you want to get on the virtual NFL draft. You can get him over at MyBookie dot. A G and of course Madden NFL SIM games.
We're going to be doing her own Madden NFL tournament coming up. And of course Degen madness the final stretch. We have two elite eight games on Thursday, two final four games on Friday, third place game. And then the Degen madness championship game. Of course, DJ madness pet on that exclusively over at MyBookie dot. A G, he's a public code SGP where you can play win and get paid.
And, uh, we're going to dabble in the casino, use the promo code SGP casino for up to 150% deposit bonus, play win. And most importantly, get paid at my booking dot. A G figured out why you're more excited about the mock draft than I am. And why not age? It's Dave Gettleman that's got me down. He's gonna fuck this up. How does he not fuck this up? Like they're not going to just, it's not going to be like, it's not going to be like, Oh, like Gettleman clicks the wrong button and then boom, the giants are stuck with like a sixth round guard.
Ryan, are we 100% sure that Dave Gettleman his computer is connected to the internet? Because I'm reminded of a story where my wife, big animal person, vegetarian, but she would always go out on the Lake with her grandfather and go fishing. And your grandfather knew that she wasn't really wanting to hurt fish or kill fish or gut a fish. So what he would do is he would just put like a weight on there and an empty hook, let her cash. She's out there, she's having fun, but she's not doing any fishing.
Are we sure that they didn't just set up a screensaver on Gelman's computer where it looks like he's involved in the draft clicking around and then Mara is the man actually pulling the trigger file, see that theory and raise you that his grandkids literally just just drew some shit on a monitor and, and he's been at it for days. He's loving it. He loves Minecraft, whatever that is you man. I just, but, but in seriousness how, all right, how many mistakes will be made?
Like we'll, we'll, we have to, I haven't seen any props like this, but will we have to run a pick back because someone made a technology mistake. Well and they keep going back and forth on that. I think there was talk of them doing timeouts. So if you had a technical issue, you could call it timeout in the draft that's, I mean, why not go with $1 billion industry in fantasy sports? That's what they do, right? And well, Andy Reid's already burned through two of his time, ass even in the pre draft process. And there was a great photo of Andy Reid working from home and uh, I, I really got to find it, but his GM spill like which, which front office executive spills food on their laptop that we hear about afterwards.
Well, and this and I gotta pull up the phone. Okay. I'm making this, I was going to go with CD lamb for the episode photo, but uh, this, this photo of Andy Reid in a gym shorts with his like set up, he's got like a pad looking right at the camera and I know this is a stage photo because this man, there's no snacks on this man's desk, so there's no way he is involved in it. No way. He's getting ready is a bunch of gum on there, which is okay.
Come on. The guys at least working on some seeds, some honey roasted peanuts. Come on. This isn't celery wait that Andy Reid has on him. This man likes to snack. He likes a good barbecue and he just won the Superbowl here telling me he didn't go on a little eating vendor. I mean, I just, I think normal people might have some snacks on the desk, let alone a giant walrus of a human being who was once portrayed by the Koolaid man. I mean, Oh, how many people can say that? The Koolaid man once played the, all right, Sean, before we get to the mock draft before we get to the mock draft of course, deja and madness, we're closing it out strong here.
A a amazing lineup. Thursday night, two great games, Texas tech Raiders square off against the Kansas Jayhawks, Kansas right now a minus six and a half favorite over a MyBookie dad age total at 85 and a half framer. We've been continuing on this tradition of being on the opposite sides of the games. I've audition, I, of course, I'm up six units, uh, to your zero units. I'll give you what's the conversion though from my units a year unit.
Sean, long cock. Since you're the man chasing the unit right now, I'll give you first grabs here on the pic. Oh, no, no. You know what? You go ahead because I'm happy to take chalk again. Yeah, I'll go. Texas tech plus six and a half. I mean, Kansas really had the, the win of the tournament so far. 41 to 19 destroyed of the Michigan Wolverines. We got to see the weirdos at the end of the bench getting into the game for Michigan. That was the highlight for them and it was just, we haven't seen an a game that uncompetitive just start to finish in the tournament.
We've been really lucky. It's been great games, buzzer beater after buzzer beater, um, conference matchup. They've seen each other before this year. Yeah. Really with Kansas, the issue is, uh, as a bouquets size and some of the other Kansas big men are just too tough to stop. However, Texas tech, they've been kind of the sleeping giant, um, especially as a 13 seat. I don't think we're giving them enough credit for, for getting here to the elite eight to face Kansas.
Dave one already three games. Um, cutting on offense is amazing. They're just like, they're a team where like everyone touches the ball, they get good looks, they're super fast. And I think if they can get out and transition, that's if they can beat Kansas in transition points. They cover the spread and have a decent chance of winning. So that's kind of my angle on the red Raiders. The red Raiders have not scored. They scored 45 and 47 and this is an outlier performance
Speaker 2 (9m 33s): both times on the high end. I think we've seen the best that this team has the offer because that Florida state team really just shit the bed and Houston's defense wanted nothing to do with being there. They're, they're taking a huge step up in class. To me, meanwhile, Kansas kind of ho hum did, did did something right around the mean in terms of their performance. I think Kansas can absolutely roll again here and I think while you're right, I think tests Texas tech won't be scared of the moment. I think the CPU boys on Kansas understand what's going on.
I was watching some game tape and I'll say this, I saw a little stretch that involved a two handed dunk by AZA bouquet, a rejection, a nother two-handed dunk by as a bouquet, a another rejection. And then a third too as a bouquet I think can absolutely influence this game. He's so big, he's so strong. Texas tech has no answer for it. If they fall behind early, we could see another Michigan, Kansas here, Sean.
Speaker 0 (10m 33s): Yeah. And certainly that is the concern that Kansas is just on another level, uh, athletically in that they just can't hang with it. But I think, I don't know, and maybe maybe the size is really what ends up being the big difference with this Kansas team, but I don't know. I really liked what I saw with Texas tech and I think I experienced man, they'd been there before and I think plus six and a half is a big number for this Texas tech team. It is. It's a big number for this tournament in Michigan. We saw what's coming off their Superbowl.
That crazy victory or a, yeah,
Speaker 2 (11m 7s): guess what Kansas, they made the statement. They continue the statement Thursday night at 6:00 PM on all of our networks across the globe,
Speaker 0 (11m 15s): streamed live wherever, wherever great Sims are found. Next game. The other, the late tip, seven o'clock West 10 o'clock East Ohio state hosted LSU in Ohio, Iowa state lay in three total at 86 and a half. I'm gonna, I'm gonna take, I'm gonna snag Ohio state minus three I loved, I mean that date when was amazing. And again, they're very similar to Texas tech where just a well rounded team. Everyone touches the ball, a great cuts, like just good clean basketball.
Um, and minus three sounds a little low for Ohio state here at home.
Speaker 2 (11m 51s): You know, I, I didn't really know what to think, feel like we haven't really seen, I mean, I, I don't think we've given LSU enough credit for being beating a good Villanova team in the first round. And I certainly don't think we're giving them any credit for holding on winning in miraculous fashion against the Colorado team even though Colorado outplayed them. In a way, LSU is getting very little respect considering they are sitting here in the elite eight one win away from the final four. I'm happy you took Ohio state. Oh wow. For some reason I don't like Ohio state.
The program. Perhaps it's just urban Meyer and the stinky puts on everything. But this, this LSU team has, they're alive dog of course. This is the gen madness and I think Ohio state's a team with with a bit of variance this, I think this will be an exciting game. I think regardless of what happens early, we're going to get a barn burner late. I do like the over in this one. I do like again, we haven't really taught like the, the household names of Nico Mannion and as a bouquet and Malakai Flynn like we're not woo is the name that you call out for LSU?
Is it, is it maze? I don't know. I, yeah, again, I think they're kind of going under the radar and yet every time we see days Inn and we hear, we hear about how his uniform numbers wrong again and Emmett Williams, uh, these guys have come out and they ball. I mean they don't really have that, that top flight guy outside of Skyler Mays who made a big bucket to win that game against Colorado. But everyone shows up and a little bit like what you said about Texas tech, they play as a team really well, so happy I got LSU because of course I am a Tyga with my man Eddie.
Oh Sean. That's as far as we can go because of course San Diego state and Arizona are waiting in the final four. Yeah. Final four Friday, which we have what the line would be. Yeah, give people a look ahead cause I'm that kind of maniac. I've already run the different permutations to make sure that my bookie. Dot. Ag has all the numbers. Get them up as soon as possible. All right, so Friday 6:00 PM the early tip, it's either going to be between Kansas or Kansas hosting San Diego state or Texas tech headed to San Diego state.
The the line in the San Diego state hosting Texas tech version, which Sean would like is four and a half. 88 is the total. That's a kid game. That's a good number. It's a good game but I think the more real realistic games since we've gotten such madness on one side of the bracket is that the LA France region is going to be chalky and we're going to have Kansas hosting San Diego state where I would love to see this woman. That's something I wanted to see in the real final four minus two for Kansas.
90 is your total Malakai. Flynn has kind of not really showed up in meaningful ways yet yet putting up nice numbers, good set line getting, I mean one a game with a shot. Let's, let's not forget, maybe I've just been angry because they're winning and not covering like, like the vast majority of the team. But in either scenario here, I think I'm happy to take San Diego state. What about you? Yeah, I don't know. This is weird because I went against Kansas in the early round, but I would probably lean Kansas at that number.
Minus two is too small. So if Kansas ends up moving on, I just go Kansas small scene Wetsel have to step up and play a true big man that, that will be a test there for the San Diego state. Big man on the flip side, Kansas, I've not seen them have to contend athletes like San Diego state can bring to the table. Texas tech will be a good test and we'll see how they can do with the cutting, slashing offense of the red Raiders. But San Diego state, they bring it up another notch.
So it will be an interesting game. But also San Diego state is capable of shooting from the outside. So we'll T we'll even have to take it inside on as a bouquet. Um, what about in the Texas tech version? Yeah. Then ah, shit, four and a half points. San Diego state can't cover a number. I would probably go Texas tech there. Okay. Yeah. Will of course update you with our picks after the games on Thursday and before the games on Friday, probably do some Twitter stuff. Who knows the, the late game on Friday shown it's either going to be LSU heading to Arizona to take out fireball, Nico Mannion and the wild cats where the Arizona Wildcats would be favored by four and a half or it would be the Arizona Wildcats headed to Ohio state.
And that's a hell of a case where they would be a one and a half point road favorite blue as the 11, just like they were to open against Michigan state, another big 10 team who owned them for three and a half quarters and the rest is history. And then the uh, whoever, whoever winds of those, uh, those final final for Friday, the winners there, obviously the winners would play, uh, Saturday night, seven o'clock West coast, the D Jen madness championship game.
And of course, because we know everyone likes action. We, we made a third place game. Yes. We scaffold together. We cobbled together some prize money. I like Scoble the losers of the games on Friday. We'll play in a third place game on Saturday, 6:00 PM. So we have a full slate of game Saturday night and make sure you check out sports gambling podcast.com/contest all the a roster data information. You're on Arizona regardless I assume.
Right? I mean I felt it go against them, right? Yeah. And I felt bad having to uh, having
Speaker 0 (17m 50s): to throw them in there. If you look at the leaderboard right now, Brad Parker in first place with 280 points. Eric as planned as how do you as Pluto? I dunno, but that's just funny. Asplundh Eric Asplundh, uh, and uh, Petro car Pico are tied with two 50 in second place. Stewie T ran and things out in Fort Brad. Guy in first place right now, 280 points. He has San Diego state beating Arizona in the championship game.
Well, he's well alive. He's, he's looking really good. I mean, if they both get there, he may lock this up. Um, well in shout out to Tyler. Uh, he, he put some numbers together to point out that of the live teams, people, overwhelming majority are on Kansas, a decent chunk have San Diego state, but not many. Not many. On Arizona, only 3.55 in true Degen Petro, Petro car, Pico, his bracket is Texas tech beating Arizona.
So that's an insane, he is one of two people who has Texas tech winning it and only one of 15 with Texas tech in the final four. Yeah. And uh, so really if you, if you don't have Kansas and you're deepen the list and your, your champ is alive, I think you're still kind of in the mix. Oh, why not? You're definitely in the mix with the way the points double your, your well alive. Uh, a lot of ground can be made up if you had LSU, Arizona, San Diego state, Ohio state, Texas tech, anyone but Kansas, anyone but Kansas and you're all right.
Okay. We're going to switch over to the mock draft but before we, uh, we'll come on. Walter time to give a shout out to ACE per head. That's right. He's spread. Ever thought of starting your own sports book. I know what you're saying. Shawn. Sports are on hold. Hey, it's no big deal. You just pay per head meaning and he's for head.com/ S.G.P. The you only pay per customer you have. So you start slow and Hey, guy doesn't bet that week.
You know you don't pay anything. Well, let's say you find some Russian table tennis then Hey, maybe you're, you're, you're racking in some cash. Of course they have an online casino options as well. ACE per head gets you set up. They have top notch customer support knowing 24 seven some of the sharpest lines in the industry. Plus ACE per head offers live betting and an amazing mobile experience. Are you going to do is head over to ACE per head.com such as GP. That's ACE per head.com/s G P joining us on the line for this NFL mock draft one of the Kings of the marks.
Walter football himself. Walter what's happening, man?
Speaker 3 (20m 48s): Not much getting ready for the draft than eight days. Uh, thanks for having me on.
Speaker 0 (20m 52s): Yeah, the virtual draft shop. Yeah, exactly. I mean it's like a fantasy draft with your buddies, right? Nothing could possibly go wrong. I'm really, I'm really as an Eagles fan, I'm really enjoying just all the photos of Dave Gettleman is a war room and he just has like a giant stack, a binder of paper and then like this old IBM think pad type laptop with the, he's got the move where he writes his passwords on a sticky pad and has that on his laptop and stop it. Shawn. Walter I know, I saw you were going over some of the prop bets.
Uh, there's a lot of fun ones are evolving around, uh, you know, technical difficulties, stuff like that. Or are you, do you imagine any sort of issues with this virtual draft?
Speaker 3 (21m 36s): Yeah, I think you have to set the over on their, on Gettleman timeouts at two and a half. Like I feel like he's gonna he's gonna miss this pic twice, at least maybe three times.
Speaker 0 (21m 46s): Well I was going to say Sean, I mean we, most of us do home leagues where you maybe have 12 teams. How many times does the commissioner have to hit the timeout button? We have 32 GMs, most of which probably struggling through the pandemic using a lot of zoom, virtual backgrounds, maybe their friends. Yeah, I it is funny cause a lot of these, there's a handful of, of GMs coaches who are really up to date, got all the latest info, deep dive in analytics and then there's just like a large percentage that are just old school football guys probably have like a empty Sprite bottle.
They're using it as a dip cup and like, you know, not getting their kids to tell them how to add a set up, the zoom call. So it's really to force these old school football guys into a virtual draft. Uh, certainly will be pretty interesting. But, uh, Walter how long have you been doing? Uh, the site? Walter football I know I've been reading it for, I can't remember what I started, but yeah, a long time. And, uh, if you've never been to the site, it's an awesome source of info. I love it. It's just very like simplistic, just tons of info.
I go there all the time. When did you start?
Speaker 3 (22m 55s): Thanks. Uh, yeah, I started in 99. It was a high school project in my internet class, so was a senior in high school and that back then. Um, and yeah, it just, I had to start a, uh, we had to build a website about something we like then a lot of football and I just kept going with it. So yeah, it's been a 20 and a half years.
Speaker 0 (23m 13s): That's pretty awesome. Yeah, that's, I mean, that's not too far off of how this thing got started as well. And it just kept going. Yeah. You just keep doing it day in, day out and now all of a sudden it kind of turns into a business for you. Um, what is your, uh, is it the pics do you think are your most popular pages or is it the mock draft is there one part of the site cause you kind of cover a little bit of everything?
Speaker 3 (23m 36s): Yeah, the, uh, the mock draft is the most popular, especially obviously during draft season, but even like during the regular season when it's September and October, we'll still get a ton of on our mock traffic. So I would say like in order it's like probably mock draft and pics and then, uh, and then free agency signing grades.
Speaker 0 (23m 54s): Oh yeah. People love their grades. People love to see that grade after their teams picked. It is, I mean, it's so fun and really, if you go back and look at the draft grades after the fact, like there's so chronically wrong, but it's still fun. I mean, in the same way that you would like Snickers sends you that email saying like, Hey, you got a B minus it. Personally, whenever I get the bad grades from the Yahoo thing, I'm like, where do you know, yeah, I destroyed draft kicks. I'm coming for you. It does, it does fire me up to kind of a prove them wrong.
And uh, you're, you're talking about drafting and, and sort of virtual draft and how it compares to your fantasy football draft. I kind overwhelmed myself. I booked two drafts on the same day and I had, uh, I wasn't really paying as good of attention as I should have been, but I, I thought I drafted Mike Evans in one league and Godwin in the other league but in fact I drafted them in the same league. Then instead of trading them I just decided to, Hey, I'm going to stick it out and then uh, ended up working out great.
But it was a huge mistake. So I love that you crowbarred in a personal fantasy football story into this, that that was very clever. The audience is better for it. All right, why don't we do this? We'll get started. I got notes in everything, Sean. I'm prepared. Kramer, you're a number one on the clock. Kicking things off with the bangles. What are you doing here? No notes required here. I think there's very little opportunity for trade or anything here. Cause the bangles the like their fan base would literally walk down, violate the social distancing, walked down to the offices and just burn it all down.
Joe Burroughs the pic, I may not agree with it. I think I'm always a little scared of the guy who pops out out of relative nowhere to be the number one overall pick. But I mean you can't argue with the results. You can't argue with the Moxy. He can't argue with anything. But the fact that he looks like Macaulay Culkin, which is a big, big problem for me. They came metric P I know people are very interested in my K metric scores. He, he's definitely closer to Josh Allen then he is a a wide eyed and bushy tailed. So I liked the picked on.
I mean what are, you can't go wrong. The dude's a stud, right? Yeah. And especially with uh, his O you know, transitioning to the NFL. It seems like the NFL is going to start running these kind of types of offense more. Zach tailors there. It, it's probably, maybe they can figure something out, but if you're the bangles, you just can't not draft this guy. You can't, it'll, it'll be legit riots, the skyline chili. We'll just be whipped it ownerships head so they really have to take, I mean Walter you on the same page. There's no way they do anything but take a borough there, right?
Speaker 3 (26m 36s): Yeah, it's definitely the pic. I think the odds of him being the pic, uh, on one of the sports books, it's like minus 15,000 or something like that. So, um, yeah, it's, it's definitely going to be Barrow.
Speaker 0 (26m 48s): I'm just throwing this out. Last time or this time last year, we didn't think Baker was going to be the number one page that's going to throw that out there. That was or didn't love anyone that there was some late movement. All right. Number two for the Redskins. Walter what are you doing here?
Speaker 3 (27m 3s): Uh, I had the Redskins taking chase young. Uh, I don't see them trading down. Charlie Campbell, our senior NFL draft analyst reported back in February that the Redskins love chase young so much that they weren't really going to entertain any draft trade downs unless like someone like really blew them out of the water. And I don't really know what, see, I don't see that happening. Uh, the rest of don't really need a net rusher, but they just need talent in general. Like that's the number one need and chase young it just so good. They can't pass on him. He's going to get like 15 sacks per year, so he's just going to be great for their defense.
Speaker 0 (27m 34s): Number one on my board, Sean. And unfortunately, I mean we can, we hope that Daniel Snyder scope EPA best player available. What is Cincinnati doing? Can, can I, can we hope Daniel Snyder screws this up somehow? Chase Young's really good. I'm not looking forward to having him in the division. Yeah, I, I mean I agree as far as chase young there, I wouldn't completely rule out the idea of them either trading down or possibly being in the mix for two Oh. But I think odds, odds on favorite chase young. That seems to now, Shawn, you were on the clock when the draft starts.
Is this as the pic where I feel like if the trade happens, they could happen here. Certainly here or with your giant. Say we should preface, we're not doing trades and we get way too complicated, but for the Detroit lions and number three, I'll go Jeff Akuna a cornerback out of Ohio state. You practiced on the pronunciation. I did. I, Hey, this is the big time mock draft you gotta get it right. I mean they traded slay. It does seem like they're looking to get younger. Matt Patricia, who is just, he's just trying to recreate new England, which never works.
It never works in any sort of business where you're like, Hey, I'm just going to completely copy the old Sal. Bring this Patriots attitude. It works for Bella check because he's bill Belicheck. Regardless, it seems like they're going to need help in the defensive backfield. A Kuta is kind of the consensus number one cornerback. So y'all go Jeff Kuta there. Bramer your giants. Number four. What are you doing? Well, I mean, this is more of a plea to Dave Gettleman. Just like doing the one thing that you're good at and take the fat guy. I think it's probably going to be Trist.
Is it Tristan wharfs Sean. Yes. Did I get that right? Please don't screw it up and do something cute. I think I'd be okay with Simmons. Uh, the kid from Clemson. I think the giants have some holes in a couple spots on defense, but please just take the offense of tackle. Any chance they go. Quarterback, take the offensive time. Daniel Jones, as we know now, working at any chance they just say screw it and go Herbert or to a Kramer. No. If they're going to say screw it, it's gotta be two. I'm all in on tour.
I'm all on. So yeah, I
Speaker 2 (29m 42s): mean, you know, I think you, and then you take the linemen, you call it a day, you move forward. I don't want to talk about gentlemen, I just, I know I'm going to have to read about some bullshit that Gettleman did after day one. So just please don't make it about you. Gettleman
Speaker 0 (29m 55s): all right. Moving on to number five, the Miami dolphins. Walter uh, well, what are you doing here for the dolphins?
Speaker 3 (30m 2s): So this has to be a quarterback. Uh, obviously, I mean the dolphins don't really have a quarterback, so, uh, they were tanking for two weeks ago by Alawa and as soon as he got injured, they started winning. So it was kinda like a coincidence there, but, uh, so I thought it was gonna be too old for the longest time, but I'm hearing that they like Justin Herbert a little bit more. Uh, they love both guys, so I don't really, I don't see them trading up to number three, maybe to Ford and make sure they get their quarterbacks. So like if they throw the giants a fifth round pick, kind of like the, the bears did with the Niners for true bisky. Uh, just to make sure they get the quarterback.
Um,
Speaker 0 (30m 35s): yeah, to do that, to bear fans, you had to bring up the trip. Risky trade up. It was like the, it's like when the Sixers traded up, uh, you know, it's one thing to, to have a bus draft pick, but to go to trade up for it just makes it that much worse.
Speaker 3 (30m 52s): Yeah. Does doubly the pain there. It's a, it's pretty brutal. And not just to pass them a whole, but also the Sean Watson is
Speaker 0 (31m 0s): Oh man.
Speaker 3 (31m 2s): Yeah. So the dolphins better makes sure they get the right quarterback or they're going to have the same humiliation, humiliation. Um, but from what I hear, they like Herbert a little bit more. I probably has something to do with the injury I'd imagine. But uh, yeah, so I'm going to go Justin Herbert,
Speaker 2 (31m 16s): Sean. I, I do, I do think this is going to be interesting, right? We're starting to see the weird buzz about Jordan Love, uh, you know, teams, some teams have him on their first round board and I do think that to a now, like it would be sweet poetry for the dolphins to still end up getting to her after all of that. I've watched way too much to, uh, is awesome too. Uh, has like Hawaiian pride and strength and like I really am, I'm in on this guy. I don't care about the injuries but uh, yeah. Herbert seems like he's going to be a steel to someone this year.
Like everyone's forgotten that he was going to be the number one quarterback last year.
Speaker 0 (31m 52s): Yeah. And a dill for, did you see defers comments that to his hip is better than it's ever been? It's like God dang. Thanks Trent. That's a bit of an oversell. He's coming off major hip injury. He has injury issues. You don't need to lie and say it's never been better. Come on man. All right, who's up up next number six. Super charge. Alright. And Los Angeles chargers ahead of the game. Playing in front of a no fans, they're ready to go. And uh, I think, I mean assuming dolphins go Herbert there, I think chargers have to go to a, if he's available there and this is a very charges move to take a guy with like a checkered injury history that they bring in.
I know they said that tie rod Taylor is the starter, but if two is available here at six, I don't see how will they know a tremendous amount of tickets. I think in LA it would at least generate some sort of buzz and there is just absolutely no buzz pre, pre, even covid 19 when I went to Dick's sporting goods there was, there was more XFL merchandise then charges, merchandise. Like there's really, there's nothing going on. At least you could hang it to a Jersey in decks and maybe get some people buy it. So that's definitely the move there at number six Kramer.
Moving on. Number seven, Carolina Panthers, Matt rule, new head coach first, first round pick here. What do they do? I mean, so this is where, you know, not really knowing what Matt rules going to do. I have to imagine he looks at the board and takes, I have, I'm taking Derek Brown and I think this is the classic like Derek, Derek Brown's a dude who didn't show up, uh, with the tape measure as much as he does on the tape.
I have a feeling Matt rules more of a show me, show me on tape kind of guy. And just reading the buzz from the Carolina beat reporters, it seems like there's some interest in taking either Brown or Kinlaw I think is what his name is. So I'm going to go Derek Brown to the Panthers with the seventh pick. Yeah, yeah, that makes sense. Uh, I could see them, I mean, I dunno, they, I could see him doing something safe like that. Just load up a either offensive or defensive line there in a build from there.
All right. Number eight, Arizona Cardinals. What are you doing there? Walter so Isaiah Simmons
Speaker 3 (34m 16s): is on the board and I think they'd have a tough time passing on him. He could go as high as number three is such a chess piece in the middle of the defense and they really need to upgrade that. They were torched by tight ends every single week last year. So they need to upgrade the middle of their defense. They already this himself to their offense. They traded for Hopkins and they resigned both tackles. So I think if a stud like Simmons or Derek grounds available, I think they go that route. And number eight. So Isaiah Simmons is a pic.
Speaker 0 (34m 43s): Yeah, that totally makes sense. I mean that was something we did when we were given out our weekly DFS picks, uh, on the DFS podcast eh, I mean it was hard not to put in the tight end every week who was going up against the Arizona Cardinals. It was just so bad and guys were, you know, even like second string guys were getting those bonus touchdowns. It was real, it feels like the perfect scenario for the Cardinals just for Simmons, the fall in their lap. I mean, I would be happy with, with the giants taking them at four. So at eight great, great, great opportunity for mr Kingsberry agree on number nine, Jacksonville Jaguars.
Oh, you could do a lot. You could do Jags I feel like are pretty wide open because they clearly, there's rumors now that they're not in the market for a quarterback, but really how sold can they be on Minshew? I mean we had fun route on mentio but uh, I mean who, we went to Pullman, Washington. We saw the writing on the wake of what mints you left up there. We liked the guy, but man, how, how was this Jags team so needy for every position, right? It's, it's gotten so weird. The demise of the Jacksonville Jaguars has been insane.
Where they went from being up. What 10 points in the AFC championship to the Patriots to now it seems like they're kind of positioning themselves for some sort of tank. Uh, Yana can GOC way seems like he's going to be traded hopefully to the Eagles, but we'll see. Uh, CJ, a Henderson cornerback from Florida, again, kind of consensus. Second, a cornerback on the board. First one's already off. Jags needs someone to kind of replace Jalen Ramsey. Uh, AGA boy, he's gone.
So they need someone. CJ Henderson a junior out of Florida. So Kramer, you're up. That is a nice pick. Their shot. Cleveland Brown's number 10. Overall, what are you doing here? So it would be so Cleveland to not take an offensive line. Men here, they have to take an offensive lineman. I think w you know tr Tristan works off the board. We still have kind of three in that camp of the guys that need to be taken. It would be so Browns to take Becton because I think he's the boss.
He's the clear bus. But I'm leaving. I, I maybe I will save him for the jets because they are the Kings of drafting busts. I'm going with the Alabama product. Uh, Jederick Willis, big strong Browns. Half they have to, again, another team where the fan base has to be begging the jam. Just please, please take an offensive lineman. They have weapons everywhere. Just taken off into one. Yeah, I mean that, uh, it certainly makes sense. They brought in Conklin so they're at least appear to be sane enough to realize you have to have an offensive line to win in the NFL.
So maybe that, maybe they'll stick to that strategy because so many holes last year and the O line moving on to the 11th pick New York jets. Walter what are you doing here?
Speaker 3 (37m 39s): Well, uh, you guys said it, it's going to be MCI back then. It has to be right. So the jet, the just last year when they had good protection at times when their line was mostly healthy, Sam Darnold play well. And when their office of Lyman were just out with injuries, the Arnold was a disaster. So they have to shore up their opposites of line. They have to protect Arnold, keep them healthy and back then it makes the most sense. I think he has, he has the most upside. He has a low floor. So, uh, yeah, like you said, it's very jet lagged, but, um, I think he's the picket 11.
Speaker 0 (38m 10s): Yeah, I mean he, he, he just, if I'm a jets fan, I just look across the locker room at the giants and think, please don't be Eric Flowers. That, that's why I thought if I, if I'm a jets fan and then this is the pic Sean number 12, AKA Johnny Gruden, the Las Vegas Raiders on the clock. Again, jets, wild or Raiders, certainly wild card. I wouldn't be surprised if they went CD lamb. I'm here. However, I know Jon Gruden, my man wants a quarterback.
He's going to go Jordan Love. I think Jordan Love ends up on the Raiders. If not at 12, maybe at 19, but a maniac. He may not get as Gruden by the throat and it's like we're not taking this guy over CD lamb. He's pulling the trigger. Give me Jordan Love for the Las Vegas Raiders at number 12. You know, Meyocks still works out so he sees me, he can hold Gruden and she does. He does look pretty in shape. Who do you, where do you think Jordan Love ultimately ends up? Walter
Speaker 3 (39m 11s): I, I have trouble putting him in the first round. Um, I know that there's some buzz about him going in the first round, but I think that's just teams, uh, leaking that out there because they want someone to take him. So a better prospect, false them. Um, I, I was kind of debating that today. I was looking over a possible, uh, no spots for love and currently in my mock draft I haven't gone to Atlanta cause Matt Ryan is 35 or 36 right now. So they need a replacement. But then I was an a considered it and I think the spot for him, his Detroit at the top around to a Matthew Stafford has a back injury.
We don't know if he's going to be 100% and the lions coach Jordan Love in the senior bowl. So I think that that the familiarity they have with him could lend them to taking Jordan Love.
Speaker 0 (39m 54s): I really hope Belicheck just just shocks the world that takes the first round quarterback and it's God. Well, and it's interesting too, maybe we'll get some either some sort of closure on some aware of these quarterbacks are going to end up because there is a little bit left in that carousel of Jamus, Andy Dalton, Cameron, cam Newton. Um, someone threw out Jamis Winston possibly to Pittsburgh. And I could, I could kind of see that as I could see Tomlin and Jane has kind of the on and off could feel comparisons between Bay manager.
Sorry. Just unbelievable shot. Better bit of red flags there, but alright Kramer, you're number 13. What are you doing here? Well, who's on the clock showing you're not San Francisco 49ers? Of course they got that from the Colts in the Buckner trade. Yeah. And I, I think, uh, what you're telling me, his CD lamb just fell to me at 13. If I'm Kyle Shanahan. What, why not? I think this, you know, I think what we clearly see is Debo. Samuel was a guy who has some potential, one more guy with that offense.
It really, it really puts Jimmy G in a position where if he fails, it's on him. It's on him alone. Uh, I love the pic. I had, uh, them getting, uh, Judy, but it doesn't matter. I like lamb. I think lambs, the best receiver in the class. Lamb goes here. I had Gruden taking them one pick before in my mind. Draft because I think Gruden gets held back and doesn't get as quarterback till 19. But yeah, CD lamb, Adam to this, this Niners team is going to be good. It's good. It's the offense steps forward. The defense takes a small step back there. Still a contender.
Yeah, I mean, that totally makes sense. If he's there. I don't, I don't see how the 49ers don't take them. And you're right, maybe, maybe may talk some sense into, uh, into Gruden and, and makes them take a receiver. All right, next up on the board, we got the Tampa Bay bucks with the 14th pick. Walter what are you doing here?
Speaker 3 (41m 46s): So, uh, they have Tom Brady now, but he's 43 and they have to protect them and they don't have a right tackle on the roster because, uh, DeMar Datsuns a free agent. So you have one of the four top tackles still on the board. So if the Buccaneers can get Andrew Thomas from Georgia, uh, I think they have to do it.
Speaker 0 (42m 3s): Yeah, I love that pic. I mean it's again, the books, the books are, are just full of riches when it comes to talent. They just, you know, poor James didn't have time cause that off. I just can't throw 30 interceptions, six of which go for touchdowns the other way. And maybe you're in this, all right. For number 15, Broncos could go D line here and just kinda add strength to strength. But, uh, I'm with Jerry, Judy on the board here. I think that makes a lot of sense for the Broncos. Get them, get them a Playmaker.
They've already done something on the other side that could be dangerous. I mean you're looking at some weapons for lock Melvin Gordon in the house too. Yeah. And her boy Phillip Lindsay, he's still there running hard in my mock Herbert was still available at 15. Anyway. John Elway passes on that beautiful six foot seven tall quarterback. He loves tall quarterbacks. Bell PAC 12 guy. So yeah, it, I wouldn't be, I'd be a little surprised cause they seem at least somewhat in on lock. But uh, I'll go Gerry, Judi there, receiver at Alabama for 15 Kramer Europe, next number 16 pick.
What are you doing here for the Atlanta Falcons? Ah, Whoa. I mean Dan Quinn definitely goes like, this is definitely his last opportunity, right? We all agree with that. So I think he goes out with a pass rusher. Hmm. And I think that pass rusher is going to be, is it Shay chase on Shawn? You know, you're asking God, why don't you to try? Listen, he's the kid out of, he's the kid out at LSU. We like, we're all tigers here on the podcast.
We love coach show and frankly if you, if you kind of break it down from the perspective of he's probably the second best edge rusher in the class. You're getting him here at 16th I'm okay with that. I just think Dan Quinn isn't going to go out without having his signature pass rush. And I think he gets it right here. Yeah. And, and, and don't, don't look bad, but this Falcons team could, if Matt Ryan doesn't completely face plant that they're, they're going to be a squad. They could regress, wait, regress even positively.
Oh, OK. Cause I, there, there, I'm almost thinking the other way as far as like early look to the wind totals there. Then what did they get to seven and nine last year that fell almost fraudulent. Like that team was really bad. They threw the coach's name in the hat and like him and went on this little bit of a run. But I think there's, I think this is last year for Quintin and I don't think it's a good one. Number 17. Walter you're on the board here with the Dallas Cowboys. Sorry about that. Let me get your fucking shine box. What are you, what are you doing here for a Dallas?
Maybe they need to draft a doctor after a, after a DAC is exposing themselves to covid 19 possible transmissions. I looked accident.
Speaker 3 (44m 59s): Um, may, maybe they turn down and get a doctor, but I think if, if the, if the draft goes this way and they can get Javan Kinlaw I think that's a huge seal. Like they don't need it defensive tackle because they signed Gerald McCoy, um, and also Dunn Tyree PO and they have Tristen Hill from last year and Tristen Hill didn't really do anything, but they spent a second round pick on him. So ideally date, I don't think they'd wanted defensive tackle, but if someone is talented as Giovan Kinlaw drops to them, I don't see how they pass on them.
Speaker 0 (45m 28s): It does feel like the Cowboys have had some nice drafts recently where guys have just kind of fell into their lap and this would be that. That would be a steal and annoying. Very annoying. Cowboys don't need help, Sean. Yes. Moving on to my selection here. At no way that cowboy is screwed up that pick, by the way. No, no way. We can always help 18 Miami dolphins. They're on the clock. Uh, especially if they get Herbert or just in general. I think they're gonna go, Oh, line here.
Correct me if I'm wrong. Andrew Thomas has not been drafted. He has been drafted. He has, yup. Okay. He went to to Tom Brady in the bucks. Oh, that's right. Then uh, Jederick will his junior he's gone to. Really, how does that always happen? I got a Google sheet right in front of you. Okay. Josh Jones and Kimmy. Josh Jones. He's the next guy up, I guess him or the kid out of USC. Okay. Yeah. That's interesting. But they definitely need our offensive line help on the outside. Uh, I don't think they would go Cesar Ruiz at center.
But yeah, give me Josh Jones tackle out of Houston. Kramer, you're up next. You got the, uh, Las Vegas Raiders. Gruden second pick here. 19th. Overall, what are you doing? And this is going to be a fun pick because this is going to be the pick what we're, we're like, we're staring down the gun of Jordan Love and wondering if Jon Gruden is going to take them. So in this draft he, he, they went and they went and Jordan Love early, right? Yes. Yes. So with the 19th pick, I'm going to flip it around.
I'm going to give them the receiver and we'll go with rugs. The third, right? They wanted Antonio Brown may maybe this, this, this is the guy instead. Certainly know that this is going to be off fence, right? That's in the deal. Gruden gets the first round picks, may gets the rest. That probably won't be surprised that they have some sort of arrangement like that. But we're, we're gonna go rugs here. I, I, you could argue Justin Jefferson. Uh, I'm going to go rugs. I think Gruden Gruden takes the guy, Oh, they have Renfro who kinda their slot guy and that everyone's ever look at the NFL nowadays, you know.
Yeah. The slot. I was a slide. All right, next up we got the 20th pick Jacksonville Jaguars. You're on the clock here. Walter what do you think the Jags are doing at 20?
Speaker 3 (47m 51s): Um, you got, you guys were saying earlier how they lost everyone on defense and yeah, I think it was kind of planned this way once they realized that they couldn't compete and they're kind of tanking for Trevor Lawrence, which I think is a good move. Uh, but they need to add to their defense still. They lost Elvin Smith to like a pseudo retirement last off season and they had one of the worst line backing core is in the NFL. I think Arizona may have been the only team those words. So, um, they, they really need to bolster their line backing core. And I think with Patrick queen, the linebacker from LSU on the board, I think they, I think they take him if he's available.
Speaker 0 (48m 28s): Yeah, I liked that pic. I think he's going to be a steel wherever he goes because he's, he is going to fall down to the latter half of the first round. Yeah, it seems like Simmons is the first line backer and then Patrick queen, I've seen him all over all over the place. Name to so many people are going to be rocking the queen Jersey. Indeed. All right, so especially in Florida, I'm up 21 for my Philadelphia Eagles. Graver Kramer. What do you want to the Eagles to do here? I have them taking a Jefferson.
Jefferson is kind of the chalk play a name you've heard a ton about but now they need to give Carson webs when some weapons. Sean, he hasn't been given any weapons and that's why he hasn't been successful in the national. Well he has, he has been successful Ryan and he helped lead the Eagles to Superbowl as you know. But I'm going to say, and this is just cause more so what I want them to do a little bit leaking into here in the mock draft I'm going jail rager here. I like, I like Jaylin. Rager more than Justin Jefferson for this Eagle's off fence because Zach hurts and God, they already kind of play the middle of the field.
They already eat up a lot of that slot action. And I think a guy like rager, a super fast guy on the outside, that's what they need. That really opens up the offense. And who knows what to Sean Jackson has left. Am I, am I crazy to take rager here over Jefferson? Walter
Speaker 3 (49m 52s): uh, I would take Jefferson but I mean rager has, has definitely upside as a speed thread on the outside. He didn't run that well at the combine. So I think a stock is a little bit down. So if the Eagles want rager, I think they can trade down maybe like a half a thousand spots and still get him. So I think that's what they should do if they're targeting him.
Speaker 0 (50m 12s): Yeah, it doesn't feel like you would probably have to get him at 21 no, Sean, that's not cool. You did that intentionally to seem smart. Knew what this, this is the classic move where I'm not going to be realistic here, but I'm going to show you how God damn smart. I am. I just, I mean, just in Jefferson it's hard not to like the numbers, the production. I just don't think he fits there. I dunno. I've worried he wouldn't fit there off the best they need. Playmakers dude, they don't have a receiver. That's a Playmaker right now. Yeah, but that's there. I mean, Deshawn Jackson, they have, let's go.
I'm ready. What are you doing here? 22, I mean the music and give me Minnesota Vikings. Oh, who have been linked to Odell boat? Trang Beckam here. Possibly. Possibly getting him in a trade. What are you doing Kramer? You imagine cousins and boat trip back then you, you get rid of digs cause he's a pain in the ass. And then you bring in Odell Beckham. It makes no sense. But we'll see. I mean, I think 100% they take a receiver here. Right. And uh, let's see.
Jefferson gone. You're, you're taking a receiver. Go. I don't think Jefferson Jefferson is not gone. Yeah. So they, if Eagle, Justin Jager then yeah, you're right. They probably just, do you know what? I'm still gonna go Brandon. Is it IUC Brandon I uke I, Hey, I'm going to go with him. He's got a massive, massive catch radius, which will be great with cousins. Completely inaccurate bullshit arm. So I'm going to go Brandon and Brandon. I EUC from Arizona state and I will say this, there is potentially an opportunity.
The V the, the Vikings could end up with one of their first round picks being another digs with just wouldn't be sweet, sweet, just glorious redemption. I love how my favorite quote so far from the, like the covid sports era has been Kirk cousins saying that it's going to be quote refreshing not playing in front of fans. Like, dude, you're really, you're really just walking into some of this, uh, some of these, the stuff people throw you moving on to number 23, the new England Patriots.
Walter what are you doing here?
Speaker 3 (52m 23s): I think the Patriots are kind of locked into trading somewhere. Like if two or Herbert falls into the teens, I think they move up to get him. But if that doesn't happen, I think they're locked into trading down because they don't have a second round pick from the Mohammed. It's a new trade. Uh, so I, I do think they moved down and take a quarterback eventually in the second round, but without any trades here. Uh, I think Xavier McKinney, the safety from Alabama makes the most sense. Uh, he has Belicheck written all over him. He can play anywhere in the secondary. He's such a versatile player and he and Belichick, Nick Saban are great friends and I just think McKinney translates so well into the Patriots' defense.
So McKinney's the book.
Speaker 0 (53m 4s): I was gonna say like one of the few people that makes bill Belicheck smile, not as family members. Nick Saban, game recognize game. Alright. Um, next up, keep it going. MC. The new Orleans saints at 24. I'm on the clock here. Ah, it's interesting cause I could see them doing, uh, I think, you know, there's no like Larry needs with the saints team. Um, I'll go, uh, I wouldn't be surprised if they take a defensive back.
I'll go Jeff Gladney cornerback at a TCU since Cabernet. Eli Apple maybe they need a little help there and the defense, he's got great foot speed. So yeah, I'll, I'll, I'll have them taking a corner back there. I wouldn't be surprised if they just went all in on like Denzel Mims and just said like screw it. Let's see. I think they could take a linebacker here. Oh you think they could, I mean I don't know. Right. Like I guess if you're making one last hurrah with drew Brees is D ad off offense PO do you have, do you have fire priority?
Get a little bit more defense? Well and that's, and that's why I'm going cornerback cause we've seen some quarterbacks, I mean you saw like Latta more come in and be able to like help contribute early on. So maybe that's their thinking. I don't know. They're going to, they're talking about a team that's going to have their quarterback phone their face. We're going to get to see a lot of the, the, the jewel, the lefty tastes of Hill is common. Uh, Jesus, who's up? Sean am I up with the 25th thick, the Minnesota Vikings select who? Ryan, I get to make both Vikings pics.
I they, they could, they could absolutely take it. Digs here. Uh, I think they go, I think if you look at the way that, uh, taro played down there and Clemson, it kind of fits the Zimmer mold. I read that a lot. A copied that long physical, athletic, uh, and I think they need a cornerback. So I think they walk away replacing digs with one pick and they bolster that secondary, which was a disaster with the other pick. But things are back. Look out.
Vikings. Moving on to the 26 pick the Miami dolphins. What are you doing here? Walter
Speaker 3 (55m 17s): well, they got their quarterback and their tackle, so I think they have to go running back, uh, Jordan Howard and Patrick Laird or their top running backs and that doesn't seem great. So, uh, being able to get the Andre Swift here, I think it's a, it's a, it's a nice bargain. I think if more teams needed running, Swift would go earlier. And I think you could say the same thing about Jonathan Taylor. Uh, but it's hard to slot these running backs into the first round. But the orphans I think would be interested in Swift
Speaker 0 (55m 43s): certainly feels like someone's going to get a steal in the last handful of pics in the first round, Swift because if this was a normal year, he'd be, he's a potential top 10 pick. Well, and he's also one of those guys, if you're already looking ahead to fantasy already thinking about your week one TFS lineup, these rookie running backs that maybe involved in the passing game or you have a guy, you know, depending on who ends up, if they, if they let Herbert start or not. Uh, you know, old, old quarterbacks and you know, young rookie quarterbacks, they panic.
They like to check it down to the running back. Easy way to scoop up some a PPR points. They're pretty easily moving on to number 27, the Seattle Seahawks select please. Draft an offensive lineman for Russell Wilson that I could, I could do that. Why would they start now? They haven't been doing that. Yeah, that's kind of not there. I mean, maybe they, maybe they do something here and take a Cesar Ruiz. I'm going to go your tour.
Gross may toes edge rusher at a Penn state. Um, we'll see what ends up happening with a, I'm blanking on his name. Who's the guy that uh, Clowney yeah, I won't, I won't say his name after what he did to Carson Wentz, but Clowney kind of on the edge of whether he comes back or not. But I think uter gross may toast you tour. I just pronounced it like Nooner but you toured gross made toes. He kind of fits that Seattle defense. They love loading up on pass rush. So yeah, I'll, I'll go.
I'll put him there to Seattle. Poor Russell Wilson. They just don't help him out. It's, it's pretty comical. Number 28th Baltimore Ravens select who? Kramer.
Speaker 2 (57m 28s): Oh. So to me, someone's gonna fall on the Ravens lap and we're going to be talking about how smart this front offices, once again, I think there's even a chance they trade back here and just acquire more assets. But if this is where we're at and, and if I'm not mistaken, Kenneth Murray has not been taken, right?
Speaker 0 (57m 47s): No. See I think they ended up with
Speaker 2 (57m 50s): one of the linebackers. I think they end up with whatever linebacker falls down on the board here and there'll be completely happy with it. Uh, you know, we saw with that offense did last year. I think they have some nice pieces there. I think they will focus on the defense here. Perhaps it's a pass rusher. Perhaps it's a linebacker. I'm going to go line backer, Kenneth Murray
Speaker 0 (58m 6s): out of Oklahoma. Yeah, the, I mean that makes sense. I had them going way higher in my fictitious mock DRO. They're all fictitious number 29th pick the Tennessee Titans. Walter you're on the clock here. What do you, what are you mock into the Titans.
Speaker 3 (58m 23s): So the Titans went to the AFC championship last year and they were able to do that cause they were able to beat up on teams in the trenches both on the opposites and defense and they lost the right tackle. Jack Conklin. So I think they need to replace him. Um, I think they would be a little surprised if Austin Jackson still available. So I think they'd take him. Otherwise I feel like they trade down and maybe get an edge rusher in the second round. But if Austin Jackson is here at 29, I think they take them.
Speaker 0 (58m 47s): Yeah, I mean I, I, for me,
Speaker 2 (58m 50s): he's a guy that's going to, he's going to be the steel of the draft. Uh, he, he's, he's almost certainly going to be
Speaker 0 (58m 56s): better than, uh, almost certain bus case. Bakhtin but Jackson, I really like them. Whoever ends up with him and maybe that's the, the Ravens could even do something crazy and just bolster the offensive line. Love that pic there. Sean, you're up with the 30th. Pick the green Bay Packers select receiver from Baylor den Zell Mims. This one seems pretty obvious. I just think Aaron and Mims, it's, it's kind of a perfect combination and I don't know, like you, you watch his game film and a lot of what he does, it's really impressive as he goes up and wins jump balls and I could just see Aaron Rodgers love.
He loves throwing the balls up and I think Mims is kind of a, MEMS is kind of a perfect match for a Rogers skillset. I think I have. I don't think I've seen a mock draft that has the Packers not taking a wide receiver. Yeah. And if Mims is available there I, I don't see why they wouldn't take him there at 30 Kramer. We're almost done. I know you're on the clock here at 31 what do you have the San Francisco 49ers doing? Well, it, you know, it was a good, it was a good year for the San Francisco 49 ERs.
Yes. Mostly brought everyone back. They saved a lot of lives by not winning the Superbowl and throwing a parade and spreading covid. Did you see that article? They said basically the chief saved a bunch of lives because of San Francisco where they had a parade. It would've been a disaster. They got,
Speaker 2 (1h 0m 26s): they got their receiver early. I think they look to the defensive side of the ball late. I'm going to go Jalen Johnson, the cornerback out of Utah. I believe he's still on the board. I mean, why not? You got Richard sermon there. You bolster that side. You get, you get the apprentice learning under under one of the greatest. Uh, yeah. I think, I mean the cat, it's annoying. The Niners are going to be good again. I don't know why but something about that team. I mean if they, if they meet Jay doesn't deserve it.
Speaker 0 (1h 0m 53s): If they got him and CD lamb, I think they're pretty stoked about the Heller hall. Yeah. And just like looking at these mock traps, I completely forgot that Miami had three first round picks and it seems like they really are playing for that coach, so they could be like a sneaky Minkah Fitzpatrick's pretty good. I might, maybe they want that. Put that pig back maybe. Yeah. Anyway. Final pick of the round one. Mock draft Walter football you have the honor of Kansas city chiefs. What are they doing here at 32?
Speaker 3 (1h 1m 24s): Uh, so Andy Reid loves bolstering the trenches and I think if you can get a ha EP Anessa from Iowa, I think you can do it. Um, last year they had surrou Suggs as a situational pass rusher across from Frank Clark and uh, sucks is not going to be back so they need an edge rusher. So I haven't taken EP Anessa and you guys are right about the Fitzpatrick trade by the way. So we've heard that the dolphins, when they made that trade, they expect the stores to be drafting and like the top five or top eight. Um, so I, we've heard that they would have, they wouldn't have traded Fitzpatrick again.
Speaker 0 (1h 1m 57s): Oh, that's too bad. Classic dolphins move. Yeah. There, I mean the dolphins are just, they were really all over the place this season, but yeah. What do you, I mean, I get it. You, it's weird. These teams, they like want to try and be so smart, but then they out-think themselves sometimes. Cause you're just, why would you trade a guy that, I mean, whoever you draft in the first round, is he going to be better than Fitzpatrick? They just, you really have to think some of these things through where I think they're just sold on the idea of like, Hey, whatever, and is it in the other box?
It's going to be so much better than what you currently have. You also get that, like where you catch up a couple of years of the rookie contract right now they get, you know, let's say they even swap and grab another safety. They just swap in two more years on the rookie rookie deal. I guess make, if it's Patrick's like a game changing. I mean he, he, he, the reason they're the draft pick sucks is because he carried them on defense. I mean, he was just a ball Hawk. Yeah. They really hurt themselves both ways. Not only did they lose can Fitzpatrick, but they helped the Steelers get to eight wins and made their pick that much worse.
Ah, well Walter uh, preciate it coming on. Are there any other like, uh, draft props that you've seen out there that are really jumping out at you as far as you, you think there's a lot of value there?
Speaker 3 (1h 3m 12s): Yeah, we, we talked about some on a, on our podcast the other day, but a couple of ones that we saw first tight end drafted Adam Troutman plus six 50, um, Charlie, Charlie Campbell was talking about, um, teams love Troutman and they think, ah, Troutman might be the first, first one chosen. Um, I think CJ Henderson on their 16 and a half, even though it's minus three 20. I'd be shocked if Henderson falls past, uh, Atlanta. Uh, they, they need a corner. And like so many other teams do.
Um, I think third overall pick, Justin Herbert plus seven 50, I think is nice shot in the dark there. Uh, cause I think, I think the number 16, the uh, the charges, I think they move up to three and they take one of the quarterbacks. It could be to it, but it also could be Herbert. Um, and then if you want to, um, lay the minus 900, I think this is a lock a to a tug of Iowa over two and a half. Um, I mean we know the first two picks in the draft, it was not going to be one of the first two books. So, um, I think that safe, even though it's minus 900.
Speaker 0 (1h 4m 13s): See that terrifies me cause I'm thinking about last year how I didn't have any clue that Baker Mayfield was going to be the first pick. I worry the late, that seems like a lock, like the, I feel like they've already mailed in their envelopes. They're proverbial, their digital envelopes I've been seeing and maybe we do see less of that kind of crazy trades or crazy movement from where these teams originally had these guys rank cause they don't, they can't meet them. They don't come in. I know Dave Gettleman said he likes to see a guy, smell a guy, get the feel of a guy, uh, in the actual draft process.
So without those kind of like biases creeping in, maybe they, these teams kind of stay closer to the school as a gut handicap or I thought you would have appreciated Dave Edelman's want to have some sort of smell feel. Oh man, I get it. You know, you want, you want a firm handshake, look a player in the eye. Do you have any sort of like crazy, uh, you know, that tool or of the two are like, or that's crazy. I mean I I I would lay now I'm actually going to go seek that out. Yeah. Minus 900. I mean it is crazy, but I don't, the Redskins can screw it up.
Right. You are involved in the Redskins in that. Uh, so that's always a little scary. Do you have any other kind of, uh, any sort of other crazy long shot things you could see happening? Like whether it's Jordan Love getting taken top 10 or any other kind of like crazy predictions?
Speaker 3 (1h 5m 33s): Well with Jordan Love. Um, we didn't have it happening this way in our, in our mock draft but, uh, Jordan Love over 19 and a half minus one 45. Um, I think that's going to hit like, I just, I just can't see a team taking Jordan Love right now in the first round. I just can't find a spot for him. I think some team maybe trays up into the end of the first round. So you're still gonna win if that hits, um, Cole commit over 44 and a half minus one 90. I don't understand why his over on there's 44 and a half. Um, especially with like Troutman being the, uh, the favorite, uh, tight end.
And then if you, if you don't want to lay the minus 900, something similar is a will the Redskins trade, the number two pick no is minus five 50. So that's definitely sounds a little bit better.
Speaker 0 (1h 6m 17s): That's a lock. Yeah. Well I love where they placed that line for Jordan Love right after John Gruden gets a second pic. Yeah. They know, they know what they're doing there. They gotta make it interesting there. Well a appreciate calling in Walter and make sure you check out Walter football.com where else can people catch it?
Speaker 3 (1h 6m 38s): Yeah, I'm also on Twitter. You can follow me at Walter football and we're on YouTube as well. It can just search out Walter football and we have, we have tons of videos that you can check out and yeah, on the site we're going to be grading every single pick, so check that out.
Speaker 0 (1h 6m 51s): Awesome. Well thanks for again for calling in. Make sure you check out Walter football
Speaker 3 (1h 6m 56s): thanks guys.
Speaker 0 (1h 6m 57s): Thanks again to Walter football make sure you check them out. Walter football.com
Speaker 4 (1h 7m 3s): Kramer,
Speaker 0 (1h 7m 5s): it's coming down to the home stretch. Degen madness make sure you tune in Thursday night's final weekend. Sean, final weekend, six games left Thursday night, nine o'clock East six o'clock Pacific. The genius is coming to an end. It is, but more geniuses coming, coming with our, uh, Madden mayhem, Degen, Madden, DJ and badness. Still sending your favorite, uh, ne, what are the governance? What are the options? We'll see the real fans who reply to this on Madden may hem is, is pretty fun.
Degen madness but I do. Degen is kind of our brand. I do like incorporating that Degen madness we'll see. We'll figure it out. But again, Jen Madden may him.
Speaker 4 (1h 7m 47s): Okay.
Speaker 0 (1h 7m 48s): It's a little bit of a mouthful, but we like the alliteration here on the sports. Gambling podcast indeed, we do. Thank you for participating in the spurs game and podcast before the sports giving me podcast. I'm Sean stack in the money green and he is Ryan. Make sure you're getting exercise shown.
Speaker 1 (1h 8m 5s): Kramer.