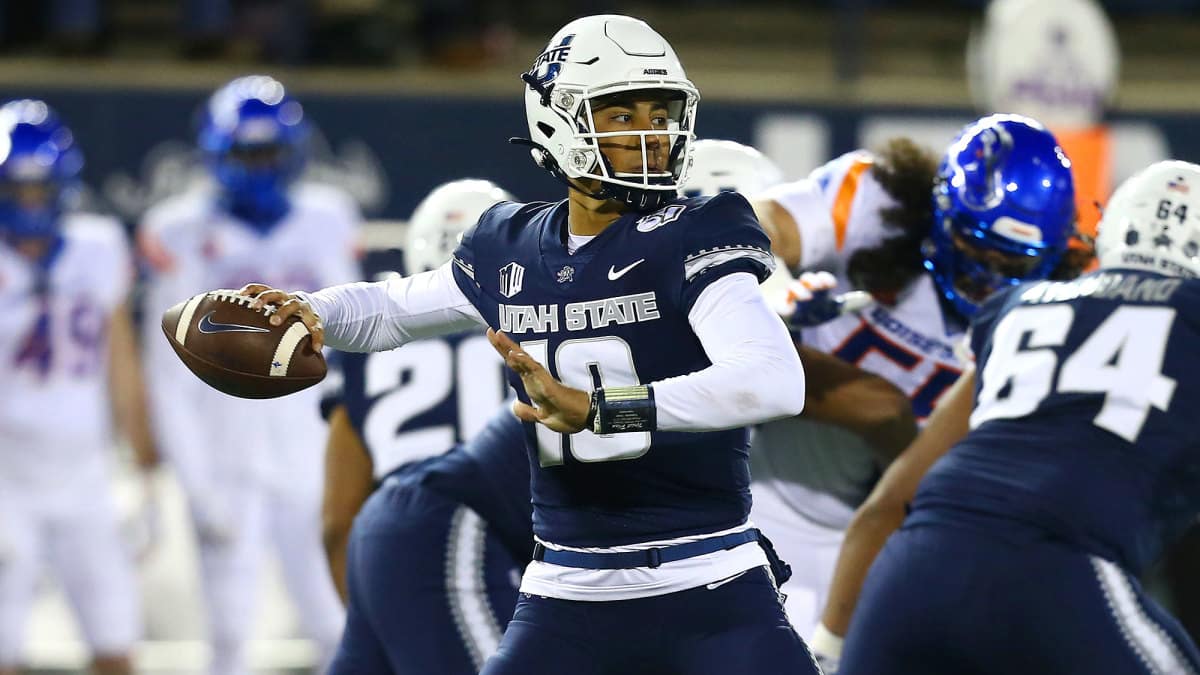 If the virtual learning curve that I've encountered with my children's school teachers is any indication, the first round of the NFL Draft will be a complete shit show. There will be no death stares between Kiper and McShay, no awkward green room moments, and no booing of Roger Goodell. But at the end of the day, when the dust settles, players will be drafted, Gettleman will be made fun of, and Gruden will get a QB, right?
Enjoy the prognostication, and be sure to tell me why I'm an asshole for screwing your teams pick up. Cheers
READ OUR OTHER NFL MOCK DRAFTS
Shawn Burns 1.0
Sean Green 1.0
Ryan Kramer 1.0
Colby Dant 1.0
Podcast
The College Experience
Ryan Kramer's NFL Mock Draft 1.0
#
Team
Pick
Pos
College
1


Bengals

Joe Burrow
QB
LSU
Bengals hit the tanking lottery and will end up with CAN'T MISS QB prospect who is coming off the greatest season in the history of college football...what could go wrong?
2


Redskins

Chase Young
EDGE
Ohio State
Built in the mold of a modern day Predator the only thing that gives me pause on this projection is Mr. Daniel Snyder...no way he fucks this up right?
3


Lions

Jeff Okudah
CB
Ohio State
Awesome start to the draft for the Buckeyes as the Detroit Lions (Gotta think they will consider trading down) get their Darius Slay replacement in the Ohio State product who may not have a ceiling.
4


Giants

Tristan Wirfs
OT
Iowa
Please don't screw this up Gettleman...I could be talked into Simmons to fill a hole their defense has had for 20 years...Stick to your Hog Molly approach and take the guy who protects Danny Dimes and leads the way for Saquon for a decade!
5


Dolphins

Tua Tagovailoa
QB
Alabama
Dolphins fail at tanking for Tua and still get their guy (I think they will have to trade up). I do think Flores would love to grab all-word athlete Simmons for that defense, but I can't imagine Rosen/Fitzpatrick is the plan. Tua health will be a concern, but this dude has heart and talent and dare I say...a much higher ceiling than Joe Burrow.
6


Chargers

Jordan Love
QB
Utah State
With Rivers gone the Chargers take advantage of this opportunity to get their QB of the future with the potentially raw but packed with upside Love. They could go Herbert here but I think the wow-factor of Love will take the cake for a team looking to sell tickets.
7


Panthers

Derrick Brown
DT
Auburn
Classic Tape vs Measurables guy and I have a feeling Rhule values tape over tape measures. The best player available drops perfectly into a massive need and the perfect 1st pick for a new HC.
8


Cardinals

Isaiah Simmons
LB
Clemson
I think they take a long hard look at Wills to protect Kyler but a bit too hard to pass up Simmons in this spot as he has fallen down the board. Safe pick to help bolster a bad defense in a tremendously weak position. Don't be surprised if Kliff goes off reservation with Lamb!
9


Jaguars

Javon Kinlaw
DT
South Carolina
Lets just say you are building not for this year but for next year. Best player available at a premium position. Absolutely dominated the senior bowl. Great pick for Minshew and the boys.
10


Bowns

Jedrick Wills
OT
Alabama
Browns have talent in alot of places, offensive line is not one of those areas. I'm sure the Browns wont screw this up. After all Baker needs some security for his new giant home.
11


Jets

Mekhi Becton
OT
Jets
Jets attempt to do the smart thing and avoid the temptation of a stud WR and actually draft the correct position. But they are the JETS so they get the guy most likely to bust Erik Flowers style.
12


Raiders

CeeDee Lamb
WR
Oklahoma
Jon Gruden will i am sure be screaming about how Herbert is still out there...nonsense Mayock knows value and getting an absolute stud like Lamb at #12 would finally fill the hole left by Mr. Brown.
13


49ers
via IND

Jerry Jeudy
WR
Alabama
WR run!!! Shanahan needs no help at RB but boy would Jeudy make them dynamic to pair with Deebo. I hate to say it but Jimmy G might have a hard time failing next year!
14


Buccaneers

Andrew Thomas
OT
Georgia
Zero thought should be put into this pick if one of the big 4 OTs are left. This team has talent in alot of places but much like Browns then need to ensure their QB can stay vertical.
15


Broncos

Henry Ruggs III
WR
Alabama
Holy Shit would it be great if Elway snagged another giant QB in Herbert. But i think they showed with the signing of Ingram that they believe in Lock. Elway will almost certainly add to his arsenal with the very dynamic Ruggs.
16


Falcons

K'Lavon Chaisson
OLB
LSU
One last hoorah for Dan Quinn and while he could go CB here I think he leans into ensuring his team can generate a pass rush next year. If you think about it the 2nd best pass rusher in the class at #16 is a nice haul.
17


Cowboys

CJ Henderson
CB
Florida
Hopefully they screw this up and take a Center or maybe a long snapper here. But the smart pick will be a stud corner or safety. While most mocks point to safety i'm going to give them Henderson who is a deal at 17.
18


Dolphins
via PIT

Xavier McKinney
S
Alabama
Using the pick acquired in the Minkah trade to draft a Minkah replacement...Roll Tide.
19


Raiders
via CHI

Justin Herbert
QB
Oregon
THE SLIDE ENDS and Gruden gets a QB!!! Bye Bye former #4 best NFL QB (According to NFL.com writer David Carr). Gruden hilariously gets maybe the highest floor QB in the class, don't look now but the LV Raiders are coming!
20


Jaguars
via LAR

Josh Jones
OT
Houston
Perhaps a reach but this make so much more sense if you are building for the future. OTs dont grow on trees.
21


Eagles

Justin Jefferson
WR
LSU
Eagles have one of the more complete rosters in football, the WR position is a weakness and it allows for trash eagles fans to continue to have excuses for why Carson Wentz isn't a franchise QB.
22


Vikings
via BUF

Brandon Aiyuk
WR
ASU
Diggs out, why not use the 1st rounder picked up Aiyuk and his insanely large catch radius. Cousins gets someone really hard to miss.
23


Patriots

AJ Espenesa
DE
Iowa
Perfect Belicheckian system fit, proto-type 5 technique from a trusted program. But who knows maybe they will trade up for a QB.
24


Saints

Kenneth Murray
LB
Oklahoma
Another perfect fit it seems. The Saints could use some help in the middle of the defense and the speedy, versatile Murray could be just what Drew and the boys need for one last run.
25


Vikings

AJ Terrell
CB
Clemson
Terrell is built from the Zimmer DB mold and the absolutely have a need here. Vikings plug a couple big holes in the first round and put themselves right back in the NFC North mix (Assuming fewer prime time games for Cousins to shit the bed in).
26


Dolphins
via HOU

Austin Jackson
OT
USC
Dude has a pretty high ceiling for a guy available with the 26th pick in the 1st round. Gives them some much needed protection for their new QB boy toy.
27


Seahawks
via KC

Cesar Ruiz
C
Michigan
For FUCKS SAKE give Russ some help up front, please....seriously don't get cute with a pass rusher or DB.
28


Ravens

Patrick Queen
LB
LSU
WR run!!! Shanahan needs no help at RB but boy would Jeudy make them dynamic to pair with Deebo. I hat to say it but Jimmy G might have a hard time failing next year!
29


Titans

Zach Baun
EDGE
Wisconsin
Versatility is the name of the game here, Baun could provide day one value to the Titans at a number of positions.
30


Packers
via NO

Tee Higgins
GB
Clemson
Give Rodgers another weapon and fire away at a Super Bowl championship as Aarons window begins to close.
31


49ers
via IND

Jaylon Johnson
CB
Utah
They could go DL here but I gotta image then see the value in grabbing another potential stud corner to learn from the great Richard Sherman.
32


Chiefs

D'Andre Swift
RB
Georgia
RB has been devalued as fuck...Chiefs walk away with a great prospect with the last pick in the 1st round.