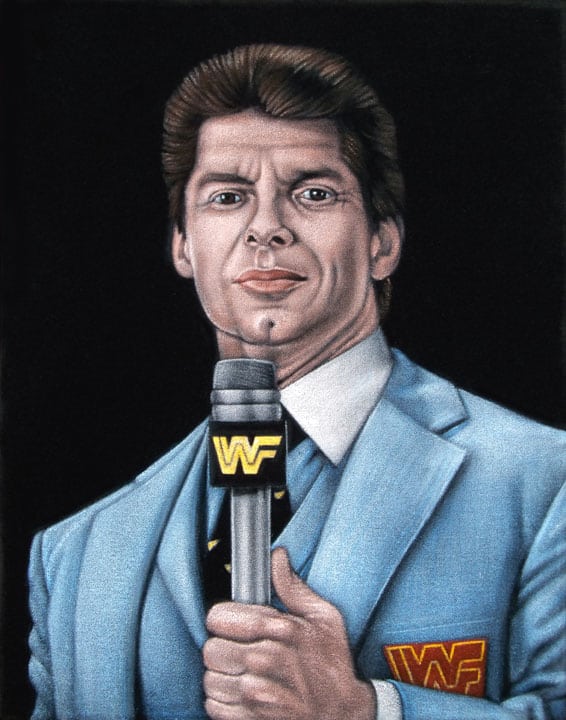 Sports are on hold worldwide, however, you can still continue to bet on one thing on WWE! That's because of one person… and he's called Vince Kennedy McMahon. Vincent Kennedy McMahon is the owner of the WWE, the newly reformed XFL, and a billionaire businessman. He has worked in the corporate area of the WWE and behind the scenes since taking over the company from his father in 1982.
If you know McMahon's history, you aren't shocked that he's pushing through with this year's WrestleMania. The only real surprise is the fact he's losing millions of dollars in the process.
In this piece, we rank Vince McMahon's Top 10 most disgusting acts. This list is so gross that MaMahon saying the N-word on TV, capitalizing on 9/11, and pitching a story where he wanted to impregnate his own daughter did NOT make the list.
SEE ALSO
WrestleMania 36 Odds, Picks and Betting Preview
WrestleMania 36 Preview | The Fight Show (Ep. 21)
1) CoronaMania
The sheer pointlessness of it means this one jumps to the front of a list so despicable, that it all but guarantees that McMahon will end up in Hell if such a place exists. I have tried to not be influenced by recency bias, but it's hard to argue that this particular decision hasn't outraged, disgusted and shocked people more than anything else.
Not one of McMahon's roster, creative or production team, wanted to proceed with this year's show. However, with all other sports, theaters, cinema and every form of entertainment on hold, McMahon saw a chance to be the "only show in town" and has maniacally decided to stubbornly proceed to deliver a plethora of behind-closed-door TV shows, topped off by a WrestleMania that nobody wants.
Risking the lives of his performers and crew members, McMahon has gone against every recommendation by the WHO and the US Government, and decided to pre-tape a two night WrestleMania- 2 weeks ahead of it's April 4th and 5th airdates, blemishing the legacy of WrestleMania and stealing away historical and deserved moments from the likes of the returning Edge, upstarts Rhea Ripley and Shayna Baszler, and especially Drew McIntyre – who has waited over 12 years and has worked his way back up from the bottom, to earn his spot on the Main Event.
A truly disgusting, unforgivable and selfish act, sources say that McMahon has alienated himself from even his closest supporters when postponing for 6-8 weeks was both a viable and unanimously preferred option.
2) The show must go on, dammit!
We should have known that WrestleMania wouldn't be stopped by a worldwide epidemic when a dead wrestler in the ring didn't stop McMahon from pulling the plug on a PPV.
Owen Hart was scheduled to make a superhero-like entrance, which would have seen him descend from the arena rafters into the ring. However, he was released prematurely when the harness line malfunctioned, and he fell more than 70 feet into the ring and died.
Criticism later arose over the WWF's decision to continue the show after Hart's accident. In court, the Hart Family sued the WWE, contending that poor planning of the dangerous stunt caused Owen's death. WWF settled the case out of court, paying $18 million to the Hart family.
This doesn't come in at No.1, as McMahon's reasoning was said to be "he didn't want the people to riot." While McMahon did offer a reason, I think the only way there would've been a riot after someone plummeting to their death, is if the audience was made up of 20,000 scumbags like McMahon.
3) Steroids Pal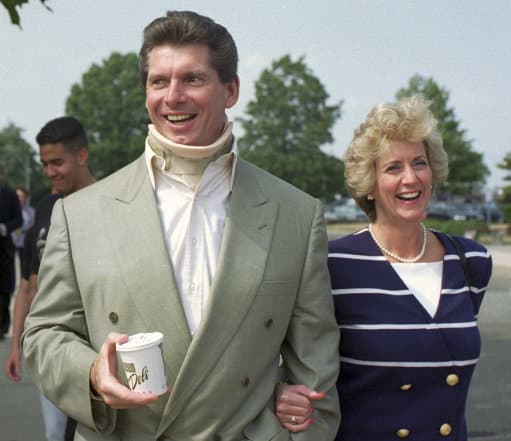 In 1993, McMahon was indicted in federal court after a steroid controversy engulfed the promotion and thus temporarily ceded control of the WWF to his wife Linda.The case went to trial in 1994- with Vince wearing a neck brace in order to get sympathy- where McMahon was accused of distributing steroids to his wrestlers. Vince was eventually acquitted of all charges after the prosecution's star witness Hulk Hogan said that Vince had never asked him to take or sold him steroids.
Even though WWE promised to clean up its act after the trials, they once again turned a blind eye during the Monday Night Wars.
4) Bret screwed Bret
The most controversial finish in the history of professional wrestling occurred on November 9, 1997, when Shawn Michaels, Vince McMahon and referee Earl Hebner colluded to screw Bret Hart out of the WWE Championship in a moment that blurred the lines between fiction and reality.
Hart, who had recently signed a contract to join the rival World Championship Wrestling, had refused to drop the WWE title to Michaels. As fans would later find out in the documentary Hitman Hart: Wrestling With Shadows and Hart's autobiography Hitman: My Real Life in the Cartoon World of Wrestling, he had made numerous offers to drop the title to other Superstars or under different circumstances.
He would not, though, lose to Michaels in Canada.
Feeling as though there were no other options available, McMahon conspired with Michaels and Hebner to perpetrate a screwjob of massive proportions that is still mimicked and talked about some 20 years later. Hart would become a hero in the wake of the infamous incident, while McMahon would turn the hatred fans had for him following the event into one of the vilest and most ruthless villains in WWE history.
SEE ALSO
10 NBA Players Who LeBron James Hates
5) Steroids… Again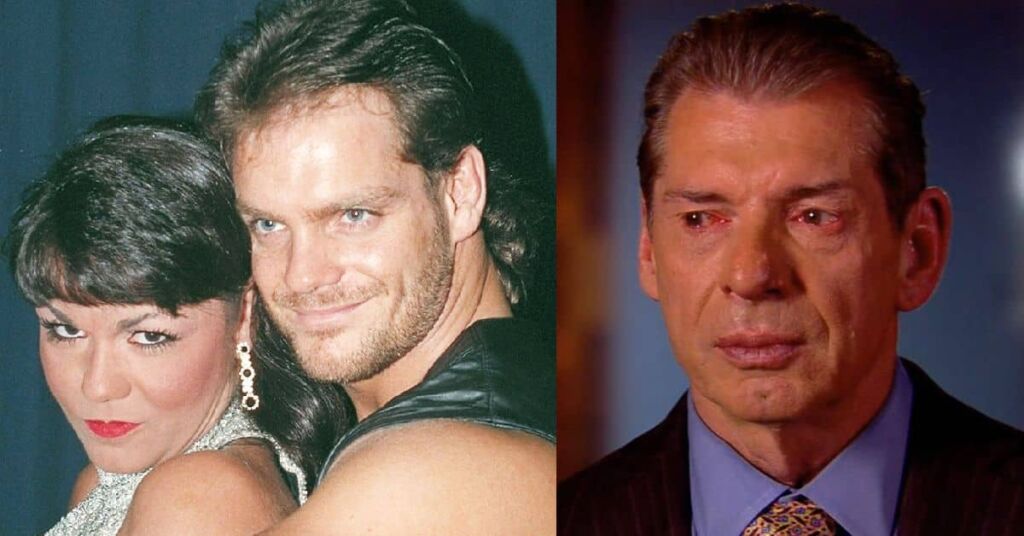 The 2007 Signature Pharmacy bust was a complete and utter disaster for the WWE. Months after the WWE Wellness Policy got implemented, following the death of Chris Benoit, Sports Illustrated published a massive story regarding rampant drug use in the WWE. 14 wrestlers were implicated in buying performance-enhancing drugs from an illegal online pharmacy.
The list of wrestlers exposed by the story includes Randy Orton, Umaga, Booker T, William Regal, and Edge and with the Wellness Policy implemented a few months earlier, this story was a disaster for the WWE Wellness Policy's credibility.
6) The Kiss My Ass Club
What kind of sick fuck even thinks of this? This was created by McMahon after the collapse of the WCW/ECW Alliance. The Kiss My Ass Club consisted of members who were ordered by Vince McMahon to show their respect and loyalty towards him, by having to kiss his butt, be it bare or with a thong. Many of the times these members were threatened with receiving a suspension or being fired if they refused to kiss his ass.
7) War = Money
On August 2nd, 1990, around 100,000 Iraqi troops invaded Kuwait, resulting in a seven-month occupation of the country. Shortly after, the United States launched Operation Desert Shield to prevent Iraqi forces from invading Saudi Arabia. As the conflict went on, troops from 33 nations joined the United States as part of a coalition to take on the Iraqi military. On January 16th, 1991, US president George H. W. Bush announced a declaration of war on Iraq.
As this was going on, the WWF decided to profit from the war and began to run a storyline in 1990 involving the returning Sgt. Slaughter becoming an Iraqi sympathizer. In the storyline, Slaughter aligned himself with "General Adnan" (Adnan Al-Kaissie), who was portraying an Iraqi military general. In real life, Al-Kaissie had actually grown up with Iraqi president Saddam Hussein.
Slaughter went on to become the WWF Heavyweight Champion at the 1991 Royal Rumble on January 19th after beating the Ultimate Warrior. This would officially begin the start of the build for the eventual Slaughter vs. Hogan match at WrestleMania that year.
To build up the match and Slaughter's disapproval of America, he began to burn Hulk Hogan merchandise because he felt it symbolized America. The original idea pitched to Slaughter involved him burning the American flag, but Slaughter refused to do so.
On February 24th, 1991, about a month before WrestleMania, the Liberation of Kuwait campaign was launched. Over the next few days, coalition forces began to drive Iraqi troops out of Kuwait. On February 28th, President Bush announced a ceasefire after the withdrawal of Iraqi forces, that Kuwait was free, and that Iraq had been defeated.
While the conflict in Kuwait had subsided, the WWF continued with the feud between Hogan and Slaughter. It would later be voted Worst Feud of the Year for 1991 by the Wrestling Observer Newsletter.
8) Life sucks and then you die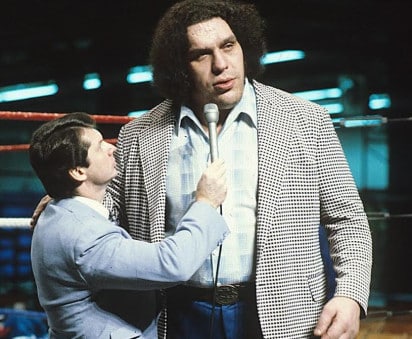 Vince McMahon was largely responsible for Andre the Giant's declining health and subsequent early death. While the recent André the Giant documentary doesn't outright condemn McMahon's involvement in its chronicling of Roussimoff's decline – it let's his words speak for themselves. "When his career was over, he had no value…" McMahon says, trailing off and quickly adding: "You know, to himself."
A documentary more critical of WWE's contributions to Roussimoff's ill health, and that of many of his contemporaries, is unlikely to be made given that WWE own all of Andre's footage. However, you only need to watch Andre between 1985 to 1991 to know he shouldn't have been in ring, simply so that McMahon could profit from his resident circus sideshow.
9) That's some good shit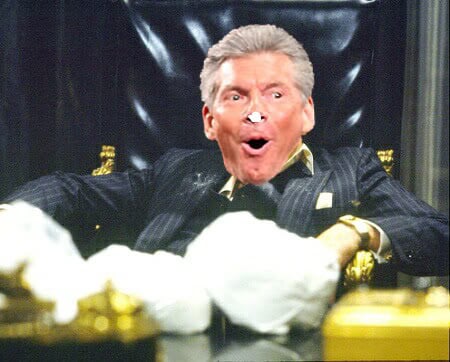 Vince McMahon was a heavy cocaine user back in the day, based on the circumstantial evidence and testimony of ex-employees is overwhelming. Many ex-insiders claim that Titan Towers was a hotbed of cocaine use back in the '80s and many ex-employees have said that Vince himself was a heavy user.
In the book Ring of Hell: The Story of Chris Benoit and the Fall of Pro Wrestling, author Matthew Randazzo said that he had numerous sources who had heard Vince brag about his coke habit by saying,  'I can snort as much of that stuff as anyone can put in front of me and never get hooked.' The book also claims that WWE talk about Vince's 'energy' was just a euphemism for his drug habit.
10) Generic Jack-Hammer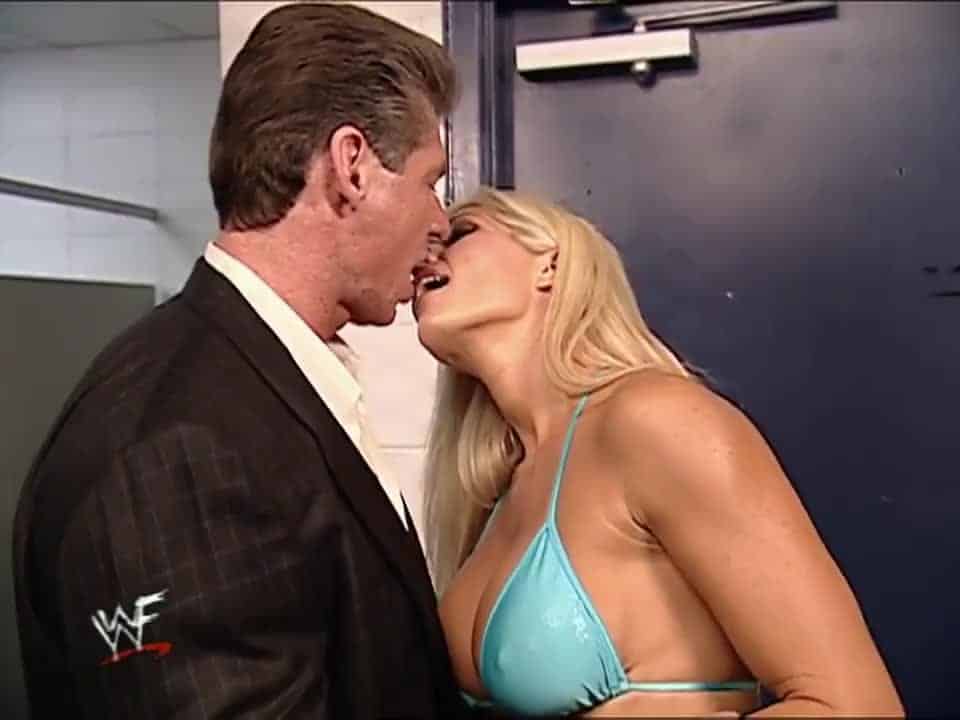 When the women of the WWE didn't have much to do inside the ring, except for skin showing and wooing male persona, the boss was at the top of the list when it comes to creating raunchy scenes. McMahon abused his creative powers to get his dirty hands on nearly all of the WWE's most beautiful divas. Even his wife found him with another woman with pants down. McMahon's seedy on-screen affairs were indicative of how non-PG WWE used to be in those days.
SEE ALSO
WrestleMania 36 Odds, Picks and Betting Preview
WrestleMania 36 Preview | The Fight Show (Ep. 21)