When it comes to stubbornness and hardheadedness, they don't come more stubborn or hardheaded than Vincent Kennedy McMahon, aka the owner, chairman, and CEO of the WWE.
So it comes as no surprise that Mr. McMahon (along with similar-minded UFC president Dana White) was the last holdout in the sports world to cancel his signature event, WrestleMania. Until March 16th, in fact, WrestleMania 36 was still scheduled to take place in Raymond James Stadium in Tampa, Florida.
McMahon finally capitulated and conceded it was in the public's best interest to not hold the event there. But the show must go on – WM 36 is expected to still take place, but instead of in front of 65,000 fans, it'll be in front of essential personnel only at the WWE Performance Center in Orlando. It'll also be spread out over two nights: Saturday, April 4th and Sunday the 5th, with Rob Gronkowski hosting (the matches were actually taped the week of March 23rd from the Performance Center).
With the show going on, that means we have an actual, live "sporting" event to bet on! Rejoice! The fact that you can gamble on an event with predetermined outcomes is still beyond me, but who am I to question the bookies. And in such dire times, where people are gambling on marble racing and the weather, who am I to question gambling on "sports entertainment".
No gambling advice here from me – I stopped watching "the fake stuff" (in the words of my nine-year-old – he considers the Japanese wrestling we watch "the real stuff") a few years ago. The one piece of advice is often the lines change drastically shortly before the event, when the "smart money" (i.e. insiders who know the outcomes) comes in, so keep an eye on that (plus Vince is notorious for changing his mind on a whim).
So let's dive into WrestleMania 36 and see if we can win ourselves a WrestleMania moment. Here are the lines for the main matches.
Brock Lesnar (+225) vs Drew McIntyre (-350)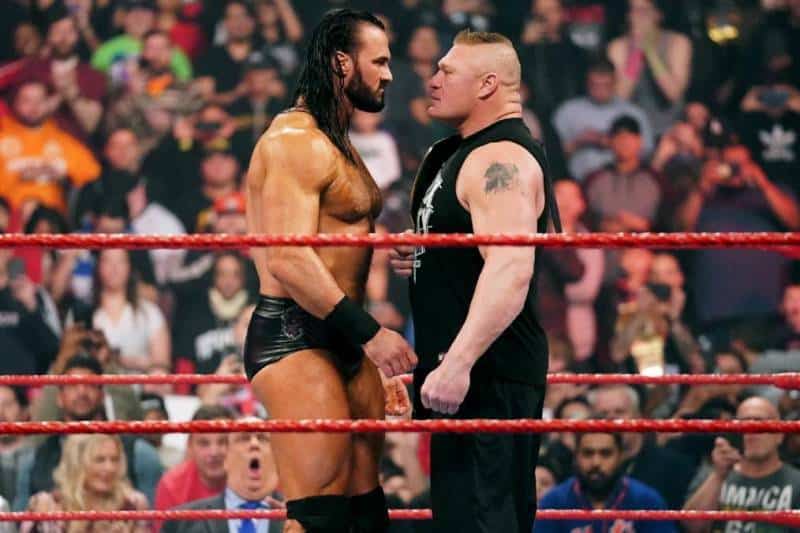 After losing the curtain jerker in less than three minutes at last year's WM, Brock Lesnar is back in the main event slot (for the fourth time) and back as the champ (assuming they run his match as the main event – it's up in the air with everything being recorded in advance). Drew McIntyre has been long-groomed as the next "man" for the promotion, and it looks like he'll get his first chance to carry the ball after beating The Beast Incarnate.
Goldberg (TBA) vs Braun Stowman (TBA)
Yes, not only is 53-year-old Bill Goldberg back in the WWE, he's also holding one of their championships (WWE Universal Champion). It looks like the title switch (which took place in Saudi Arabia) was just a temporary thing, and the bettors fully expected Roman Reigns, who the promotion has been trying to force down the fans' throats as "THE MAN" for years now, to once again wear gold. But, last minute, Reigns, who is a two-time leukemia survivor, decided against participating due to the pandemic. Enter big man Braun Strowman, who could benefit from this "right place, right time" scenario and finally become champion. (no betting lines available for this match yet)
Rhea Ripley (-175) vs Charlotte Flair (+135)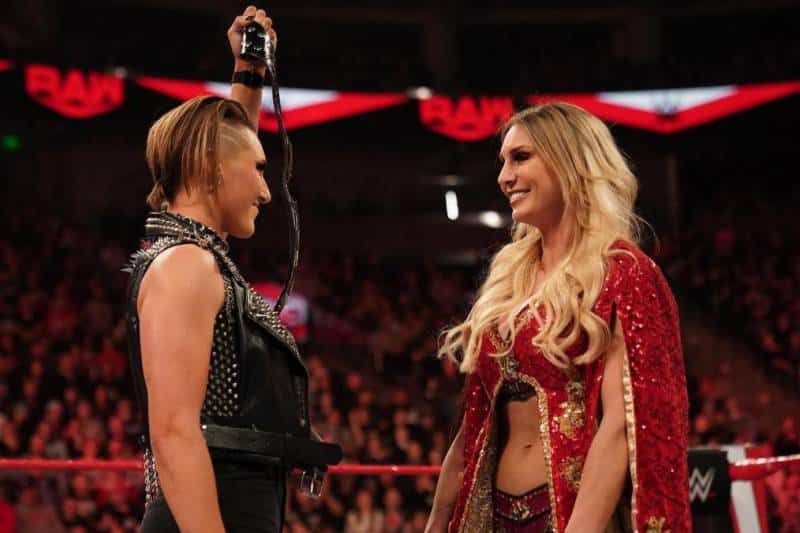 Young up-and-comer Rhea Ripley puts her NXT Women's Championship (NXT is basically the WWE's third brand, behind SmackDown and Raw) up against the daughter of Ric 'Wooooooo' Flair, Charlotte. Looks like the 23-year-old Aussie will continue her rapid rise to the top and beat a legend in this one.
Becky Lynch (+130) vs Shayna Baszler (-170)
While the first two matches have very expectant outcomes, this one is more of a toss-up. Lynch, aka The Man, has been at the top of the promotion's cards for over a year now, while former UFC fighter Baszler has dominated NXT. Should be a good, MMA-based match.
John Cena (+300) vs "The Fiend" Bray Wyatt (-500)
Movie star John Cena is back, and giving the company an audience boost in the process. He'll be up against the man (beast?) Goldberg took the belt off, "The Fiend' Bray Wyatt. It doesn't make sense having Cena win, as he's just a temporary performer at this point, and Wyatt could use another high profile win on his resume.
The Undertaker (-400) vs AJ Styles (+250)
A couple of legends in this one, but none more legendary as The Deadman, The Undertaker. While Taker is yet another part time performer at this point (along with Goldberg and Cena), he has only lost twice in WM history (to Lesnar and Reigns), hence the -400 line here. This has been announced as a "Boneyard Match", but what exactly that means isn't clear at this point.
Kevin Owens (-180) vs Seth Rollins (+140)
A true pick 'em match, originally, between two former champions. Look for the last minute line movement and jump on whoever becomes the betting favorite at that point. And that line movement seems to indicate that Owens is going over in this one – it went from a pick 'em to KO being a firm betting favorite.
READ ALSO
NFL Free Agency: Divisional Odds Risers and Fallers
Who Will Be the Patriots Starting QB in 2020 and What Are The Odds?