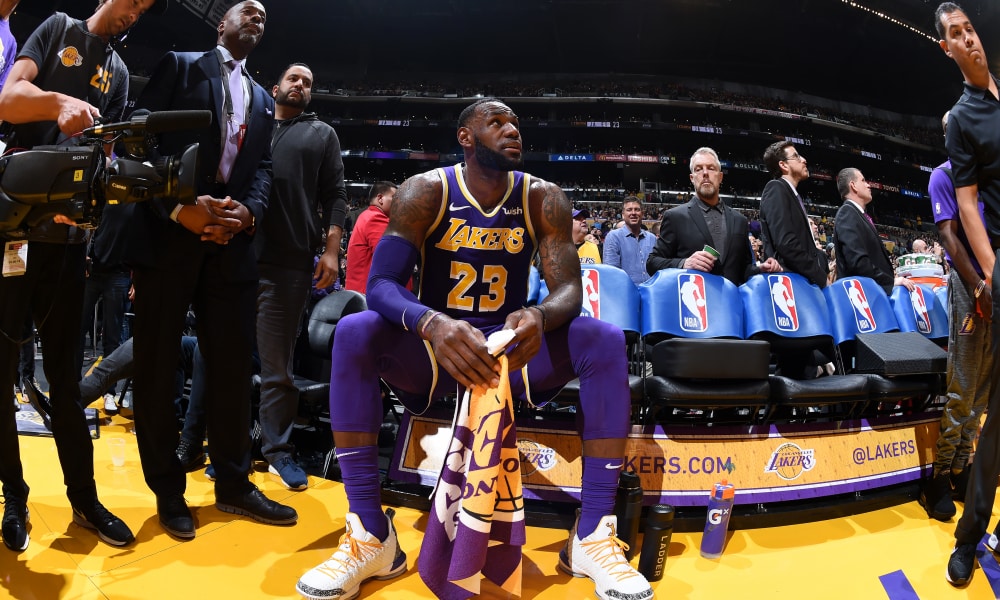 "Man, we canceling sporting events, school, office work, etc etc. What we really need to cancel is 2020! Damn it's been a rough 3 months. God bless and stay safe," stated LeBron James on March 12 after the NBA season was canceled due to Coronavirus outbreak. Two weeks later, King James' statement seems pretty realistic.
You can love or hate LeBron, but you cannot refute his basketball ingenuity. Maybe LeBron James is not the greatest of all time. However, he's one of the few who have the right to be in that conversation. Also, James is well-known as a great motivator and teammate, but there are some guys that he hates even if he's never stated it publicly.
SEE ALSO
2020 NBA Draft Odds for Top 5 Picks
All-NBA Quarantine Teams w/ Georgea Brooks | NBA Odds Pod (Ep. 30)
10. Mario Chalmers
LeBron James spent four years with the Heat and won back-to-back NBA championships in 2012 and 2013. During that span, Mario Chalmers was a member of the supporting cast and an important part of Miami's success. Still, Chalmers was like a little brother that you yell at.
The Heat drafted Mario in 2008, and Chalmers started all 82 games in his rookie season, averaging 10.0 points and 4.9 assists a night. For the next two years, Chalmers was pretty much awful. But he started playing very well at the start of the 2011-12 season. Obviously, LeBron's tough approach paid off.
"It can be tough playing with LeBron sometimes just because he's such a dominant player," Chalmers said back in 2017. "He's the best player in the NBA, so it boils down to the coach. Is the coach going to get everybody else involved, or is he going to let Bron' decide when he wants to get everybody else involved? That's one of the things we were going back-and-forth with in Miami. But as a teammate — he's a great teammate."
9. J.R. Smith
LeBron and J.R. had a great relationship until Game 1 of the 2018 NBA Finals. With 4.7 seconds left on the clock, the Warriors and Cavaliers were tied at 107-107. Smith grabbed the offensive rebound and instead of going to the rim, he decided to dribble out the clock. He thought the Cavs were in front…
From that point, everything went downhill for the Cavaliers. They had a victory in J.R.'s hands. Somehow, Smith didn't know that the game was tied, and I cannot remember anything similar in the history of sports. Therefore, it's not strange LeBron hates J.R. who's been trying to get a contract since that awkward moment. He won't play for the Lakers, that's for sure.
8. Luke Jackson
Back in 2004, the Cavaliers drafted Luke Jackson as the 10th overall pick, skipping the likes of Josh Smith, Tony Allen, Al Jefferson, and Trevor Ariza. Cool Hand Luke was a sharpshooter at Oregon, and the Cavs saw him as a perfect fit to surround LeBron.
Jackson spent only two years in Cleveland, averaging miserable 2.8 points per game. On the other side, LeBron was already one of the best players in the league. James needed help, and Luke couldn't provide it, so he had to leave.
"I guarded Michael Jordan at his camp for two summers in a row when I was in college and he was playing for the Wizards. He's the greatest of all-time, but saying that, LeBron is a whole different animal. I was playing against MJ when he was 37, but LeBron was the toughest I've ever gone up against," Luke revealed.
7. Ricky Davis
Ricky Davis had a solid NBA career, averaging 13.5 points over 12 years. During the 2002-03 season, Davis has been tallying 20.6 points, 4.9 boards, and 5.5 dimes a night. Naturally, Ricky wanted to remain the first scoring option for the Cavs despite LeBron's arrival.
Davis played only 22 games next season before he was traded to Boston. LeBron obviously couldn't stand Ricky's attitude. James entered the league as one of the biggest talents ever, and at the time, he was already a better player than Davis who thought LeBron is just another guy to help him score.
6. Draymond Green
In 2014, the San Antonio Spurs schooled LeBron and the Miami Heat in the NBA Finals, so James decided to leave Miami and return to Ohio. For the next four years, LeBron's Cavs played the Golden State Warriors in the NBA Finals, winning just one championship in that stretch.
The Warriors built a tremendous team, especially after acquiring Kevin Durant. With KD, Steph Curry, Klay Thompson, and Andre Iguodala in the starting lineup, the Warriors were unstoppable. The final member of their starting five was Draymond Green who earned a special place in LeBron's heart.
Draymond is arguably a limited player with a solid basketball IQ and great defensive instinct. You need a guy like Green to do all the dirty jobs on the floor. Also, he's a trash talker, and that's undoubtedly the only thing he's doing better than LeBron.
Green never had respect for James, and many remember Game 4 of the 2016 NBA Finals when Draymond hit LeBron in the groin. Howsoever, the Warriors blew a 3-1 lead, and the Cavaliers had the last laugh, winning their first NBA championship. LeBron became the NBA Finals MVP for the third time in his career, showing Draymond who's a boss.
5. Lance Stephenson
Lance Stephenson is special. If you need proof, you can find it here. The video also shows how cool LeBron is. I know guys who would start the fight immediately, but LeBron's reaction is epic. On the other hand, you can't blame Lance too much. LeBron has been torturing the Eastern Conference for years, so Stephenson's desperate methods look reasonable from this point of view.
Interestingly, these two guys played together in LA last season. It just shows how desperate James and the Lakers were before Anthony Davis trade.
4. Paul Pierce
Despite his nickname, the Truth has never been a beloved person around the league. Also, Paul Pierce's Celtics handed LeBron some of the toughest losses during his first spell with the Cavaliers. Last year, Pierce stated he's LeBron's biggest rival on the court ever. I can't argue with that, and it looks like Paul just wanted to hit a nerve for James one more time. Still, I'm pretty sure LeBron cannot stand Pierce on and off the court.
3. Delonte West
In his fourth season, LeBron led the Cavs to the 2007 NBA Finals where they were swept by the Spurs. James needed more help, especially in the backcourt, so the Cavs acquired Delonte West next season. LeBron and Delonte had three shots to the NBA championship but failed to get out of the Eastern Conference in that span.
While West had a couple of solid postseasons, the last one was a disaster. He averaged 6.7 points and the Cavs exited in the second round. Delonte returned to Boston, while LeBron moved to Miami, and these two guys have had a lot to tell each other since then.
Maybe it's just a myth, but rumors go that Delonte and LeBron's mother have had an inappropriate relationship. It would certainly explain LeBron's statistical decline in the 2019 Eastern Conference semifinals.
2. Joakim Noah
LeBron James and Joakim Noah couldn't stand each other and had a few memorable fights. Noah has always been a great competitor but lacked basic respect for James. On the other side, LeBron has had exactly the same feelings for Joakim. James has rarely had bad outspoken relationships with the other guys in the league, and Noah is certainly one of the players that LeBron hates the most.
"I love his emotion as a competitor. I love his emotion, but I think the words that he used to me was a little bit too far," James said. "I'm a father with three kids. It got very disrespectful. I'm OK with competing against Jo. I love the competitive nature in him, but we should leave it there. The disrespectful words that he said to me were uncalled for so the best way to retaliate is by making a play."
1. Michael Jordan
"So, when I started playing basketball, I was like: 'Oh man, that two-three looks good. I wanna be able to fly like him,'" James said. "I wanna be able to shoot like him. I wanna be able to dunk on somebody like him. I wanna be able to stick out my tongue like him in the air and yell in somebody's face like MJ.'"
Michael Jordan was LeBron's hero. He wears No. 23 in M.J.'s honor. However, LeBron always wanted to become the greatest player ever, and Michael Jordan is and always will be an obstacle. Jordan's six championships and a perfect score in theFfinals is something LeBron can only dream about.
SEE ALSO
2020 NBA Draft Odds for Top 5 Picks
All-NBA Quarantine Teams w/ Georgea Brooks | NBA Odds Pod (Ep. 30)