This past year we were witness to one of the most exciting college football seasons in recent memory. At the beginning of the season, LSU only had +800 odds of taking home the college football playoff national championship trophy. With the sports world hungry to bet on just about anything, let's look at some 2020 college football futures.
Clemson +200
Shocker, right? Last year's runner up, the Clemson Tigers, are the odds-on favorite to win the 2020 National Championship.
You may have heard of their quarterback and future #1 pick in the NFL draft, Trevor Lawrence. The rising junior, in surely his last year playing in the Palmetto State, is primed to bring the crown back to Clemson. The Tigers have now played in five straight playoffs, four out of the five previous championship games, and took home the trophy in 2016 and 2018.
After the win in '18, they suffered a mass underclassmen exodus which left many young and inexperienced players starting last year. These players now have a season under their belt and are ready to help their star QB put Clemson back on top. The problem for us gamblers are the odds: +200 doesn't offer a whole lot of value. If you want to put money on Clemson, I'd rather wait and see if they drop a game during the regular season and then buy low at that point, rather than now. Remember in 2016 and 2017, they lost head scratchers to Pitt and Syracuse, respectively, but still made the playoffs both years.
Ohio State +300
A couple of questionable whistles in last year's semifinal game were at least partially to blame for the Buckeyes collapse against Clemson where they blew a 16 point lead. On a positive note, first year coach Ryan Day took over after Urban Meyer's departure and has already earned a reputation as one of the best young head coaches in America.
Star QB Justin Fields comes back along with 12 or 13 other returning starters. Plus, OSU brings in another top recruiting class that's ranked 1st in the Big 10 and top 5 in the country. The schedule in the Big 10 East is always formidable but the Buckeyes have owned Michigan as of late and Michigan State will be rebuilding with a new head coach at the helm.
Their toughest contests will be @ Oregon in week 2 and @ Penn State in late October. The rest of the of the schedule looks very manageable. There's a good chance Ohio State might get the opportunity to exact some revenge against Clemson in the championship game this year.
Alabama +400
Although it was just 2017 when Alabama last won the national championship, there's been whispers around the college football world that Clemson is now the premier program in all the land. Rest assured that this doesn't sit well with Nick Saban.
After losing to both LSU and Auburn last year, Bama will have an axe to grind in 2020. As usual, they are completely loaded with talent on both sides of the ball. The biggest question may be Mac Jones, the expected starter at quarterback, who was solid but not spectacular when filling in for the injured Tua Tagovailoa last year. Not guaranteed the starting gig, he'll be facing competition from Tua's little bro Taulia Tagovailoa and top recruit Bryce Young.
Either way, it's safe to assume the Tide's quarterback play should not keep up defensive coordinators at night, like Trevor Lawrence or Justin Fields will. With that said, at +400 there's some value here with Alabama. In SEC play they get Georgia, Auburn, and A&M at home with the toughest road game being at LSU. They should be able to drop one of those games and still win the SEC West which will springboard them into a playoff berth if they can take care of business in the SEC Championship game.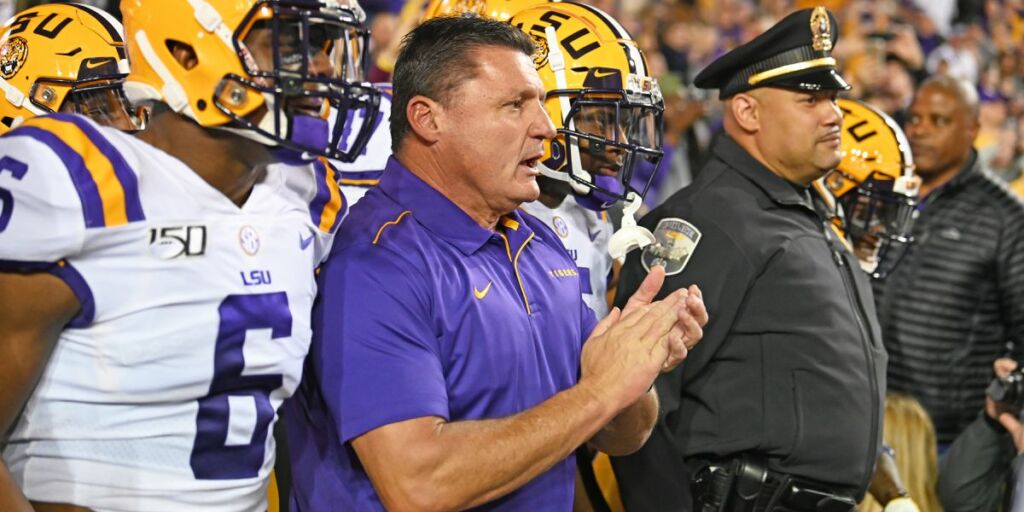 LSU +600
Can the boys from Baton Rouge win two in a row? Well, it'll be extremely difficult without Joe Burrow who was an absolute godsend when he transferred in from Ohio State. Not only will LSU have a new quarterback under center, but they have also been gutted by graduations and early departures on both sides of the ball.
Additionally, while Coach O is very entertaining, it remains to be seen just how good of a coach he is. Just a humble handicapper's opinion here, but you'd have to be batshit crazy to put down dough on LSU to repeat.
READ ALSO
College Football Offseason Coaching Hires and Grades
The Best Transfer Quarterbacks for 2020
Ranking The SEC West Head Football Coaches
Georgia +800
Entering his 5th year as head man, Kirby Smart was brought in to get the Dawgs over the hump. While he has improved the program, they still haven't quite reached the mountaintop. After losing in the 2017 national championship game, Georgia followed up with two disappointing seasons where they lost multiple games each year.
They'll look to regain momentum in 2020, but the schedule won't be easy. The two SEC cross division games are Auburn at home and on the road against Alabama. Plus, they get Florida in Jacksonville in their annual rivalry game and have two ACC matchups against Virginia and Georgia Tech.
Speaking of the ACC, Georgia welcomes Wake Forest transfer Jaime Newman who expects to start at QB and be one of the top passers in the conference. Although they shouldn't skip a beat at quarterback, and the rest of the roster is chalk-filled with talent, their schedule leaves me fading the Bulldogs this year.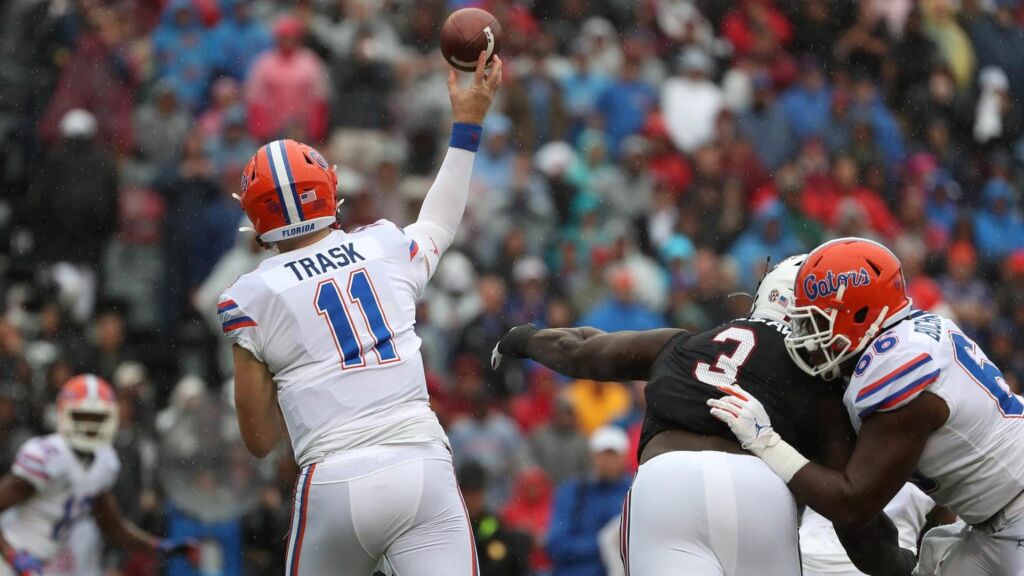 Florida + 1000
Compared to Georgia, UF's schedule should be a walk in the park. The four road games on the slate are @ Tennessee, @ Ole Miss, @ Vandy, and @ Florida State. While the Vols and Seminoles will be improved, they are still in the midst of rebuilding their programs. Florida also gets LSU from the West but at least that game is in the Swamp. It's possible that the Gators could lose to Georgia but still win the SEC East which could potentially get them into the college football playoffs.
While they lost a boat load of position players, Kyle Trask returns at QB, four of five offensive lineman are back, and they expect to have one of the top D's in the SEC. On paper, they seem like a solid choice with attractive odds but consider me hesitant. I have reservations on just how good of a coach Dan Mullen is and I feel Florida may be a bit overrated. I'll be looking for value elsewhere.
Oklahoma + 2000
In his short few years at Oklahoma, Lincoln Riley has built the Sooners into a threat to make the playoffs on an annual basis. Unfortunately for OU fans, with three straight losses in the semifinals, they can't win a game once they get there.
After having big name starting QBs (Baker Mayfield, Kyler Murray and Jalen Hurts) in recent years, Riley will most likely turn to redshirt freshman Spencer Rattler to lead the team in 2020. Even with inexperience under center, Oklahoma should again be top dog in the Big 12, which usually opens the door for a potential playoff berth. However, until they start playing any semblance of defense, I'll pass on Boomer Sooner.
Auburn + 2000
The Tigers are a team that went 9-4 last year including a bowl game loss to Minnesota. They dropped road games to Florida and LSU and a home game vs Georgia. On the positive side, they stole a win vs Oregon in week 1 and outlasted Alabama at home to finish off the regular season.
The biggest factor entering this coming season is if sophomore quarterback Bo Nix can improve on his freshman season where he struggled to push the ball downfield at times. This year Auburn is looking down the gun at road games against Alabama and Georgia, a neutral site game vs improving North Carolina and another road trip vs first-year head coach Mike Leach with Mississippi State.
I also expect Bama to win the SEC West which most likely leaves Auburn without a clear path to the Playoffs. In reality, we're probably looking at another 3 to 4 loss season for the Tigers.
Other Top Contenders:
Notre Dame + 2500
Oregon + 2500
Texas A&M + 2500
Texas +2800
Michigan + 3000
Penn State +3000
The Bottom Line:
Look, college football isn't known for having wide open championship races where several different teams are in the running each year. Since 2006, only 7 different schools have won the whole thing and those winners have only came from 3 different conferences (SEC, ACC, Big 10). It sure looks like this year is a three-horse race between Clemson, Ohio State, and Alabama. Placing a future on any other team seems like a pipe dream. I'd recommend going with the team you like best out of that trio and if I had to go with a dark-horse, gimme the Penn State at + 3000. The Nittany Lions return 4 of 5 offensive lineman, stud running back Journey Brown, and redshirt junior QB Sean Clifford. Plus, did I mention they get the Buckeyes in Happy Valley this year?
READ ALSO
College Football Offseason Coaching Hires and Grades
The Best Transfer Quarterbacks for 2020
Ranking The SEC West Head Football Coaches