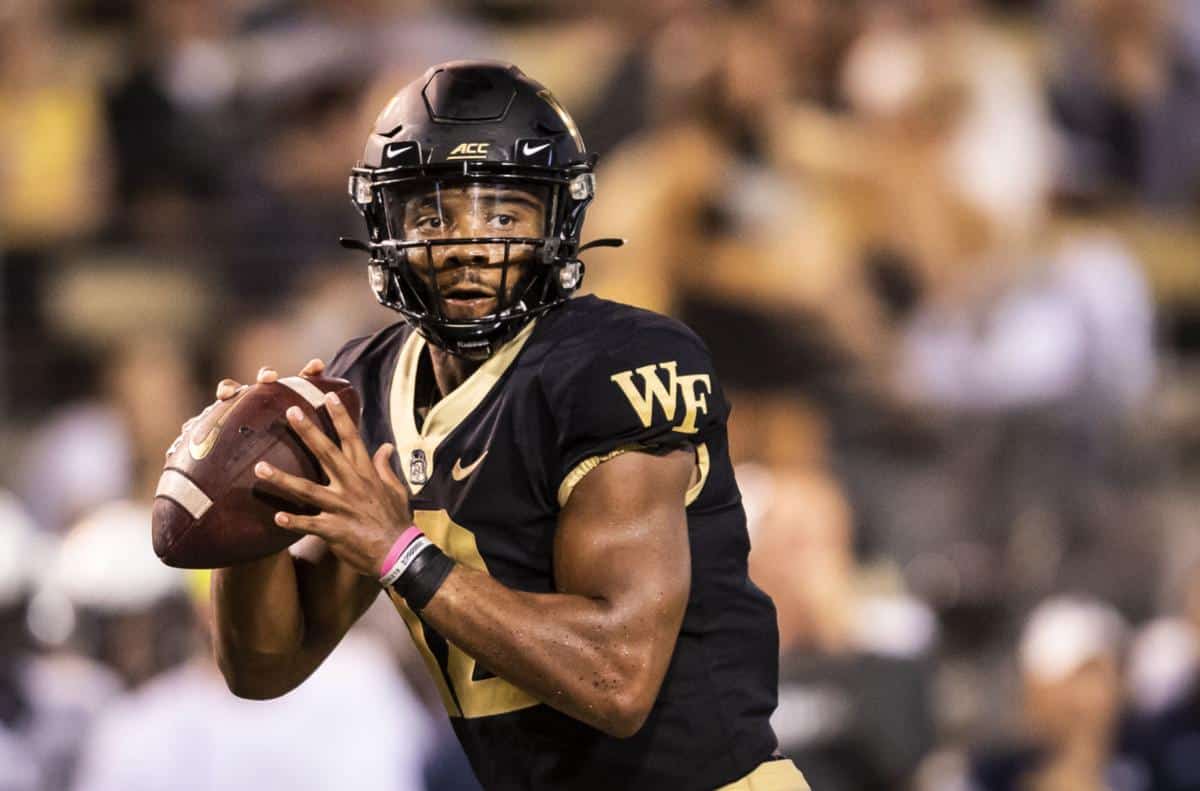 Whatever your feelings about the transfer portal – whether you think it's been good or bad – it's certainly changed football.
While the Super Bowl remains unquestionably the biggest NFL event on the sporting calendar, and the draft its most exciting player day, college football has been given a whole new window of intrigue.
It's an opportunity for colleges to bolster their squads, adding the final piece of the jigsaw or sticking a plaster over a gaping wound.
I've picked out three quarterback transfers with the potential to be real game-changers for their new sides in 2020.
Jake Bentley: South Carolina Gamecocks to Utah Utes
The South Carolina Gamecocks lost more than a gifted quarterback when Jake Bentley moved to the Utah Utes – they lost a local boy, one who shouldered the burden of fan expectation more than most players.
Despite his father, Bobby, being one of the offensive assistants for the Gamecocks, Bentley's place as starting quarterback was far from assured in South Carolina – both Ryan Hilinski and Luke Doty were there to push him.
This may leave Utah's fans asking if they've picked up a player who doesn't have the fight to be a success, but they'd be wrong to do so – during his time for the Gamecocks, Bentley was regularly the focal point for fans disappointment with the team. And what did he do? He played, pressed, and pushed for the Gamecocks.
But this remains a gamble for both Bentley and the Utes – Bentley has experienced injury problems, while the Utes have lost their last two bowl games.
However, as we're talking betting language, I'll put a little balance on this gamble with a ballsy prediction – I'm betting the odds of success for both Bentley and the Utes will be close to 100%. Why? Because Kyle Whittingham is there to make this gamble pay off.
Jamie Newman: Wake Forest to Georgia
Jamie Newman is a Graham, North Carolina resident, among the finest college football players in the country, and one of the most promising quarterbacks to take advantage of the transfer portal.
In January 2020, Newman announced his intention to move from Wake Forest to Georgia and his new college has secured a near-perfect physical specimen with the figures to go with his frame.
Standing at 6 ft 4 in and weighing in 230 lb, Newman is almost the archetypal size of a quarterback – he has both the size and power to dominate his position, something shows in his stats for Wake Forest from 2017-19:
Points: 60
Passing yards: 3959
Rushing yards: 826
Georgia can expect a bustling player with the talent to make a huge impact on the team, making Jamie Newman one of the best transfer quarterbacks for 2020.
D'Eriq King: Houston Cougars to Miami Hurricanes
D'Eriq King is a quarterback who's been pushing around bigger players since his sophomore year at Manvel High School in Manvel, Texas. Back then, King began as the eighth-string quarterback but took a matter of weeks to take the starting spot.
And boy did he merit that starting spot, as he smashed the career Texas 6A passing touchdowns record.
He'll harbour similar expectations after transferring to the Miami Hurricanes.
During his time in Houston, King had some notable successes with the Cougars – becoming only the third passer ever to throw 25-plus touchdowns and run 13-plus scores being one of the standouts – giving him an impressive highlights reel.
His dynamic and diverse style led some to call him the Human Swiss Army Knife – because he has so many ways to cut through the opposition.
King's and outstanding athlete and technician and could have had his pick of a huge number of colleges, making him a massive coup for the Hurricanes. One thing's for sure, though, the people in Miami will already know that he's a man with huge talent – unlike his high school coach.
Recommended reading: 5 Most Exciting Quarterback Transfers In College Football
Jake Bentley, Jamie Newman, and D'Eriq King each have the potential to be enormous assets for their new teams.
And while you may have other ideas about the best transfer quarterbacks of 2020, I'm certain that these three men will show I'm right about them in no time at all.