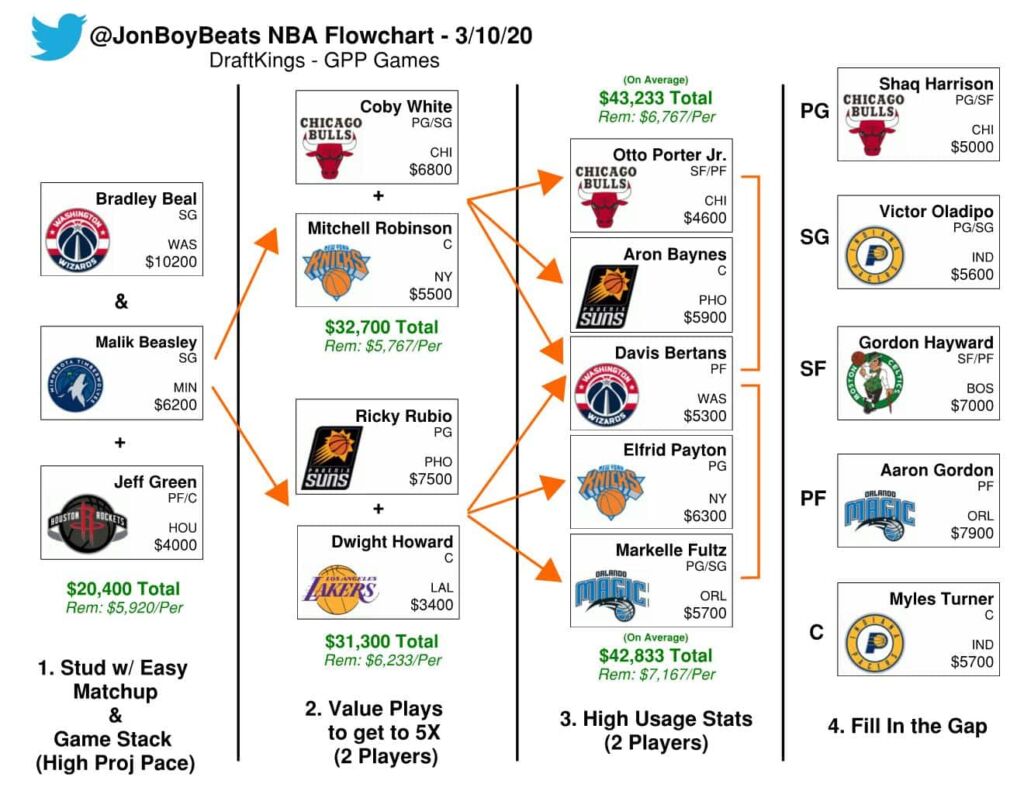 Back in action with another NBA Flowchart today! Here's hoping that today's slate is a lot less hectic than yesterday's 3-game nightmare. Thanks to Coach Bud deciding to roll out the entire 3rd string into the starting lineup for Milwaukee, then Norman Powell & OG Anunoby both hobbling off with in-game injuries (the two most popular pivots off the Middleton chalk) it was a challenge getting to the cash line last night! As always, make sure to keep your eye on my Twitter feed in case any last minute injury news pops up today as we get closer to lock! Here's my breakdown and flowchart for the Tuesday 3/10/20 slate of games. For those who didn't read the initial article with all the explanations about the flowchart, you can find it here.
Stud with an "Easy" Matchup
Bradley Beal has been on an absolute tear over the 2nd half of the season scoring 50+ DKPts in 7 of the last 9 games and maxing out at 70.8 DKPts on 2/28 against Utah. Luckily for him, he faces a struggling Knicks team tomorrow who are giving up 10% more points, 14% more three-pointers, and 12% more assists to opposing Shooting Guards over the last 2 weeks. Not only has Beal been a scoring machine this year, but his assists are up and he is averaging over 1 steal per game. He faces a New York team who is averaging the 7th most turnovers in Away games this year, so look for him to get some easy points in the steals category. I wouldn't be surprised to see Beal climb into the 60 DKPt range tonight. Feel free to load up on him.
Game Stack w/ High Projected Pace
The matchup between the Timberwolves and the Rockets features the highest Vegas total of the day with an Over/Under of 244.5. In addition to the high total, both of these teams play at an extremely high pace with Minnesota at #4 and Houston at #3 in Pace Ranking this season. We know this game has a chance to be high scoring, so let's look at where we can find the best matchups. I want to start with a big value play in Jeff Green for the Rockets. For all intents and purposes, PJ Tucker has disappeared while on the floor over the last 8 games failing to break the 20 DKPt barrier in six of those matchups. Enter Green, who has seen his minutes steadily climb over the last week and has made an impact on both ends of the ball (surprisingly) having registered 2 blocks and 6 steals over the past four games. On the other side of the ball, Malik Beasley has the hot hand for the Timberwolves. Beasley has scored 20 or more points in 4 straight games and is averaging 35 DKPts per night in those matchups. Beasley has connected on 4 three-pointers in four of his last five games, and luckily for him he gets to face a Houston team that is giving up 30% more threes to SGs over the past 2 weeks and 10% more over the course of the season.
Bargain Players to get to 5X Value
When opportunity comes a knocking, you have to jump on it and that's exactly what Coby White has done over the last month or so. White will start for the Bulls on Tuesday and it's about time as he has been consistently outperforming Satoransky for quite a while now. White has attempted 20 or more shots in seven of his last nine games, while connecting for an average of around 40 DKPts each night. He has gotten to his 5X Value of 34 DKPts in eight straight games. Another player I want to discuss is the best Center on the New York Knicks roster, Mitchell Robinson. For some incomprehensible reason, the Knicks keep trotting out Taj Gibson in the starting Center roll, while Robinson has been coming off the bench and running circles around him in almost all stat categories. Luckily for Robinson he is facing a Wizards team who is giving up the most rebounds to opposing Centers this season! I see nothing in the way of Robinson eclipsing his 5X Value mark.
Other Players to Consider
In games without Jaylen Brown this season, Gordon Hayward has averaged almost 4.5 more DKPts per 36 Mins then when Brown is on the floor. If he plays tomorrow, Victor Oladipo offers a nice place to save some salary as he is checking in at $5600 but has averaged 30 DKPts over the last 4 games. Coming off two straight monster performances, Aron Baynes will look to continue his hot streak against Portland who by now is widely renowned for having been a very favorable matchup for Centers this season (including a whooping 88% more three-pointers allowed to big men over the last two weeks. With the Chicago Bulls without a majority of their wing players this week, Shaq Harrison has been able to step into that roll and produce at a high level. He is a guy who stuffs the stat sheet every night so its good to see him matched up with Cleveland who are giving up plus numbers in almost all statistical categories.
Well that about finishes it up for today! I have included the full Player Ranking sheet at the bottom of the post here so you can get a feel for any of the players that I didn't go into detail in the writeup. I post these sheets everyday on my Twitter page, so if you find them useful and can't wait until next week's article to scratch the NBA DFS itch, make sure to check it out!