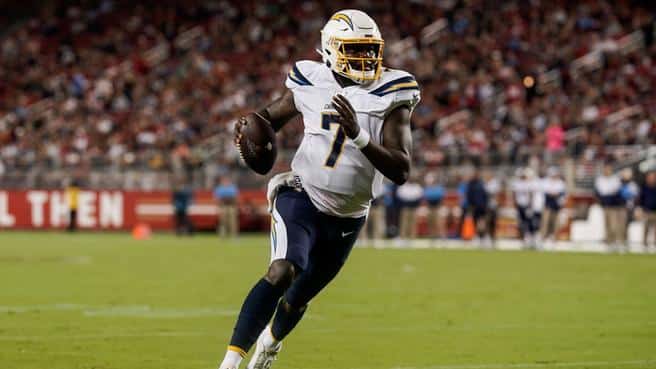 On February 8th the XFL will return for the first time in nearly twenty years. Unlike the now defunct Alliance of American Football (AAF), we can expect this league to finish the season without leaving their players stranded at the airport. With an abundance of cash-on-hand, Vince McMahon's vision was born on perceived grievance of an overly lib-friendly, unpatriotic, and declining NFL (despite the fact that Super Bowl 54 viewership increased by 1.3 million). Unlike the No Fun League, the XFL will contractually obligate their employees to stand during the national anthem and not commit crimes (unless your name is Johnny Manziel).
Despite the obvious exclusitory limitations of talent, the XFL did conduct an efficient draft of up-and-comers and wily veterans. If past is prologue, this will be a springboard to launch a comeback in the big show. Recall Tommy Maddox, who in 2001 went from XFL MVP and champion to NFL Comeback Player of the Year in 2002. Here are 8 XFL players to keep on your radar.
READ ALSO
XFL Fantasy Football Rankings – Season Long
XFL Week 1 Picks, Odds, Schedule and Preview
XFL Week One Daily Fantasy Football Picks (Sat-Sun, Feb 8-9)

Cameron Artis-Payne, RB, Dallas Renegades
The 29 year old is a seasoned vet, having played at Auburn and made appearances in 32 NFL games for the Carolina Panthers. Artis-Payne was taken with the 20th pick and was the first RB selected by the Dallas Renegades and Bob Stoops. If the former Oklahoma coach is true to form he will establish the run early and often.
Cardale Jones, QB, DC Defenders
While former NFL journeyman Josh Johnson might be the best bet for early success at the QB position, Cardale Jones has tremendous upside and is surrounded by superior talent. Head coach Pep Hamilton is adept at developing quarterbacks and Cardale Jones has all the tools to be successful. The Ohio State Buckeye legend needed only 3 starts to win an NCAA championship, and he looked great in his preseason appearances for the Los Angeles Chargers.
Donnel Pumphrey, RB, DC Defenders
The football world still has doubts about Donnel despite the fact that he is the all-time leading rusher in NCAA Division I FBS history. As a three year starter at San Diego State he averaged 6 yards per carry and scored 67 TDs. At 5'8, 175lbs there are still doubts about his size, despite how much the game has changed and allowed smaller running backs to thrive.
Rashad Ross, WR, DC Defenders
After transferring to Arizona State Ross did not blossom until his senior year. After going undrafted in 2013, he bounced around from practice squad to practice squad in the NFL. Finally getting a shot in the AAF, and became the top receiver in the league for the Arizona Hotshots, averaging over 16 yards per catch and a league-leading 7 touchdowns.
Sammie Coates, WR, Houston Roughnecks
Sammie Coates is quite possibly the most athletic player in the XFL. He never fully reached his potential in the NFL due to his drops and injuries, but in 2016 with the Steelers he averaged over 20 yards per catch. Despite not having a top tier signal-caller to throw him the ball, I expect him to have a high number of targets.
DuJuan Harris, RB, Los Angeles Wildcats
Don't underestimate these older runners of the XFL. Harris is one of several thirty-something backs who start the season at #2 on the depth chart, but still have enough tread left on the tires to make a case for #1. Harris is a swiss army knife type player who has the potential for big plays in the flex spot of your daily fantasy lineup.
Matt McGloin, QB, New York Guardians
Matt McGloin's NFL career was nothing to write home about, averaging a QB rating of 75 in four years with the Raiders. What makes him an interesting play is the offensive prowess of head coach Kevin Gilbride and his stellar coaching staff of G.A. Mangus and Jerald Ingram. With offensive weapons in WR Mekale McKay and RB Tim Cook, McGloin will be ready to hit the ground running.
Nick Truesdell, TE, Tampa Bay Vipers
The tight end ran a 4.6 40 yard dash at the 2017 NFL combine at 6'5 and 250 lbs. Pushing 30 years of age, he is still new to football. It was a surprise to see him drafted with the 5th pick, which makes this all the more intriguing. With athleticism abound, this will be a guy to keep an eye out for.
On paper, the DC Defenders are clearly the best team in the XFL and I expect their skill players to put up the most fantasy points. However, what's great about the B leagues of the past is that you never know what can happen.
READ ALSO
XFL Fantasy Football Rankings – Season Long
XFL Week 1 Picks, Odds, Schedule and Preview
XFL Week One Daily Fantasy Football Picks (Sat-Sun, Feb 8-9)