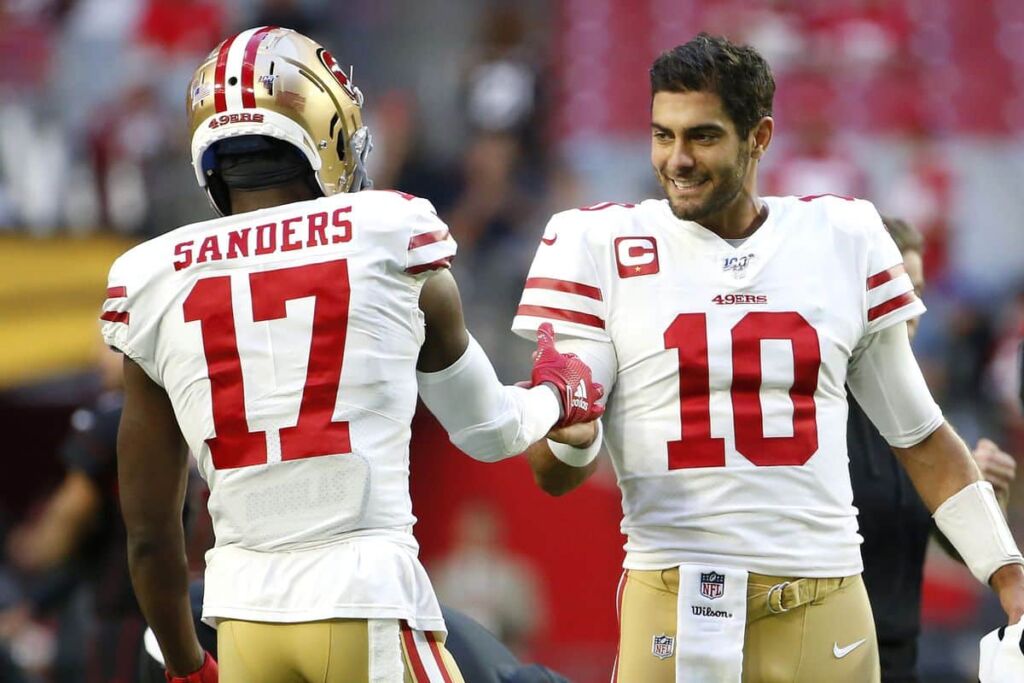 As Super Bowl week (and a very trying one this year in particular) continues to plod onward, we as Daily Fantasy gamers alike are traditionally finding ourselves touring the lobbies of various sportsbooks and DFS platforms seeking to fill out any missing morsel of our passions in lieu of "The Big Game" this Sunday.
And if you have yet to try a player proposition play on Monkey Knife Fight yet, you're in for a treat starting this weekend (or sooner if you play some NBA action leading up to Sunday).
READ ALSO
Printable Super Bowl 54 Squares Grid
Printable Super Bowl Party Props Sheet
NFL Daily Fantasy Football Super Bowl LIV DraftKings Showdown Picks and Strategy

The beauty of Monkey Knife Fight is that it borrows on the principles of player-specific propositions and adds the angle of risk variety, all depending on your confidence in said picks. For example, in the Touchdown Dance subcategory, you're selecting three skill players outside of quarterbacks to exceed a combined number of touchdowns. As you play to achieve a higher number of touchdowns, you're moving the multiplier scale of your payout should you successfully do so.
Let's take a look at a few subcategory plays that have some attainable value…
Reception Connection: Sammy Watkins, George Kittle, Travis Kelce
Goal: Over 20.5 Receptions (2x Prize), Over 22.5 Receptions (3x Prize)
They have a combined 25 receptions through their two-game 2019 Playoff resumes, and should the game go the route of shooting out, I believe Sammy Watkins, George Kittle, and Travis Kelce stand a very realistic chance of surpassing either of the first two of three available options on this subcategory column.
The three players in Watkins, Kelce, and Kittle combined for nearly 19 targets per game through the regular season and the ability to attain slightly above that average out of any of those three options should be the necessary push for your entry to cash out.
Touchdown Dance: Emmanuel Sanders, Travis Kelce, Damien Williams
Goal: Over 2.5 Touchdowns (2x Prize)
If you keep the goal minimal on this one, you're looking at one touchdown per player on average. Which considering the recent track record of Travis Kelce and Damien Williams, along with the proven standout history of Emmanuel Sanders in two Super Bowl victories (MVP in one of them), cashing out double your money doesn't seem to shabby for an achievable play.
In the Divisional Round against the Houston Texans, Travis Kelce and Damien Williams combined for a total of five touchdowns, which makes this play seem like cake on the surface naturally. But one could easily foresee a slow start for either or both offenses, along with some of the best defense both teams have played all season, so I wouldn't be as inclined to go swinging for the fences on that 15x prize that demands over 4.5 combined touchdowns (although between now and 3 pm Sunday it's likely happening).
Rapidfire Fantasy Points (3x Prize): 
Jimmy Garoppolo +8.5 (vs. Mahomes), Travis Kelce +2.5 (vs. Tyreek Hill)
This is predominantly a play of interest based on value over "predictability". Clearly two plays contingent on certain elements such as the game remaining close (for Garoppolo), along with one top receiving weapon outperforming his comrade (Kelce & Hill).
Travis Kelce and Tyreek Hill being within a half-fantasy point makes them essentially a coin flip considering you could argue the case for either through the playoffs, whereas Garoppolo standing tick for tack with Mahomes may seem like the stretch play to some. Kelce has caught thirteen receptions for 164 yards and three touchdowns through two games in the Playoffs compared to Tyreek Hill's eight catches for 108 yards and two touchdowns.
We've seen Jimmy Garoppolo hang in there with Drew Brees in the 49ers' Week 14 win in New Orleans (although Brees exceeded an eight-point fantasy differential), although it's of course a small sample size. However, I think this play for Garoppolo speaks mutually about the effectiveness of the San Francisco defense and ability to disrupt Mahomes throughout the game. At 3x payout, the value is worth a few units.
More or Less (100x Prize):
Patrick Mahomes, 309.5 Passing Yards (More)
Jimmy Garoppolo, 237.5 Passing Yards (More)
Tyreek Hill, 79.5 Receiving Yards (More)
Raheem Mostert, 86.5 Rushing Yards (Less)
Travis Kelce, 6.5 Receptions (More)
Damien Williams, 53.5 Rushing Yards (Less)
Tevin Coleman, 48.5 Rushing Yards (Less)
George Kittle, 5.5 Receptions (More)
This prop play is STRICTLY for fun, and personally I wouldn't go at all crazy with the amount risked, in that it's already kind of crazy to take an eight-player parlay if you think about it.
However, I see this as slightly more than a novelty in that it allows you to really play with the notions of game flow, and if you're at all a Daily Fantasy advocate then this should be right up your alley. Not to mention I've seen much crazier things happen, so what's a few spare dollars on a wild Super Bowl play going to hurt? $10 pays $1,000…just saying…
READ ALSO
Printable Super Bowl 54 Squares Grid
Printable Super Bowl Party Props Sheet
NBA Odds Pod Frauds Contest: Free Entry, $500 to First Place!