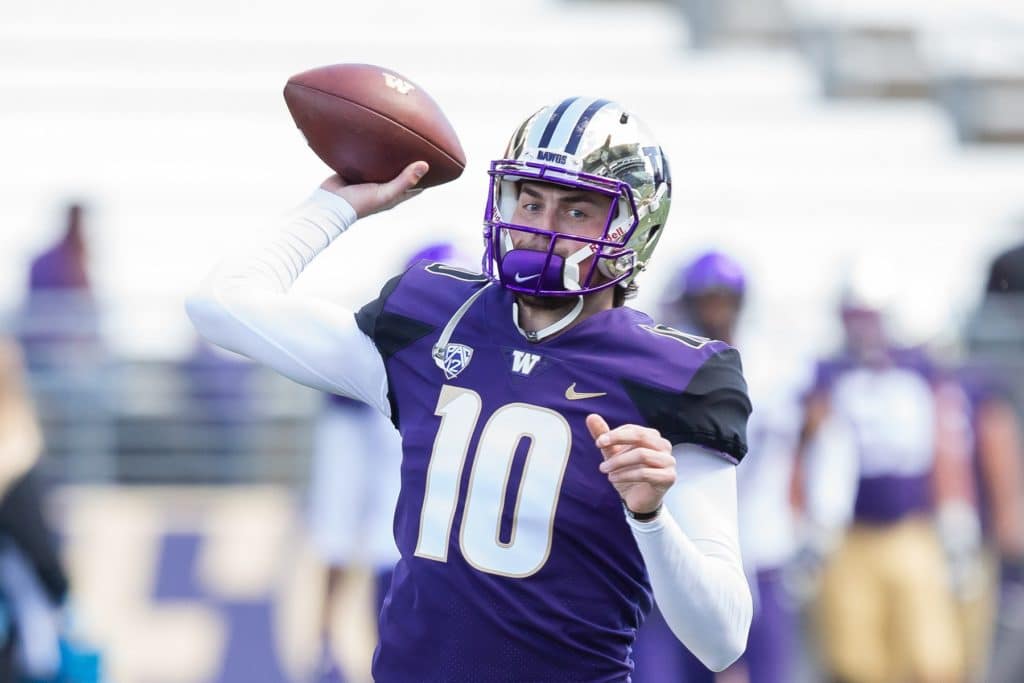 The "Transfer Portal" has been all the rage this year and coaches are taking full advantage of the opportunity to bring in elite talent. The quarterback is the most important position in sports and some potential NFL signal callers have been on the move since the end of last season.
Below are the five quarterbacks I'm most excited to see in new places.
READ ALSO
Ranking All 130 FBS College Football Quarterbacks
5. Jacob Eason – Washington (Georgia)
Jacob Eason was a five-star recruit in 2016 from the state of Washington, but he decided to take his talents to Athens, GA and play for the Bulldogs.
The 6'6" 225 pound Eason started as a freshman and led the team to an 8-5 season, but he was inconsistent and completed only 55.1 percent of his passes. He was named the starter in 2017, but hurt his knee in the first game. Freshman Jake Fromm replaced him and led Georgia to the College Football playoff.
After the 2017 season, Eason transferred back to his home state to play for the Huskies, and due to NCAA rules, had to redshirt last season. Eason is the unquestioned starter heading into this season. Washington has an experienced offensive line with four returning starters which will help Eason transition into the starting role.
How Eason performs is one of the biggest subplots of the college football season. If he plays well, he could position himself for an NFL contract and his team for a potential College Football Playoff berth.
4. Hunter Johnson – Northwestern (Clemson)
After falling behind Kelly Bryant and Trevor Lawrence on the depth chart at Clemson, Hunter Johnson decided to transfer. He found a quick home and a smooth landing sport at Northwestern.
Johnson's brother also played at Northwestern under head coach Pat Fitzgerald so that helped with the decision process. A five-star recruit in 2017, Johnson was rated higher then Tua Tagovailoa and Jake Fromm. He had to redshirt last season and learned the offense from four-year starter Clayton Thorson, who had a great career and lead the Wildcats to the Big Ten title game last year.
The 6'2″ QB will need someone to step up at receiver to help compliment steady receiver Ben Skowronek, who is the top returning receiver and had 45 catches last season. Northwestern will be challenged immediately with an opening matchup with Stanford.
3. Justin Fields – Ohio State (Georgia)
After getting limited playing time behind Jake Fromm last year, Fields decided a change was needed and transferred to Ohio State. He petitioned the NCAA for his immediate eligibility. It was granted, thus giving Ryan Day an elite quarterback prospect in his first year as a head coach.
Fields was ranked just behind Trevor Lawrence and was a five-star recruit coming out of high school in Kennesaw, Georgia. It's not likely he will be able to match last year's starter Dwayne Haskins production, but Fields has the athletic ability to be a threat every time he gets in space.
The combination of Fields and J.K. Dobbins in the backfield will be a lethal duo. The Buckeyes will be challenged in the middle of the season with a four-game stretch against Nebraska, Michigan State, Northwestern and Wisconsin. I'm looking forward to seeing how Fields reacts to his first season as a starter in the Big Ten.
READ ALSO
10 Best Teams in Group of Five Conferences That Could Make College Football Playoff
2. Kelly Bryant – Missouri (Clemson)
Is it me or does Trevor Lawrence have a connection to almost every player on this list? In 2017, Kelly Bryant took over for Deshaun Watson and led Clemson to a College Football Playoff appearance. Bryant left the Clemson program the following season after Dabo Swinney announced that Trevor Lawrence was going to be the starting quarterback.
The interesting part of this story is Bryant transferred after week four of the season and used a recent change in NCAA guidelines to preserve his final year of eligibility which gave him the opportunity to commit to Missouri for his final year. With Bryant at the helm, Missouri has a chance to be a contender in the SEC East.
Missouri has an experienced offensive line and a great running game that will be enhanced with the running ability of Bryant. Unfortunately, another story is lingering over the Missouri program and it's the pending 2019 bowl ban due to academic fraud within the athletic program. The NCAA infractions committee put the program on probation and the university is currently appealing the ruling. Hopefully the NCAA comes to a quick decision so the Tigers know their fate before the season begins.
1. Jalen Hurts – Oklahoma (Alabama)
Lincoln Riley and the Sooners have had back-to-back Heisman trophy winners and Jalen Hurts is next in line. After losing the quarterback battle to Tua Tagovailoa last year, Hurts decided to transfer and finish his career in Norman.
Hurts was SEC Player of the Year as a freshman and had a 26-2 record as a starter for the Crimson Tide. During his three years at Bama, he had 71 total touchdowns and threw for over 5,600 yards. He has also accounted for close to 2,000 yards on the ground. Being a threat in the running game will come in handy as Oklahoma needs to replace four starters from the offensive line.
Hurts will produce and have a great season, but I can't see him putting up video game type numbers like Baker Mayfield and Kyler Murray have in recent seasons.
READ ALSO
College Football Gambling Portfolio: Blue Chippers, Good Bets, Hidden Gems & Penny Stocks for 2019 Season