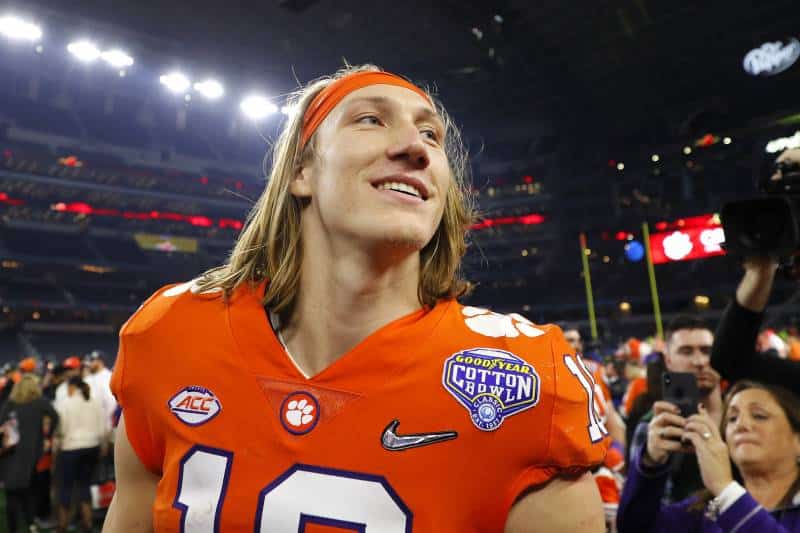 The Dantabase ranks all 130 quarterbacks in college football. Enjoy … and feel free to argue with him in our Slack channel.
TREVOR LAWRENCE (CLEMSON)
He's got everything you want from a scouts perspective. To come in and look the way he did throughout the entire season was more than impressive. 
TUA TAGOVAILOA (ALABAMA)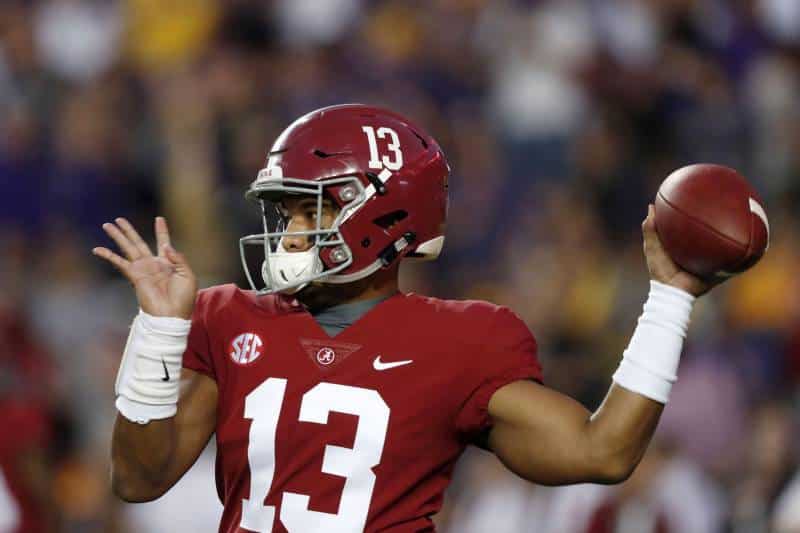 Tua has all the skills and should be a top 10 pick this time next year. He's got the mobility to extend plays and the arm to throw the ball accurately all over the field. 
JUSTIN HERBERT (OREGON) 
Herbert surprised everyone when he decided to come back to the Ducks. He had an injury plague season last year and he's the main reason why the Ducks are some experts pick to win the PAC 12 and perhaps get a playoff berth. 
JAKE FROMM (GEORGIA)
It's going to be a big year for Jake Fromm since his two other former QB teammates will be starting at potential playoff caliber teams in Justin Fields (Ohio State) and Jacob Eason (Washington). If Fromm struggles, fans will be quick to compare him to those guys. Fromm is a seasoned vet at this point who is a first round NFL projection.
JALEN HURTS (OKLAHOMA)
Lincoln Riley is a QB guru. If you are questioning Hurts being this high, I'll just say sit back and enjoy the show. Riley has had two Heisman trophy winning QBs in his first two years and both QBs were the top two picks in the NFL draft. I can't wait to see how he uses Hurts.
SAM EHLINGER (TEXAS)
The best thing Ehlinger has got going is he's now experienced in this office. He showed flashes in his first year and then last year towards the first half of the season he really found his game. Look for Ehlinger to continue to build on that. 
IAN BOOK (NOTRE DAME)
Much like Ehlinger experience should play dividends here. Another year in Kelly's system should only help Book who continues to get better with every game. The schedule is much harder this go around but I'm still betting Book has a great year. 
D'ERIQ KING (HOUSTON)
It'll be interesting to see how Holgorsen uses King but this could be a sleeper Heisman trophy candidate if things work out. King is a dual threat QB who's going to be a nightmare matchup for AAC defenses.  It'll be interesting to see how Holgorsen uses King and his athleticism.
BRYCE PERKINS (VIRGINIA)
Bryce Perkins enters in year 2 as starting QB in Charlottesville and if he's just a tad bit improved with the experience under his belt than this guy is a sleeper Heisman trophy candidate. Perkins is a true dual threat QB and one hell of an athlete. He's one of the main reasons why some experts have Virginia playing for a ACC Championship. 
JORDAN LOVE (UTAH STATE)
Love is coming off a great year and he performed well against some really good defenses. Love loses a lot of returning starters on his offense and has to break in a new head coach in former Utah State coach Gary Anderson. Love may struggle right out the gate with a new OC and so many new faces but he's a nice talent that will find his game eventually. 
ADRIAN MARTINEZ (NEBRASKA)
Martinez really impressed me last year despite playing as a true freshman. You could see him getting more and more comfortable with the offense within each week and now with a whole offseason under his belt I'm betting Martinez will be one of the best QBs in the country. 
MASON FINE (NORTH TEXAS)
Head coach Seth Littrell withdrew his name from a big job or two to come back to coach the Mean Green of North Texas who will be led by the experienced Mason Fine. Fine has put up big numbers in this system despite getting out for the year late in the season last year. Look for him to continue to build on that with even more time in the system. North Texas is a Conference USA title contender and a lot of that is Mason Fine. 
SHEA PATTERSON (MICHIGAN)
At times Patterson looked really uncomfortable in Harbaugh's offense. If anything Patterson played better when he scrambled and made things happen on the fly. Harbaugh isn't running the offense anymore it's OC Josh Gaddis now and things should really open up to more of the Ole Miss style of Shea Patterson. 
COLE MCDONALD (HAWAII)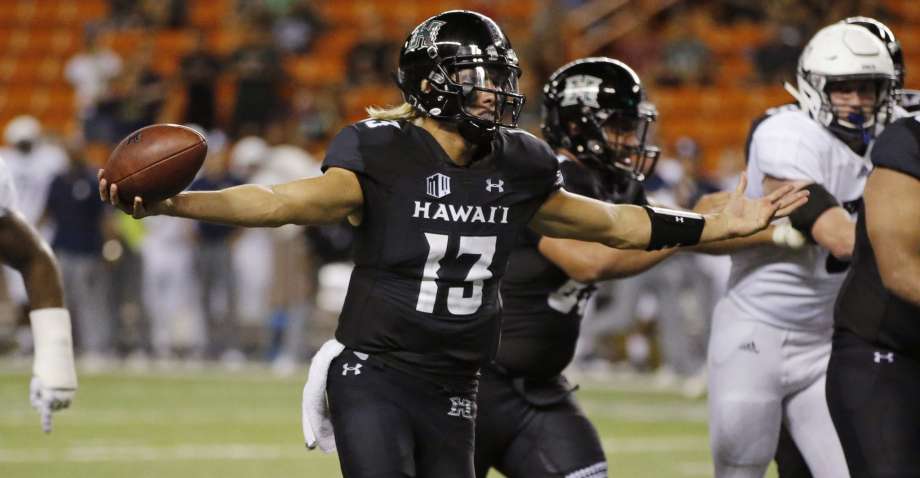 Former Hawaii QB Nick Rolovich is doing one of the best coaching jobs in the country at Hawaii and a lot of that is his young QB Cole McDonald. McDonald can sling the rock all over the field and he's athletic enough to pick up yards with his legs as well. I expect killer stats for McDonald and company yet again.
TYLER HUNTLEY (UTAH)
Tyler Huntley got injured last year but prior to that you could really see what a nightmare matchup Huntley is for opposing defenses. This offseason head coach Kyle Whittingham went out and hired an old OC in Andy Ludwig who should really help develop Huntley's game. There's a ton of hype around Utah this year so the pressure is certainly on Huntley coming into the season. 
KELLEN MOND (TEXAS A&M)
Jimbo Fisher is great with college quarterbacks and that's only going to benefit Mond with another year under his belt in College Station. Mond chased away his top backup Nick Starkel who transferred to Arkansas. I expect Mond to develop into the top tier of SEC QBs by midseason.
KELLY BRYANT (MISSOURI)
This one has my curiosity. Bryant is one of 5 QBs in college football to play in and start a college football playoff game. That's gotta account for something. Missouri may have lost a longtime starter in Drew Lock but with Kelly Bryant the numbers shouldn't drop off too much. Plus Bryant is great with his feet which could open up the playbook some.
STEVEN MONTEZ (COLORADO)
Truth be told I'd have Montez higher if he wasn't breaking in a brand new offense with a head coach in Mel Tucker that I really have no idea what to expect. Montez has great weapons at wideout and I've seen him projected as a possible second round NFL pick. He may struggle out the gate in the new offense but I'm sure he'll find his footing and excel. 
JACOB EASON (WASHINGTON)
I want to rate Eason higher just because how impressed I was with Eason in his one year at Georgia. Then add in the fact that head coach Chris Petersen has had over a year of working with Eason at QB and I'm thinking this guy is flying way under the radar. Jake Browning was a winner in Seattle but he lacked certain skills to really put Washington over the top. Eason does not lack those qualities. 
NATHAN STANLEY (IOWA)
Nathan Stanley seems like he's been in college for a decade. Here's what we can project. He'll be smart with the ball and make the big throws when he has to. He's done it his whole career in Iowa City and there's a reason he's a top 3 round projected NFL draft pick. Another year in the system can only make him stronger right?
KHALIL TATE (ARIZONA)
There's no denying that Khalil Tate is an exceptional talent. I mean he had maybe the greatest 6 game stretch ever as a QB under old coach Rich Rodriguez two years ago. Last year was more up and down for Tate as he had to fit in with new head coach Kevin Sumlin. At first it looked like a really bad pairing but then Tate found his stride and the offense picked up. Year two in the system should be even better for Tate and the Wildcats.
TOMMY DEVITO (SYRACUSE)
DeVito played well in some shine last year when Eric Dungey was injured. Having multiple years in thisDino Babers' system means he'll be a plug and play guy and the numbers should stack up. Look for Devito to be among the ACC's best as Syracuse continues to be on the rise.
K.J. COSTELLO (STANFORD)
Costello is the best QB Stanford has had since Andrew Luck and now with Bryce Love gone maybe Stanford decides to pass the ball a little more this year. Costello has NFL talent and good decision making. 
BROCK PURDY (IOWA STATE)
Purdy came out of nowhere last year as a freshman who came in a game in mid-October and boy he didn't look back. Throwing for over 2,000 yards and 16 touchdowns in that short of time. Matt Campbell sure found his quarterback and now with another year in the system watch out Big 12. 
ZAC THOMAS (APPALACHIAN STATE)
I may of listen Thomas a bit higher if he wasn't a part of a coaching overhaul at App State. Still, the Mountaineers went out and hired one of the most respected offensive coordinators in the game in Eliah Drinkwitz so I'm betting after maybe a few adjustments Thomas finds his stride and makes App State a contender to win the Sun Belt. 
JUSTIN FIELDS (OHIO STATE)
Fields may have looked awful in the spring game but he was fresh on campus. With more and more time under Day's offense he'll find his way. I expect him to really turn the corner after about the third or fourth game. 
KELVIN HOPKINS (ARMY)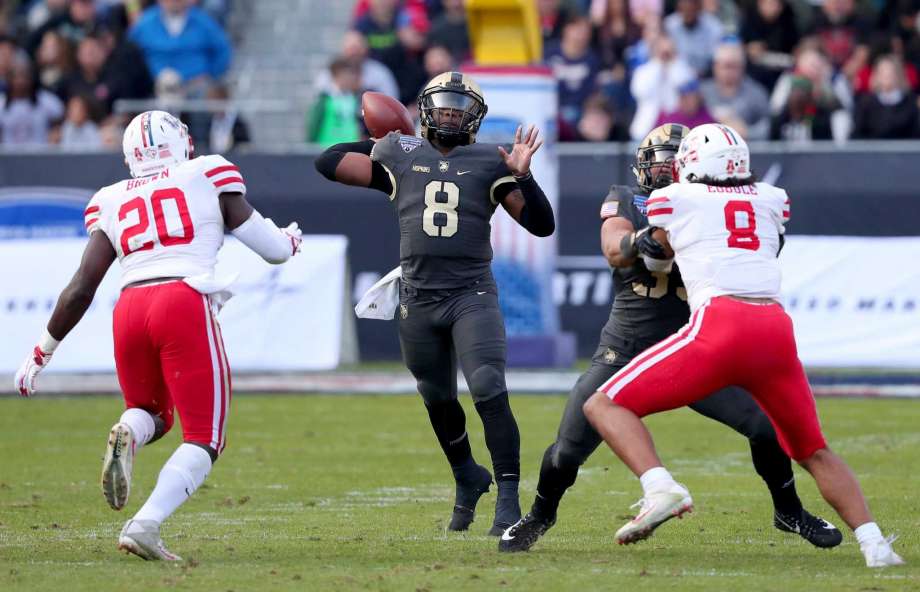 Not sure how Army found this guy but wow what a playmaker Kelvin Hopkins is. He's the typical option QB for the service academies but wait he can actually throw the ball well. Hopkins really gives Army a legitimate chance to have a special season and maybe just maybe Hopkins ends up on some Heisman ballots.
J.T. DANIELS (USC)
Daniels has all the talent in the world and he's now a sophomore in Los Angeles. The wideouts are loaded and, oh one more thing, the Trojans hired QB guru Graham Harrell as offensive coordinator and with that means Daniels should be putting up some of those big Texas Tech like numbers. 
FELIPE FRANKS (FLORIDA)
Year two in a Dan Mullen QB driven system will only pay dividends for Franks. Sure, he's had his struggles in big games but I think this year may be his coming out party. Mullen is great with QBs and now that Franks has had time to really understand the system the sky is the limit.
BRADY WHITE (MEMPHIS)
Mike Norvell is still somehow coaching at Memphis and that should pay off huge for starting QB and former Arizona State transfer Brady White. White was pretty money in his first year starting in Memphis and although some talented offensive players departed he should only continue to grow in Norvells system. 
NATHAN ROURKE (OHIO)
Frank Solich has proven to be a winner in his time at Ohio and he's never had a better QB than Nathan Rourke. Rourke is a legit dual threat QB who I could have easily placed within the top 25 of this list. He's the MAC's top QB and with great reason. He's well experienced and has learned to limit the turnovers. Look for Rourke to continue to do that as Ohio could finally win the MAC. 
DEANDRE FRANCIOS/CHRIS ROBISON (FLORIDA ATLANTIC)
I'm not sure what's happening with the DeAndre Francios situation which will clearly effect this ranking. I've heard reports he may leave to Alabama State if that's the case then Robison and the Owls would drop down quite a bit. Francios has NFL talent and had a awful offensive line at Florida State the past two years. Robison is an Oklahoma transfer with some nice talent. 
JAKE BENTLEY (SOUTH CAROLINA)
This is a big year for Bentley who kinda disappointed me some last year. I'm not sure who I place the blame on. Bentley or head coach Will Muschamp. Bentley is still a very solid QB who's had plenty of experience which is why I'm hoping he takes the next step forward and really puts South Carolina on the map with a big season. 
SAM HARTMAN/JAMIE NEWMAN (WAKE FOREST)
Dave Clawson has himself a great problem here. Both these QBs were freshman last year. Sam Hartman played great last year as a freshman who came in after their veteran starter was suspended. I was so impressed with Hartman and his poise I noted his game by game performances on a spreadsheet of mine. Then Hartman got injured and then freshman Jamie Newman came in and wow was I taken back. Both freshman played incredible and both should have Wake bowling again. The only bad part is you can only have one starter.
JOE BURROW (LSU)
Joe Burrow is probably the reason Coach O is still on the sidelines in Baton Rouge. LSU got a very late grad transfer last season that allowed for Burrow to come into LSU and really save the Tigers season. Burrow was better than I expected and should only continue to grow in this system. 
CHARLIE BREWER (BAYLOR)
Here's a name that's kind of flying under the radar. Brewer has started here since he was a freshman and I think he may just be on the verge on turning the corner and becoming an elite Big 12 QB. Matt Rhule is also in his third season which is normally when coaches begin to turn their corner. 
JARRETT GUARANTANO (TENNESSEE)
Guarantano really impressed me at times last year and I could see him really coming along this year but for that to happen the Vols are going to need to find an offensive line. The O line was easily the weakness of this team last year. They also hired a new OC in Jim Chaney who comes over from Georgia. That should benefit Guarantano as long as someone blocks for the guy.
GABE GUBRUD (WASHINGTON STATE)
Mike Leach does it every year. You saw it last year with Gardner Minshew a grad transfer from East Carolina who just lit up the Pac 12 and the nation in just one year of time. Now Leach turns to Eastern Washington transfer Gubrud who took EWU deep in the FCS playoffs last year. Don't be fooled he'll put up amazing numbers and probably climb up my list of QBs as the season develops.
ELIJAH SINDELAR (PURDUE)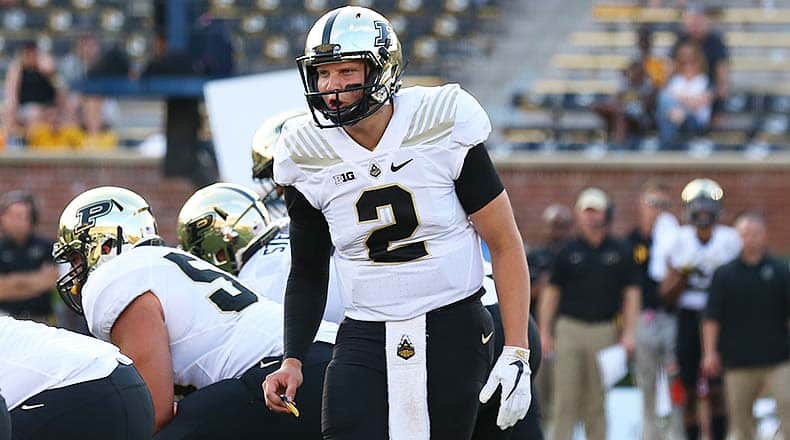 Sindelar has already had some decent playing time under Brohm who kinda went back and fourth between him and former Purdue QB David Blough in Brohm's first year. Sindelar has good talent and should really flourish under a full year as starting QB. Some issues at O-line could be a setback but I'm betting Brohm figures how to make it all work.
SPENCER SANDERS/DRU BROWN (OKLAHOMA STATE)
I have Sanders penciled in as the starter and he'll be a damn good one at that as for any QB in Gundy's system for the most part really thrives. Dru Brown is a Hawaii grad transfer who will be efficient if Gundy goes with him. 
BRANDON WIMBUSH/DARRIEL MACK (CENTRAL FLORIDA)
Josh Heupel took a huge hit when McKenzie Milton had that terrible injury and with that went UCF's 25 game winning streak although I was somewhat impressed with freshman QB Darriel Mack who came in and did what he could on the fly. Brandon Wimbush had his moments at Notre Dame with Brian Kelly but eventually Ian Book won the job and Wimbush transferred. I think Wimbush could really improve under Heupel and I'm betting he's the opening day starter but considering what happened with Milton UCF finds themselves in a decent position with two capable QBs.
RYAN WILLIS (VIRGINIA TECH)
When Josh Jackson went down last year it seemed like the Hokies were doomed but one of the few surprises from last season was the play of Willis who is most likely the best passing QB in the Fuente era. Now in year two with a team who should be much more experienced things can only get better right?
DORIAN THOMPSON-ROBINSON (UCLA)
Here's a name that could really jump up on the QB rankings this year. Thompson-Robinson was a true freshman last year and as the season went on I really liked what I saw from the kid. Let the rest of the team come along just a little and I think we'll all be high on Thompson-Robinson this time next year. 
QUENTIN HARRIS (DUKE)
He's patiently waited his turn and now finally Quentin Harris will get his shot at starting QB in Durham. Harris is going to be a force this year that I can almost guarantee. David Cutcliffe knows his QBs and if you saw last year when Daniel Jones went down Harris started a nice road game at Baylor and looked great. 
ANTHONY RUSSO (TEMPLE)
Russo really impressed me last year in Philadelphia and I'd probably have him higher on the list if he were retaining the same head coach and offensive coordinator. Temple is talented and Rod Carey is a proven winner at head coach but I've always wondered about his coaching of QBs and how he uses them. 
HUNTER JOHNSON (NORTHWESTERN)
Johnson is a former 5 star recruit by Clemson who transferred to Northwestern after Trevor Lawrence and Kelly Bryant were higher on the depth chart. Pat Fitzgerald lucked up with this one because after sitting for a year I expect Johnson to be a playmaker in Evanston. 
DESMOND RIDDER (CINCINNATI)
Luke Fickel really found his way in Cincinnati last year and a lot of that was his QB Desmond Ridder. Ridder was just a sophomore last year but I loved the way he developed. Another year in the system and watch out AAC. 
SEAN CLIFFORD (PENN STATE)
I don't know much about Sean Clifford other than the fact James Franklin recruited him and that Clifford's spring play was so good that the original penciled in starter Tommy Stevens transferred to Mississippi State. I've heard Clifford was really impressive so I'm just going to bet that James Franklin is going to do his thing and Clifford will be a name we will be talking about for years to come. 
BEN HICKS/NICK STARKEL (ARKANSAS)
Both these QBs have proven they are better than average QBs at other schools but now there's only room for one. I'm betting Hicks gets the job since he's more familiar with the system. Ben Hicks played under Chad Morris at SMU and grad transferred to Arkansas. Starkel transferred in from Texas A&M where he certainly had his moments starting for the Aggies some under Kevin Sumlin. 
SHANE BUECHELE (SMU)
The former Texas QB found a home in Sonny Dykes system here at SMU and I'm wondering how it will turn out. Let me take a guess. Good. Dykes's system is really QB friendly and I'm expecting Buechele to really put up some money stats. 
KENNY PICKETT (PITTSBURGH)
BLAKE BARNETT (SOUTH FLORIDA)
JAMES MORGAN (FLORIDA INTERNATIONAL)
PEYTON RAMSEY (INDIANA)
JON WASSINK (WESTERN MICHIGAN)
TOMMY STEVENS/KEYTAON THOMPSON (MISSISSIPPI STATE)
ZACH WILSON (BYU)
JORGE REYNA (FRESNO STATE)
MITCHELL GUADAGNI (TOLEDO)
JOSH JACKSON/ TYRONE PIGROME (MARYLAND)
BRIAN LEWERKE (MICHIGAN STATE)
ARMANI RODGERS (UNLV)
DILLON STERLING-COLE/JAYDEN DANIELS (ARIZONA STATE)
BO NIX/MALIK WILLIS (AUBURN)
CHASE CORD (BOISE STATE)
TYLER JOHNSON III (UAB)
JAMES BLACKMON/ALEX HORNIBROOK (FLORIDA STATE)
MALCOLM PERRY (NAVY)
TATE MARTEL/N'KOSI PERRY (MIAMI FL)
HOLTON AHLERS (EAST CAROLINA)
CHASE GARBERS (CALIFORNIA)
RILEY NEAL (VANDERBILT)
CRISTIAN SOLANO/CARSON STRONG (NEVADA)
ISAIAH GREEN (MARSHALL)
ANTHONY BROWN (BOSTON COLLEGE)
ARTHUR SITKOWSKI/MCLEAN CARTER (RUTGERS)
ALAN BOWMAN (TEXAS TECH)
JAWON PASS (LOUISVILLE)
JACK COAN/GRAHAM MERTZ (WISCONSIN)
MIKE GLASS (EASTERN MICHIGAN)
COLLIN HILL (COLORADO STATE)
JAKE LUTON (OREGON STATE)
TERRY WILSON (KENTUCKY)
CALEB EVANS (LOUISIANA MONROE)
ROSS BOWERS/MARCUS CHILDRESS (NORTHERN ILLINOIS)
J'MAR SMITH (LOUISIANA TECH)
TANNER MORGAN/ZACH ANNEXSTAD (MINNESOTA)
ALEX DENTON/JUSTIN ROGERS (TCU)
MATT CORRAL (OLE MISS)
RYAN AGNEW (SAN DIEGO STATE)
QUINTEN DORMADY (CENTRAL MICHIGAN)
BRANDON PETERS (ILLINOIS)
JARRETT DOEGE/AUSTIN KENDALL (WEST VIRGINIA)
ZACH SMITH (TULSA)
SAM HOWELL (NORTH CAROLINA)
JUSTIN MCMILLIAN (TULANE)
SKYLAR THOMPSON (KANSAS STATE)
JACK ABRAHAM (SOUTHERN MISS)
WOODY BARRETT (KENT STATE)
SHAI WERTS (GEORGIA SOUTHERN)
SEAN CHAMBERS (WYOMING)
BUCKSHOT CALVERT (LIBERTY)
LOGAN BONNER (ARKANSAS STATE)
MATTHEW MCKAY (NC STATE)
KATO NELSON (AKRON)
JOSH LOVE (SAN JOSE STATE)
DAN ELLINGTON (GEORGIA STATE)
KYLE VANTREASE/DOMINIC JOHNSON (BUFFALO)
ASHER O'HARA/RANDALL JOHNSON (MIDDLE TENNESSEE)
STEVEN WILLIAMS (OLD DOMINION)
JACKSON WILLIAMSON/A.J. MEYER (MIAMI OH)
DONALD HAMMOND III (AIR FORCE)
TEVAKA TUIOTI/SHERIRON JONES (NEW MEXICO)
GRANT LOY (BOWLING GREEN)
EVAN SHERRIFFS/CHRIS REYNOLDS (CHARLOTTE)
THOMAS MACVITTIE (KANSAS)
TOM STEWART (RICE)
LEVI LEWIS (LOUISIANA LAFAYETTE)
SAWYER SMITH (TROY)
TOBIAS OLIVER (GEORGIA TECH)
JOSH ADKINS (NEW MEXICO STATE)
CEPHUS JOHNSON (SOUTH ALABAMA)
FRED PAYTON (COASTAL CAROLINA)
STEVE DUNCAN (WESTERN KENTUCKY)
MARVIN WASHINGTON/MIKE BEAUDRY (UCONN)
CORDALE GRUNDY/FRANK HARRIS (UTSA)
BRANDON JONES/KAI LOCKSLEY (UTEP)
DREW PLITT (BALL STATE
GRESCH JENSEN (TEXAS STATE)
ANDREW BRITO/MICHAEL CURTIS (UMASS)