For the longest time we heard that a #1 seed would never lose to a #16 in the NCAA Tournament. Well, it happened so you can never say never. The noise is not quite as loud, but in the short history of the College Football Playoff we have not seen a Group of Five program get an invite to the field. The closest has been UCF a couple of seasons ago. But at some point it has to happen. Doesn't it? Here is a look at the teams that seem most able to bust through in 2019. This is looking at what those teams could do not accounting for Power 5 program performance and what scenarios would actually open the door.
Now for this to happen for any Group of Five school the following has to happen:
They have to be undefeated.
They have to beat at least one Power Five opponent.
They have to have some narrative that is interesting enough to keep people talking about them.
Below are the top teams able to fit that profile from the AAC, Conference USA, MAC, Mountain West and Sun Belt.
READ ALSO
Top 25 College Head Coaches in Group of Five Conferences
AAC
1. UCF Knights
Undefeated Probability: We are going alpha by conference so it is just a coincidence that we are starting with UCF, the team that has knocked hardest on the door to the playoffs to get this list started. They are probably the best bet again as they have shown most recently what they can do. They are once again the favorites in the conference and I see no games on the schedule they can't win.
Possible Power Five Wins: UCF has two games against the Power 5 this season, home to Stanford and at Pittsburgh. They clobbered the Panthers last season and could very well be the favorite when the Cardinal come to town in the third week of the season. They have to win both to be a playoff candidate.
Narrative:  UCF has had one of the longest undefeated streaks of recent memory and were the system more fair might have been selected for the playoffs at the end of the 2017 season. If they are undefeated again the outcry will be even greater than it was then.
2. Houston Cougars
Undefeated Probability: An undefeated season by the Cougars, led by new coach Dana Holgorsen should definitely merit consideration. It would be tougher than UCF's route though as it would include a win at the Knights, plus an opening win against Oklahoma in Norman. They host Washington State which might be a factor in PAC 12.
40% probability but if they are good enough to win at Oklahoma than all bets are off but odds are their path gets rerouted pretty quickly.
Possible Power Five Wins:They get two shots, at Oklahoma and home to Wazzu. Winning in Norman is about as good a win as anyone can get this season but I think it is out of reach for them. Home to the Cougars should be a fun one. They can get it.
Narrative: Houston has been angling for an invite to a bigger conference. They have a coach who is "stepping down" a level and looking to beat up on the Big Boys. Plus their QB is super exciting. There is a lot to like.
Conference USA
3. UAB Blazers
Undefeated Probability: The Blazers have a great chance at whipping through the Conference USA schedule once again. They won 11 games last season and the toughest game on the schedule this year looks like a trip to visit Tennessee.
85% probability.
Possible Power Five Wins: That visit to the Volunteers is the only opportunity on the schedule and it is both good and bad for the Blazers. The good part is it looks like a very winnable contest. The bad is that Tennessee is unlikely to be good enough to have it matter all that much.
Narrative:  This is super unlikely but would be an awesome redemption story as UAB shut down their program for two seasons not that long ago…then came back to Division 1. That is unheard of.  It would capture the imagination but they are not really viable.
4. Marshall Thundering Herd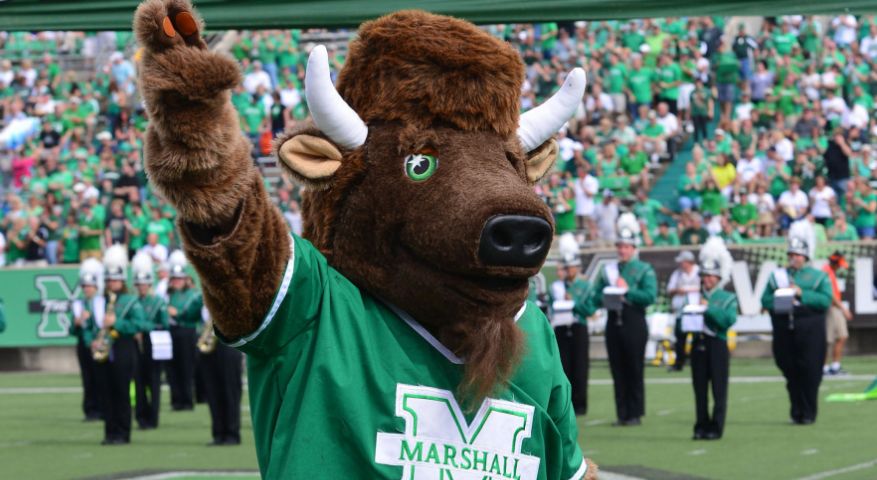 Undefeated Probability: Marshall is a solid program but this one is admittedly a reach. They could certainly win their division and they have an outside shot at a perfect season with their toughest game, similar to UAB, outside the conference. They have to travel to Boise State and host Cincinnati. Both are good teams that will contend in the Mountain West and American respectively.
70% probability.
Possible Power Five Wins: They have no Power Five teams on their schedule and that probably seals their fate right there.
Narrative: Not much here other than being the first to qualify. Marshall does not have any extra oomph and this would be a real long shot.
READ ALSO
5 Best Bets for NFL Vs NCAA Football 2019 Regular Season Win Totals
MAC
5. Buffalo Bulls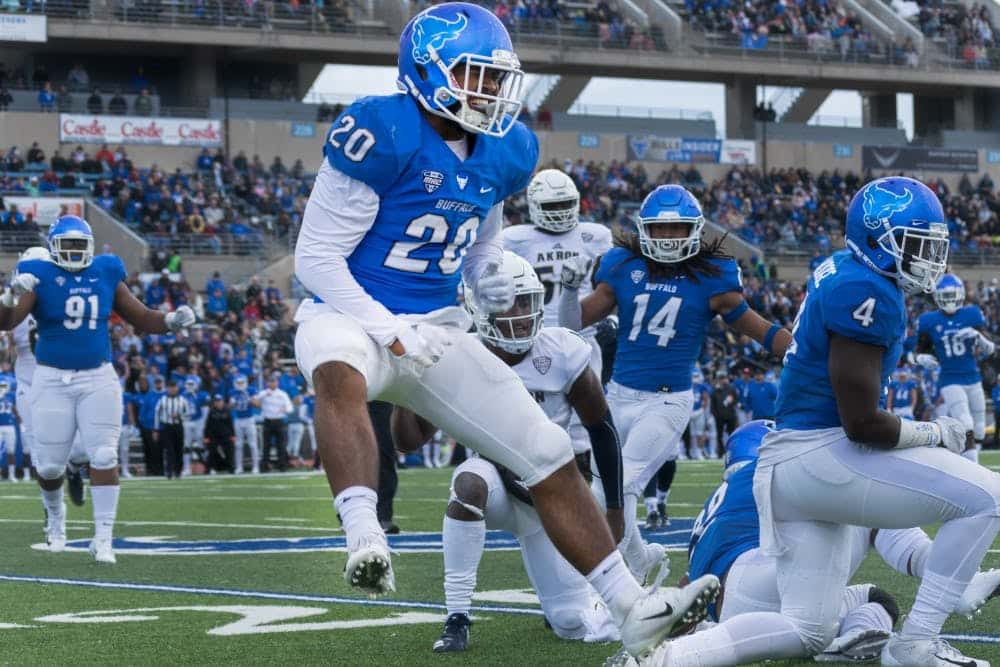 Undefeated Probability: This one is not too bad. Another case where the toughest game is outside of the conference.  They are going to travel to Happy Valley to take on Penn State the second week of the season. If they are good enough to get that one then they are more than good enough to win the rest of the games on the schedule.
20% probability
Possible Power Five Wins:  A road trip to Penn State is never easy for any program but the Bulls are getting a Nittany Lions team in offensive transition. Perhaps the machine is still working out the kinks and the Bulls sneak out with a victory. Then PSU goes on to play well in the Big Ten so it looks even better.
Narrative: Buffalo does not have a strong or terrible football history. Similar to Marshall there would not be a lot there to run with media wise.
6. Northern Illinois Huskies
Undefeated Probability: The Huskies have a decent football brand and a reputation of not being afraid to take on quality competition. They have not had the strongest teams of late though and their schedule is way too tough to expect an undefeated year though. Maybe through the MAC part but non conference, not this season.
0%
Possible Power Five Wins: The Huskies are in a good place here. I have not examined every schedule but they might be the only team in the Group of Five with 3 Power Five opponents. These games are all on the road though with trips to Utah and Nebraska looking like losses for sure. They might be able to win at Vanderbilt but going 1-2 won't cut it for a playoff invite.
Narrative: Their narrative was stronger a few years back when the team was better. They would just plain gouge you on the ground and were dominating the MAC with some Power 5 success sprinkled in. Now their best days may be behind them.
Mountain West
7. Boise State Broncos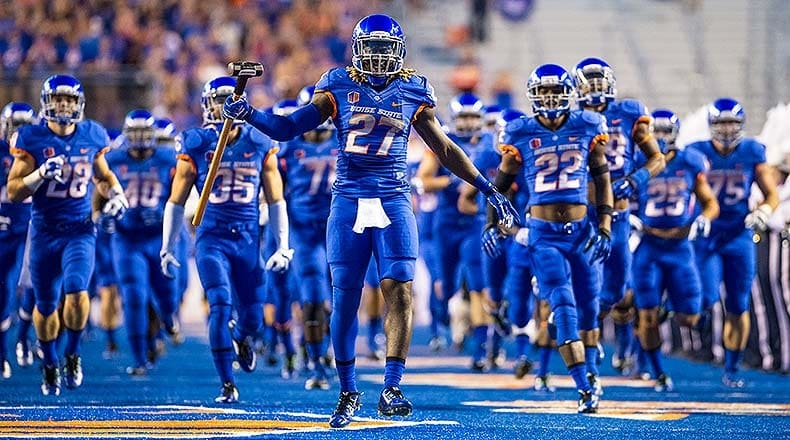 Undefeated Probability: Boise is only this far down because it is not a ranked list, alpha by conference, remember. When this whole playoff thing started they seemed to be the most likely candidate to bust through but they have been challenged in their league and not had the "it" factor they used to.  Their MWC slate is pretty easy this season and their chances of an undefeated and thought provoking season hinge on how they do the opening week of the season.
90%
Possible Power Five Wins:  That first game is at Florida State and the Seminoles are such a mess that Boise State might be favoured. That seems unfathomable but the Broncos program is just so solid that the talent difference might not be enough to sway it. A win over FSU would definitely help launch them.
Narrative:  Boise State has been commanding eyeballs for some time now. If they beat Florida State and are undefeated they just might get an opportunity as a make up call for past dismissals.
8. Fresno State Bulldogs
Undefeated Probability:  The Bulldogs come into the season looking good and might be favored over Boise State to win the Mountain West. Jeff Tedford has the program rolling and is doing the classic move of getting the players overlooked by the bigger Cali schools. Their schedule is tougher than Boise's though it is similar in that they have their biggest game of the year to start. Going undefeated will be very tough though with visits to USC and San Diego State.
40% probability
Possible Power Five Wins:  It would be a grand announcement for Fresno to beat USC at the Coliseum. The Trojans are not elite right now but they could be and it would definitely garner attention.  That seems unlikely but beating Minnesota the following week is probable. Not as flashy but possible.
Narrative: Is it possible that Fresno State is the best team in California?  If they can beat USC that is an easy and interesting argument to make.
Sun Belt
9. Appalachian State Mountaineers
Undefeated Probability: To be clear Sun Belt teams probably have the least likely chance at participating in the playoffs but in the interest of fairness, let's have a look.  App State has been really good since getting to D1, so good they lost their coach to the other side. They should be strong again but they are in transition as a result. The schedule is very light though.
90% probability
Possible Power Five Wins: They get just one shot this season, a trip to North Carolina. The Tar Heels are not in great shape and it could be a crowd that backs the smaller school if UNC is not sharp early. It won't do much for their profile though.
Narrative: There is not a ton to go with other than looking back at the big win they had over Michigan and playing it out to now. It would be a nice foreshadowing story.
10. Troy Trojans
Undefeated Probability: Troy is another Sun Belt program who is replacing their coach due to recent success. They get to host the Mountaineers in the final game of the season, but their schedule is not too demanding. They could run the table in the league and Southern Miss and Mizzou are not impossible spots. Southern Miss is at home.
75% probability
Possible Power Five Wins: They only get one shot and it is at Mizzou. The Tigers are potentially playing out a meaningless season thanks to some violations and could be in a weird spot emotionally for this one. That might just open the door for an upset at home.
Narrative:  There is not much here other than a new coach leading a program that is looking for more continued success. Troy has had success in the recent past and scared some of the big boys but not garnered a ton of buzz.
READ ALSO
NFL Head Coach Power Rankings 2019