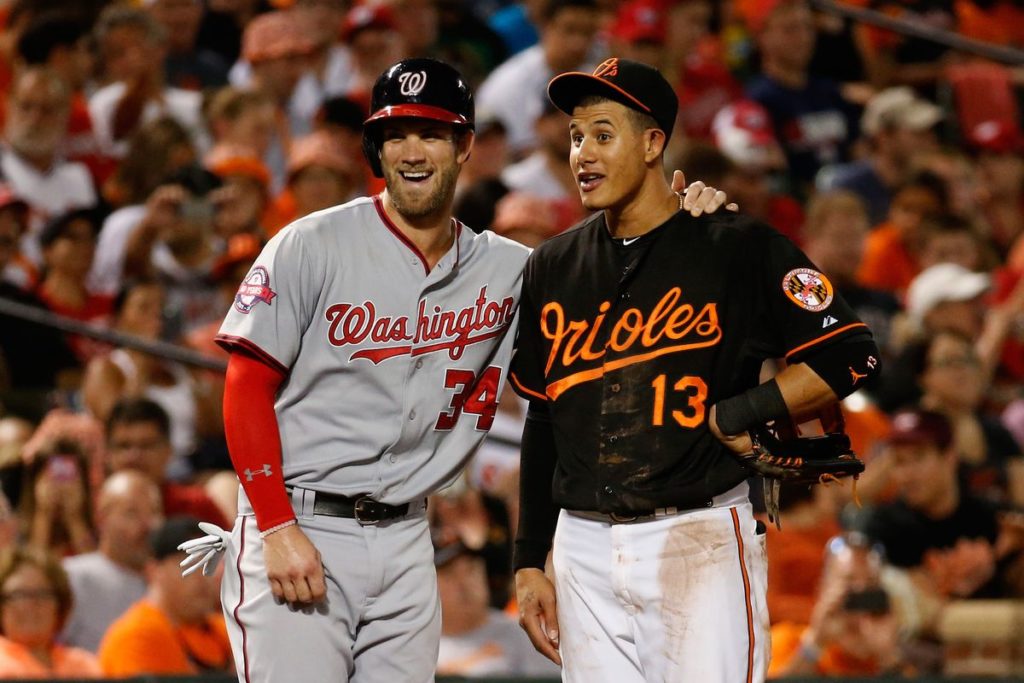 I like to use this column as a place to give out picks to buy in the futures markets. I also like to dive into some stories of noteworthy tickets being sold in the various secondary marketplaces. In this edition, I'm going to explore a concept that I think provides some value.
READ ALSO:
Invest In Your Future: Buy Low Opportunities On The Secondary Market
3 March Madness Futures Worth Investing In
Manny Machado
After the massive contract (10 year/$300 mil.) Manny Machado signed with the San Diego Padres, the immediate reaction from baseball media was "does this make San Diego a contender in the National League?" Whether you believe in the Padres or not, the futures markets certainly shifted after the news.
Over the weekend there were reports of Machado meeting with the Padres for a second time. Of course, these reports should to be taken with a grain of salt, as the baseball news cycle has been craving free agency news since last October. If Manny Machado took a shit in the state of Washington, we would see reports on how he is considering the Seattle Mariners shortly after.
These Padres reports were picking up steam however, and as the news was finally reported, San Diego's odds to win the World Series went from around 100/1 down to 50/1. (Give or take based on the book.) Now, there's no denying the fact that Manny Machado is one hell of a ball player, but I refuse to believe that the Padres now have their missing piece.
Here's where the investment opportunity comes in.
During the lead-up of talks getting deeper between Machado and San Diego, a small investment at 100/1 on the Padres to win the World Series could be played almost like a provisional in golf. If he signs with the team, you know the futures market will react and there will undoubtedly be buyers looking for the best number on a Padres World Champions ticket.
You could then go one of two ways.
Put the ticket up now while the news is fresh and there will be a market for the ticket. Considering the best price currently out there is around 55/1, someone will be likely to buy your ticket around 66/1. In terms of dollars, the ticket you paid $100 for that collects $10,100 at will be attractive for someone at $150. You make 50 bucks before a single pitch is thrown and the buyer gets odds better than he can find elsewhere, everyone's happy!
The other route to take is maybe you want to wait for them to start playing games and see how the team looks with Machado. Maybe they find themselves on top of the division after a month of play and that ticket is even hotter.
This, to me, is the beauty of secondary markets. I'm not stuck to the outcome of this one single game. If the team looks solid, there's probably someone out there willing to buy a future on them. If they start to fall in the futures markets, give it some time.
Perhaps there is still value on the Friars, but for my money, I think the market corrected just enough. If you like them at 55/1 still, there's someone out there holding 100/1 that might be willing to sell it to you.
Bryce Harper
This investment strategy could also be applied to the Bryce Harper situation, as the Philadelphia Phillies look to be a strong potential landing spot for the slugger. If Philly doesn't end up signing Harper, odds are he will be staying with the Nationals. There are other potential candidates such as the Giants, but those reports seem to be reactive to the Machado deal.
Harper's signing with the Phillies would not move the futures nearly as much as Machado signing with the Padres did, but there is a possibility that Philly would move into the top 3 contenders in the National League. They currently sit at 12/1 and that has even increased in preparation of Harper signing. Before JT Realmuto became a Philly, their odds to win the World Series were 18/1. By the end of that day they moved to 14/1. Although Realmuto is a solid player, he is not Bryce Harper. If he can move them up that much, how much will Harper be worth?
Keep An Eye Out
This strategy can be applied across all sports when rumors of big name free agents are thrown around. There are even some sportsbooks that will offer odds on where certain free agents will land. Instead of betting those, look at a couple of the teams towards the top of the list and buy their futures. When the signing happens, the futures will likely shift up and the hype will provide for a potentially hungry buyers market.
READ ALSO:
Invest In Your Future: Buy Low Opportunities On The Secondary Market
3 March Madness Futures Worth Investing In