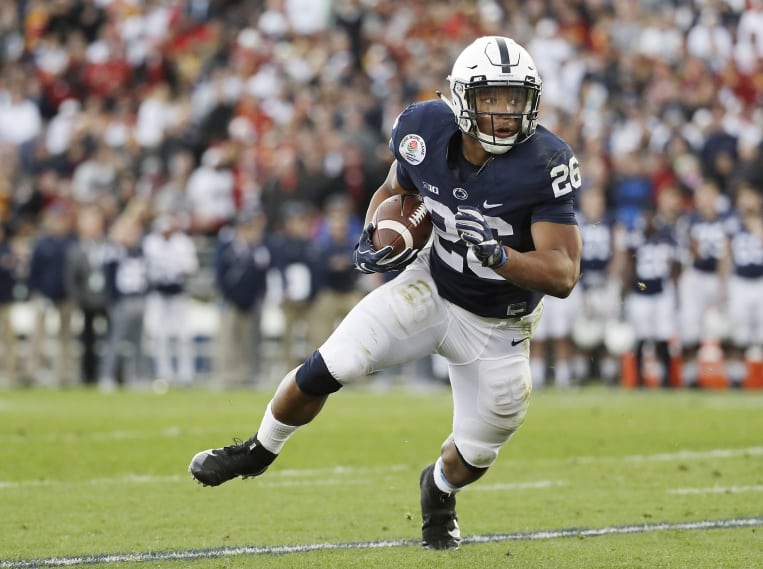 Before I begin, I wouldn't feel right writing this if I didn't give a shout out to Justin Jackson, the Running Back during my time at Northwestern. He has been the most underrated player in CFB over the last 3 years, is the best player that I ever played with and will make any NFL team that takes him this year better.
During my senior year at Northwestern, we were playing Ohio State. The week prior they had just played Penn State, who runs a very similar offense to us. So, that week we watched a ton of PSU tape to see how OSU would attack our offense. We sat down for Monday morning film with our offensive line coach and the first play was a simple zone read that was handed off to Saquon. He bounced it outside to the left and went for ~20 yards. Zone reads that are handed off to the RB generally stay inside the tackles, but Saquon had no choice but to improvise. His LT got blown off the ball and there was no crease for him to run through. He made one cut, bounced it around the left tackle, out-ran the linebacker in pursuit, and busted his way into the secondary for a sizable gain.
Anybody who watched the play would have known it was good, maybe even great, run. But to an offensive line coach, it was more than that. Barkley took what should have been a busted play due to poor OL play and turned it into a 20 yard gain. He looked at us and said point blank: "this is the best player in college football". We weren't even prepping for Penn State, even if we were, we wouldn't be prepping for Saquon, I played offensive line. Yet, our coach put that play first on our film reel just to show us how special he was. A year later when we played Penn State (I had graduated), our head coach, Pat Fitzgerald, said this to the media:
"Barkley is maybe the best player I've ever seen on tape," Fitzgerald said. "And I've played against some pretty good backs. I've coached against some pretty good backs. But he's just absolutely spectacular. He's great in the run game, he's great in protection, he's great catching the ball out of the backfield, he's a great return man. He does it all. He's an outstanding football player."
Anybody who knows anything about college football knows that Saquon Barkley is special. An NFL coach just came out and said he "would punch himself in the nuts" for a chance to draft him. But just how special is he? In the mind of this blogger, he is the best, most complete running back prospect of the last 15 years. Before we begin, let's enjoy a few clips of Saquon in college:
The hurdle is not even close to the most impressive part of this clip. To be able to stay on your feet after getting hit while hurdling someone is otherworldly, requiring ludicrous core and lower body strength. What kind of strength, this kind:
Disgusting.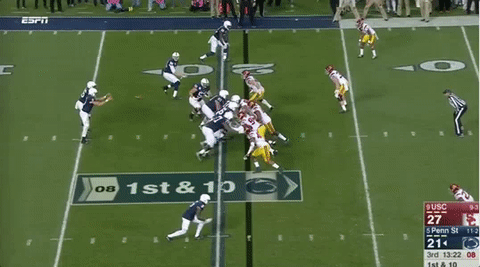 So, who could challenge him for the crown of best RB prospect? I have identified 4 players that an argument could be made for being the best RB prospect of the last 15 years. But first, let's look at what Saquon brings to the table as a prospect.
Saquon Barkley
Production:
Combine:
H/W: 6'0″ 233lbs
40 Yard Dash: 4.40
Bench: 29
Vertical: 40.5 inches
Analysis:
Saquon Barkley is absolutely everything and anything you would want in a running back prospect. There is no other way to put it. He has produced since the moment he stepped on the field at Penn State: three 1,000 rushing yard seasons, over 5,000 career scrimmage yards and 51 touchdowns. He has a remarkably mature running style that combines breakaway speed, elite acceleration, patience, and power.  He has exactly 0 injury concerns. Everybody who has come in contact with him says he is mature beyond his years. He has shown versatility as a successful pass catcher, kick returner and blocker. And, he just put in one of all the all-time great combine performances for an RB, running a 4.4 flat and jumping over 40 inches, all while tipping the scales at 233lbs.
To briefly illustrate one of my more vague points, take a look at this clip below against my beloved Wildcats to see just how special his running style is:
At the start of the play, his tight end, on the right side of the line, gets blown off the ball, badly. This forces Saquon to stop in his tracks 3 yards deep in the backfield. Instead of panicking, he pauses, waiting for his pulling O-linemen to block the NU linebacker (#10), cuts inside of that block, then makes one more jump cut off of another O-lineman who is poorly blocking a second level defender, effectively making his lineman right (the best thing an RB can do for an OL) and then turns on the jets, using a ref to his advantage, and dusts the Northwestern secondary for six. I am repeating myself, but, this type of patience, vision and breakaway speed is something that is just not seen at the college level.
Now, to the contenders.
*disclaimer: this is about how these players were as prospects out of college, not how they panned out in the NFL*
The Contenders:
Todd Gurley
Production: 
Combine:
H/W: 6'1″ 222lbs
40 Yard Dash: 4.52
Bench: 17
Vertical: N/A
Analysis:
Short of Adrian Peterson (we'll get to him later) Gurley has the best combination of size and speed for a college running back in recent memory. He has the size and strength to run through any arm tackles (he had a ridiculous 62% of his yards after contact at Georgia), while also possessing the speed to routinely break a 70 yard runs, see below: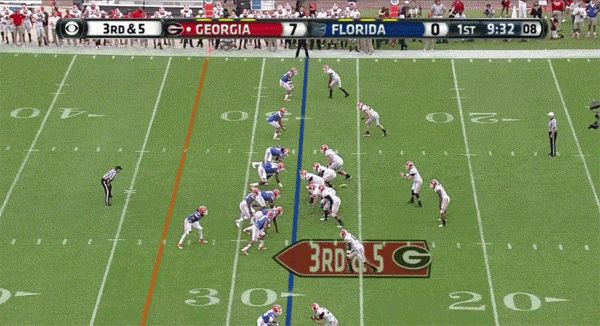 In addition to his freak athleticism, Gurley also consistently produced when healthy as a running back, receiver and kick returner.  Catching 65 balls in three years and taking two kicks to the house, on only 11 total return attempts (woah). Gurley burst onto the scene as a true freshman, rushing for nearly 1,400 yards and 17 touchdowns, cementing himself as one of the rare players that were NFL ready at 18/19 years old.
Why Saquon Barkley is a better prospect:
First and foremost, injury concerns. In fact, it was actually a bit of a stretch for the Rams to take Gurley as high as they did because of how serious his injury concerns were. Gurley missed three games in 2013 with an ankle injury, tore his ACL in 2014 and at the combine wouldn't let NFL teams evaluate his knee. Through his college career, Saquon Barkley did not miss any significant time. Secondly, Gurley was not the polished runner that Saquon is coming out of college. Gurley's creativity in tight spaces was average at best, preferring to simply overpower defenders with his size and speed. Conversely, this is one Saquon's best attributes. Throughout his career, he ran behind average to severely below average offense lines and showed the ability to consistently produce. Saquon has the speed and size that Gurley also had, but he adds a dimension of running style that is more NFL ready than was the case with Gurley.
Ezekiel Elliott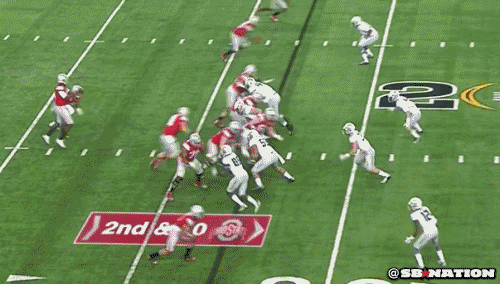 Production:
Combine:
H/W: 6'0″ 225lbs
40 Yard Dash: 4.47
Bench: N/A
Vertical: 32.5 inches
Analysis
Zeke had a rare mix of speed and power (sound familiar?) combined with an incredibly natural, instinctive running style. Simply put, you just don't see many college running backs that are the physical freaks that Zeke was, that are also as polished as a runner. Most college backs who have the tools that Zeke did rely solely on their physical traits to take over a game. On top of natural gifts, he has a two-year span of production that is pretty hard to match, putting up back to back 1,800-yard seasons. Zeke also caught passes well when asked to and never missed any significant time.
Why Saquon Barkley is a better prospect:
Unlike with Gurley, there is not one thing that sticks out that separates Zeke and Saquon. There is a reason that Zeke went fourth overall in an era where teams just don't take running backs in the top 5. However, there is a one, fairly large, reason that I believe that Saquon is a better NFL prospect: Zeke benefited greatly from the team that he played on. Not only was he on a national championship team with one of the great offensive coaches of our lifetimes. Zeke's o-line also consisted of Taylor Decker (NFL starter), Pat Eflein (NFL starter) and Billy Price (projected 2018 1st/2nd round pick). On the other hand, Saquon's offensive line consisted of players who did this:
(S/O to my former roommate, Greg Kuhar, for making that tackle – Go Cats)
Truthfully, Zeke and Saquon share a lot of similarities. They have similar size, speed (Saquon does have an edge here: 4.40 vs 4.47) and both had incredibly mature running styles for college backs. But, I think it cannot be overstated what Saquon did with the o-line he played behind. Zeke played on one of the most talented teams in recent college football history, the same cannot be said for Saquon, especially up front.
Reggie Bush
Production:
Combine:
H/W: 5'11" 201lbs
40 Yard Dash: 4.37
Bench: N/A
Vertical: N/A
Analysis:
The most electrifying college football player of my lifetime. Reggie has one of the all-time great seasons in 2005 where he racked up over 2200 scrimmage yards, scored 18 touchdowns and won the Heisman. Bush still stands as one of the most unique and dynamic college football players ever, a true threat to take any play, run, pass or kick, to the house. He then backed up the on-field speed he showed by running a sub 4.4 40 at the combine and, at the time, was considered a lock to be picked in the top 5. Do yourself a favor and check out his highlights from the 2005 season:
Why Saquon Barkley is a better prospect
There are two reasons why I believe this to be true. 1. Similar to Gurley, Bush relied too much on his physical gifts to account for his production in college. The crazy sideline to sideline runs that Reggie had in college simply cannot be replicated in the NFL, where he isn't always the fastest player on the field. This is obviously easy to say in hindsight, but truthfully, I am surprised more scouts did not mention this as a knock on him, when is the last time a running style like that has translated to the NFL? 2. He lacked the ideal dimensions to be an every-down NFL back. Reggie is built more like a receiver than a bell-cow back, the same cannot be said for Saquon, sitting at 6'0″ 233lbs.
Adrian Peterson
Production:
Combine:
H/W: 6'1.5″ 220lbs
40 Yard Dash: 4.41
Bench: N/A
Vertical: 38.5
Analysis
Remember what I wrote about rare combination of size and speed for Gurley and Zeke? Adrian Peterson is bigger and faster than both Gurley and Zeke. Peterson burst onto the season as a true freshman, rushing for over 1900 yards and 15 touchdowns. He suffered a few injuries over the next two years and his production fell a bit. Still, despite only playing in 18 combined games his sophomore and junior year, he managed to rush for over 2000 yards and 26 touchdowns in that time frame. Peterson then showed up to the combine and ran a 4.41, jumped nearly 40 inches, all while being measured at 6'1.5" and tipping the scales at 220lbs. Peterson became famous for his apparent ability to gain strength over the course of a game, maintaining his punishing running style no matter the workload. Similar to Gurley, he is one of the few running backs to come out of college that could truly run you over and run past you as a genuine home run threat.
Why Saquon Barkley is a better prospect:
Knowing what we know about Adrian Peterson, this is difficult to write. He confirmed everything that was thought of him as a prospect and is one of the greatest NFL players of my lifetime. However, that's not the point of this article and Adrian Peterson was not without his flaws coming out of Oklahoma. The most glaring concern for Peterson was his durability. After a historically heavy workload as a freshman, he had injuries that caused him to miss time in both his sophomore and junior seasons. These concerns were real enough that he dropped all the way to #7 in the '07 draft. This April, Saquon Barkley will be drafted higher than #7, in a time in which the value of drafting running backs continues to diminish. Peterson is widely considered to be the pinnacle of physical specimen's for running backs, yet, Saquon Barkley ran the same 40 time that Peterson did and, amazingly, is actually 10lbs heavier. As a prospect, Saquon Barkley has everything that Adrian Peterson had, without the durability/injury issues.
Conclusion:
When looking at the last 15 years of college running backs, no matter how special the prospect, there is a flaw to be found. Simply put, Saquon Barkley has none. He has ideal size, speed, and running style; he has shown versatility as a successful blocker, receiver and kick returner; has succeeded behind an average to below average offensive line and has no injury or character concerns. Does this mean that Saquon Barkley will be the greatest running back of all time? No. But, from an evaluation stand point, Saquon Barkley is as special of a prospect as there ever has been at the running back position.
Don't want to take my word for it? Look at WalterFoootball.com's strengths and weaknesses breakdown for him, it's legitimately comical: