The NFL season is right around the corner, and your fantasy football drafts are right around the corner. I am doing a series on draft strategies, and we are starting with some positional strategies. I always encourage everyone to do as many mock drafts as possible to find their preferred strategies.
Especially if you continue to fall short, find out which fantasy football draft strategy is your favorite. There isn't only one way to do it, but you can definitely find a strategy you like most each year. We are going to try three different running back draft strategies in this article. I will give you three different mock drafts using these approaches. Let me know which one is your favorite.
Download our free 2023 Fantasy Football Draft Kit here
In Conclusion, I prefer going with the hero RB approach. I did like the zero-rb team quite a bit and would not be mad to go that route if the board fell that way. My preference is to grab a top wide receiver in the first round or Travis Kelce. Grab a running back in the 2nd, and then double-tap the wide receiver position.
If you can't get Kelce in Round 1, I am taking Andrews in Round 3 or Kittle or Waller in the 5th or 6th. An example start would be Cooper Kupp, Tony Pollard, Mark Andrews, Amari Cooper, James Conner, and Diontae Johnson. Here are the three mocks. Hope this helps!
Tip: If you do not have to draft Kickers or Defenses, I usually don't. I will check with the commish or check the settings to make sure that waiver wires are open in Week 1. If your waiver wires are closed until after Week 1, draft a kicker or a defense. I usually won't draft a defense or kicker, and I will stash two handcuff running backs instead.
You never know what could happen, and if someone goes to the IR, I can then add a kicker or defense. If someone goes down, I have their running back handcuffed. But, if nothing happens, I just drop those two players for a kicker or defense on game day Week 1.
Attention: I am on team eight in all of the mock drafts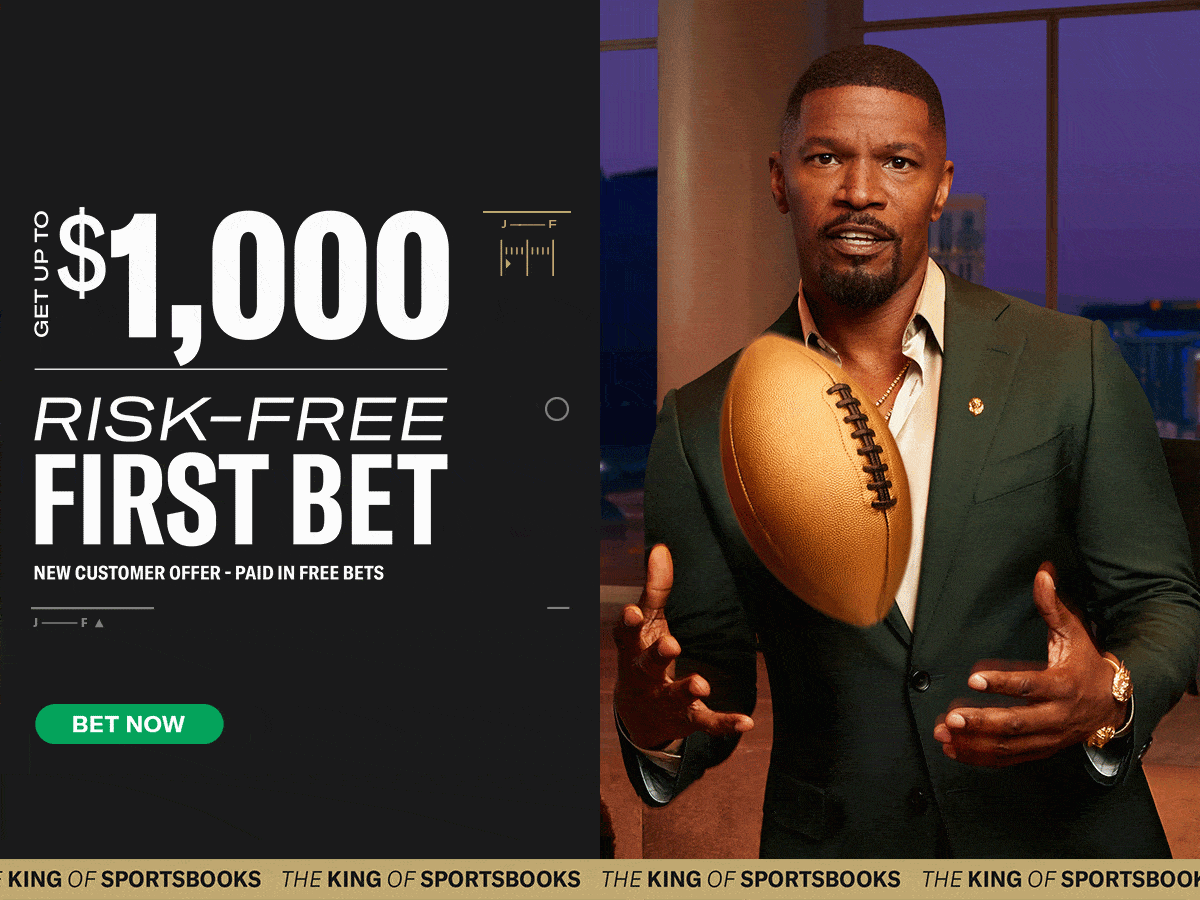 MORE SGPN FANTASY FOOTBALL CONTENT
SGPN Fantasy Football Cheat Sheets
Follow SGPN Fantasy Football on Youtube
Fantasy Football Draft Strategies: Hero RB vs. Zero RB vs. Heavy RB
Hero Running Back Draft Strategy

Hero running back strategy is when you grab a top running back and then fade the position for a while. You may end up with a top-five back, and then you do not take another running back for three or four rounds. You might have a running back by committee or a rotation at the RB2 spot all season.
This is anchored down by a stud RB, as this is also called Anchor RB as well. I am on team eight, starting with Austin Ekeler. FantasyPros liked this team, but not as much as the others. This team got an 88 grade (B+).
I took Austin Ekeler as my "hero" or "anchor" running back. This allowed me to attack the wide receiver and tight end position early. In the second round, I was able to get Garrett Wilson. Then followed that up with Amari Cooper in the third, DeAndre Hopkins in the fourth, and Diontae Johnson in the 6th round to strengthen the wide receiver room.
I like to get an early tight end, and I am very high on Darren Waller this year. Waller in the 5th round is pretty standard. You rarely will get him any later than that. As for quarterback, I felt like I got good value with Deshaun Watson in the 10th and Anthony Richardson in the 14th. Both have rushing upside and could end up being top-two tight ends at the end of the season.
The second running back in this approach is hard, and I will be honest, ended up a little sketchy. Then I took Cam Akers in the 7th round, followed that up with Antonio Gibson in the 8th round, and De'Von Achane in the 9th. I don't feel great about that depth, but I did like the value of those players. But I was able to get Gus Edwards and Roschon Johnson later in the draft as some upside plays for the bench. What are your thoughts on this team?
Potential Zero RB targets:

-James Cook
-Ezekiel Elliott
-Samaje Perine 👀
-James Conner
-Devon Achane
-Rashaad Penny
-Rachaad White
-Antonio Gibson
-Zach Charbonnet
-Brian Robinson Jr.
-Leonard Fournette

Who would you add to the list?pic.twitter.com/lB8kvKzb3n

— Moody (@EricNMoody) June 11, 2023
Fantasy Football Draft Strategies: Zero Running Back Draft Strategy
Zero running back has some varying definitions, as some take it a little further than others. My definition is not waiting until round 10 to get your running back. It is waiting at least five or six rounds before picking a running back. My team is team eight. Let me know if you have a different definition of zero-rb. I am on the team that starts with Tyreek Hill. This team got a 90 grade (A-).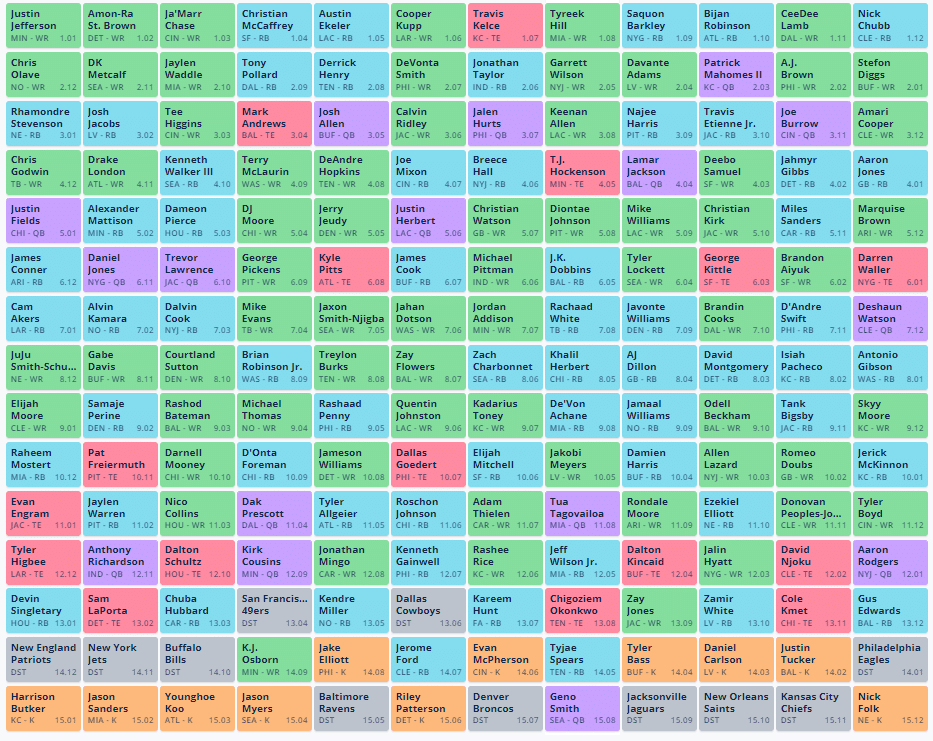 For this example, I am team eight, and I went heavy at wide receiver early. I felt like I was able to get three potential top-10 overall wide receivers that have number-one wide receiver potential every single week. Then I took an early tight end in T.J. Hockenson in the 4th round before taking another wide receiver in the 5th round in Diontae Johnson.
I started taking running backs in Round 6, and I started by taking J.K. Dobbins as my RB1 and the 19th running back off of the board. Then running backs that fell to me were not terrible; Rachaad White in the 7th, Khalil Herbert in the 8th, and in the 9th round, I grabbed De'Von Achane. Herbert and Achane have the potential to be the number one running back on both of their teams. Neither of these is guaranteed to be, and that is baked into the cost.
I took late-round quarterbacks on this team with Tua to stack with Tyreek Hill and Geno Smith as my safety net. In hindsight, I would have skipped Tua and been fine with Geno as my late-round quarterback in a one-quarterback system. Then I took Jeff Wilson as a hedge for the Dolphins' backfield and then grabbed Tyjae Spears an upside handcuff late. What do you think about this one and zero-rb strategy in general and how this team turned out?
Fantasy Football Draft Strategies: Heavy Running Back Draft Strategy
Heavy running back is a strategy we all might have started out with when we started playing. This is where your first two or three picks are running backs. Possibly three or four of your first five picks. I am on team eight, which starts with Austin Ekeler. FantasyPros loved this team and gave an A grade (95).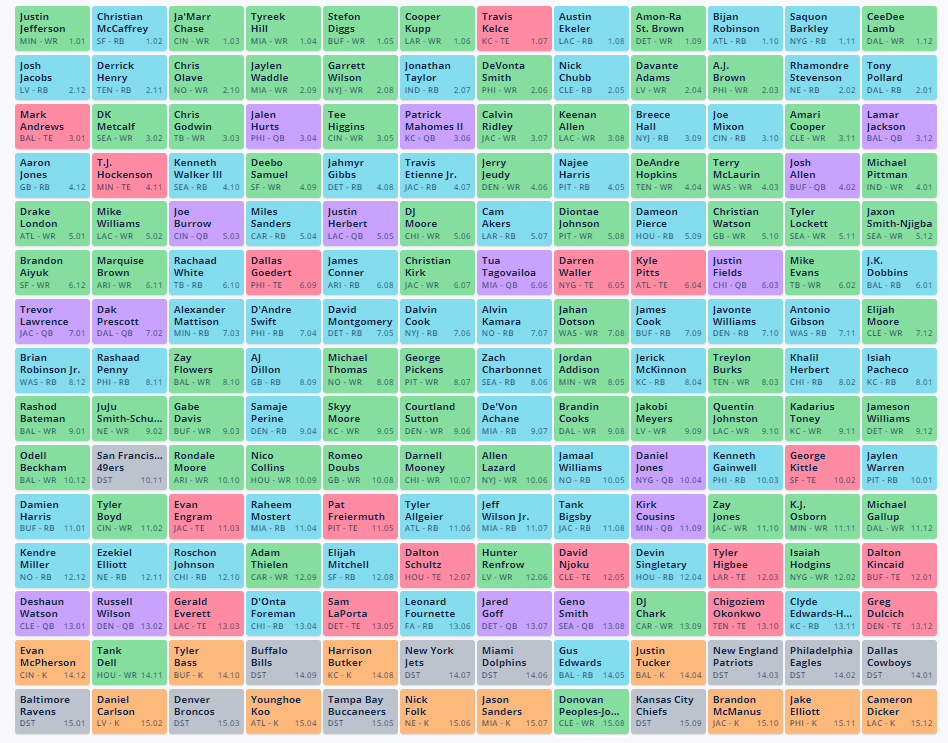 I was a little surprised at how the board fell on this one in both rounds one and four. Being able to grab Austin Ekeler at either spot was obviously an easy pick. But, being able to get Nick Chubb in the 2nd Round and Najee Harris in the 4th round was an ideal scenario with this draft strategy in mind. My top three backs could be in line for two touches a week with the upside to be the top overall back or at least all top 10 every single week.
When you go running back heavy, you are neglecting your other positions. I decided to go with Keenan Allen in the third to anchor the wide receiver room with my third-round pick. I needed to desperately add wide receivers after taking three running backs in the first four rounds. Diontae Johnson was my pick, and then I grabbed my tight end, Darren Waller. My preference is to get an early tight end, and I kept with that strategy, but it was hard knowing I needed more wide receivers.
Jahan Dotson was my pick in Round 7 and followed that up with Jordan Addison in the 8th, and Brandin Cooks in the 9th. The team turned out okay, but maybe taking a wide receiver like Brandon Aiyuk instead of Waller would have been better. I could have then waited as tight ends fell really hard in this mock. George Kittle in the 10th is really unrealistic, but it's not crazy to get Njoku, Engram, or Freiermuth in that range.
I went with one late quarterback in this one, and I took Geno Smith. Geno came out of nowhere last year and was extremely efficient. The team built around him by adding Jaxon Smith-Njigba and Zach Charbonnet on top of giving him a contract extension. He is one of my favorite late-round targets. What are your thoughts on this team and the heavy rb approach?