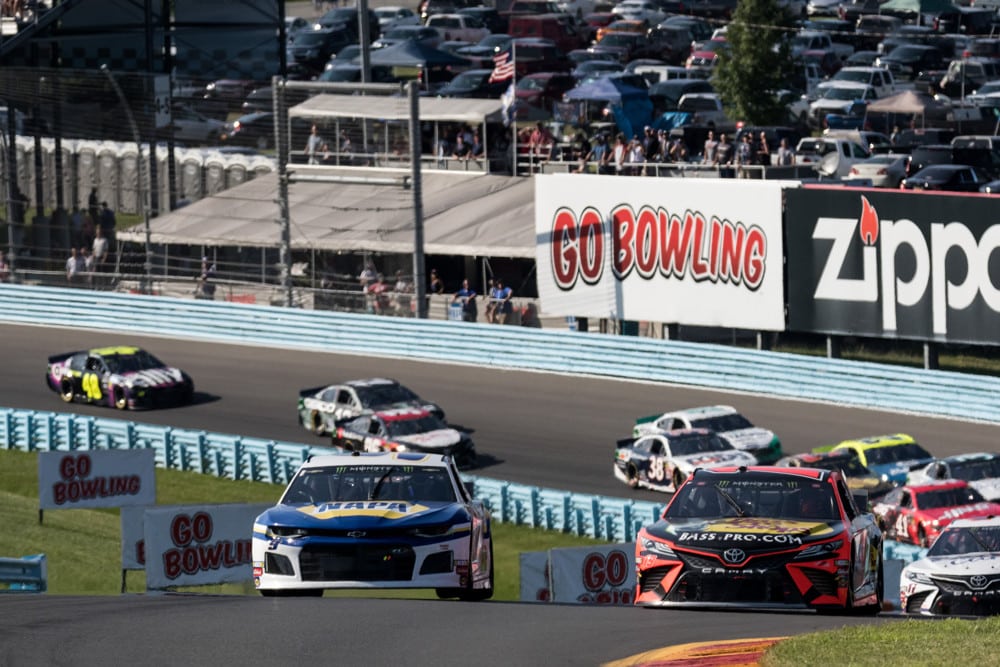 NASCAR continues the match toward the playoffs with the second straight road course in a row. This time it's on to Dix, New York, to take on Watkins Glen International. The former home of the Formula One United States Grand Prix (1961-1980) consists of a 2.454-mile 11-turn challenge. Watkins Glen has been on the NASCAR Cup Series schedule on and off since 1957, becoming a permanent fixture on the schedule (except in 2020 due to the Covid Pandemic) since 1984.
Last week it was Michael McDowell who punched his playoff ticket in dominating fashion. The 38-year-old NASCAR veteran with 453 career Cup Series starts picked up his second career victory. McDowell led 54 of the 82 laps and locked in his spot in NASCAR's 16-driver playoff field that starts after next weekend's race at Daytona International Speedway.
McDowell winning makes him the 13th driver locked into this year's playoffs, with three spots left to be filled over the next two races. If a full-time driver wins at Watkins Glen or Daytona, they are in, and it could knock out some drivers currently in. Kevin Harvick (+145 to the cut line) and Brad Keselowski (+143) are sitting well unless there are two new winners, then one of them gets knocked out.
Bubba Wallace is the current bubble driver (+28). Daniel Suarez sits 28 points below the cutoff with Ty Gibbs -49. For everyone else, including Chase Elliott, Alex Bowman, AJ Allmendinger, and others, it's most likely a win to get in situation.

NASCAR Cup Series Go Bowling at The Glen at Watkins Glen International Odds and Best Bets
Odds via Superbook Sportsbook
Chase Elliott +350
Kyle Larson +600
Martin Truex Jr +750
Christopher Bell +1000
Daniel Suarez +1000
Tyler Reddick +1000
Kyle Busch +1200
Michael McDowell +1200
AJ Allmendinger +1400
Chris Buescher +1800
Denny Hamlin +2000
Ty Gibbs +2000
William Byron +2500
Austin Cindric +3000
Alex Bowman +4000
Chase Briscoe +5000
Joey Logano +5000
Kevin Harvick +5000
Ross Chastain +5000
Ryan Blaney +5000
Brad Keselowski +8000
Austin Dillion +10000
Justin Haley +10000
Todd Gilliand +10000
Erik Jones +20000
Ricky Stenhouse Jr +20000
Aric Almirola +30000
Bubba Wallace +30000
Mike Rockenfeller +30000
Ryan Preece +30000
Cole Custer +100000
Harrison Burton +100000
Andy Lally +200000
Corey Lajoie +200000
Josh Bilicki +1000000
Ty Dillion +1000000
Best Bets
Martin Truex Jr Top 5 Finish (+120 Caesars Sportsbook)
Truex enters Watkins Glen this weekend as the current point standings leader and has a chance to wrap up the regular season title. If Truex scores more points than Denny Hamlin, and William Byron doesn't earn 44 more points than Truex, he will take home the regular season title along with 15 bonus playoff points. Truex is on fire this season, scoring three wins (plus the Clash) and 14 top-ten finishes in 24 races this season.
At Watkins Glen, last year was just rough overall for Toyota on road courses, so I'm tossing out his 23rd-place finish. In 2021, Truex led the most laps (34), finished third, and had the highest average running position throughout the race at 3.5. With no race here in 2020, 2019 Truex finished second with an average running position of 3.3.
In 2018 Truex finished second after Chase Elliott held him off for his first career win. 2017 Martin captured his win here, leading 24 laps. Throwing out his and Toyota's "off" season in 2022, Truex has four straight top-three finishes at this track, making a top-five bet at plus money a no-brainer. (Thanks to IFantasyRace.com for these stats)
Chris Buescher Top 10 Finish (-120 Bet365)
Buescher had a seven-race top-ten finish streak on road courses entering last week's race at the Indianapolis Road Course. Unfortunately, that streak was snapped by finishing in 11th last week. Buescher still sits second on the average finish list on road courses to only Chase Elliott since the start of the 2020 season. Buescher has a 10.7 average finish over 18 road course races and hasn't finished worse than 21st in any of those 18 starts.
At Watkins Glen, Buescher finished ninth last year and has five straight finishes inside the top 20 at the track. Buescher has won two of the last three Cup Series races, and getting him at this low of a price when all he has to do is finish top ten is a great bargain.
Martin Truex Jr Over Tyler Reddick (-115 BetRivers)
The praise for Truex here at Watkins Glen was high in the bet above, and Reddick has arguably been the best road course racer in the NextGen era making this a tough matchup. Watkins Glen is a track more typically dominated by veterans.
As a track that's been on the schedule, drivers like Truex have 16 starts at the track to Reddick's two. Reddick admitted in his post-race interview last week that "A lot of other guys have a lot more experience than I do. We have a lot of catching up to do" about Watkins Glen.
Reddick has finishes of seventh and tenth at Watkins Glen. Not bad finishes by any means, but when compared to Truex's great runs here, he has the advantage.
Looking back on Sonoma, a track similar in that the Cup Series has been going there for a long time, and Truex has been good there, Reddick struggled while Truex cashed a 35/1 bet we gave out on the NASCAR GAMBLING PODCAST.

Chase Elliott to Win (+375 Barstool Sportsbook)
Elliott is the popular pick this week; seemingly, everyone is on him. All the talk will be about how he needs to win to get in, and this is his best opportunity. This is the track they had circled. I generally try to steer away from the big public narratives like this, but not this week. Because Elliott does need to win, this is his best opportunity, and likely this is the track they've circled.
Last year Elliott was on his way to a win before being dumped by teammate Kyle Larson on a late-race restart. In 2021, Elliott finished second after starting at the back and making an unscheduled pit stop. In 2019 Elliott led 80 laps and won the race, and in 2018, he picked up his first career victory by leading 52 laps and holding off a hard-charging Martin Truex Jr to do so.
Elliott is fresh off a second-place finish last week in the strongest showing he's had since returning from injury. Hendrick Motorsports has won four races in a row at Watkins Glen, and while this may be surprising, Chase Elliott has the best average finish in 2023 on road courses (he missed COTA) of all NASCAR drivers. The numbers and the storylines all add up. The most popular driver punches his playoff ticket on the track he got his first career win. I'm not going to miss hitting on this bet.
Martin Truex Jr to Win (+750 Barstool Sportsbook)
Martin Truex Jr has been good to NASCAR bettors this year, and I think that trend continues this week. For all the reasons listed above, I think he can be in the top five, I think he can beat Reddick, and I think, ultimately, he's got a chance to win this race. I think Elliott, Larson, and Truex Jr will be the class of the field in a race that reverts back to the road course "norms," and if you can find a way to get down on two of them, I think it's a good strategy.