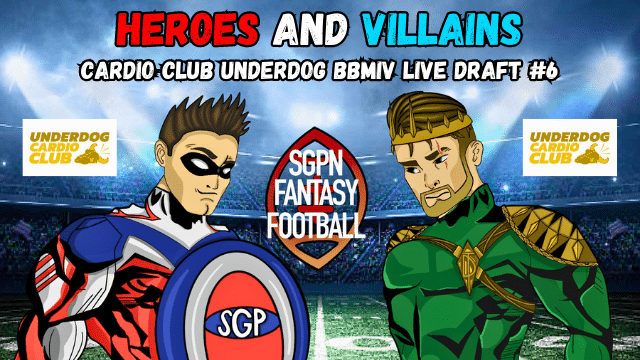 Justin and Andrew are back for their 6th Live Cardio Club draft. They return to the exercise bikes to draft, crush cardio, and drink beer! Andrew's soaring on his Peloton, and Bruni's back on the Boomer Bike; you won't want to miss the fun! SGPN's Dave Heilman joins the stream to help break down recent news and provide his 2023 Best Ball Hot Takes.
Be sure to catch up with him and Brad with their Dynasty Show on this network! The crew will break down their live draft, discuss ADP shifts from recent news and highlight the best methods to attack the massive BBMIV contest.
Look out for Best Ball tips, best practices, and a few hot takes along the way. Our team will be drafting best ball teams all summer long. The dog days are coming but never fear; Heroes and Villains will be here to guide you to success. Remember that Redraft Season is right around the corner; we're nearing another off-season checkpoint, so be sure to return each week for the best advice, analysis, and commentary!

MORE SGPN FANTASY FOOTBALL CONTENT
Follow SGPN Fantasy Football on Youtube