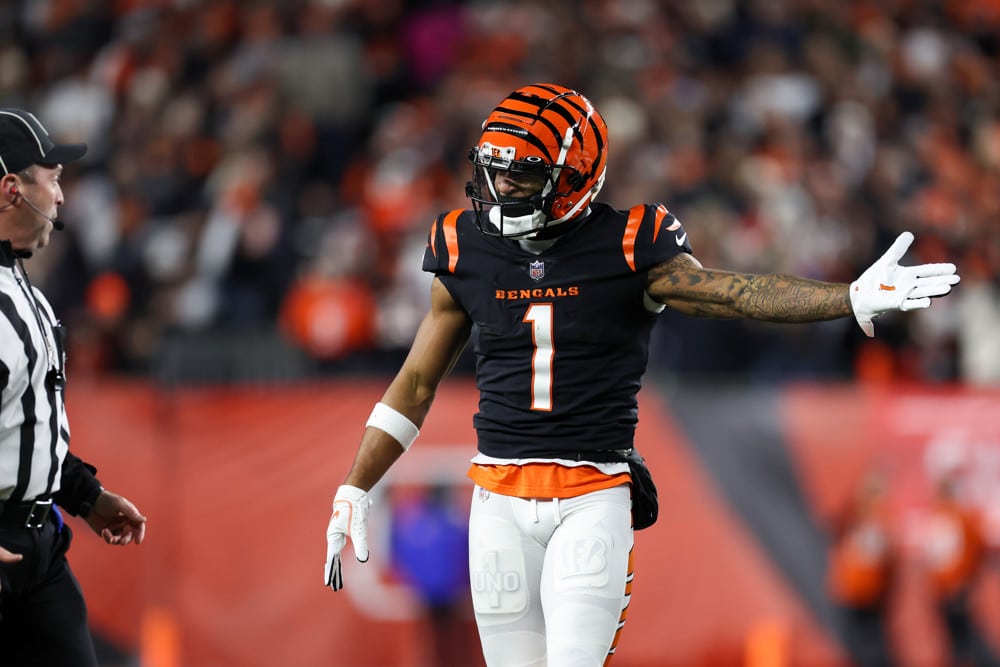 Dynasty fantasy football is in full swing, with the season only months away. With that in mind, I wanted to discuss my top 24 ranked dynasty receivers for the 2023 season. There have been some major shifts in these players' value this off-season with free agency and the incoming rookie class. I will discuss many of these changes below and each of these players' future dynasty fantasy football outlook.
Check out more Fantasy Football Rankings here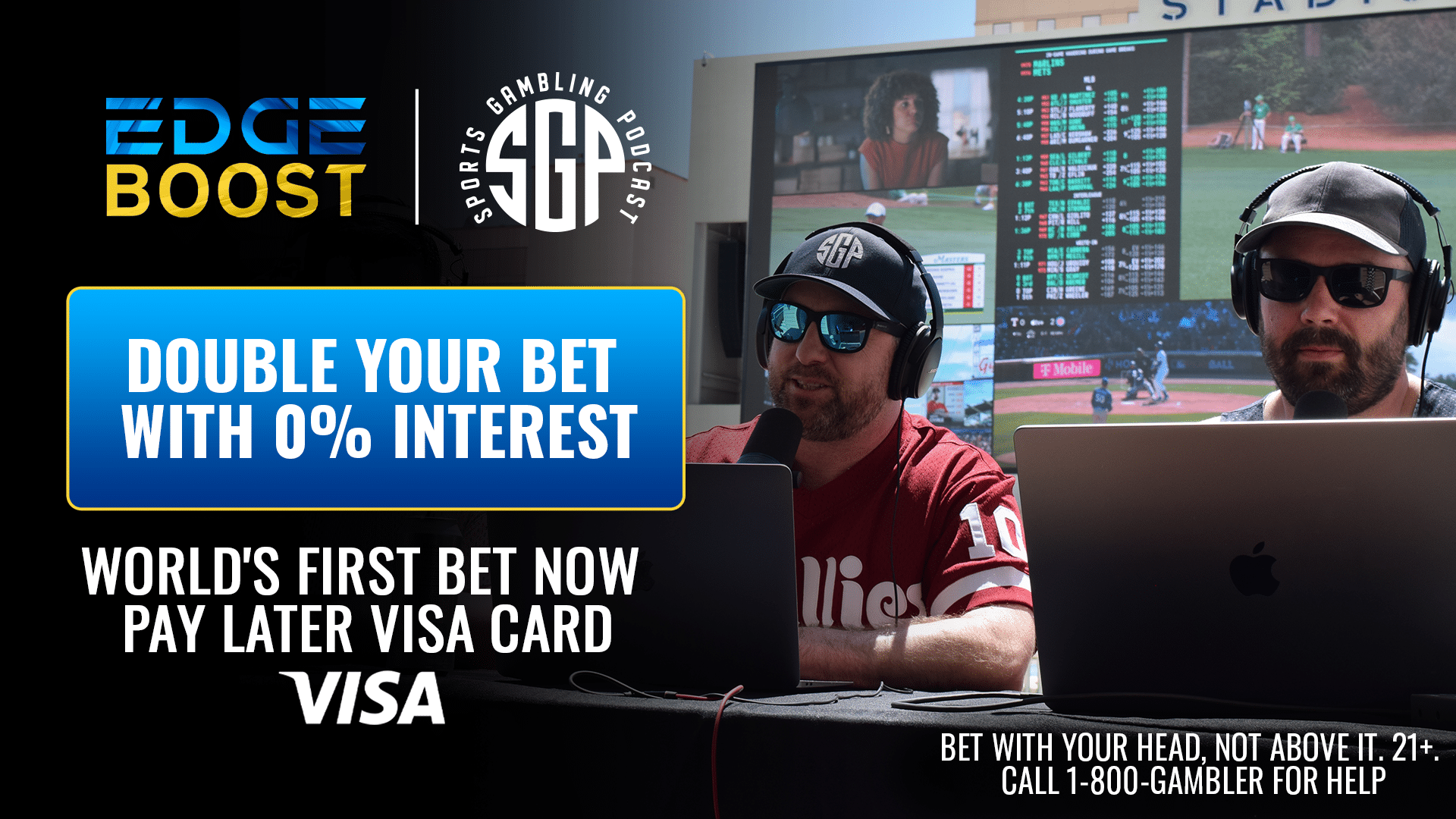 Top 24 Dynasty Fantasy Football Rankings – Wide Receivers
1. Ja'Marr Chase – Cincinnati Bengals
A surprise at No. 1, the talent perfectly matches the situation for Ja'Marr Chase, which landed him at No. 1 in these rankings. He averaged over 11 targets a game through 12 games in 2022 and has a truly special connection with quarterback Joe Burrow. It was razor close between Chase and Jefferson, but his position in the Bengals' offense gave him the close edge.
2. Justin Jefferson – Minnesota Vikings
I totally respect any analyst's opinion if they have Justin Jefferson as the top-ranked dynasty fantasy football receiver. He finished as the WR1 in 2022, and there isn't any reason to expect that to change in what could be an even more pass-heavy offense. I prefer the overall talent profile of Ja'Marr Chase, though, and his tie to Joe Burrow.
3. CeeDee Lamb – Dallas Cowboys
CeeDee Lamb took full advantage of his first full season without Amari Cooper. He also finished as the WR5 overall and was a top-15 receiver in each of his last six games. Furthermore, his 2.62 yards per route run ranked No. 6 in the NFL. Look for him to continue his hot streak without considerable target competition.
CeeDee Lamb..

4th in targets (156)
7th in target rate (30.1%)
10th in Air Yards (1,594)
4th in Receptions (107)
6th in Receiving yards (1,359)
9th in Yards After Catch (474)
9th in Total TDs (9)
7th in FPPG (17.7)
8th in Expected FPPG (15.7)
6th in Y/RR (2.62)
4th in EPA (+84.8)… https://t.co/NYVG0IsjnY

— Coach Bruce (@CoachBruce122) June 2, 2023
4. A.J. Brown – Philadelphia Eagles
Coming off a very successful first season in Philadelphia, A.J. Brown garnered a massive 29% target share in 2022. This was fairly surprising considering the talent around him and the run-heavy Eagles' offense. As a result, I'm slightly concerned about his ability to finish to repeat as a top-six fantasy receiver this season. There isn't any reason to be concerned about his play on the field, though, and he should be productive for a long time.
5. Garrett Wilson – New York Jets
Despite dealing with poor quarterback play for most of the season, Garrett Wilson still recorded 1103 receiving yards. Now with Aaron Rodgers under center, the sky is the limit for the former top-10 pick. Rodger's has shown a willingness to lean heavily on one wide receiver in Davante Adams before, and Allen Lazard isn't a threat as the WR2.
Aaron Rodgers ➡️ Garrett Wilson pic.twitter.com/8BzxCskEyd

— Jets Videos (@snyjets) June 6, 2023
6. Amon-Ra St. Brown – Detroit Lions
Fantasy managers concerned about Amon-Ra St. Brown's draft capital should be past their doubts two seasons in. He totaled over 1200 scrimmage yards in 2022 and will be the top target in what could be one of the best offenses in the league. With the departure of T.J. Hockenson midway through last season and Jameson Williams being suspended, too, even more volume could be headed his way.
7. Jaylen Waddle – Miami Dolphins
There isn't a player on this list possibly more dependent on his quarterback, as Tua Tagovailoa's health could play a huge factor in Jaylen Waddle's near-term outlook. In games that Tagovailoa missed in 2022, Waddle was subject to more bust than boom performances. Ultimately resulting in him finishing outside the top 25 fantasy receivers ten times. However, astoundingly he still was the WR8 on the season, showing what he could be capable of with a healthy quarterback.
8. Chris Olave – New Orleans Saints
Chris Olave was elite in nearly every metric that fantasy managers look at when trying to find a future star receiver. He boasted a 26.7% target share, was No. 8 in air yards, and No. 10 in yards per route run. A modest improvement in quarterback play should also be expected with the addition of Derek Carr. The health of Michael Thomas could play a factor in his 2023 outlook, as he was a major part of the offense when healthy in 2022.
9. DK Metcalf – Seattle Seahawks
After playing second fiddle to Tyler Lockett for much of his career, DK Metcalf finally took control in the latter half of 2022. He was targeted eight or more times in nine of his last eleven games. Additionally, he closed the year with a 136-yard and two-touchdown performance in the playoffs. Metcalf should once again be able to seize control of the offense, too, with Lockett getting older and the inexperience of Jaxon Smith-Njigba.
10. Tyreek Hill – Miami Dolphins
A lot was made about Tyreek Hill announcing he will only play for three more seasons. However, that is as long as fantasy managers should be looking ahead anyway. Hill showed no signs of slowing down in 2022 either and proved resilient no matter who played quarterback for the Dolphins.
Most yards per route run in 2022 (min. 34 targets)

Tyreek Hill (3.2)
Justin Jefferrson (2.62)
A.J. Brown (2.59)
Jaylen Waddle (2.59)
Rashid Shaheed (2.59)

— Ian Hartitz (@Ihartitz) June 1, 2023
11. Stefon Diggs – Buffalo Bills
A player with WR1 overall upside in 2023, Stefon Diggs simply finds himself this low in these rankings due to his age. He will enter his ninth NFL season after finishing as a top-10 fantasy receiver for three straight years. There isn't any reason to expect a drop-off in production either, with the Bills bringing in no one of note at receiver. As any player though entering this stage of their career, the wheels could fall off at any moment.
12. Tee Higgins – Cincinnati Bengals
Tee Higgins potentially could be a lot higher in these rankings as part of any other offense in the league. Despite being incredibly talented, he could ultimately be a better NFL player over the next couple of seasons than a fantasy one. Ja'Marr Chase has a special connection with Joe Burrow, as we discussed previously. There is room for both to be productive, but this certainly caps his upside.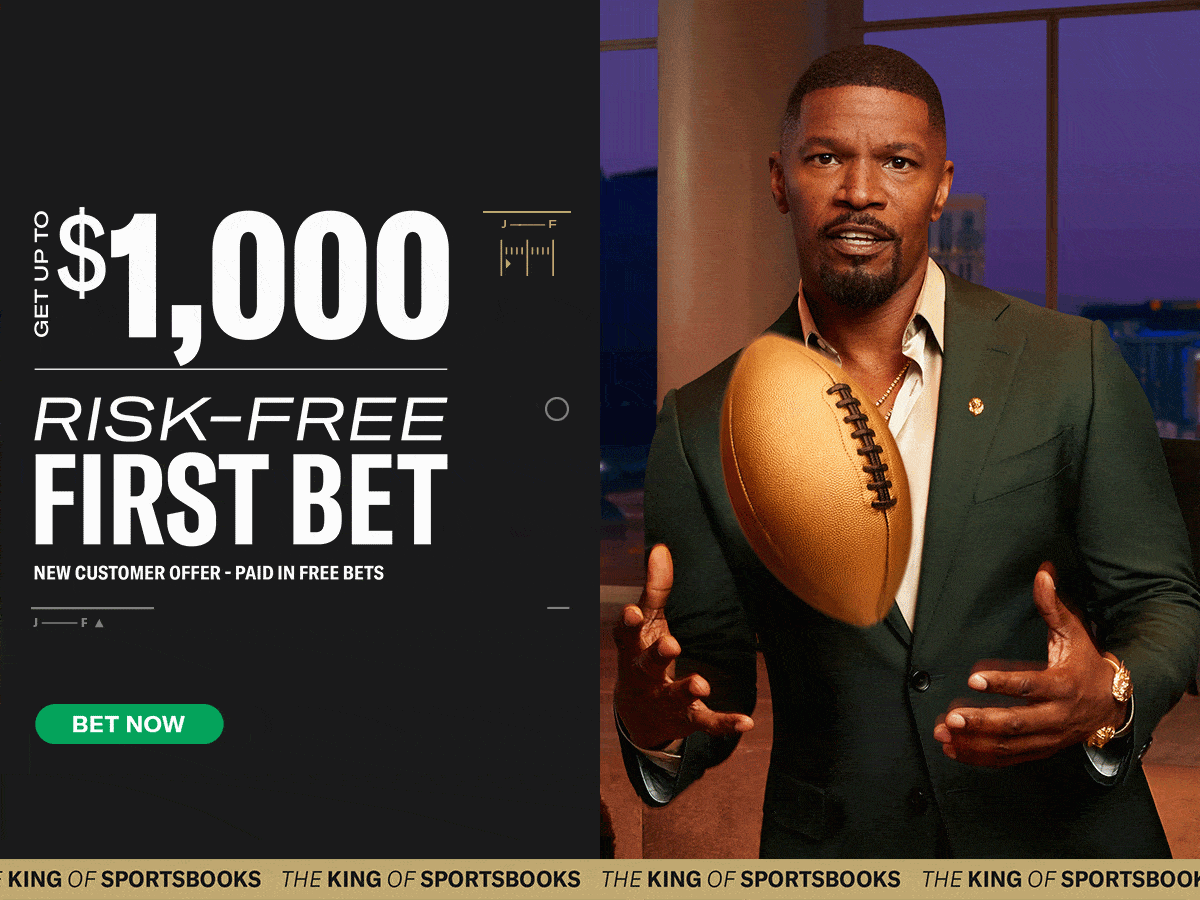 13. Drake London – Atlanta Falcons
Despite not having the overall production of Garrett Wilson or Chris Olave, Drake London had, by all accounts, a fantastic rookie season. He was No. 21 in air yards and No. 11 in yards per route run. Nonetheless, the presence of Bijan Robinson in a run-heavy offense is problematic for Atlanta's pass catchers. As a result, London's dynasty fantasy football value could be in limbo until the Falcons find a long-term solution at quarterback.
14. Cooper Kupp – Los Angeles Rams
After 1,947 receiving yards in 2021, Cooper Kupp didn't slow down at all in 2021 despite the Rams' offense taking a turn for the worse. He once again was No. 1 in fantasy points per game and was the only consistent part of the Los Angeles offense. Unfortunately, Kupp suffered a high ankle sprain in Week 10, which ended his season. Although he has WR1 upside in 2023, his age and lackluster offense are concerns.
15. DeVonta Smith – Philadelphia Eagles
Even though Devonta Smith doesn't fit the mold of a traditional wide receiver, he finds a way to get it done anyway. He has a slight frame and isn't an elite athlete, either. Nonetheless, he finds a way to gain separation from defenders. My only concern is the lack of ceiling in a run-heavy offense that has a lot of mouths to feed.
16. Davante Adams – Las Vegas Raiders
Devante Adams is entering his 10th NFL season and will once again be facing a change at quarterback in 2022. Jimmy Garoppolo is also unlikely to push the ball downfield the same way Derek Carr did last season. Adams has got it done in different ways over the years, though, not long removed from being the high-volume, short-field threat for Aaron Rodgers. Expect that trend to continue and Adams to deliver one or two more terrific fantasy finishes.
Most 10+ Target Games
Since 2020

Diontae Johnson 30
Justin Jefferson 28
Davante Adams 27
Tyreek Hill. 26
Stefon Diggs 25

Why are we talking about this other guy on the team?

*Been awhile since I used this GIF👇🏾 pic.twitter.com/nAwyOCUnc0

— LaQuan Jones (@RealDealFantasy) June 5, 2023
17. DJ Moore – Carolina Panthers
Historically wide receivers have struggled in their first season with new teams. However, it's hard to picture the situation in Chicago being much worse than in Carolina for DJ Morre. Even though he has been one of the most talented wide receivers in the NFL, that hasn't equated to better than a WR16 finish over five NFL seasons. Even though the Bears figure to be a run-heavy offense, too, there is an opportunity for Moore to dominate the target share.
18. Jaxon Smith-Njigba – Seattle Seahawks
Everyone will remember Jaxon Smith-Njigba's incredible sophomore season at Ohio State. He outproduced Garrett Wilson and Chris Olave on his way to over 1600 receiving yards. Unfortunately, he only played in three games in 2022 and garnered less than 25 targets over his other two collegiate seasons. Furthermore, Smith-Njigba could struggle with consistent target volume out of the gate playing in a talented offense.
19. Deebo Samuel – San Fransisco 49ers
Deebo Samuel suffered quite a fall back to Earth in 2022 after finishing as a top-five fantasy receiver the previous season. He was only No. 28 in fantasy points per game, and his yards per reception dropped by nearly seven yards. Additionally, this is one of the most talented offenses in the league at skill positions. With Brock Purdy likely playing the game manager role, it will be tough for any of these receivers to stand out on a regular basis.
20. Chris Godwin – Tampa Bay Buccaneers
Even after suffering a late-season ACL tear in 2021, Chris Godwin still managed to finish No. 10 in targets last season. The problem was the offense was a disaster, and he could only secure three touchdowns. That may not change with Baker Mayfield under center, either. With the offense throwing the ball considerably less in 2022, Godwin will have to draw a considerable amount of targets to maintain his fantasy value.
Chris Godwin 2022 receptions after returning from injury:

7, 6, 6, 7, 6, 7, 6, 12, 8, 5, 8, 8, 9, 6, 10

— Ian Hartitz (@Ihartitz) May 30, 2023
21. Christian Watson – Green Bay Packers
The question for Christian Watson will be whether he can continue the success he had in 2022 with a new signal caller. While he displayed incredible big play ability, he only was a top 30 fantasy receiver six times. Watson's production was also propelled by nine touchdowns in those games, which is unsustainable. He will need to continue to develop his game and seize a strong target share in what could be a mediocre offense.
22. Jerry Jeudy – Denver Broncos
Jerry Jeudy has disappointed fantasy managers since being drafted in the first round of the 2020 NFL Draft. However, considering the quarterback play over that stretch, that wasn't all his fault. Despite a slow start again in 2022, Jeudy was the WR11 in fantasy points per game since Week 7. In a revamped offense, he will again have a top-15 wide receiver upside.
23. Michael Pittman Jr. – Indianapolis Colts
After appearing poised for a breakout in 2022, Michael Pittman Jr. failed to live up to expectations. The Colts' offense was a mess with Matt Ryan under center, and he only finished five times as a top-20 fantasy receiver. While I am very excited about the addition of Anthony Richardson in Indianapolis, it, unfortunately, doesn't help Pittman's fantasy value. Richardson will need time to develop as a passer which may lead to boom-and-bust performances from Pittman.
24. Treylon Burks – Tennessee Titans
Rounding out these rankings is talented sophomore wide receiver Treylon Burks. Although his rookie season didn't live up to expectations, that wasn't entirely his fault. Burks notably struggled to acclimate during training camp in 2022, and the Tennessee passing offense was a disaster. He will assume the top spot on the depth chart with no serious threat to his target share.
Hardest players for me to rank in Dynasty right now at each position:

QB Russell Wilson
RB D'Andre Swift
WR Treylon Burks
TE David Njoku

— Kevin (@Daboys_22) June 6, 2023