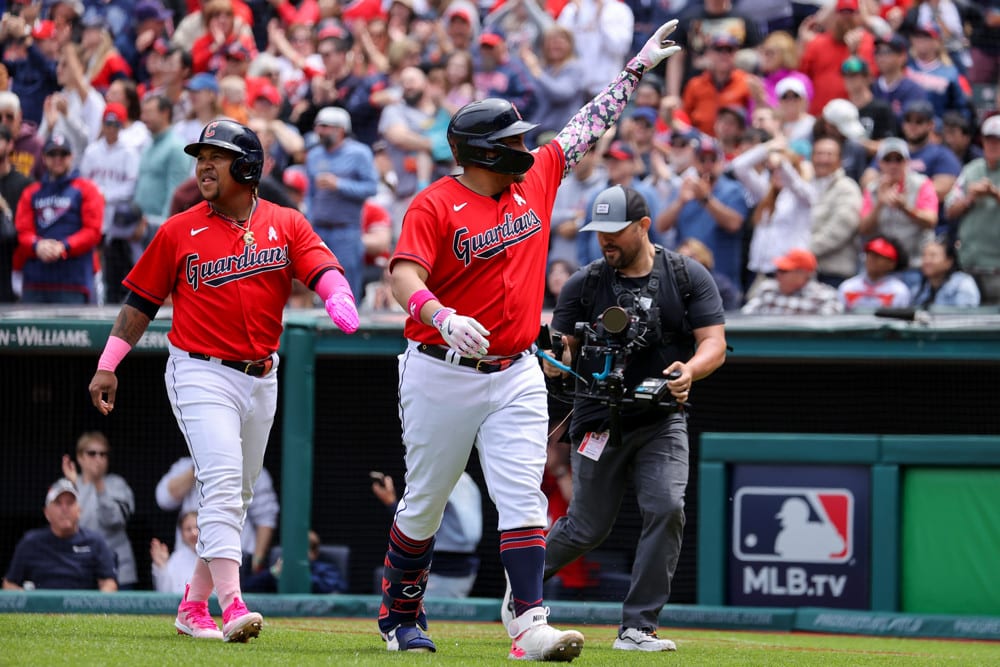 If you want to pursue a few buy-low opportunities, a sound strategy would be looking at xwOBA underperformers. Yes: identifying hitters that should be performing better according to their quantity and quality of contact could pay big dividends in the not-so-distant future.
MLB defines wOBA as a version of on-base percentage that accounts for how a player reached base — instead of simply considering whether he did it. A single is not the same as a home run, and wOBA examines all events. The value for each method of reaching base is determined "by how much that event is worth in relation to projected runs scored."

Fantasy Baseball: xwOBA Underperformers And Buy-Low Opportunities
What Is xwOBA?
Now, xwOBA (which means expected wOBA) removes defense from the equation and focuses on how a player should be performing by examining the quantity and quality of contact. It uses real-world plate discipline data (walks and strikeouts) but includes exit velocity and launch angle on batted balls. In fact, each batted ball is assigned an expected batting average and is given a single, double, triple, and home run probability based on the results of comparable batted balls since Statcast.
Sometimes, we can say a hitter has been unlucky when his xwOBA is way higher than his actual wOBA. It happens over a specific period of time: baseball is full of randomness. To identify potential buy-low opportunities, we can look at the wOBA-xwOBA differential.
We won't list guys who have been good or great and should be much better. For example, Ronald Acuna has a .431 wOBA and a .476 (!) xwOBA, so yes: as good as he has been, expected stats say his numbers should be even more impressive. So instead, we will focus on those hitters whose stats don't look too enticing, but their xwOBA says they should improve as the season goes on.
xwOBA Underperformers To Target
Josh Naylor, Cleveland, Guardians
Josh Naylor is one of the biggest xwOBA underperformers in the league. His wOBA is a mediocre .285, but his xwOBA checks in at a much better .360. A 0.075 gap is the largest in baseball as of Wednesday afternoon.
The slugger is hitting .222/.272/.403 with a 79 wRC+. That's because he has been much better as of late. He does have seven home runs and 32 RBI, but he was unplayable in the first few weeks of the season.
If you benched him, start him confidently since he has improved considerably in recent games. Statcast says he should be hitting .288 with a .515 slugging percentage, according to his contact metrics.
Look at that swing!
Ryan Mountcastle, Baltimore Orioles
Plate discipline is not Mountcastle's calling card. He has a 4.3 BB% and a 23.2 K%. But boy, he can hit the ball hard.
His .237 /.270/.455 line and 94 wRC+ don't do justice to how hard he hits the ball. He already has 26 barrels, which is good for a rock-solid 17.1 percent barrel rate, and has a healthy 46.7 percent hard-hit rate.
Statcast says that his .307 wOBA should eventually creep up closer to his great .369 xwOBA. If you don't play in an OBP league and are willing to live with a somewhat streaky hitter, you might take a shot at acquiring Mountcastle on the cheap. There will be peaks and valleys, but the peaks will be very impressive. He is one of the most notorious xwOBA underperformers in MLB.
Keibert Ruiz, Washington Nationals
The Nationals catcher is slashing .229/.296/.353 .649 with a 78 wRC+ and four home runs. On the surface, those numbers look disappointing, especially the batting average. That was supposed to be Ruiz's strongest trait.
However, plate discipline, exit velocity, and launch angle say he should be hitting .284 and slugging .469. His actual .288 wOBA may look bad, but when you consider his .354 xwOBA, you should know his performance will improve quickly. Invest while you can: he also has a top prospect pedigree. As far as xwOBA underperformers go, Ruiz is a perfect example.
Julio Rodriguez, Seattle Mariners
You don't think J-Rod will stay bad the whole season, do you? But, of course, we are talking about the 2022 AL Rookie of the Year, a man who hit 28 homers and stole 25 bases as a 21-year-old last year.
Things haven't been easy for him in 2023, though. He is slashing .217/.292/.392 this year, and his wRC+ is down to 94 after posting a 146 mark in his rookie campaign. Statcast, however, says his xwOBA of .342 is much better than his .300 wOBA. So he is capable of much, much more if you just show some patience. But, of course, that's if you own him: trying to acquire him on a buy-low move wouldn't hurt if you don't.
Willson Contreras, St. Louis Cardinals
Contreras' time as a Cardinal has been a bit rocky. The organization tried to make us all think the pitching struggles were on him. On top of that, he is hitting a disappointing .232 with a .384 slugging percentage.
However, judging by his quality and quantity of contact, he should be hitting .272 and slugging .481. His .309 wOBA doesn't do justice to how good he has been. His .361 xwOBA is much more accurate proof of his talent.
Exploring what his owner might want for him in a trade wouldn't be a bad idea.
More xwOBA Underperformers (wOBA -> xwOBA)
Tim Anderson: .255 -> .308
Ke'Bryan Hayes: .282 -> .334
Spencer Torkelson: .286 -> .337
Bryan Reynolds: .349 -> .397
Pete Alonso: .369 -> .417
Christian Yelich: .331 -> .378
Brett Baty: .328 -> .373
Triston Casas: .300 -> .344
Max Kepler: .320 -> .362
JD Martinez: .366 -> .408