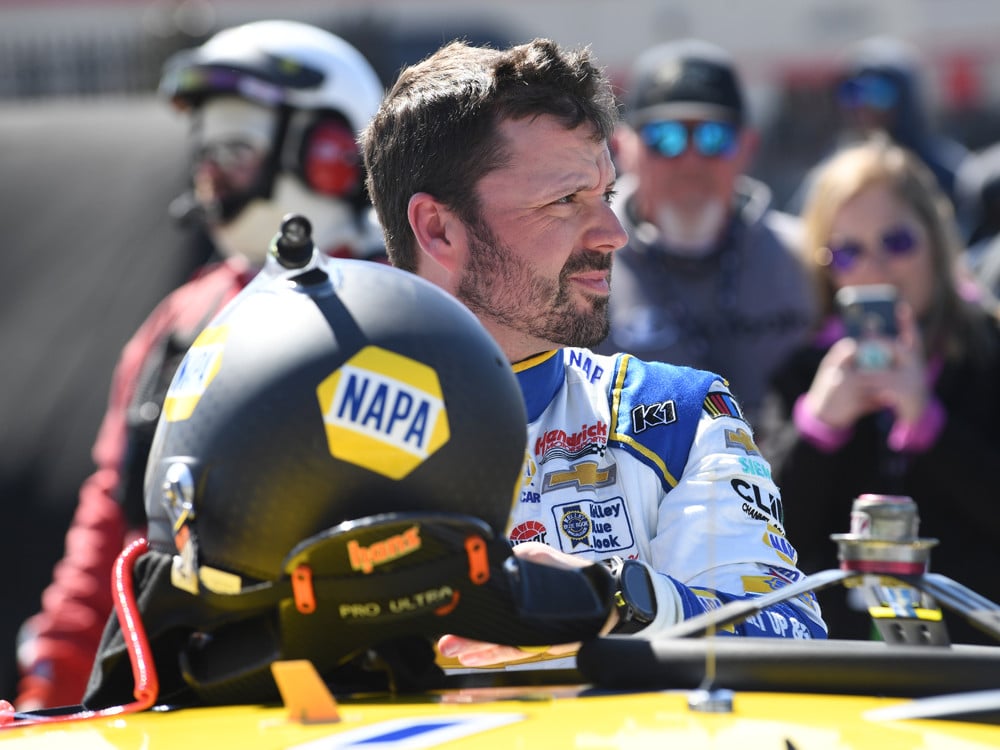 NASCAR heads to the Midwest to take on Kansas Speedway Sunday. Last week Martin Truex Jr broke his 54-race winless streak by taming the monster that is Dover Motor Speedway—adding the Truex name to a short list of brothers who have swept the weekend's races after Ryan Truex found victory lane in Saturday's Xfinity Series race.
Kansas Speedway is a 1.5-mile tri-oval located in the Village West area in Kansas City, Kansas. Last season 23XI swept the race, with Kurt Busch winning in the spring and Bubba Wallace taking the fall race.
As I do every week, I'll give you five of my favorite bets, using a budget of $5,000. Then, be sure to tune into the NASCAR GAMBLING PODCAST for the full slate of picks and analysis, along with picks for the Craftsman Truck Series race in Kansas.
Go here for more NASCAR picks!

AdventHealth 400 at Kansas Speedway NASCAR Best Bets
$2,000 – Josh Berry Over Chase Briscoe (-120 DraftKings Sportsbook)
If I could place one bet this entire weekend, this is the bet I would place. Stewart-Haas cars have struggled on intermediate-sized tracks in 2023. While Hendrick Motorsports has had some of the best cars on these styles of tracks.
At Auto Club Speedway, Briscoe finished 20th, and the only reason his finish was that good is that 11 cars finished four or more laps down after a big wreck on a restart. At Las Vegas, 28th was all Briscoe could muster. Then, looking was a shorter track but still the intermediate style track, and 30th place right behind BJ Meclod was all Briscoe could do.
He had a few great runs on short flat tracks and a superspeedway, but the intermediate speed is not there for SHR, whose best finishing car last week was Ryan Preece in 17th.
On the other hand, Josh Berry has been doing a masterful job filling in in the Cup Series, first for Chase Elliott and now for Alex Bowman. His Las Vegas finish is a throwout for me, as he jumped in that car only two days after the Elliott injury and did the best he could on short notice.
In every other non-dirt or superspeedway race he's filled in, Berry hasn't finished worse than 10th. He could likely run 20th and still beat Briscoe. Barring a mechanical issue or wreck, this matchup is nowhere close on pure speed and car alone.
$500 – Josh Berry Top 10 (+180 Caesars Sportsbook)
Staying aboard the Josh Berry train for this one. Berry has consistently gotten good solid finishes while he fills in. So much so that reports are swirling about Berry having a deal in place for a full-time Cup Series ride in 2024. Speculation has him replacing Kevin Harvick in the legendary #4 Ford.
In the meantime, Berry's goal is to keep getting solid finishes and rack up owner's points for the #48. 10th and Phoenix, second at Richmond, and another 10th at Dover show what Berry is capable of doing week in and week out. Look for that #48 car to have another solid week inside the top 10.
$1000 – Martin Truex Jr Top 5 Finish (+150 Barstool Sportsbook)
Truex finally broke his winless streak last week, and now they head to a track he's pretty good at in Kansas Speedway. He has finished top 10 at Kansas in seven races in a row and 11 of his last 12 trips to the Sunflower state. Truex also has two wins in that span. With his momentum, Toyota looking fast here last season, and Truex's track record, I feel confident taking him to score a top-10 finish.
$500 – Chris Buescher Group 3 Winner (+260 FanDuel Sportsbook)
This is a pretty easy case for me. Buescher is matched up in this group with Aric Almirola, Erik Jones, and Ryan Preece. Buescher finished 13th at Auto Club, 21st at Las Vegas, and last week had a solid ninth-place run. The Roush Fenway Keselowski team continues to improve and get better week to week.
I already mentioned the Stewart-Haas struggles on bigger tracks. Ryan Preece and Aric Almirola fall into that category. Preece hasn't finished better than Buescher at any of the three comparable tracks, with 17th last week being his best finish. Almirola did finish 16th at Las Vegas, just beating out Buescher in that one. Erik Jones also got the best of Buescher at Las Vegas with a 19th-place run.
This all boils down to I can't trust SHR cars at intermediates (Outside of Harvick most weeks), and Legacy Motor Club hasn't looked great this season and announced this week they'll be switching to Toyota next year. While Chevrolet won't completely cut them off, you have to imagine that information to Legacy starts to slow down and won't help an already brutal season for the team.
$1,000 – Tyler Reddick to Win (+800 MGM Sportsbook)
The 23XI cars were the class of the field in both races last year at Kansas Speedway, and I expect them to have similar results this week. Reddick didn't have the best races in the three comparable tracks this season but did finish seventh last week at Dover.
With a win already under his belt this season and a win at the comparable Texas Motor Speedway last fall. Reddick can rely on whatever magic 23XI had here last season in that #45 car and ride that wave to victory.
AdventHealth 400 DraftKings DFS Driver to Watch
Ross Chastain ($9,600)
Chastain has been too good this season and had too much speed on intermediates to overlook. Chastain led 91 laps at Auto Club Speedway on his way to a third-place finish. Last week he led another 98 laps and fell just short of catching Martin Truex Jr for the win as he finished second. Ross will get some laps on the track Saturday night in the Craftsman Truck Series race, and I expect that Trackhouse Chevy to show up with some speed to compete Sunday, and at $9,600 is a steal.
Corey Lajoie ($5,600)
Lajoie continues to be an absolute steal at this price. Last week Lajoie started 27th and finished 14th, racking up 45.2 DraftKings fantasy points. They bumped his salary up $600 this week, but not enough to make him not valuable. Lajoie finished 14th at Auto Club and 20th at Las Vegas. Spire has proven to have much better speed this season, and Lajoie always gets the most out of his car.