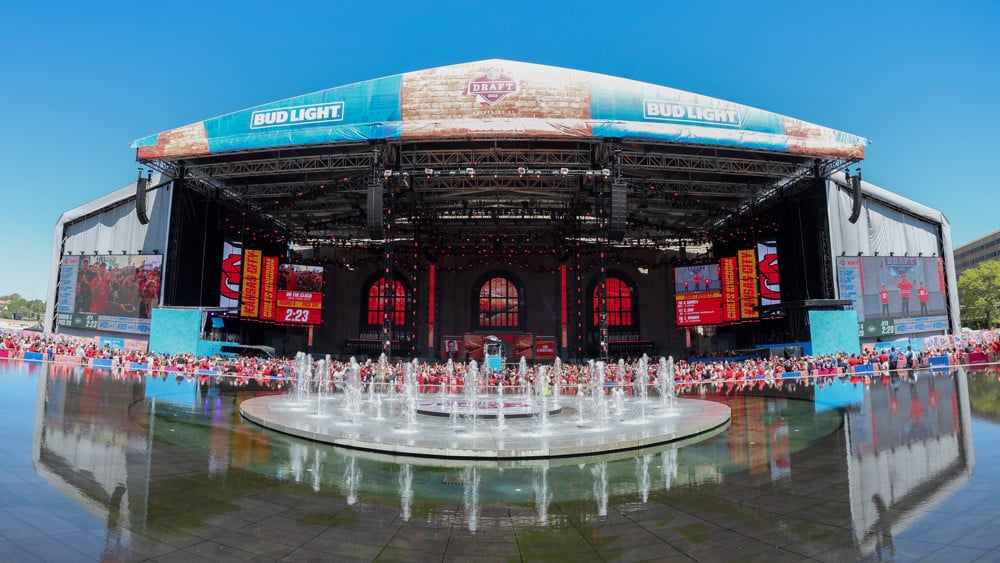 This year, like all others, has some serious changes post-draft. The 2023 NFL Draft did not disappoint this year with a record high of 41 trades during the draft, some pretty standard and some that could change the likes of a franchise for years to come. So who are the Post-2023 NFL Draft Losers, you say? Well, I will be covering a combination from each division for you to use during your dynasty rookie drafts.
MORE SGPN FANTASY FOOTBALL CONTENT
Follow SGPN Fantasy Football on Youtube

Post-2023 NFL Draft Losers
Jared Goff, QB, Detroit Lions
Jared Goff is currently a $31 million cap hit and $32 million in 2024. I know Hendon Hooker fell to the 3rd round, but his metrics are through the roof, and his film backed it up. He has a year to sit behind and learn from Goff, and we will likely see Goff be released by the Lions when they can save $26 million by moving on next off-season.
Don't get me wrong, Goff will have another good year with the replacement of Swift with Gibbs, Antoine Green (who graded out better than Josh Downs), and Sam LaPorta. Just remember, dynasty is all about the long term. So unless you are a championship contender this year, you should be moving on.
Todd Bowles, Head Coach, Tampa Bay Buccaneers
The Tampa Bay Buccaneers entered the 2023 draft with QB, RB, and TE needs. After losing Tom Brady to retirement this offseason, they brought Baker Mayfield in on a one-year deal. Unfortunately, I think Todd Bowles could find himself on the hot seat with a highly likely offensive disappointment this year. With what I deem as a lackluster 2023 draft class with the addition of Payne Durham, Cody Mauch, and Trey Palmer, I see more of an uphill battle than what could have been.
Kenneth Walker, RB, Seattle Seahawks
This seems like an easy one. I wouldn't say I liked it for Kenneth Walker, but I love it for the Seattle Seahawks. They now have a large swath of playmakers with the addition of JSN and Zach Charbonnet, but for Walker, you can do nothing but hold from a dynasty perspective.
Charbonnet could end up being more of a receiving option for the Hawks, as he garnered 61 receptions over the last two seasons with the UCLA Bruins. He also has the size to be a red zone threat for the Hawks and keep teams guessing whether it is a run or a pass. I expect to see Walker lead the carries in something of a 60/40 split, but the high-value touches may be handed to Charbonnet.
Pete Carroll called Kenneth Walker after selecting Zach Charbonnet in round 2 to talk about how the two fit together

Pointed out Charbonnet's versatility and work in the passing game

(Charbs has way more rec work out of UCLA than KW did at Mich St/WF) pic.twitter.com/eUUqcagqKY

— Josh Norris (@JoshNorris) April 29, 2023
Ron Rivera, Head Coach, Washington Commanders
The Washington Commanders had an extremely modest 35 total touchdowns last season and didn't really do anything to help their cause. Sitting on a 5th-round quarterback in Sam Howell and adding no explosiveness to the offense will likely be the last string that is holding Rivera in DC.
They did address the cornerback concerns with their first two picks in the draft and then went after the offensive line, but in a group that was already lackluster, they are likely depth pieces and fewer needle movers. Then they add a clone of Brian Robinson in Chris Rodriguez, who is a tackle-breaking pile-moving machine. There is not much excitement, and I think the new ownership will now be holding him to the fire.
Darnell Washington, TE, Pittsburgh Steelers
The fall of Washington in the draft was brought to light with his knee issues. He then landed on a team that will try to run some 12 personnel with him and Freiermuth, but the hopes of him being the #1 tight end are long gone.
Washington is on a squad that brought Allen Robinson into an already busy wide receiver room with the likes of Diontae Johnson and George Pickens. The team will also likely be looking to lean on the run and Najee Harris. Darnell Washington is quite frankly undraftable in 3 round rookie leagues.
Michael Pittman, WR, Indianapolis Colts
This will likely be a take that is criticized by many. I do not believe in Anthony Richardson as a quarterback. He doesn't have the accuracy to be successful at making top 12 fantasy wide receivers. Along with that, they added Josh Downs to take advantage of the underneath routes and yards after the catch. I expect this team to transform into a run-first offense that will lean on Jonathan Taylor and Anthony Richardson's legs. That will likely limit opportunities and drive Pittman down the dynasty rankings.
Courtland Sutton, WR, Denver Broncos
All the noise prior to the draft with Courtland Sutton is likely not noise. Instead, they added one of our favorite wide receivers, Marvin Mims. He is a good route runner with elite speed and great hands. While a different profile than Sutton, he fits the mold of what Russell Wilson liked in Tyler Lockett. Jerry Jeudy already proved in the back half of the season that he is the favorite of Wilson, and Mims will likely take over as the two.
According to @AlbertBreer, the #Broncos did get a "call or two" regarding Jerry Jeudy and Courtland Sutton after they selected Marvin Mims Jr.

He says that it will cost teams a lot in 2024 draft picks to acquire either receiver. https://t.co/eNvUot3p8P

— MileHighReport (@MileHighReport) April 29, 2023
AFC East
The Buffalo Bills' adding the most dynamic playmaker at the tight end position added a layer that they have been looking for. Now teams have to scheme for all facets at all levels of the field. Teams couldn't control Diggs when he was the only playmaker. Now they must contend with quite possibly the most athletic and refined receiving tight end in the last couple of drafts. The Bills have been looking for that second option, and now they have found it.