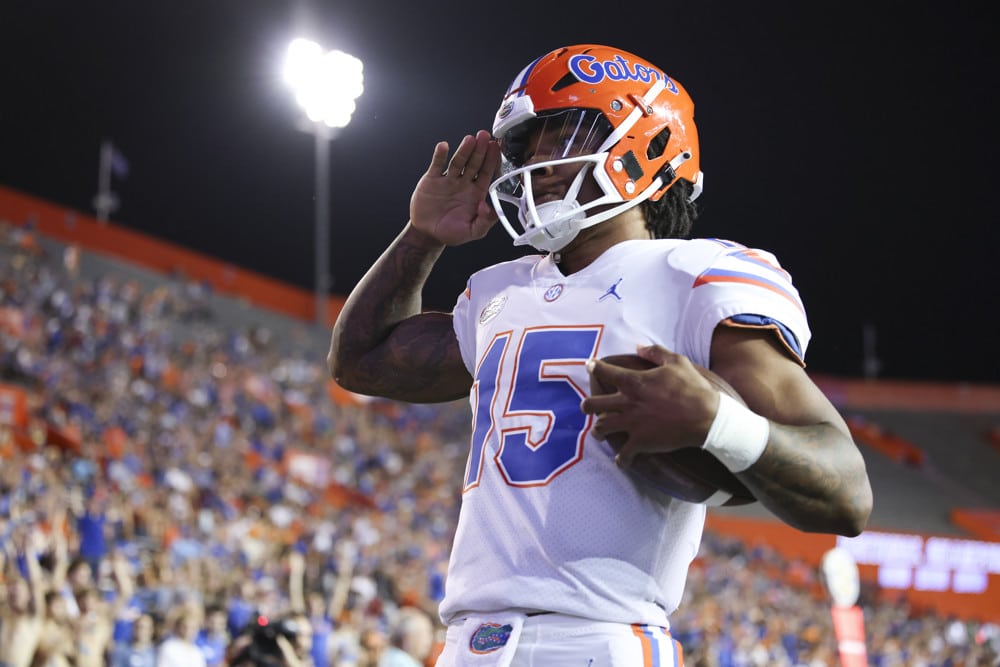 Analytics is the new rookie hotness. Fantasy football players are always looking for the magical answer to the identification of the incoming rookie class. New ways to get ahead of the competition. Well, the SGPN team has been working on a rookie analytical model to help us help you.
Introducing the #DEGENScore!
Go here for more NFL Draft content!

2023 NFL Rookie Analytics – #DEGENScore
The #DEGENScore incorporates the NFL Combine athletic measurables with a production model created by our own FFBourbonDude, Brad Stickler. This model is designed to take into account the most indicative metrics of success at the next level. This is just one tool to be used by our DEGENS to rank the incoming rookie class.
Again, this IS NOT our rankings tool, so before you lose your mind over who is over who, remember this is just one piece of the rankings puzzle. We will be looking at improvement opportunities based on our continuous improvement model to add items like film ratings, strength of schedule, pro-day/combine throwing sessions, and much more.
So without further ado, let's get into our scoring for each of the positions. We will only be scoring the top 5 Quarterbacks, top 15 Running Backs, top 15 Wide Receivers, and top 5 Tight Ends. If the feedback that we get from our DEGENS is "WE WANT MORE!" then we will make that happen in future seasons.
Some notes to take into consideration:
Statistics used were via the stats.ncaa.org database, which is free for anyone to use.
REMEMBER, THESE METRICS DO NOT INCLUDE FILM REVIEW NOR INDICATE OUR OVERALL RANKINGS FOR THIS ROOKIE CLASS
---
2023 Rookie Quarterback Class
The QB rating currently does not include any NFL Combine data as it was very inconsistent and was creating large variations.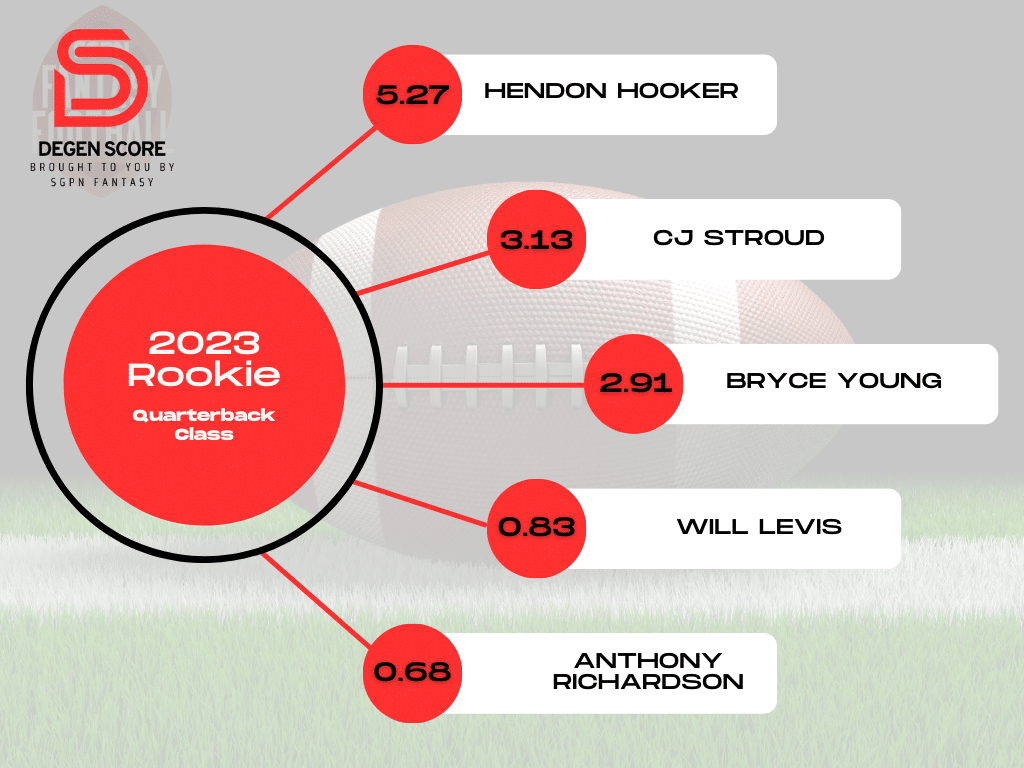 Hendon Hooker was a clear outlier with crazy efficient numbers this year and nearly doubled the next closest player in his 2022 production score. He was virtually a leader in all major metrics, like TD per attempt and yards per attempt. The way that Tennessee runs their offense has a major unmeasured effect on Hookers' actual value at the NFL level as well as the major knee injury.
---
2023 Rookie Running Back Class
Some Running Backs were left off the list because of their inability to perform at the combine or pro days. Those missing are Debo McBride, Kendre Miller, Mohamed Ibrahim, and Sean Tucker.
It is important to note that the production metrics for McBride and Miller were best in class in 2021, with Miller at #1 overall and McBride at #2. In 2022, similar numbers made McBride tied for #3 and Miller #7 overall. If they would have performed in the combine, they likely would have been top 5 in Degen Scoring.
Tier 1 Rookie Metric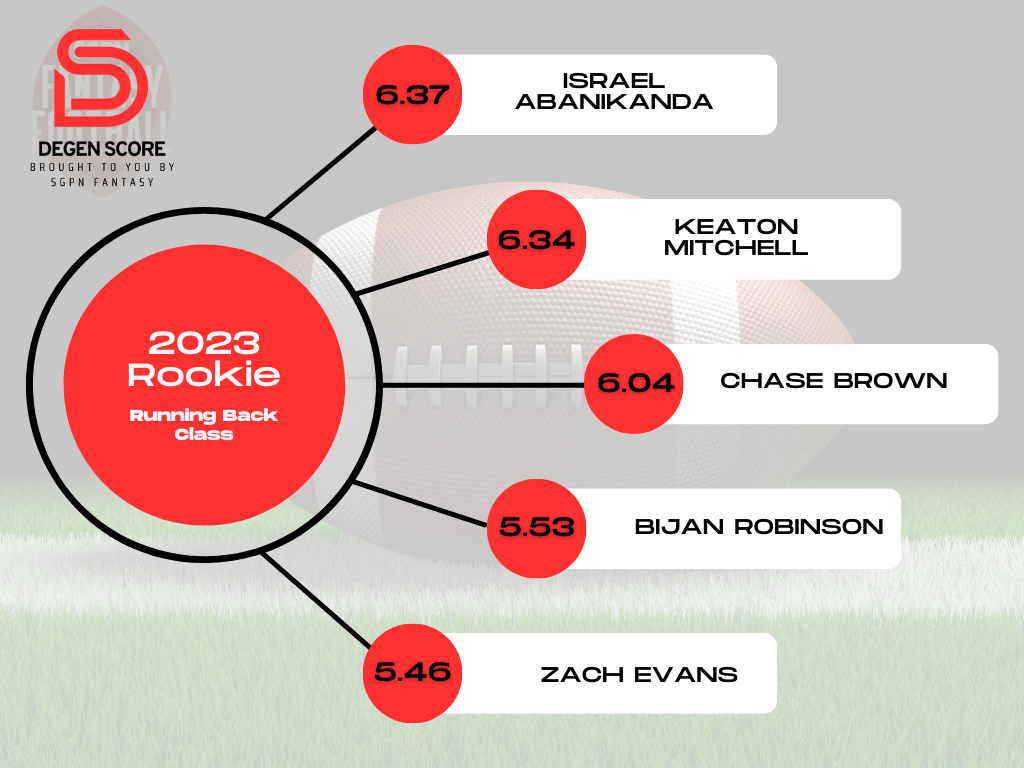 You can see the NFL Combine winners moving to the top. Keaton Mitchell pops into this group as a surprise. The level of competition plays a huge role in this and is currently not factored into the scoring system. Mitchell broke 75 tackles, which was good for second in the country among RBs that had over 150 attempts.
He also led the country in 10+ yard runs by a RB with over 150 touches. When the metric eventually takes into account an adjustment for the level of competition, he would likely be a tier below from a metric standpoint.
Tier 2 Rookie Metric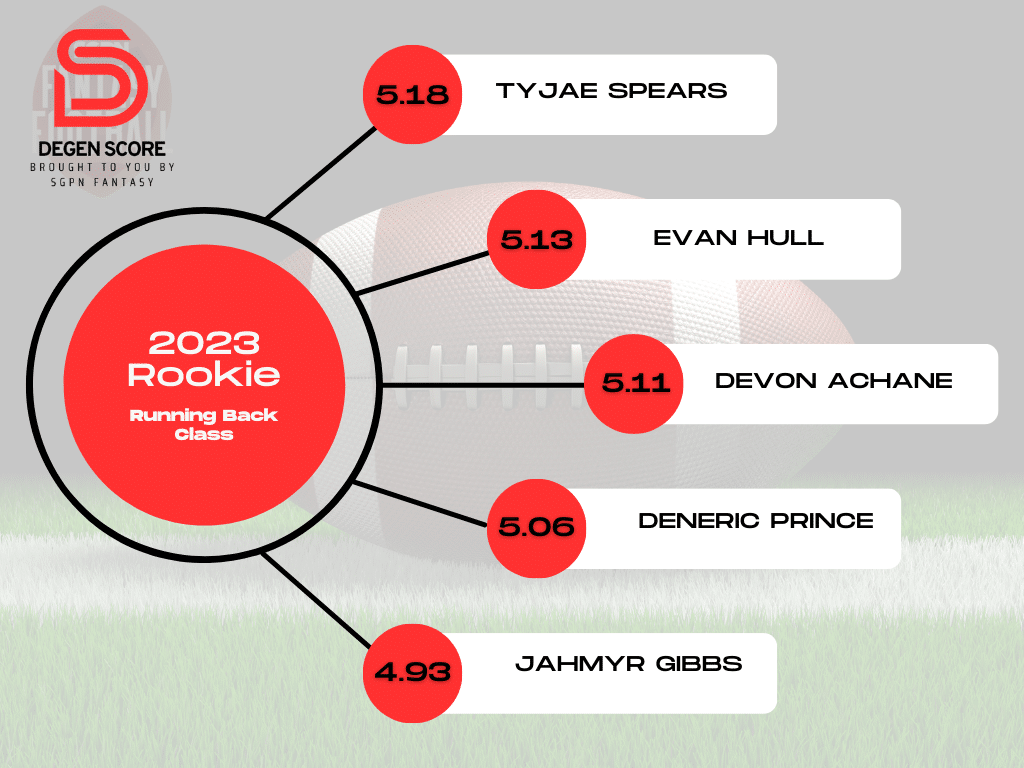 This tier surprised me a bit. To see names like Evan Hull and Deneric Prince up here show that the metric system can be an indicator that could lead you down the wrong path if not taken in context and combined with draft capital and film study.
Tier 3 Rookie Metric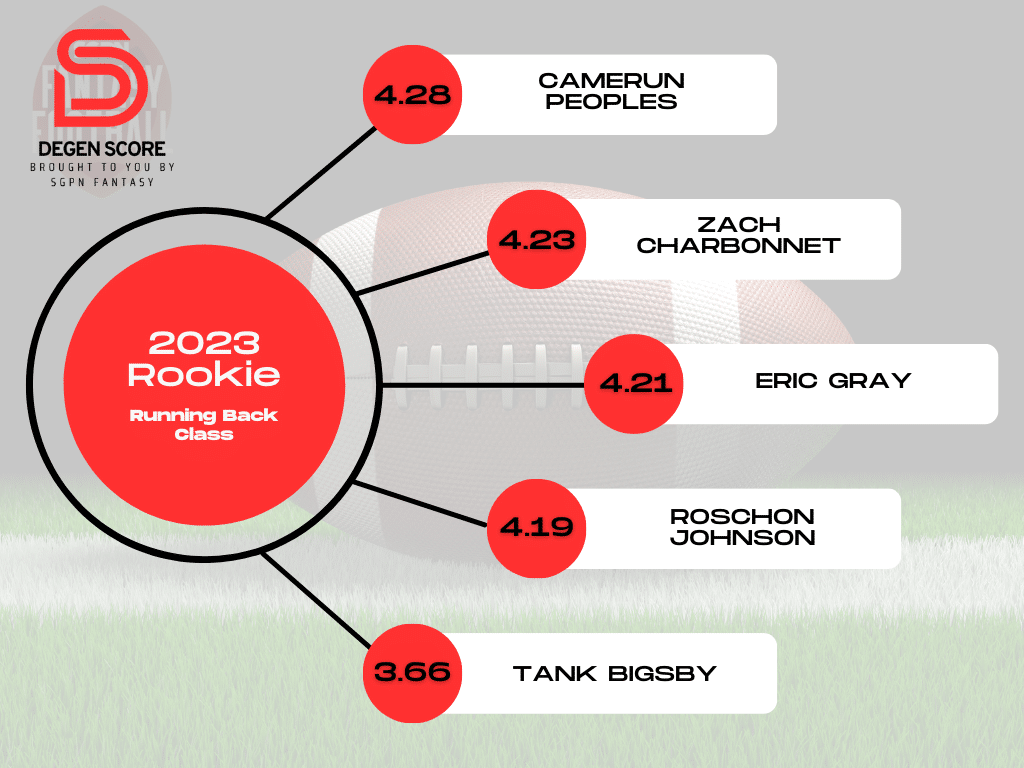 As the resident Charbonnet truther, I really need to re-evaluate the tape and see if what I am seeing defies the metrics or is because of the UCLA offense and competition. The lackluster NFL Combine performance didn't help any, either. Other than Charbonnet, this tier is full of hopeful prospects that we want to see land in the right situation.
---
2023 Rookie Wide Receiver Class
Some notable WR may be lower on the metrics due to a lack of NFL Combine data or not participating in the full range of drills needed for our metrics.
Tier 1 Rookie Metric
This tier is the tier of playmakers. We see the speedsters and big play guys in Johnston and Njigba. The one outlier in this group is Mingo, but the draft chatter is there that could prove this metric to be useful.
Tier 2 Rookie Metric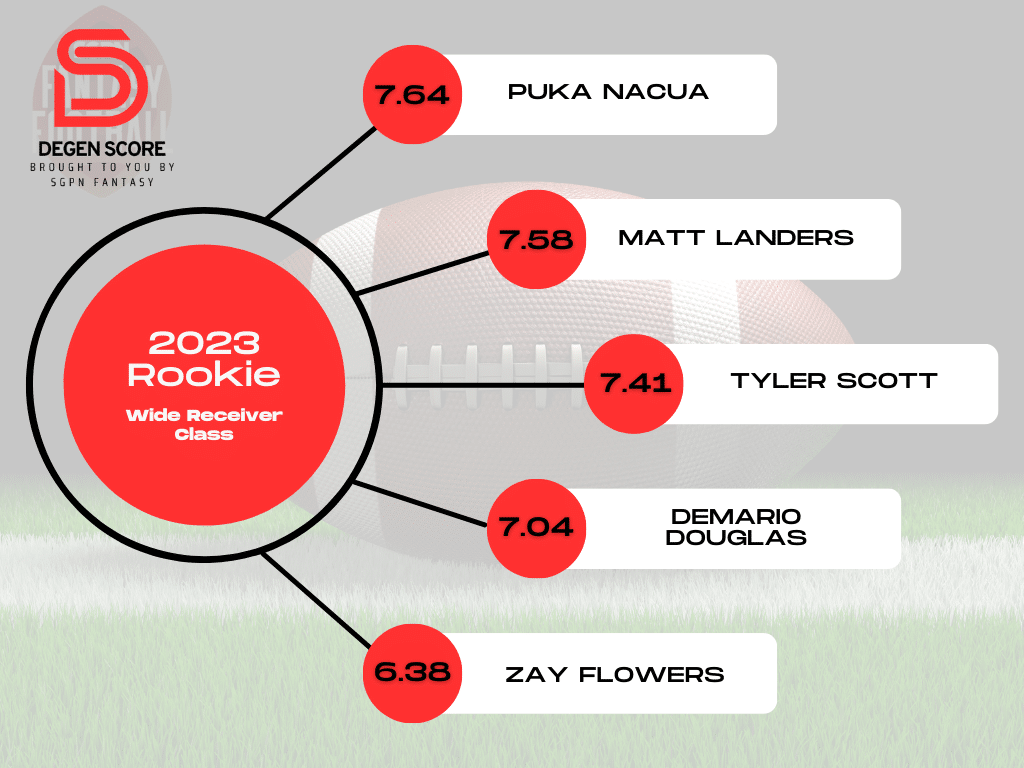 How many of you are paying attention to any of these players outside of Zay Flowers?  These players had one metric that was really pushing them above others when combined with their catch percentage, and that is yards per route run. All of them were around 2.5 yards or more which is well above the first-quartile benchmark of 2.22.
Tier 3 Rookie Metric
Outside Antoine Green, this tier is surprisingly low, but to me, they are the reliable guys. The guys that are solid chain movers, whether contested catches or winning with route running but not necessarily the guys that are going to wow you. Green is a guy, not many people are talking about but could surprise you. He had a large ADOT, can make people miss, and led North Carolina in yards per route run.
---
2023 Rookie Tight End Class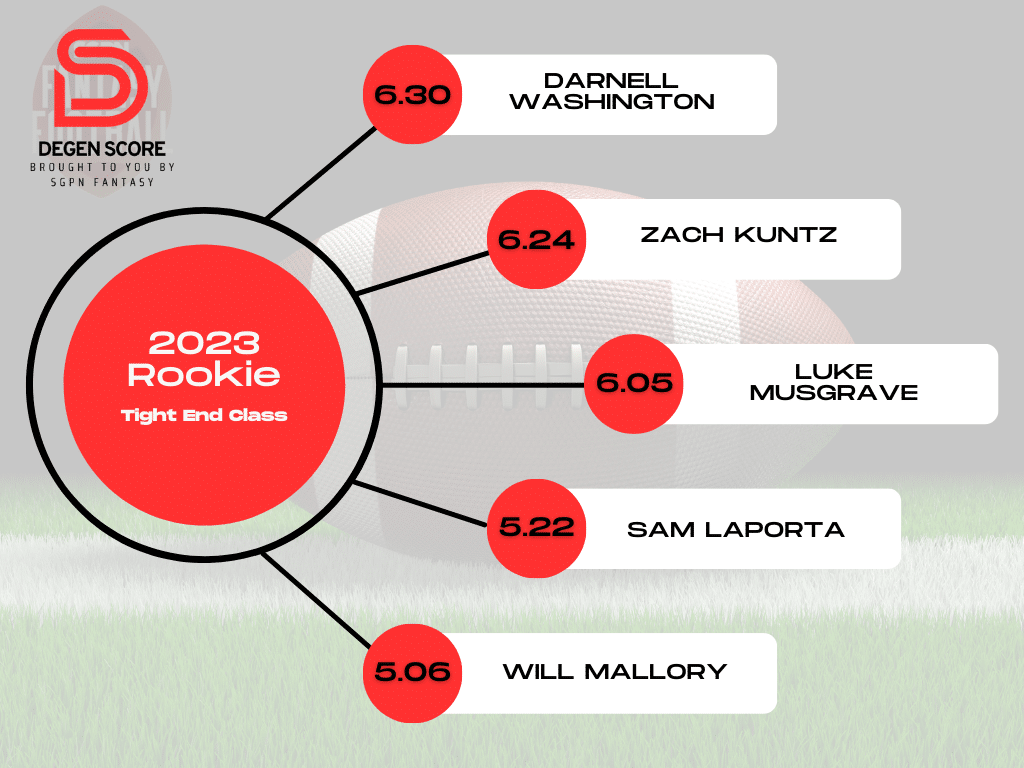 A few notable names are missing from this in Mayer and Kincaid. With Kincaid missing his pro day and combine, his score wasn't indicative of his placement. He was third in the production metric in both the 2021 and 2022 seasons out of this class. We all know that Mayer is not an athlete but a football player, and that is something to understand during your rookie draft.