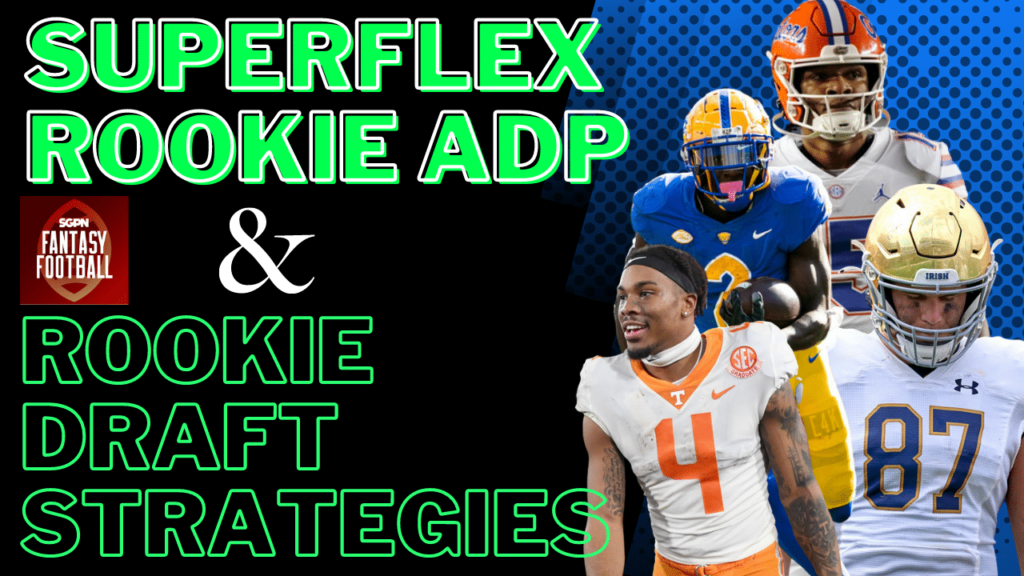 Dynasty rookie drafts are right around the corner, and we have been doing a lot of mock drafts. Building up our Superflex Rookie ADP (average draft position) to help you prepare for upcoming drafts. The key to having a good draft is maximizing the value of your picks.
That might mean filling needs, and that also might be turning three picks into five players. There are different ways to get it right, and every team is different. We are going to talk in general as well as walk through different scenarios. First, we will talk about our Superflex rookie ADP based on recent Superflex rookie mock drafts. Then we will talk about strategies for different situations.

MORE SGPN FANTASY FOOTBALL CONTENT
Follow SGPN Fantasy Football on Youtube
Superflex Rookie ADP and Draft Strategies
Superflex Rookie Mock Draft ADP
Number of Drafts: 58 Superflex Rookie Mock Drafts
Settings: 12 Teams, 4 Rounds, Superflex, Rookie-Only Mock Drafts on Sleeper
Round 1
1.01 – RB, Bijan Robinson – Texas
1.02 – QB, C.J. Stroud – Ohio State
1.03 – QB, Bryce Young – Alabama
1.04 – QB, Anthony Richardson – Florida
1.05 – WR, Jaxon Smith-Njigba – Ohio State
1.06 – RB, Jahmyr Gibbs – Alabama
1.07 – WR, Jordan Addison – USC
1.08 – QB, Will Levis – Kentucky
1.09 – WR, Quentin Johnston – TCU
1.10 – RB, Zach Charbonnet – UCLA
1.11 – WR, Zay Flowers – Boston College
1.12 – TE, Michael Mayer – Notre Dame
Quarterbacks dominate round one of the rookie drafts and push talented players back. If you want a top quarterback, you are going to have to take them early. If they stay there, Zay Flowers and Zach Charbonnet at the end of the 1st would be great values. Michael Mayer is a reach, especially considering you can get Dalton Kincaid in the middle of the 2nd.
I would flip those two personally, and we could see that after the draft. Most people have JSN in a tier by themselves; if you want him, you will have to trade up to the top five. His ADP is five overall, and he went as high as four and as low as six.
Round 2
2.01 – WR, Jalin Hyatt – Tennessee
2.02 – WR, Josh Downs – North Carolina
2.03 – RB, Devon Achane – Texas A&M
2.04 – RB, Sean Tucker – Syracuse
2.05 – RB, Zach Evans – Ole Miss
2.06- QB, Hendon Hooker – Tennesee
2.07 – RB, Tank Bigsby – Auburn
2.08 – WR, Cedric Tillman – Tennesee
2.09 – TE, Dalton Kincaid – Utah
2.10 – WR, Kayshon Boutte – LSU
2.11 – RB, Kendre Miller – TCU
2.12 – RB, Tyjae Spears – Tulane
The 2nd round ADP shows off the depth of this Running Back class. Draft capital and landing spots will shake this group up, but you still may only see three in the 1st round. This leaves a lot of great talent here in the 2nd; this is a dream for RB-needy teams. If Hendon Hooker gets 1st round draft capital, he might go earlier than this.
He could go later if he goes late on day two of the NFL Draft. Dalton Kincaid, I also think, is going to jump up this list. A solid list of players shows you how valuable these 2nd round picks are. You will be receiving a lot of offers for 2nd round picks or early 3rds, don't sell unless you value that player above this list.
Round 3
3.01 – RB, Roschon Johnson – Texas
3.02 – RB, Chase Brown – Illinois
3.03 – WR, Rashee Rice – SMU
3.04 – TE, Luke Musgrave – Oregon State
3.05 – WR, Marvin Mims – Oklahoma
3.06 – RB, Israel Abanikanda – Pittsburgh
3.07 – WR, Jayden Reed – Michigan State
3.08 – TE, Darnell Washington – Georgia
3.09 – RB, Duece Vaughn – Kansas State
3.10 – RB, Eric Gray – Oklahoma
3.11 – RB, DeWayne McBride – UAB
3.12 – WR, Rakim Jarrett – Maryland
This is a really great group and really shows the depth of the class. There isn't as much star power as expected, but this group has depth at all four positions. Some of these players could end up going to Round 2 after we see draft capital and landing spots. In your single quarterback drafts, this group is not as deep.
Round 4
4.01 – RB, Kenny McIntosh – Georgia
4.02 – WR, Xavier Hutchinson – Iowa State
4.03 – QB, Tanner McKee – Stanford
4.04 – WR, Parker Washington – Penn State
4.05 – QB, Stetson Bennett – Georgia
4.06 – RB, Evan Hull – Northwestern
4.07 – WR, A.T. Perry – Wake Forrest
4.08 – TE, Marshon Ford – Lousville
4.09 – WR, Tank Dell – Houston
4.10 – TE, Zack Kuntz – Ole Dominion
4.11 – WR, Tyler Scott – Cincinatti
4.12 – RB, Mohammed Ibrahim – Minnesota
This an interesting group, and I was surprised how high some of these players went. But that is the beauty of fantasy football; not everyone has the same rankings. The likelihood of any 4th round pick is definitely lower than the players you are picking in round 1. But there are still some players in this round and undrafted that have some potential.
Top 10 UDFAs in order
1. WR, Jonathan Mingo – Ole Miss
2. WR, Trey Palmer – Nebraska
3. QB, Max Duggan – TCU
4. TE, Tucker Kraft – South Dakota State
5. QB, Jaren Hall – BYU
6. QB, Dorian Thompson-Robinson – UCLA
7. WR, Charlie Jones – Purdue
8. RB, Keaton Mitchell – ECU
9. WR, Bryce Ford-Wheaton – West Virginia
10. WR, Michael Wilson – Stanford
There are a few players that went undrafted that are in my recent Sleepers article. I think draft capital and landing spots will help a few of these players. Specifically Michael Wilson and Jonathan Mingo. But there are definitely some other players on this list that could jump into the top 48.
Superflex Rookie Draft Strategies
Mock Draft, Mock Draft, and Mock Draft Some More!
In general, the first thing you need to do is your homework. Don't be that guy that crams the night before the test. Do as many mock drafts as you can use the format of your league. Mock drafts will help you get a feel for your draft spot. You can practice taking RB early and waiting on WR and see how you like the value.
Personally, based on my mock drafts, I see the opposite. The RB value is deep, and the WRs dry up pretty quickly. Knowing the ADP will also help you not reach. Make sure the ADP matches your league settings; our most popular is Superflex rookie mock drafts.
Be Proactive with Trades
Part of maximizing the picks is not reaching. If a player is ranked 8th and you get him at 15, that is a big win. If he is ranked 15th and you take him at 8, that is not maximizing value. Trade back a few spots and take him at 12 plus a pick. Trading is a business, and you should treat it as such. Do not wait until draft day and start scrambling. Work the phones the week before the draft.
I usually recommend waiting until draft day and seeing the board before you make your moves. Set up some contingency plans and know who is looking to move up or back. Then, start talking about what those trades might look like. Find out what veterans are available. You do not want to see a trade go down, and you missed out on a player you didn't know was available.
Do Your Own Rankings
Doing your own rankings based on your values and your team greatly helps. You can start with our rankings and then build your rankings from there. Ensure your rankings match your league settings. Remember, this article is based on Superflex rookie mock drafts. Tiered rankings are very helpful in maximizing your value.
If you are picking ten and you have six players that you have in the same tier. Trade back 4-6 spots and get the best available, plus another pick. These are the moves that win you championships. Don't rush the pick, even if the group chat is trying to pressure you. Getting that extra 2nd to use next year or to use in November at the trade deadline will be huge.
Contenders
Your team is good; you most likely are shopping for need. You can do this more than one way. Trading those late picks for veterans that can produce now is a good way to load up. You can move up the board when everyone else is trying to move back. I love trading back and collecting picks, but we all know the best players are at the top.
Go get your top-ranked players. Contenders also have the luxury of just sitting back and letting the board fall to them. Letting everyone reach for need and just letting value just fall into their lap.
Rebuilders
Patience is key for rebuilders, and the more you max out those picks, the faster you can rebuild. I love Bijan Robinson, but if you are rebuilding, you HAVE to trade the pick. You can get a bounty for it, which can set your team up for yours. Trade back and then trade again. You could easily trade Bijan for 1.06 + 2024 1st. Being conservative here, I have seen trades like 1.06 + 1.12 + 2024 1st.
You could then trade 1.06 for 1.11 + 2024 1st or two 2nds. Take advantage of everyone that wants to win now. I traded 1.03 (Jonathan Taylor) for 1.07 + 1.10 + future 2nd. Turned Jonathan Taylor into Justin Jefferson and Justin Herbert. Trading is a business, and you should treat it as such. Do not wait until draft day and start scrambling. Work the phones the week before the draft.
RELATED CONTENT