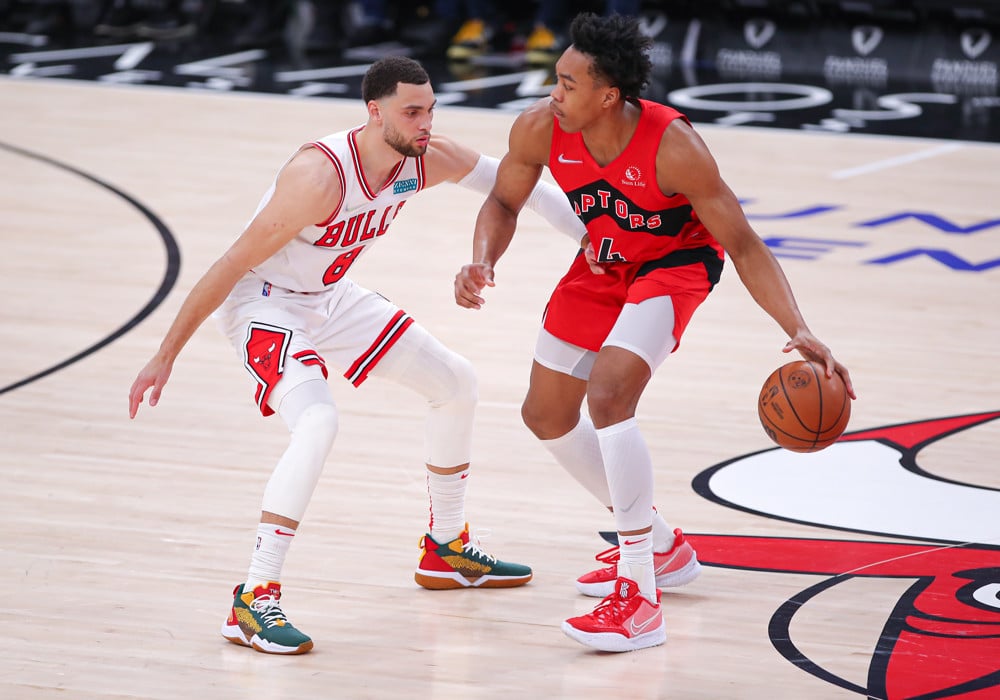 Happy Wednesday! We are back with another same-game parlay for the play-in games. We fell short yesterday, but we have an opportunity to get that back, plus more tonight. I have highlighted some of my favorite bets from each game tonight and compiled them into a juicy parlay that is well worth the sweat.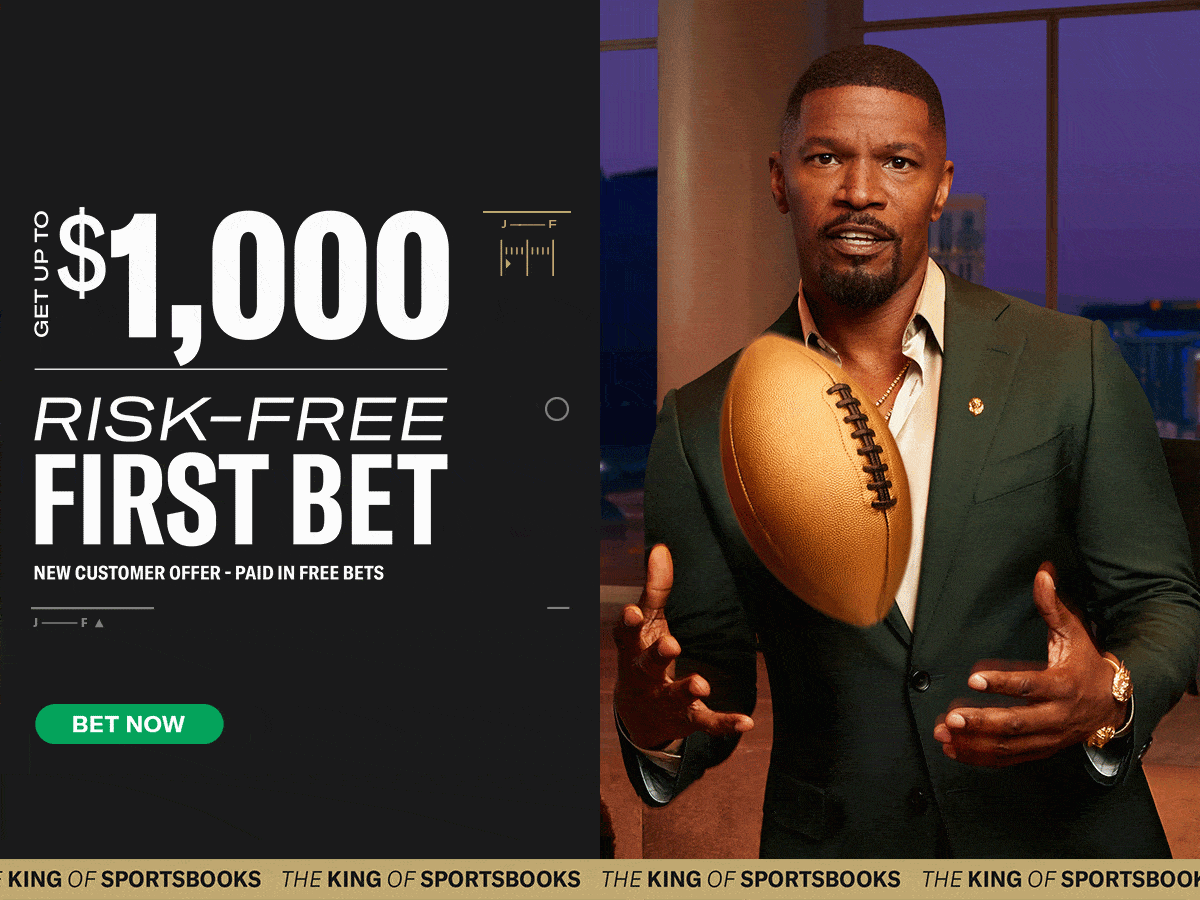 NBA Play-In Same Game Parlays – April 12th
Chicago Bulls @ Toronto Raptors
Total Under 214.5
Historically this matchup has been an under-fest. The last five meetings have gone under, with totals slightly higher at an average of 221 per game. In those five meetings, one team failed to get to 100 in four of those games.
The defenses will be the best units on the floor. They each rank in the top 12 from a defensive rating perspective. Toronto is slightly better offensively, but both teams do not shoot it well. I look for this to be a rock fight of a game and finish in the low 100s.
Fred Van Vleet 8+ Assists
Assuming Beverly is his primary defender, I expect more playmaking from Fred. He averaged 8.0 assists in the three regular-season matchups, and this was without Beverly.
fred vanvleet's record setting 20 assists pic.twitter.com/O0hermFIY4

— William Lou (@william_lou) April 3, 2023
Not many ball handlers initiate offense as much as Fred, which increases his ceiling. Over his past ten games, he is averaging 8.4 assists per game, including a 20-assist game less than a week ago. However, I think the scoring is dialed back from him due to the Bulls' perimeter defense which will result in him getting others involved early and often. 
Scottie Barnes Under 15.5 Points
The Bulls' defense has given Barnes problems this season, and this was before they morphed into what they are now. The length and size of the Chicago wings are likely to turn Barnes into a jump shooter. However, much of his success comes from getting downhill and finishing at the rim. Bulls do not have elite rim protection, but they limit dribble drives well and defend without fouling.
In three matchups against the Bulls, he averaged 11.6 and went under this number in two of those. Barnes also failed to exceed this number in seven of his last ten games, including recording single digits in four.
Demar Derozan 25+ Points
If the Bulls are going to pull the upset in Toronto, it's going to be on his back. He will be in familiar territory where he has played well as a visitor. In his 13 career games against the Raptors, he has had 25 or more in six of those. More importantly, four of those have been in a Chicago uniform.
DeMar DeRozan will face off against the Raptors in Toronto in the play-in tourney.

The return. 👀 pic.twitter.com/CaeGwiuTkv

— Legion Hoops (@LegionHoops) April 11, 2023
His struggles in the regular season scoring against the Raptors only adds fuel to the fire. The Raptors rank bottom five in mid-range% defense, which is not where you want to be weak against Demar. So I would not be surprised if he scored 30+ tonight. 
Patrick Beverly Under 6.5 Points

 
He is likely to be matched up with Van Vleet. I don't think the offense will be on his mind. Something that I have been monitoring with Beverly is that, down the stretch, he's not in the game. The Bulls go more with Coby White or Ayo Dosunmu for more offense, so defenses can't load up on Zach and Demar.
He has seen under 25 minutes in seven of his last ten games while also going under this point total in that span. He's failed to score or only had two points in four of those games. Simply put, I don't expect any offense from Beverly. His main focus will be to slow down Fred at the point of attack.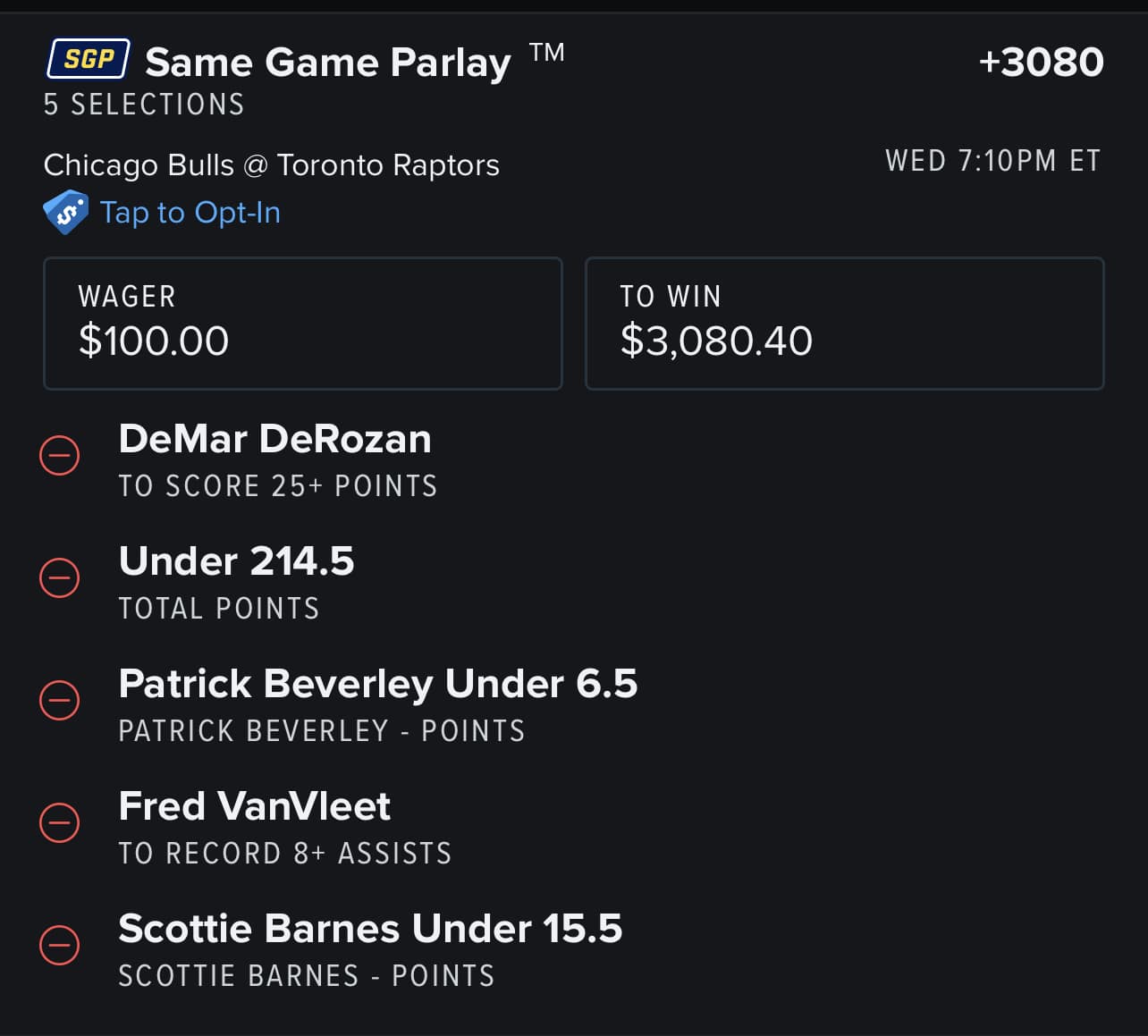 Oklahoma City Thunder @ New Orleans Pelicans
Total Under 228
Both of the more recent meetings for these teams went under. I use those two meetings specifically because both teams were pretty much at the level they are at now. Both defenses are familiar with the respective offenses, and the game will ultimately be determined by the adjustments. The pace of play should be played rather slowly due to the familiarity and physicality of these play-in games seem to be played at.
The Pelicans are 1st in three-point percentage defense and hold the 2nd spot rating-wise defensively in their last 20 games. Thunder ranked 12th defensively in the previous 20 games and have been playing unbelievably well down the stretch on that side of the ball. This is the lowest total of the previous meetings for a reason.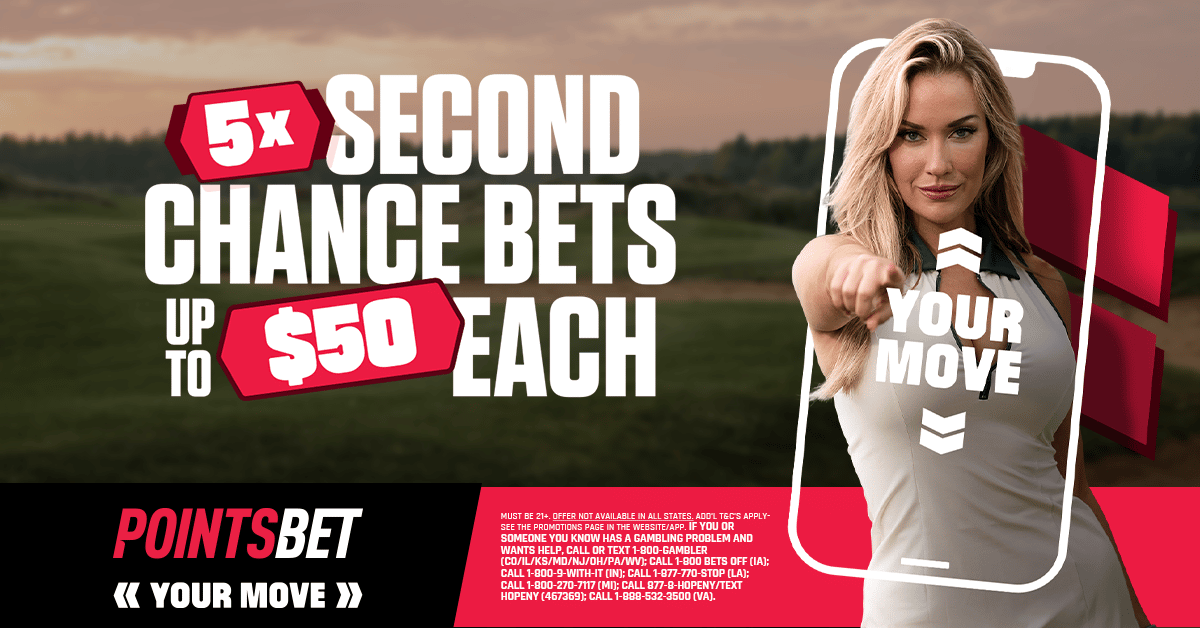 CJ McCollum 8+ Assists

 
in two meetings this season, CJ averaged 9.0 assists per game. His point guard role has been expanded with Ingram's success over the last few months. In this game, I think that it will be on full display. Late in the game against the Wolves, the offense got away from Ingram, and CJ took some ill-advised shots.
The game plan tonight should be for him to facilitate more to get Ingram and Trey in their spots. He had 11 assists in the first meeting, and I think the game script plays out a lot like that game. 
Jonas Valanciunas 12+ Rebounds
The Thunder do not have a traditional center or even anything close. They play a lot of small ball with Jaylin Williams at the five and sometimes go to Saric. Jonas has had ten games where he has had 12 or more rebounds in his last 13. There is not much resistance that will stop him from dominating the glass.
The Thunder have allowed opposing Centers to grab 10+ rebounds in 11 straight games, including multiple players in one game on several occasions. So I see no reason why Jonas should not have 15 or more against this front line. 
Trey Murphy 20+ Points

 
The defensive game plan will be centered around Brandon Ingram, who has been on fire for a few months. In order for the Pelicans to have success against OKC's perimeter defense, Trey has to perform at a high level. He has been getting a lot of open looks due to the doubling of Ingram, which should continue tonight.
Trey Murphy sophomore leap:

Last season — This season —
5.4 PPG 14.5 PPG
0.4 SPG 1.1 SPG
1.1 3PM 2.6 3PM
39/38/88% 48/41/91%

Most 3-pointers by a sophomore this season. pic.twitter.com/wFI8FMOndv

— StatMuse (@statmuse) April 10, 2023
He averaged just under 20 points (16.7) in the three meetings prior but is a different player than he was back in November and December. Murphy shoots 41% from deep and has gone over 20 in four of his last seven outings. Look for Murphy to have a big night, with the emphasis being on containing Ingram. 
Jalen Williams Over 5.5 Rebounds

 
The Thunder lack size and interior depth. Look no further than Josh Giddey being their leading rebounder. Due to that disadvantage, the guards have to rebound the ball at a higher rate. Over the past two months, Jalen has been incredible on both ends of the floor. He averaged six rebounds in the three meetings and had seven in two of those meetings.
There has to be assertiveness by Williams to help out Giddey and company on the glass, and lately, he has done just that. J-Dub has gone over this number in 11 of 17, and I think his strong rebounding continues tonight.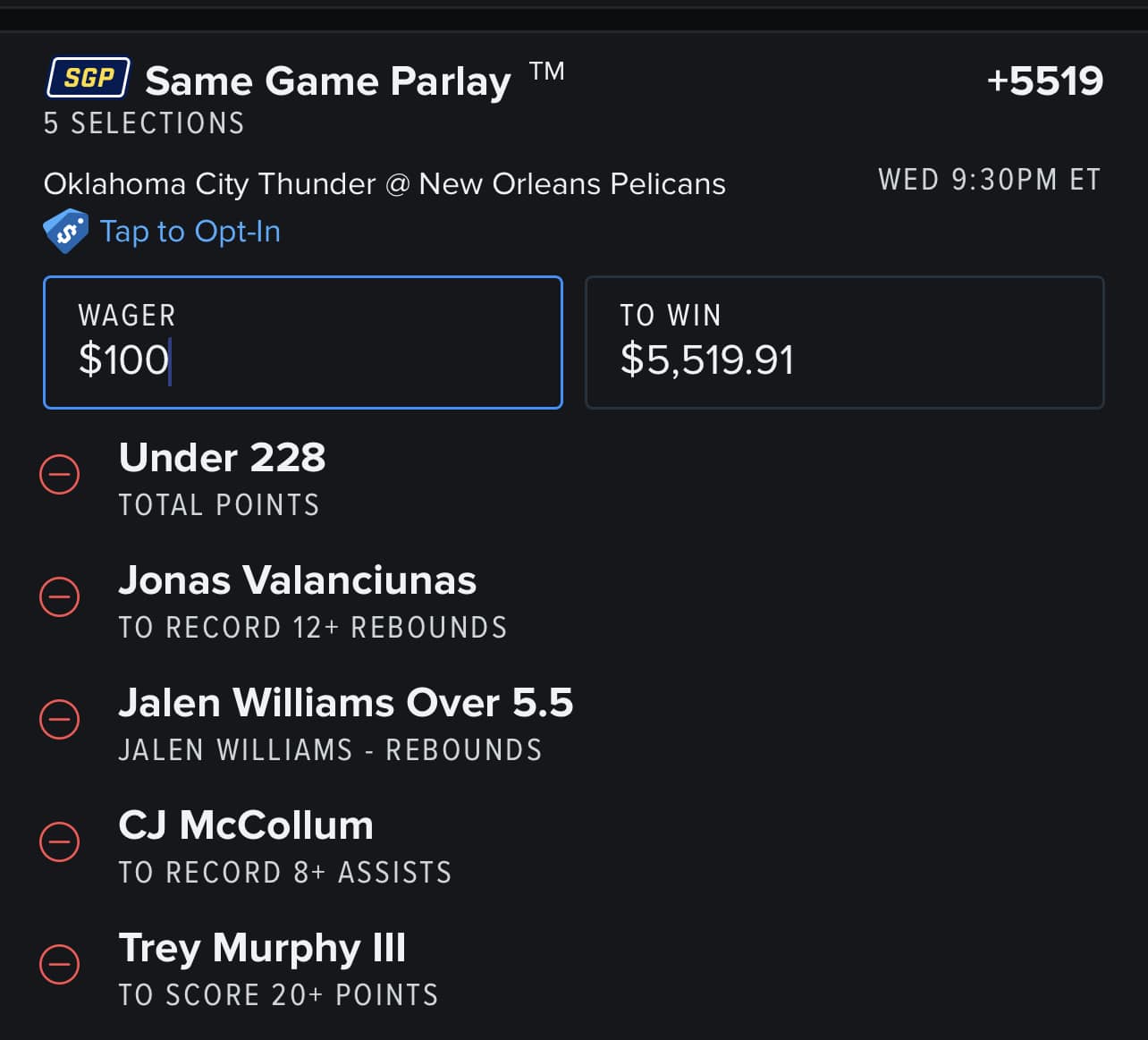 RELATED CONTENT