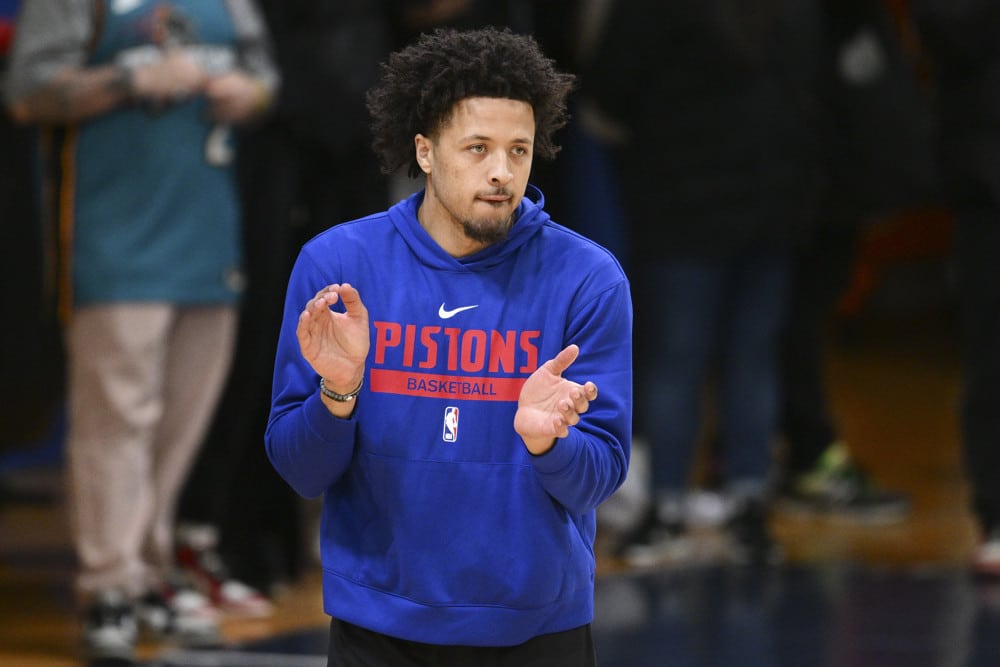 There's no time for rest when competing in a fantasy basketball dynasty league. You may have already crashed out of your league's playoffs this season, but that doesn't mean you can rest on your laurels. Instead, it would be best if you looked to the future. With that in mind, here are some top fantasy basketball dynasty stashes to rebuild your roster.
Go here for daily free NBA picks!
Top Fantasy Basketball Dynasty Stashes
Cade Cunningham – Detroit – PG/SG – 41% Rostered
(19.9 PPG, 6.2 RPG, 6.0 APG, 0.8 SPG, 0.6 BPG, 1.4 3PTs)
Well, duh – the top overall pick in 2021 is worthy of a stash in dynasty leagues. Ya, I know – obviously. However, I include him here because he may be a guy you can get cheap (relatively speaking) based on him missing basically all this season after shin surgery. His value is probably as low as it's going to get for a player who can fill out a stat sheet as he can.
Bones Hyland – Clippers – PG/SG – 32% Rostered
(11.6 PPG, 2.3 RPG, 2.9 APG, 0.7 SPG, 0.3 BPG, 2.1 3PTs)
Bones Hyland could be a buy-low candidate, considering he hasn't been given much run since being shipped to the Clippers. However, he's proven to be a capable scorer and three-point shooter and gets decent assist numbers. With aging, injury-prone players ahead of him on the Clippers' roster, such as Russell Westbrook and Paul George, his time should be coming sooner rather than later. Case in point – he finally saw action again a few days ago with Geroge on the sidelines and posted a line of 16-4-7-1-1.
Bennedict Mathurin – Indiana – SG/SF – 59% Rostered
(16.4 PPG, 3.9 RPG, 1.4 APG, 0.6 SPG, 0.1 BPG, 1.3 3PTs)
Bennedict Mathurin will be harder to acquire than Hyland if you don't already have him on your roster. He's stepped onto the NBA court his rookie season and showed he can score with ease. My concern with him is that he is solely a scorer. He may not become anything more than that, considering he wasn't much of a rebounder or defender in college, either. But he can put the ball in the hoop, so he's covered you.

Tari Eason – Houston – SF/PF – 35% Rostered
(9.3 PPG, 5.9 RPG, 1.0 APG, 1.1 SPG, 0.6 BPG, 0.7 3PTs)
Rookie teammate Jabari Smith Jr gets more hype, but Tari Eason has had a solid first campaign in the big show. I like that he didn't hit the rookie wall this year. His best performances have come in the last two months. I also like that he brings the defensive stats to your team, as he did in college. Plus, he's hardly rostered, so you can grab him for free off waivers.
Trey Murphy III – New Orleans – SF/PF – 70% Rostered
(13.5 PPG, 3.7 RPG, 1.4 APG, 1.1 SPG, 0.5 BPG, 2.4 3PTs)
Trey Murphy III has broken out in his sophomore season in New Orleans, besting his rookie numbers by leaps and bounds. I like him a bit more than Mathurin because he brings you over a steal a game, plus he's a three-pointer marksman, hitting 2.4/game at an almost 40% success rate.
With the Pelicans stars seemingly always on the sidelines in street clothes, the opportunities should always be there for him to get plenty of playing time. He'll be harder to pick up for free now than the other names on this list.
Jalen Duren – Detroit – PF/C – 39% Rostered
(8.7 PPG, 8.7 RPG, 1.2 APG, 0.6 SPG, 0.9 BPG, 63.5% FG)
Jalen Duren just turned 19 in November and is only rostered in 39% of leagues out there, so those are a couple of positives going his way. He's produced an excellent stat line in 25 minutes of action in his rookie season. You've got to love his rebounding numbers. He also was a great shot blocker in college, so you'd expect that number to get above one per game and k on climbing as he gets accustomed to NBA play. The addition of fellow big man prospect James Wiseman to the team hasn't negatively affected his production, either.
Others worth considering: Onyeka Okongwu, Jabari Smith Jr, Dyson Daniels, Alperen Sengun
If you'd like even more information that could help your knowledge of NBA fantasy, be sure to check out the NBA Gambling Podcast. The guys are dropping weekly episodes to make you the smartest guy at the bar. 
Related Content