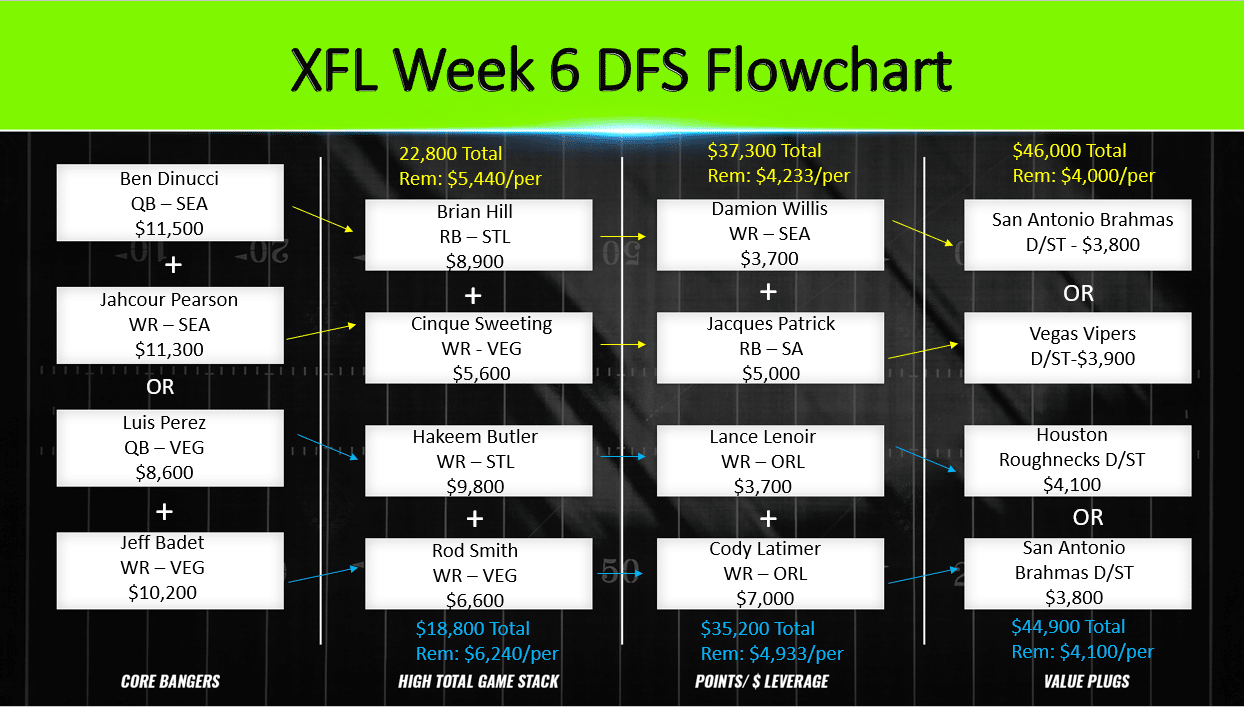 Go here for daily free XFL picks!
Spring football daily fantasy is never an easy thing. With different players stepping up week in and week out and others falling off the wayside, dialing up a winning lineup is tricky. With so many teams using two quarterbacks, it becomes even more difficult. So, what do we do? One option is to follow one of our XFL Week 6 DFS Flowchart paths.
Last week was the first week we didn't profit. However, I'm feeling a bounce back. Through stacks, chasing high-scoring games, and looking for value, we build our paths and hope for a bit of luck to fall our way. Let's take a look at why I chose these paths. This week was the hardest because two of our better offenses play against the better defenses.
Exclusive SGPN Content
The Alt Fantasy Sports Podcast
XFL Week 6 DFS Flowchart
Start With DFS Stacks
As with all DFS, chasing stacks is a good idea. They got even more challenging this week because our top quarterback and wide receiver combo are at their highest price yet. DiNucci has averaged 21.7 fantasy points a game. The Guardians allow more passing yards in the last two weeks than anybody in the league. So we stack him with his top target, Jahcour Pearson. Pearson averages 16.8 points a game and leads the target share for the Sea Dragons.
In the second stack, I went with a player I hadn't drafted our flowchart before, Luis Perez. Perez has only started two games. In both of those games, he's thrown for over 240 yards and three touchdowns. I paired him with his top target, Jeff Badet. Last week Badet had five receptions for 80 yards and two touchdowns. It's his second game with multiple touchdowns. With Perez only being $8,600, it helped the budget as well.
Chasing Points
The highest projected game by the books is St. Louis vs. Vegas game at 44 points. This will also lead me to have a lineup with an A.J. McCarron and Hakeem Butler stack. However, for this instance, in the first lineup, I took Brian Hill and Cinque Sweeting. Hill has been a great running back, averaging 16.1 points per game, and this Vegas team is not good at stopping the run. Sweeting hasn't had a big game since Week 1. However, he gets targeted often with Perez at the helm and is good value.
I went with the previously mentioned 6-5 Hakeem Butler in the other stack. He has been unstoppable, averaging 18.1 points per game. Last week was his first week without a touchdown, but he still had nine receptions for 86 yards. In the past three weeks, he's averaged over seven catches a game.
I also took Rod Smith. Last week Abram Smith ran for 218 yards and three touchdowns against these BattleHawks. Rod Smith isn't as strong of a runner, but he should still be able to rack up some points. Unfortunately, I couldn't afford Abram Smith in my XFL Week 6 DFS flowchart.

Looking for Values
My first lineup took another Seattle player to stack with DiNucci and Pearson. Damion Willis really came on last week, taking Blake Jackson's target share and finishing with five receptions, 61 yards, and a touchdown. I also took Jacques Patrick. This San Antonio team will win only if they get the run game going, and Patrick is a big part of that. He's a discounted $5,000, which could be a big game for him.
My second lineup took two Orlando players. While I feel this is a little dangerous, Quinten Dormandy looked like he could have this offense cooking. I took Lance Lenoir, who has had an uptick in usage over the past three weeks and is only $3,700. I also took Cody Latimer, who leads the team in targets, receptions, yards, and touchdowns. Last week he had 29.4 fantasy points, catching all eight targets for 124 yards and a touchdown.
Defense
Defenses were much harder to pick because I was limited on funds. The play I feel the best about for what I could afford is the San Antonio Brahmas against the Arlington Renegades. Sloter turns the ball over too often, and the Brahmas have a decent defense. I also took a look at the Roughnecks.
They're a top defense but face a strong D.C. team. Last, I took the Vipers. This was simply because it was the Vipers against the Battlehawks or the Guardians against the Sea Dragons. I'd rather have the Vipers of the two.
Related Content