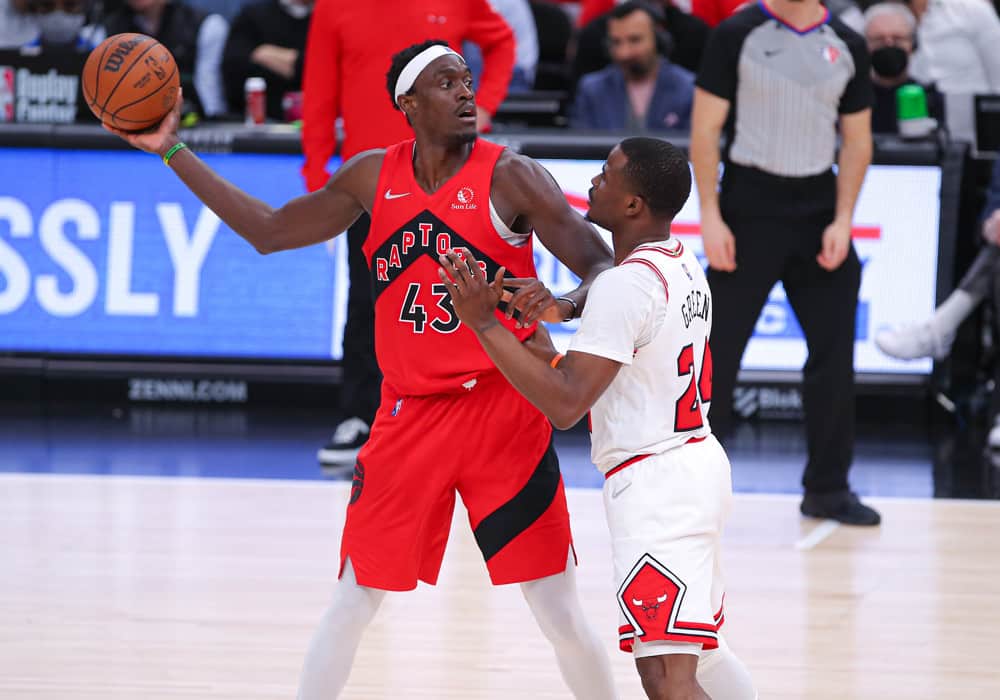 NBA Daily Fantasy Lineup for Wednesday – March 22nd
Two-thirds of the NBA is in action this Wednesday. With such a thick slate of games in the middle of the week, you might be overwhelmed with NBA daily fantasy options. Luckily for you, we did all the heavy lifting. We weeded through all 20 teams in action to put together a winning lineup to get your week back on track.
Go here for daily free NBA picks!
NBA Daily Fantasy Lineup for Wednesday – March 22nd
PG – Mike Conley – MIN – $6,400
Conley is always the guy who will spread the stat sheet a bit. He's always good for a handful of dimes and a few boards. As of late, though, he's been busier with the scoring and the rebounding. This Wednesday, he steps into a contest with a team that ranks 20th in rebounding percentage and 24th in points allowed. With a nice assist floor, this should spell a nice night for Conley.
SG – De'Anthony Melton – PHI – $5,400
Was thinking about this DeAnthony Melton game the other day

33 PTS
7 STL
8-12 3PT
92% TS

Definitely one of the best two-way performances of the Season
pic.twitter.com/uA3oJPRG74

— (@SirEMBIID) March 13, 2023
Each time I post one of these, there is a play that I'm passionate enough to call a 'must-roster' and that's Melton for this week. Is he a lock to put up insane numbers? Of course not, but who is? However, I can tell you that he's gone for over 40 fantasy points in each of the last two games. Wednesday's contest will not only be against one of those opponents in the Bulls, but they also rank 24th in the league in giving up fantasy points to guys who play the 2/3.
SF – Michael Porter Jr. – DEN – $6,200
This isn't a play I like so much based on matchup – but one I'm in on due to the trend. Porter Jr is hot as of late. He's cracked 30 fantasy points in four of his last five and 35 fantasy points in three of those. His salary has constantly been growing since the beginning of the month, so get it before it gets to where it should be.
PF – Pascal Siakam – TOR – $8,800
the siakam swirl pic.twitter.com/csPtvU9lIC

— William Lou (@william_lou) March 17, 2023
There are two apparent issues with Indiana. They give up too many points (27th in points allowed) and too many rebounds (28th in rebounding percentage). So if I go out of my way to spend big on one player, it's Siakam. He's run three straight double-doubles and was close to triple-doubles on all of those. Let the good times roll for another big night.

C – Nikola Vucevic – CHI – $7,900
The Bulls center is coming off of six straight double-doubles. The three games prior, he was never more than a rebound short. Those numbers alone make this NBA daily fantasy salary worth the cost. If he continues to sprinkle in the deep ball, he should blow the projections out of the water.
G – Joe Ingles – MIL – $4,400
Speaking of the deep ball, Ingles has made himself valuable using it – particularly recently. March 4th was the last time he didn't hit multiple threes. He'll be up against San Antonio, who is giving up nearly 13 from down town a game on the road. Considering the Bucks will probably run this up early, I like the bench player Ingles to get plenty of burn here.
F – Kelly Olynyk – UTA – $6,700
The Gonzaga grad finished just two dimes away from a triple-double on Monday night. In the past few games, that isn't much of an anomaly, as he's running the board up to right around ten and the assists in the six to eight range. The Blazers are awful on the boards (23rd in percentage) and are miserable in giving up points to power forwards (27th in the league).
UTIL – Doug McDermott – SAS – $3,800
An astounding 92.9% of Doug McDermott's field goals have come off two or fewer dribbles this season.

Masterful off-ball scorer who consistently finds holes by relocating, cutting, and manipulating screens. pic.twitter.com/kxEUHlQlsE

— Noah Magaro-George (@N_Magaro) March 14, 2023
After not playing for roughly a week, McDermott made it back into the Spurs rotation on Monday night. The hip injury that sidelined him didn't seem to affect his minutes, as he easily ticked over 20. If the Spurs get more comfortable with him, there's a chance he returns to that guy who was putting up mid 20s and early 30s in fantasy points, which would make this NBA daily fantasy salary a steal.
If you'd like even more information that could help your NBA daily fantasy lineup, be sure to check out the NBA Gambling Podcast. The guys are dropping weekly episodes to make you the smartest guy at the bar. 
Related Content