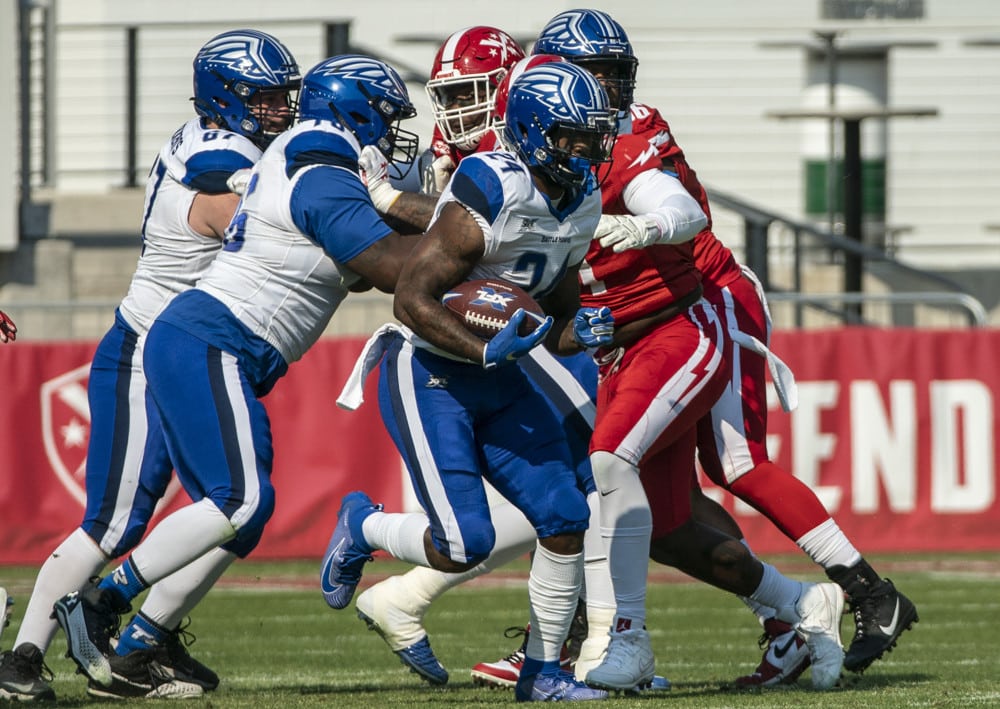 XFL Week Two Picks
The guys (@GamblingPodcast) give out their XFL Week Two picks as part of their XFL Week predictions podcast. They're joined by Colby Dant (@TheColbyD) from The XFL Gambling Podcast.
The first week of the XFL showed some promise and seems to have garnered some attention from the public. A clear flaw presented was the quarterback play, as it was made even more apparent how hard it is to be a great quarterback. Some quarterbacks were a perfect template of the abysmal quarterback play in the league this past week, especially with the likes of Paxton Lynch and AJ McCarron. There was a lot of interesting changes the XFL had compared to the NFL such as the attempt to keep the ball in the fourth quarter as well as the 3-point play on extra points. All in all, there was fan excitement at a good number of the games and for only one week, it seems to have made some solid noise.
St. Louis/Seattle: Seattle -3, Seattle -155, St. Louis +135, Game Total O/U: 36.5
Seattle had a good fan section last week and will be ready to host St. Louis in a cold battle. The quarterbacks in this matchup had somewhat rough weeks last week but could see some success this week. St. Louis seemed to have cohesive team play last week and could carry this momentum into the matchup.
Vegas/D.C.: Vegas -3, Vegas -170, D.C. +145, Game Total O/U: 36.5
The Defenders have a very solid overall team especially in the coaching area. However, Vegas battled well last week in their matchup and could battle well against the solid D.C. team. This game could be a clear indicator of two of the better teams in this league even though one will lose. There is a good chance that the Defenders have more fans in Vegas despite being on the road.
San Antonio/Orlando: San Antonio -3, Orlando +145, Game Total O/U: 38.5
The Orlando Guardians are widely considered the worst team in the league already, and Paxton Lynch reinforces this belief well. With a foolish focus on only Florida players, Orlando just seems outmatched. Going against San Antonio in this one will be really hard as Orlando is still figuring out their quarterback situation. The relatively high game total makes the under interesting when Orlando is abysmal and San Antonio seems to not be a high-flying offense.
Arlington/Houston: Houston -4, Arlington +165, Game Total O/U: 40
The Roughnecks host a monster in the defensive line in Trent Harris who had 4 sacks. Wade Phillips' defense made him look like a genius, but this could just be because they faced Orlando last week. On the other side, coach Bob Stoops made great adjustments and should be prepared to handle what the Roughnecks bring.
XFL Week Two Predictions
Kramer Lock: Seattle
Kramer Dog: D.C.
Kramer Bonus Lock: San Antonio
Kramer Bonus Parlay: Seattle ML, San Antonio, ML, Houston ML +295
Sean Lock: Houston
Sean Dog: D.C. ML
Sean Bonus Parlay: Houston -4.5, San Antonio -3
Colby Lock: Seattle
Colby Dog: Arlington ML
Colby Bonus Parlay: D.C. ML, Arlington ML
XFL Week Two Odds via WynnBET
| | | | | | |
| --- | --- | --- | --- | --- | --- |
| Date | Teams | Future | Spread | ML | Total |
| 2/23 6:00 PM | St Louis BattleHawks | 450 | | 135 | 36.5 |
| | Seattle Sea Dragons | 650 | -3 | -155 | |
| 2/25 4:00 PM | DC Defenders | 475 | | 145 | 36.5 |
| | Vegas Vipers | 700 | -3 | -170 | |
| 2/26 1:00 PM | San Antonio Brahmas | 800 | -3 | -170 | 38.5 |
| | Orlando Guardians | 1500 | | 145 | |
| 2/26 4:00 PM | Arlington Renegades | 400 | | 165 | 40 |
| | Houston Roughnecks | 400 | -4.5 | -195 | |
Podcast Transcription