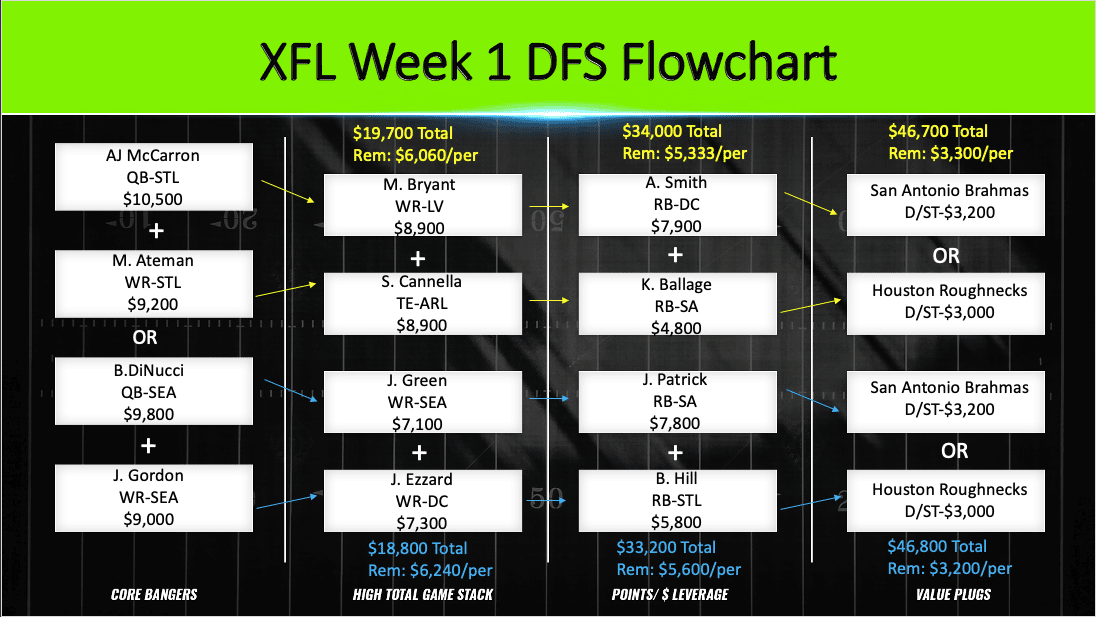 We are back baby. By "we" I of course mean, spring football. We get a double dose in 2023 with the USFL entering its second season in April and the XFL making a huge comeback. This weekend we will get our first taste of XFL action. The games are great of course, but what is football without gambling, season-long fantasy, and daily fantasy (DFS)? Well, it is still football but a little less fun.
Numerous states have smartened up and are allowing gambling and daily fantasy to occur for the XFL in 2023. We are here to talk about the latter and discuss what players you should be eyeballing when setting your daily fantasy lineups this weekend. Anyone who plays daily fantasy knows that building a lineup is tricky. It becomes extra tricky when it is Week 1 of a new league, and the roles of players are not quite clear yet. I am here to hopefully make your process a little easier and clear up that picture. Let's dive right in and look at the XFL Week 1 DFS flowchart to help guide your DFS lineup building this weekend.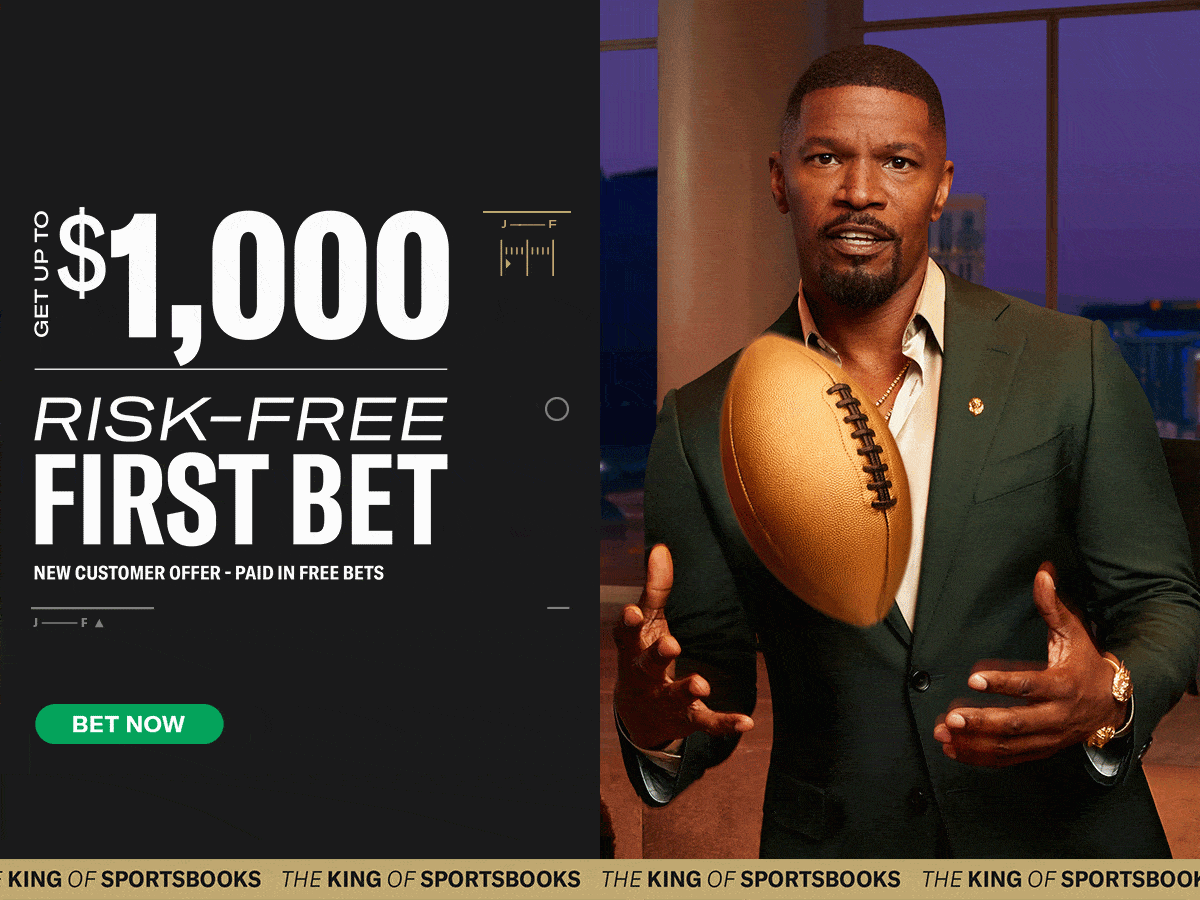 Exclusive SGPN Content
The Alt Fantasy Sports Podcast
XFL Week 1 DFS Flowchart
The Process
To keep the first week as simple as possible, I chose to create two diverging paths. This process may be a little bit like building the plane as we fly it, so expect some changes with each passing week. For now, lineups being built with similar concepts but different players feels like a good place to start.
Baby Back Stack Attack
Stacks on stacks on stacks. Anyone who plays daily fantasy knows the key to a good tournament or cash lineup is a good stack. The same is true for XFL DFS. What is a stack you ask? Basically, pairing the quarterback on a high-scoring offense with his high-volume weapons. It is a way to corner the most production and double the number of points your lineup will achieve when the passer you started throws touchdowns to his favorite target (whom you also hopefully started).
Stacking Hawks
My first lineup stacks the most expensive quarterback on the board with his top pass-catching option. Starting A.J. McCarron is a no-brainer this week. There are a lot of unknowns heading into Week 1, but McCarron comes with the most experience at 32 years old. He has won important games in the NFL and was one possession shy of winning a playoff game for the Bengals in 2016.
Sportsbooks clearly agree with my assessment of McCarron as the best quarterback in the league as they currently have the BattleHawks favored to win the Championship in 2023. Pairing the best quarterback on the best team with his number-one receiver is an easy formula for scoring points. That is why we are also starting wide receiver Marcell Ateman in this lineup. Expect Ateman to be on the receiving end of at least one of McCarron's passing touchdowns on Sunday.
Circle the Dragon Wagon
Play those Sea Dragons. Just do it. All kidding aside, the Sea Dragons are going to be passing more than any other team in the league. Coach Jim Haslett came out and openly admitted that in this June Jones-led offense, they are going to be throwing early and often. He basically dared the rest of the league to try and stop it.
That is why in our second path we are pairing the starting quarterback with not one but two of his receivers. Ben DiNucci is getting the call under center for the Sea Dragons. Dinucci also comes from NFL experience and finds himself leading the charge for a team who Vegas believes has the second-best odds to win the championship. Someone has to catch all of his passes, right? How about his top two receiving options, Juwan Green and Josh Gordon. Yes, that Josh Gordon.
High Total Game Stacks
In both lineups, I tried to wedge players in from high-scoring matchups that correlated well with each other. This helps us take advantage of the highest implied point totals on the slate. This early in the season, the books have set reasonably low game totals making this a bit more challenging. I took the liberty of identifying the two games I believe will have the highest totals due roster construction and team schemes.
Vipers and Renegades, Oh My!
For lineup one, we are pairing Martavis Bryant with Sal Cannella. Bryant may have the highest pedigree of any player in the XFL and finds himself on an uber-talented Vipers team. Luis Perez will be under center in Week 1, but I would not be surprised if we see Brett Hundley sooner rather than later. Either way, Bryant will be involved early and often. Cannella is the best tight end in the XFL and finds himself on a Renegade team that might have the top-to-bottom best roster in the league.
Shockingly, Drew Plitt is getting the call over Kyle Sloter in Week 1. The Sloter to Cannella connection was extremely successful in the USFL last season, but Arlington must see something in Plitt. I am not confident enough to be starting Plitt in Week 1 XFL DFS lineups, but I am happy to roll out Cannella who was one of the highest selections the Renegades made in the draft. He will be a focal point of a good offense.

Defenders and Sea Dragons, is this Game of Thrones?
I have already touched on my affinity for stacking Seattle Sea Dragon players in Week 1. They will be throwing early and often with a talented group of receivers. Stacking Juwan Green and Josh Gordon with Ben Dinucci is truly a no-brainer. I am slotting in Jequez Ezzard as my bring back in this game. Ezzard currently sits atop the DC Defenders' depth chart and figures to be a top option for spring football veteran Jordan Ta'amu.
Ta'amu was a bit underwhelming for the Tampa Bay Bandits of the USFL last season, but was phenomenal for the St. Louis Battlehwaks in the 2020 edition of the XFL. If Ta'amu can capture a little bit of that magic again, Ezzard could find himself in a great position to score early and often.
Points & Leverage: The Obvious Running Backs, or are They?
Here I essentially used what was left of my budget to target the running backs most likely to see steady volume in Week 1. It felt like the best use of what was left in my limited budget.
A Glitch in the Matrix? No, Just Abram Smith
Abram Smith may seem like an obvious choice, but I am playing him anyway. Smith was the first position player off the board in the XFL draft for the DC Defenders. Recently released depth charts have indicated he has held the starting job. DC is likely to run the offense through Smith in both phases of the game. Smith ran for over 1,600 yards in his senior season for Baylor in 2021 and is clearly capable of shouldering a large load at his young Smith.
Kallen Ballage, RB1?
Kallen Ballage was an afterthought in the XFL until recently. He was a sleeper pick of mine to have a big impact this season than originally thought. Well, it appears San Antonio thinks highly of Ballage as recently released depth charts list him at the top. Even before this revelation, it appeared Ballage was in line to receive at least some rushing work and be the primary backfield receiver. He may have an even bigger workload than that and comes in a very cheap $4,800 in XFL Week 1 DFS. Get him now before that price goes up.
King of the Hill
Brian Hill appears to have won the starting running back job for the St. Louis Battlehawks. The exact look of this offense is still yet to be determined. However, many assume St. Louis will be at least an above average team and having their starting running back slotted into your Week 1 XFL DFS lineup for a mere $5,800 feels like a steal.
Hill has NFL experience and with limited work rushed for 982 yards and 3 touchdowns. He also tacked on a receiving touchdown indicating he could be used in both phases of the game. In three years at Wyoming, Hill rushed for over 4,200 yards and 35 rushing touchdowns. He is a dynamic player with bell-cow potential. I am very interested in having him in my lineups this weekend.
No, This is Patrick!
I know I just went on about Kallen Ballage and how he may have won the starting job. He may have, but we have no idea how this backfield shakes out. Ballage may be the primary pass catcher while Patrick is the primary ball carrier. Week 1 is going to tell us a lot. What I do know, is that the rest of the San Antonio roster does not impress me, and Jack Coan is likely going to be eased into XFL action.
I think San Antonio will be running the ball early and often. There could easily be enough work to sustain two fantasy-relevant running backs. In addition, the Brahamas clearly think highly of Patrick and named him a captain. This indicates to me that he is going to still have a large role in this offense, and I want a piece of it.
Punt Defenses
This may not be a sexy pick, but a defense must be played in every lineup. With a limited budget and only eight defenses to be chosen from, it comes down to two defenses for both lineup choices. The Brahmas are playing the Battlehawks so there is a chance for poor performance, but it is Week 1 and anything can happen. Hey, maybe McCarron gets a little trigger-happy and throws a few interceptions.
The Roughnecks come in as the lowest-priced defense which is a little surprising. Say what you will about their personnel and the matchup, they are being led by Wade Phillips. Phillips may be the best defensive coach in the league and has a Super Bowl ring to prove it. Not the worst punt play if you ask me.
Related Content