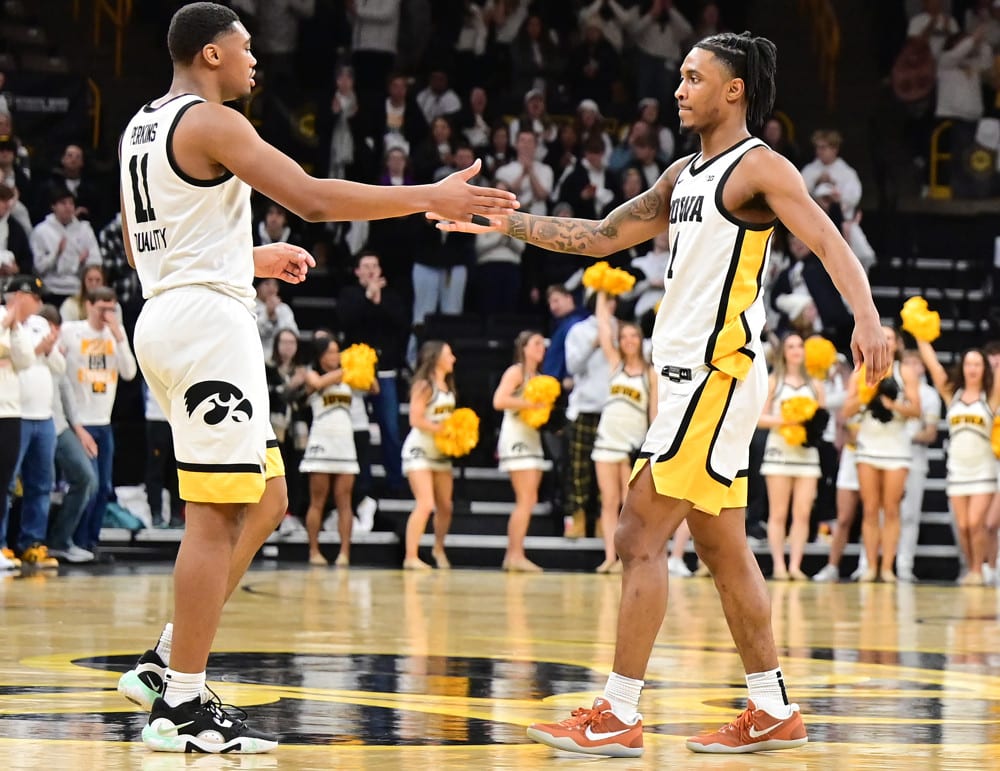 College Basketball Picks 1-31-23
The guys (@GamblingPodcast) are talking college basketball predictions in their college basketball picks 1/31/23 podcast. They're joined by Colby Dant (@TheColbyD) from The College Basketball Experience.
College Basketball picks for January 31st are in as the college basketball world prepares to get much more viewership as football winds down. Colby hit big on his Hofstra play against Charleston.
A "private school" matchup will be hosted in Boston as Clemson visits Boston College as 3.5-point favorites. Clemson is coming off a close win against FSU at the buzzer and BC has been solid at home. Clemson has had a good year overall and has a big ACC matchup against Miami coming up and they could be looking ahead.
Arkansas faces off against visiting Texas A&M where they are -4. The MUSS BUS played Baylor well and should be able to handle A&M even though Arkansas loses the offensive rebound and free throw battle.
Fordham hosts St. Louis in The Bronx but are +3.5 in this one. Fordham is 17-4 but St. Louis has played well too. The crowd will be lit and will help Fordham hang with St. Louis with their strong defense and good free throw shooting.
A surprising upset from earlier in the year will have another installment with Duke hosting Wake Forest as 8.5 favorites. Last time Duke lost but had a number of injuries from key players. They are undefeated in their past 10 home games and are seeking revenge for the upset.
Virginia Tech takes on Miami who is a 3.5-point favorite. Virginia Tech could be looking ahead to their matchup against Virginia. Miami is 11-0 at home even though their crowd is abysmal. The offense of Miami could very well be too much for Virginia Tech to handle.
Kansas State takes on home state rival Kansas as underdogs. Kansas is -7 in this one, but every Big12 matchup this year has been between two very deserving teams each game. These two are special as they are both top 10 teams in the country. Kansas lost to State two weeks ago and certainly wants revenge, but 7 points is a lot for a very capable in-conference rival.
UNLV takes on Colorado State, a team they have already lost to this year. State is -2 at home in which they benefit from the high altitude. When you combine this with their solid offense, State makes it very tough on its visitors.
Kentucky travels to Ole Miss as -6.5 favorites. Ole Miss has looked very bad this year and Kentucky needs to bounce back after a loss to Kansas.
Maryland hosts Indiana in a late-tip game. Maryland is -2.5 at home but Indiana is hot as all hell. Although Maryland is 11-1 at home and will not be folding over. With two strong fan bases this game will be big time.
West Virginia visits TCU, where TCU is -3. TCU is missing Mike Myles, their best scorer, to a recent knee injury. West Virginia is known for playing well defensively and could overpower TCU. Although, TCU is 2-1 without Myles so far.
Iowa is -6.5 against Northwestern and is touting another solid year as usual. Northwestern enters Iowa's home behind another solid year themselves. In the last matchup Northwestern took the L and could be looking for revenge, but revenge is not a place you often get in Iowa's home.
San Diego State is -1 against Nevada who is at home. On the road, State is strong against the spread but Nevada is also strong at home.
College Basketball Best Bets
Kramer Lock: Indiana +2.5
Kramer Dog: Arkansas ML
Kramer Bonus Lock: West Virginia +3
Sean Lock: Colorado State -2
Sean Dog: Boston College ML
Sean Bonus Lock: Maryland -2.5
Colby Lock: Kansas -7
Colby Dog: Virginia Tech ML
Colby Bonus Lock: Kentucky -6.5
Round Robin:
Air Force ML, Colorado State ML, Duke ML
College Basketball Odds via WynnBET
| | | |
| --- | --- | --- |
| | Teams | Sprd |
| | | |
| 1/31 4:00 PM | Clemson | -3.5 |
| Boston, MA | Boston College | |
| 1/31 4:00 PM | Texas A&M | |
| Fayatteville, AR | Arkansas | -4 |
| 1/31 4:00 PM | Saint Louis | -3.5 |
| Bronx, NY | Fordham | |
| | | |
| 1/31 4:00 PM | Wake Forest | |
| Durham, NC | Duke | -8.5 |
| 1/31 4:00 PM | Virginia Tech | |
| Miami, FL | Miami FL | -3.5 |
| 1/31 5:00 PM | Kansas State | |
| Lawrence, KA | Kansas | -7 |
| | | |
| 1/31 6:00 PM | UNLV | |
| Fort Collins, CO | Colorado State | -2 |
| 1/31 6:00 PM | Kentucky | -6.5 |
| Oxford, MS | Ole Miss | |
| 1/31 6:00 PM | Indiana | |
| College Park, Maryland | Maryland | -2.5 |
| | | |
| 1/31 6:00 PM | West Virginia | |
| Fort Worth, Texas | TCU | -3 |
| 1/31 6:00 PM | Northwestern | |
| Iowa City, IO | Iowa | -6.5 |
| 1/31 7:00 PM | San Diego State | -1.5 |
| Reno, NV | Nevada | |
Podcast Transcription