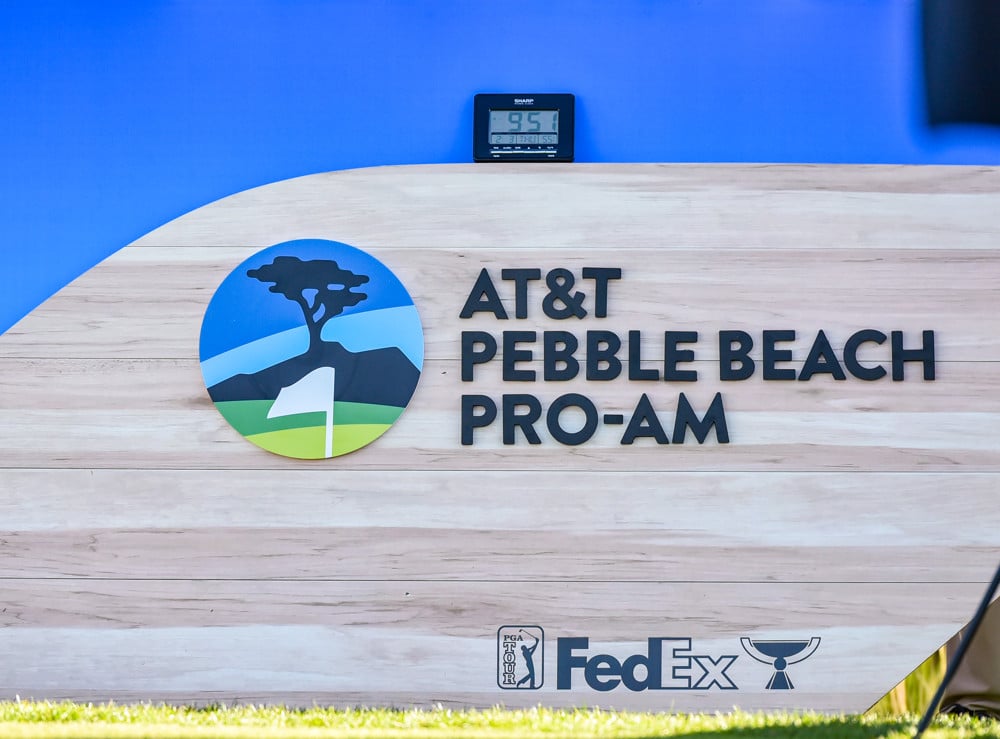 After a thrilling finish at Torrey Pines, the PGA Tour heads north to Monterrey Bay. It's the 2023 AT&T Pebble Beach Pro-Am at Pebble Beach Golf Links, Spyglass Hill Golf Club and the Shores Course at Monterrey Peninsula CC. As always, here is your early deep-dive of the 2023 AT&T Pebble Beach Pro-Am and a preview of how to bet. In addition, listen below to the Golf Gambling Podcast for more information about golf betting.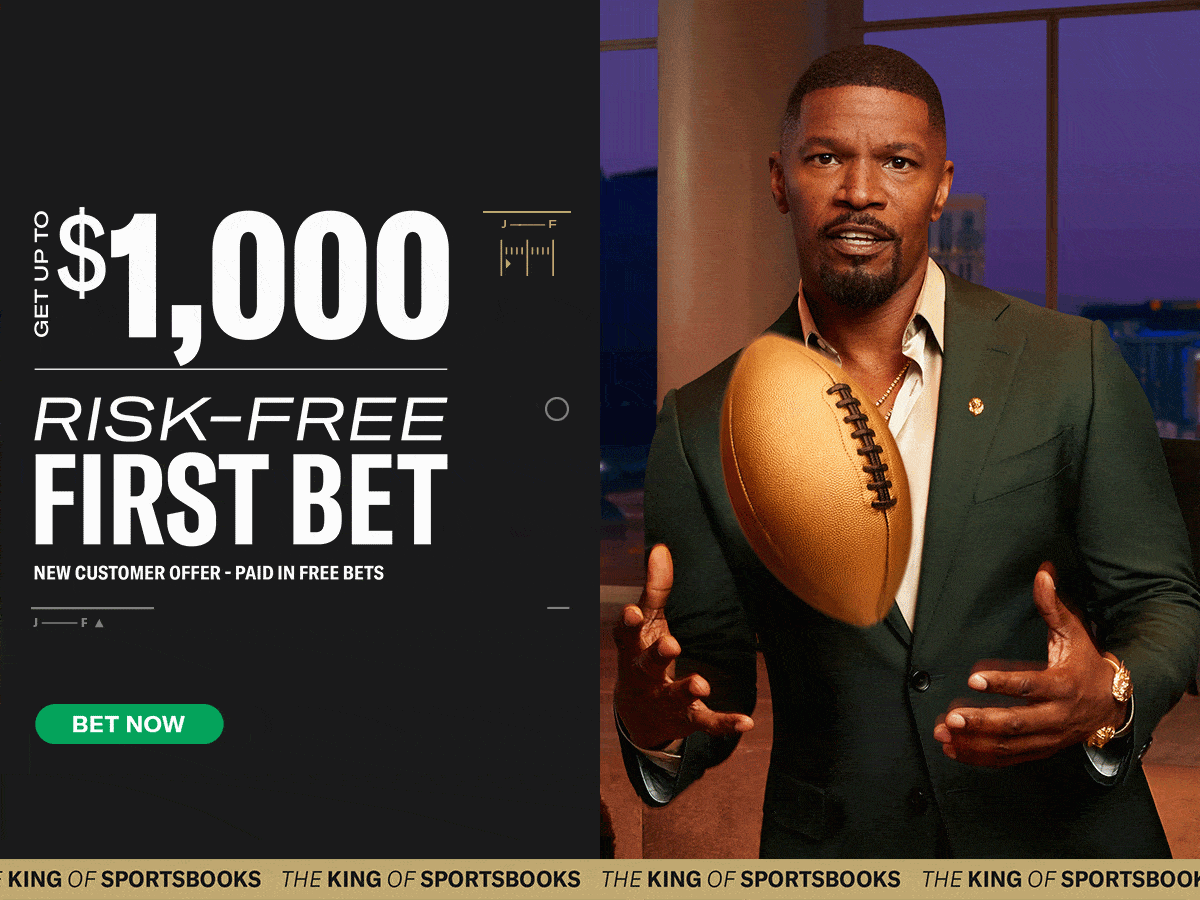 2023 AT&T Pebble Beach Pro-Am Preview – The Field
For years, the AT&T Pebble Beach Pro-Am was one of the most popular events a PGA Tour professional could play. But between high money tournaments overseas in the same week, its place on the schedule, and professionals not wishing to play seven hour rounds with an annoying comedian hacking their way up the fairway, most top players skip this event. And in 2023, this is no exception.
Highlighting the field is Viktor Hovland. Hovland has a lot of success at Pebble Beach. He won the 2018 U.S. Amateur at Pebble Beach. And he also had an excellent showing as an amateur at the 2019 U.S. Open with a T12 finish. He'll look to have another great finish in Monterrey Peninsula.
Other notables in the field include Matthew Fitzpatrick, Jordan Spieth, Kevin Kisner, Matt Kuchar, Maverick McNealy, Seamus Power, and Justin Rose. Considering the likes of past their prime household names like Matt Kuchar and Justin Rose make the list of notables this week, it goes to show how weak the 2023 AT&T Pebble Beach Pro-Am field is.
For the full field, click here.
2023 AT&T Pebble Beach Pro-Am Preview – The Golf Courses
The 2023 AT&T Pebble Beach Pro-Am will take place across three golf courses. Everyone will play Pebble Beach, Spyglass Hill and Monterrey Peninsula once over the first three days. The field will then be cut to the Top 65 and ties, and everyone remaining will play the final round at Pebble Beach.
The most famous of the golf courses played in the rotation is Pebble Beach. Ask any golfer what five golf courses are on their bucket list, and Pebble Beach will almost surely be among them. The golf course was first designed by Jack Neville and Douglas Grant in 1919, and later revised by H. Chandler Egan, Alister McKenzie, and even Jack Nicklaus when he redesigned the 5th hole in 1998.
Besides being a mainstay on the AT&T Pro-Am rotation, the golf course has hosted numerous major championships. Jack Nicklaus won the 1961 US Amateur at Pebble Beach and ten years later won the first U.S. Open hosted there. Tiger Woods went completely berserk in 2000 at the U.S. Open, carding a winning score of -12 to win by an astronomical fifteen shots over runner-up Miguel Angel Jimenez.
In more modern times, Dustin Johnson blew a three-shot lead here in 2010 to give Graeme McDowell his first and only major championship victory. And most recently Pebble Beach played host to the 2019 U.S. Open, which was won by Gary Woodland. Viktor Hovland also won the 2018 U.S. Amateur there.
While the entire golf course is breathtakingly beautiful, it's the front nine that is the crown jewel of the property, specifically from holes six through eight. If you ask any golf fan what they know about Pebble Beach, this stretch of holes should immediately come to their mind:
6th Hole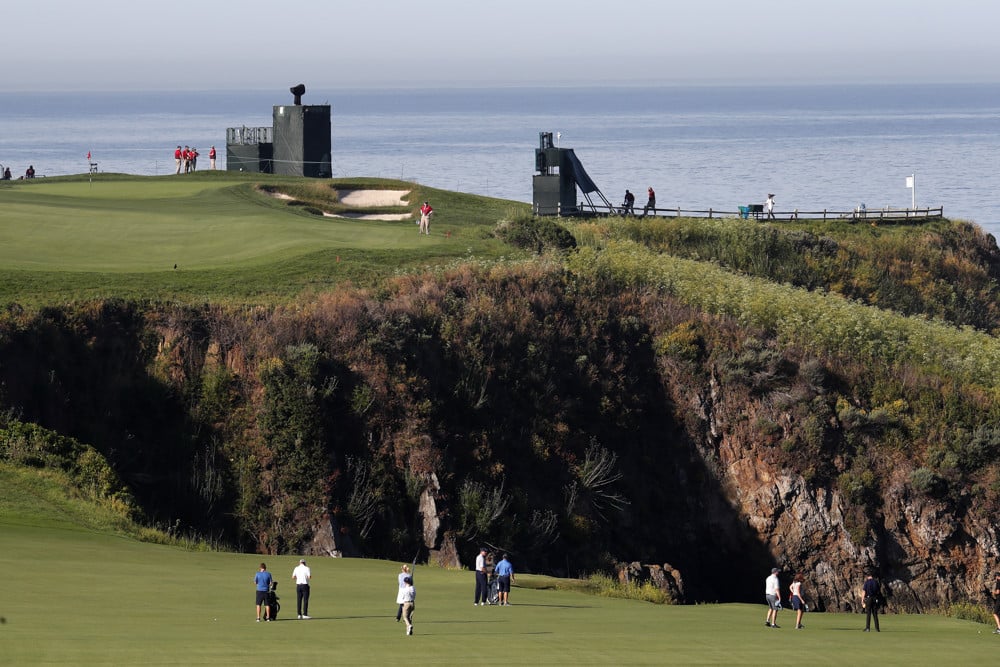 7th Hole
8th Hole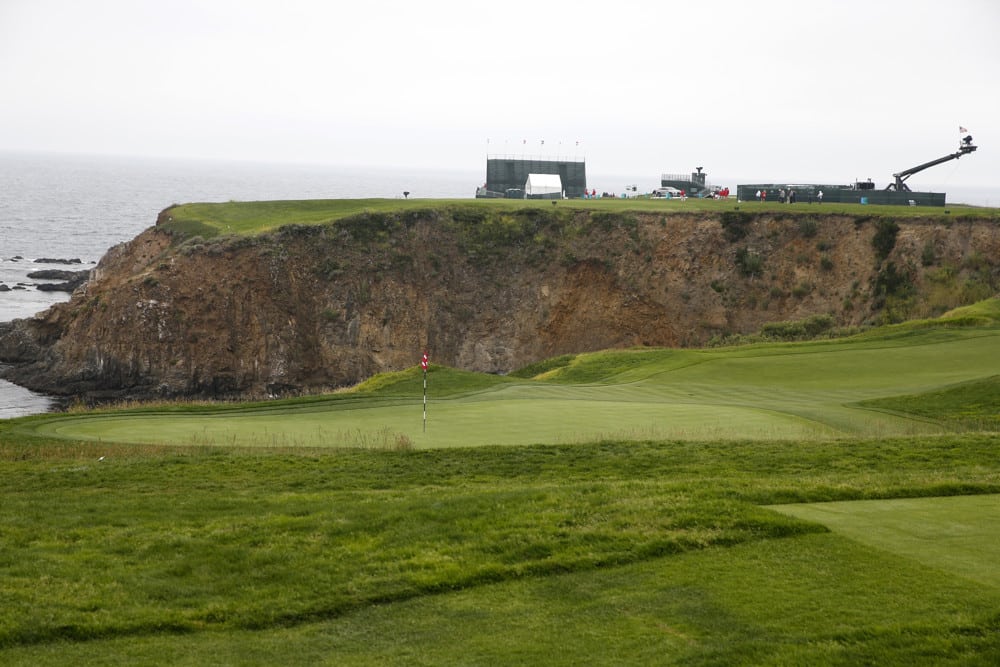 This might be the most picturesque three hole stretch in all of golf. It also was the scene of a near death experience for Jordan Spieth in 2022:
Through the years viewers have seen two distinct setups of Pebble Beach. The USGA generally sets the golf course up to play very firm and fast with deep penal rough flanking the fairways. A lack of rainfall in the summer helps set up the golf course like that.
The setup this week is much different. Central California sees significantly more rainfall this time of year. It makes the golf course play much softer. The soft conditions allow for easier scoring conditions. The rough also isn't quite as thick as it would be for a U.S. Open.
Pebble Beach may steal the headlines, but Spyglass Hill is a good one too. Robert Trent Jones designed Spyglass Hill in 1966. It entered the tournament rotation in 1978. The golf course was originally named Pebble Beach Pines Golf Club but was renamed in 1969 after a reference to the book Treasure Island. Every hole at Spyglass Hill is named after something from Treasure Island.
The round starts off with a bang as the first five holes have fantastic views of the ocean and surrounding sand dunes. The most iconic hole on the golf course is the 4th hole. It plays along the coast and features a 55 yard long, 9-yard wide green. Mounds flanking the green makes it a little easier to funnel the ball onto the green, but anyone who hits it in regulation deserves to automatically pass to the final round.
But after the first five holes, the course moves inland and through the forest, which makes the rest of the round a little uninspired. This course is my least favorite of the three played in a traditional AT&T Pebble Beach Pro-Am.
The last golf course of the rotation is the Shore Course at Monterrey Peninsula. The Shore Course was built by Bob E. Baldock and Jack Neville in 1959. It was most recently redesigned by Mike Strantz. Other notable courses from Strantz include Tobacco Road, Caledonia Golf and Fish Club, and True Blue. The Shore Course has been part of the tournament rotation since 2010.
After beginning the round inland, the golf course opens up to the coastline where the golfers can enjoy spectacular views of the Pacific. Unlike Pebble, the fairways of the golf course are almost serpentine from tee-to-green. It sets up interesting angles into the green depending on the pin position of the day. The golf course can play tough if the winds are up, but historically this course plays as the easiest of the three in the tournament.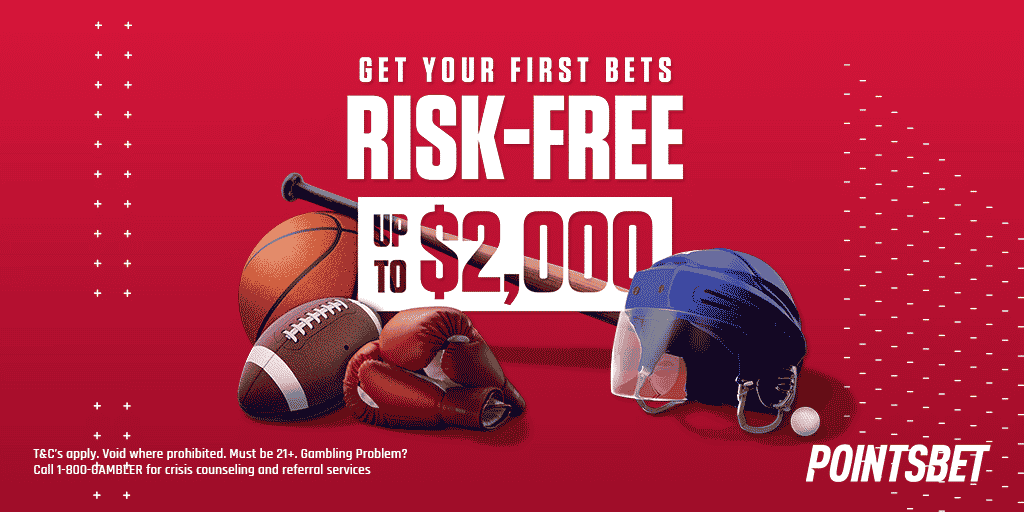 2023 AT&T Pebble Beach Pro-Am Preview – Betting Strategies
Here are some relevant facts and statistics about the 2023 AT&T Pebble Beach Pro-Am. Because only Pebble Beach has ShotLink data, most of this section will focus on that golf course. However, other relevant facts about Spyglass Hill and Monterrey Peninsula will be revealed below to help preview the 2023 AT&T Pebble Beach Pro-Am.
1. The 2023 AT&T Pebble Beach Pro-Am features the shortest collection of golf courses on the entire PGA Tour. Here are their lengths in 2023:
Pebble Beach: 6,957 Yards
Spyglass Hill: 7,041 Yards
Monterrey Peninsula: 6,957 Yards
The Par 4's and 5's at Pebble Beach collectively average 443 yards. That's the third shortest length of all golf courses with at least five tournaments played since 2015 on the PGA Tour.
So far this year, the area has received about 20 inches of rain. While that might add a little more length to each because balls won't run out, that was almost always the case at this event.
What it will do, however, will make the greens extremely soft. Expect a ton of birdies this year.
2. All three golf courses feature the exact same grass type. All of them feature a ryegrass and poa mix turf in the fairway and rough, and poa annua greens. And because of its proximity next to the ocean and the Pro-Am format, the greens will run pretty slow this week.
3. This tournament also features some of the smallest greens on the PGA Tour. The average size of each green at Pebble Beach is only 3,500 square feet. That's the smallest on the PGA Tour. Spyglass Hill's is about 5,000 square feet, also small for PGA Tour standards. Monterrey Peninsula's are the biggest of the bunch at about 6,000 square feet per hole. That's about average for PGA Tour standards.
Collectively, all 72 holes will average about 4,500 square feet thanks to two rounds played at Pebble Beach.
4. Spyglass Hill and Monterrey Peninsula each received some cosmetic alterations ahead of the 2023 Pebble Beach Pro-Am. Each golf course saw turf reduction in non-playable areas (primarily between the tee and the beginning of the fairway). In addition, a few waste bunkers were expanded at Monterrey Peninsula and a fairway bunker on Hole No. 2 was replaced by a tree and mounds.
None of these alterations, however, will materially change how they play in the tournament.
5. While Pebble Beach ranks a little above average in terms of ease of scoring, the players have demolished Pebble Beach over the last few years. In 2021, the field average at Pebble Beach was -1.03 per round. In 2022, the field average was -1.51. The only true defense Pebble Beach has is the wind. If none come this year, players will go low once again.
6. Pebble Beach features the lowest average driving distance of any PGA Tour venue. Several holes require less than driver off-the-tee due to bottlenecking of the fairway, as well as shorter run outs. As such, the historical driving accuracy percentage of Pebble Beach is 74%.
However, there's still plenty of opportunities to pull driver on the golf course. And because of soft turf and fairly generous fairway widths, as long as your drive hits short grass it'll most likely stay there.
7. Historically, the approach shots at Pebble Beach are quite difficult for PGA Tour standards. The tiny greens make for very small targets, even with short irons in hand. Overall, the historical green in regulation rate is about 65%, which is slightly less than PGA Tour average.
However, the last two years saw a dramatic improvement in approach shot quality for the field. Calm and soft conditions likely have something to do with that. As such, the field hit the green in regulation at Pebble at an almost 70% clip the last two years. And as players get longer and longer off the tee, the ability to hit much shorter clubs into the greens at a higher frequency will only make the approach shots that much easier.
8. Pebble features some relatively easy around the green conditions. Pebble ranks as fifth easiest around-the-green scoring conditions of all golf courses with at least five tournaments held there since 2015. Of all active PGA Tour courses, it's the eighth easiest.
Why is this? For starters, the thick rough around each green means that balls don't end up far from the putting surface should a player miss. In addition, the greens run quite slow. Balls won't run too far out from the hole once they come back onto the surface. As such, it's not a difficult task for a PGA Tour professional to get up and down from off the green at Pebble Beach.
9. Like at Torrey Pines last week, putting at Pebble Beach is quite difficult. Pebble Beach ranks as the second toughest greens to putt on from under five feet and between five and fifteen feet. Only Torrey Pines is tougher. The commonality between Pebble and Torrey is the poa annua. And like last week, target players who are comfortable on this surface.
Next, let's take a look at the skillset charts from DataGolf for all three golf courses. This will help preview the type of golfer to target at the 2023 AT&T Pebble Beach Pro-Am:
At Pebble Beach, there's a slightly negative correlation in terms of driving distance and success at Pebble. The short yardage and the ability to club down on several holes neutralizes the advantage distance has at most golf courses. In addition, there's a slightly positive correlation to good iron players and good putters to success at Pebble Beach.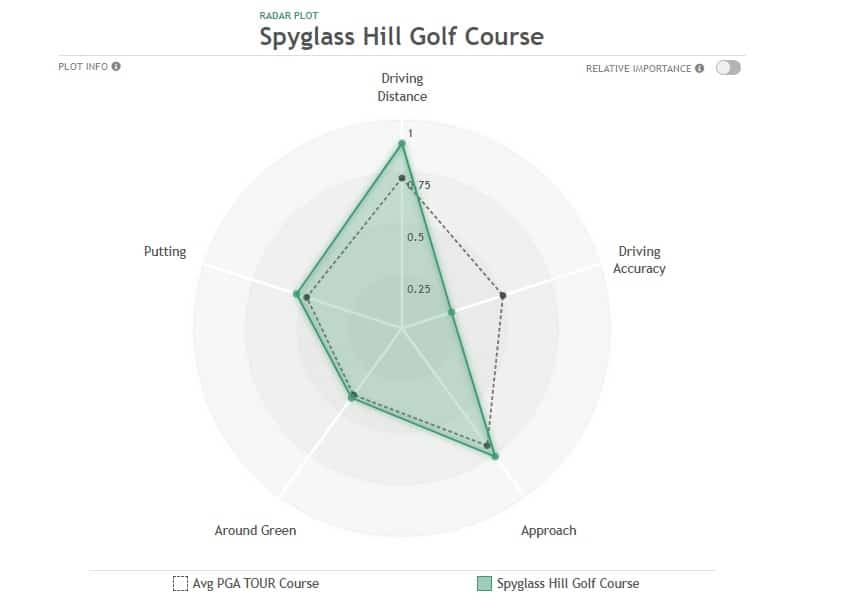 There is a way bigger edge to longer hitters at Spyglass Hill than there is at Pebble Beach. This is for two reasons. First, the holes at Spyglass are much more linear in nature than Pebble with fewer forced layups. Players can hit driver more often at Spyglass.
And second, the landing zone widen significantly for anyone who can carry the ball 300 yards in the air. At 250 yards from the tee, the fairways are only 27 yards wide and usually protected by a bunker. But at 300 yards, the fairways widen to 32 yards. Thought it is only 5 yards, that's a big difference. Especially for a longer player who can reach this part of the hole.
However, like Pebble Beach there's a positive correlation in good iron play and putting to success at Spyglass Hill. There's also a slightly stronger correlation to good scramblers to success at Spyglass Hill.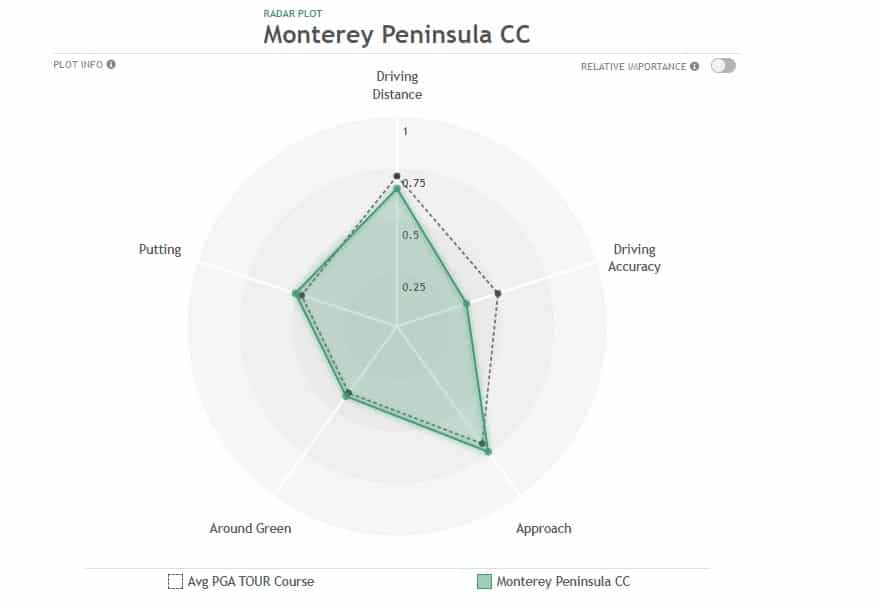 This skillset chart is more aligned to that of Pebble. There's not much of a correlation to performance off-the-tee and success at Monterrey Peninsula. However, there's a decent positive correlation to success at Monterrey Peninsula and the ability to be great iron players, scramble well and putt well on poa annua.
In summary, here's what is valued most over the course of four rounds of the 2023 AT&T Pebble Beach Pro-Am (with Pebble Beach counting double):
Distance: -,+,-,-: Less importance on driving distance
Accuracy: -,-,-,-: Almost no predictability in driving accuracy to success at the 2023 AT&T Pebble Beach Pro-Am.
Approach: +,+,+,+: High correlation to good iron players having success at the 2023 AT&T Pebble Beach Pro-Am.
Around Green: 0,+,+,0: Around the green performance relatively correlated to success at Spyglass and Monterrey Peninsula. PGA Tour average at Pebble.
Putting: +,+,+,+: High correlation to good putters having success at 2023 AT&T Pebble Beach Pro-Am.
Lastly, here is the approach shot distribution chart for Pebble Beach (from DataGolf):
At Pebble Beach, there's a higher than average amount of approach shots between 75-125 yards and 200-250 yards. There's about an average amount of shots 125-150. And significantly less shots between 150-200 yards.
However, this data only comprises two rounds of the tournament. Spyglass Hill and Monterrey Peninsula also need to be considered to determine the right range to focus on this week. As such, here is an estimation using Google Earth and an educated guess at what clubs players will use off the tee at each golf course of how long approach shots will be at Spyglass Hill and Monterrey Peninsula this week:
Spyglass Hill
<150 Yards: 11 Holes (61.1%)
150-200 Yards: 3 Holes (16.7%)
200+ Yards: 4 Holes (22.2%)
Monterrey Peninsula
<150 Yards: 6 Holes (33.3%)
150-200 Yards: 6 Holes (33.3%)
200+ Yards: 6 Holes (33.3%)
Taking all this into account, here's an approximate distribution chart of the entire tournament as a whole:
AT&T Pebble Beach Pro-Am Approach Shot Distribution
<150 Yards: 34 Holes (47.2%)
150-200 Yards: 17 Holes (23.6%)
200+ Yards: 21 Holes (29.2%)
Considering 15.2% of approach shots at Pebble Beach come from 150-175 yards, evaluating proximity and scoring rates from under 175 yards this week should provide sufficient enough coverage to evaluate whose approach play will fit best for this tournament.
Follow these tips in this preview, and a gambler should put together a solid betting card and DFS lineup for the 2023 AT&T Pebble Beach Pro-Am.
Related Content