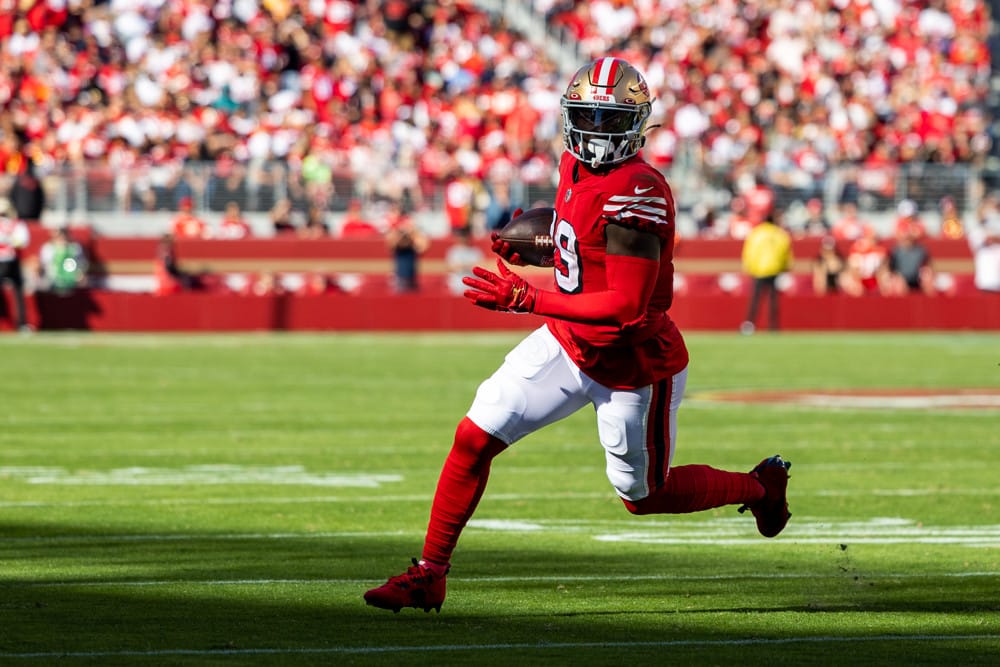 NFL Divisional Round Prop Bets
The guys (@GamblingPodcast) are joined by Katie Mox (@KatieMox) from The Moxie Bets podcast to give out their favorite NFL player props in this NFL Divisional Round prop bets podcast. With only 4 games this weekend, the player pool is much lower, but this can mean less distractions.

Kelce is a nightmare matchup for the Jaguars as he has been elite as always and the Jaguars tend to struggle against the tight end. If its not Kelce dominating, there is a good chance his tight end partner Noah Gray could make something shake as well. Jerick McKinnon will benefit from the genius of Andy Reid and his extra week to prepare for this game. McKinnon should see plenty of opportunities even with CEH back.
Jalen Hurts faces a weak rushing defense in the Giants but still will most likely go under his rush attempts. This is because he might not truly be 100% and the Eagles may want to keep him in the pocket as much as possible which would lower his number of designed runs. With probably more throwing attempts, Hurts is more open to an interception, and he goes against Daniel Jones who was on the lower end of the NFL in interceptions.
Devonta Smith is over 100 receiving yards in 4 out of his last 6 games and there is a good chance the Giants are more worried about AJ Brown. Smith should be winning his matchups most of the night and can pop off, unless it is true that Adoree Jackson will be shadowing him. After the dominant performance of Dexter Lawrence, he will be getting a lot of attention. His running mate up front Leonard Williams should be able to spring free and get at least a half sack this weekend.
The Bengals offense should be able to score fairly easily against the Bills surprisingly porous defense, so Evan McPherson should have ample opportunity to just make three extra points. On the other side, redzone threat and backup Bills tight end Reggie Gilliam had a big 7-yard red zone catch in the MNF game against the Bengals in the first score. He has the chance to catch the Bengals sleeping on him. While the Dolphins were letting Allen throw deep, the Bengals will probably force him to pick them apart in the short game and preserve the deep thirds.
Professional game manager Brock Purdy should even be able to handle the talents of the Cowboys defense. He has the poise to go under on his interceptions and also over on his touchdowns of 1.5. Even if they do get pressure to him, he has the ability to scoot and can easily hit his rush yards in one scramble. Deebo Samuel ran like a mad man last game and should do the same again. With a line of only 15.5, bets don't get much more attractive.
On the other side of the field, the 49ers have a dominant force in Nick Bosa, who can easily sneak in the backfield easily on a couple plays with a potentially thinner Cowboys offensive line. Across the board, the 49ers defense has been elite, especially against the run. Zeke Elliot will most likely struggle to rip off any big runs behind his thin line.
Best NFL Playoff Prop Bets:
Kramer:
Jerick McKinnon Over 59.5 Rushing and Receiving Yards
Jalen Hurts more Interceptions than Daniel Jones +190
Leonard Williams Over .25 Sacks +225
Josh Allen longest completion under 38.5 yards
Brock Purdy over 6.5 Rush Yards
Sean:
Noah Gray Anytime TD +550
Devonta Smith Receiving Ladder, over 80 yards +158, over 90 yards +225, over 100 yards +320
Reggie Gilliam Anytime TD
Deebo Samuel over 15.5 rush yards
Zeke Elliot Longest Rush under 11.5 yards
Katie:
Travis Kelce over 79.5 Receiving Yards
Jalen Hurts under 8.5 Rush Attempts +118
Evan McPherson over 2.5 Made Extra Points +146
Brock Purdy under .5 interceptions
Nick Bosa over 3.5 Tackles/Assists +116
DeGen Plays:
Kramer: Anytime TDs from: Kadarius Toney, Jamal Agnew, Richie James, Dallas Goedert, Joe Mixon, James Cook, George Kittle, 49ers Defense. This pays out at 4,178-1
Sean: Anytime TDs from: Noah Gray and Jack Stoll +10700
Katie: 49ers to win all 4 quarters +1600
Anytime TDs from: Travis Kelce, Dallas Goedert, George Kittle, Dawson Knox. This pays out at 3,391-1.
Podcast Transcription