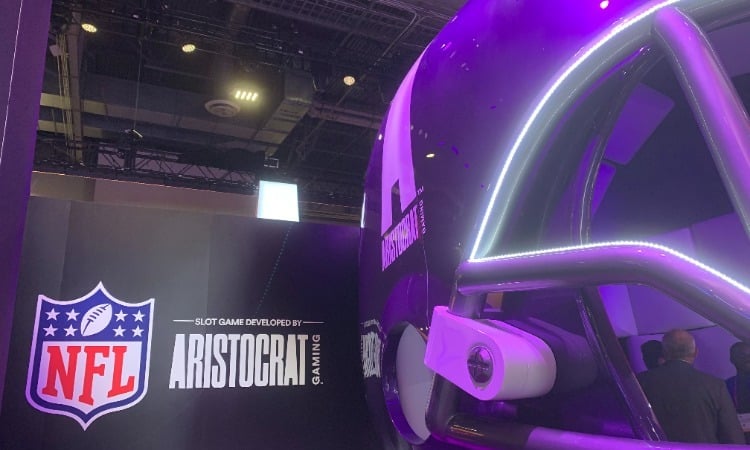 The gambling industry has been on a constant rise over the past couple of decades thanks to innovation, and technological advancements. If we take just 2021, we can see that the global gambling market grew from $287.43 billion in 2021 to $456.61 billion in 2022 which is an annual growth rate (CAGR) of 58.9%.
The gambling sector impacted many other industries through collaboration, featuring such elements, and promoting casino content through many different channels.
We can see a fusion between the gambling industry and the film production industry, the gaming industry, and lastly, we've seen plenty of action in the sports industry.
It seems like adding sporting elements to casino games can bring many benefits to both industries and players will be satisfied to see such change in games. 
The latest news we got is that the casino industry is closely looking into the NFL market and we will see many collaborations in the future.
One of the most recent ones is that we will see NFL-branded slot machines that will come to land-based and online casinos very soon.
NFL Branded Slot Games
An exclusive global licensing agreement with the NFL will allow Aristocrat Gaming to build the first NFL-themed slot machines in 2023. The machines will feature NFL team branding. 
Slot machine developer Aristocrat Gaming has non-exclusive rights to produce NFL-branded virtual sports games as part of a multi-year agreement with the NFL. The company holds gambling licenses in more than 300 jurisdictions in more than 90 countries. So, it is possible we see regular and Bitcoin jackpot slots soon that are NFL-themed.
According to the company's senior vice president of commercial strategy and business analytics, Joe Hanlin, the slot machines will be tailored to each team in the league.
"We've taken a very specific approach to regionalize the art and skins so that the Green Bay Packers game has the cheese hats — it has the flair that a fan of that team will feel like it's a fun experience," Hanlin said.
He also added that the world of gaming is transforming, and it is the right way for the NFL to team up with an industry leader like Aristocrat Gaming just so they can bring innovation to the slot gaming industry. 
Hoagland, the NFL Vice President also said that today's slot games are much different than a few decades ago. They offer engaging experiences just like in popular video games, and fans will love and appreciate seeing a combination of the casino industry and the NFL. 
The NFL also puts a lot of fate in Aristocrat's vision of bringing exciting gaming experiences to fans that will appreciate the sport and the ability to earn money.
The NFL distanced itself from gambling as much as it could (at least officially) for a long time. However, in 2019, the Dallas Cowboys reached a sponsorship agreement with a casino, WinStar World Casino in Oklahoma, making them the first NFL team to do so. There are now several teams with either casino or sports betting partnerships, a team is in Las Vegas (the Raiders), and NFL-themed slot machines are coming soon.
Final Words
This is just a start of a movement where we will see a lot more collaboration between the casino and the global sporting industry. The NFL agreement with Aristocrat Gaming might inspire other sporting leagues to make a deal with a casino-developing company.
This is a win-win-win scenario where the NFL will benefit from selling the rights, Aristocrat Gaming will get lots of attention on their new slot games, and fans get to experience new types of slots that feature NFL themes which will improve their overall experience.
We can now wait and see when will these slots be released and find out more about the specific features, bonus rounds, and RTP that they will offer.