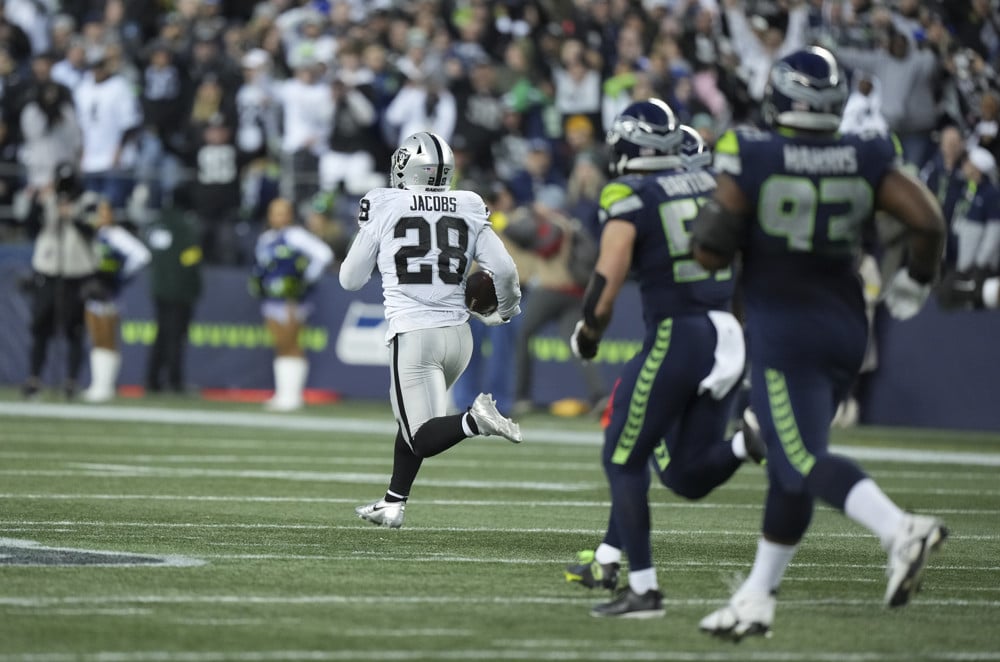 Week 14 Fantasy Football Surprise Decisions
Decisions are a huge part of the fantasy football landscape. Starts with players to draft, what values to take in the draft, trades, lineup changes, waiver picks, and I could go on. One we didn't mention yet was start and sit decisions.  The bench decision is at times the most difficult because you may miss some context on the competition. Sometimes the decision to bench someone is a surprise to your competition, and those are the best.

While the entire game is made up of these decisions, you can recover in time. That changes when you are in the playoffs. Now it is win or go home. Make the wrong decision and you likely lose that sweet sweet belt, ring, or another token of the championship to gloat to your fellow league-mates. So this article will note some key playmakers of the 2022 NFL season that you should lower your expectations for or even, dare I say, bench in Week 14. 
MORE SGPN FANTASY FOOTBALL CONTENT
Week 14 IDP Fantasy Football Guide
SGPN Fantasy Football Rankings
Follow SGPN Fantasy Football on Youtube
---
Week 14 Fantasy Football Quarterback Surprises
Dak Prescott – QB – Dallas Cowboys
QB8 in FantasyPros Rest of Season Rankings 
QB15 in Fantasy Points per Game
While QB15 doesn't sound good, keep in mind that does include Week 1 when he broke his hand and his first game back in Week 7 against the Detroit Lions where they leaned on the run a ton. Since Week 8, Dak has been QB10 in fantasy points per game and has thrown 2 or more TD in every game. He has a great playoff schedule that includes the likes of Jacksonville and Tennesee.
However, in Week 14 he is up against the Houston Texans. While Houston does have the second-best metric for points against the QB position there are two other factors in this matchup that will drive me away from Dak in this game. First of all the game script. Houston is on a whole other level of bad right now. The Brown's defense had 3 total TDs and they aren't even in the same stratosphere as the Dallas Cowboys.
Secondly, the game script mentioned before will allow them to just lean on the dynamic duo in the backfield made up of Ezekiel Elliot and Tony Pollard to do their bidding. We saw Dak throw for only 170 yards last week in a game that could be a very similar script and that could lead to a disappointing fantasy week.
Verdict: Bench
The Dallas offense since Dak Prescott returned:

⭐️ 42.4% TD Drive Percentage (1st)
⭐️ 37.2 points per game (1st)
⭐️ 411 yards per game (2nd) pic.twitter.com/qVWgsSbpZ7

— Dallas Cowboys Fan page (@dcowboyslovers) December 8, 2022
---
Tom Brady – QB – Tampa Bay Buccaneers
QB13 in FantasyPros Rest of Season Rankings 
QB22 in Fantasy Points per Game
ABORT, ABORT, ABORT! Tom Brady is not what we remember from a fantasy perspective. While he has the 6th most passing yards of all NFL Quarterbacks, he has only managed 14 TDs all season. Couple that with his inability to score touchdowns, the offensive line deficiency, and San Francisco's defensive line. No way is he making my lineup this week. Not only does the defensive line of San Fran get it done against the QB, but they have also only allowed 9 touchdowns to the Wide Receiver position and three receiving touchdowns to the Running Backs through 13 weeks. While the Goat may need to throw a ton in this matchup, I don't know that the touchdowns will be there and that likely will relegate him to the QB15-20 range in Week 14.
Verdict: Bench
Tom Brady has 71 touchdowns and zero… ZERO interceptions in the redzone since joining the Bucs in 2020.

Do people realize how insane that is? pic.twitter.com/bttoDQg7tR

— Jordan Moore (@iJordanMoore) November 28, 2022
---
Week 14 Fantasy Football Running Back Surprises
Josh Jacobs – RB – Oakland Raiders
RB1 in FantasyPros Rest of Season Rankings
RB1 in Fantasy Points per Game
Josh Jacobs has done nothing but earn himself a much-deserved contract. After being snubbed on his 5th-year option by the new head coach and GM, Jacobs has gone out and produced the following stats through Week 13:
1st in Rushing Yards – 1303
3rd in Rushing TDs – 10
5th in Receiving Yards – 331
Averaged 5.2 yards per carry
Everything about this says smash. Even after a mysterious calf injury, he rushed the ball 33 times for 229 yards and 2 touchdowns. No one can deny the season he is putting together. However, he does have 5 games of less than 75 yards that also yielded 0 touchdowns in those games.
I AM NOT TELLING YOU TO BENCH JOSH JACOBS!
Just that there is a likely potential that he doesn't see a huge game this week. Even if the yardage isn't there the Rams have allowed the most Redzone RB carries over the last 4 weeks which has some potential to save his week.
Verdict: Lower Expectations
Only Josh Jacobs has more broken tackles than Dameon Pierce.

Yet, he is also second in tackles for a loss.

Something something o-line.

— John Hesterman (@john_hesterman) December 7, 2022
---
Leonard Fournette – RB – Tampa Bay Buccaneers
RB28 in FantasyPros Rest of Season Rankings
RB15 in Fantasy Points per Game
The points per game may make you think this is a good play. He's had double-digit fantasy points in 9 of 11 games played. It is all a rouse to me. He has had 10 or fewer carries in 4 of his last 5 games played and less than 50 yards in 4 of 5 games. Include the fact that he is now in a straight split with Rachaad White, it's time to fade. If that wasn't enough for you, he is going up again the 49er's who have the following stats over the last 4 weeks against the RB position:
3.04 yards per carry
1 Rushing TD
26 Receiving yards per game
7 Redzone Running Back touches
These numbers are elite and when you are in the playoffs you can't afford to see your RB2 with a stat line like Week 7, 8, or 9 of this season where he had less than 10 carries for under 25 yards. Fade him if you can.
Verdict: Bench
Bucs RBs in Uncle Lenny's (hip) return:

* Leonard Fournette: 48 snaps, 32 routes, 17 opportunities
* Rachaad White: 33 snaps, 21 routes, 17 opportunities

— Adam Levitan (@adamlevitan) December 6, 2022
---
Week 14 Fantasy Football Wide Receiver Surprises
Darius Slayton – WR – New York Giants
WR66 in FantasyPros Rest of Season Rankings
WR24 in Fantasy Points per Game (since Week 7)
Darius Slayton has been a nice surprise. If you are old enough to remember, Slayton was a big breakout his rookie year where he went for 8 receiving touchdowns on 740 yards. He was a big play threat that eventually faded into the ether when the Daniel Jones experiment started. However, with the new and innovative coaching of Brian Daboll, Slayton has had a resurgence. Since Week 7, he has had 5 of 6 games with double-digit fantasy points and had over 55 yards receiving in all 6 games. He has been a favorite of Daniel Jones in what has been a pretty solid year for him. There are however 2 problems in Week 14 and they are named Darius Slay and James Bradberry. Talk about lights out.
Bradberry – 44% completion percentage, 32 catches for 291 yards, and 1 TD
Slay – 50% completion percentage, 27 catches for 330 yards, and 1 TD
I think it's to the point that you fade all Wide Receivers (except top tier) against these guys. So why bother with a guy that has been solid but could also give you a really ugly game in a bad matchup?
Verdict: Bench
Asking for my leaguemates to realize Darius Slayton is a top 36 WR and a starter in dynasty leagues so I can get a later rookie pick in trade.

— Jeff Bell (@4WhomJBellTolls) December 8, 2022
---
Keenan Allen – WR – Los Angeles Chargers
WR21 in FantasyPros Rest of Season Rankings
WR30 in Fantasy Points per Game
Since Keenan Allen has fully come back from injury he has averaged close to 17 fantasy points per game. This take is more about his matchup against Miami cornerback Kader Kohou than anything else. While I expect Keenan to get his share of targets I'm not sure there will be much there afterward. Kohou has appeared to be used to cover the Wide Receivers who tend to move around from the slot to outside. He played much more in the slot in the games against Buffalo, Cincinnati, Cleveland, and Houston where they have Wide Receivers who will see a fair amount of routes from the slot in Diggs, Chase, Cooper, and Cooks.
In those games, he held Diggs to 74 yards, Chase to 81 yards, Cooper to 32 yards, and Cooks to 59 yards. While that yardage could be fine if coupled with a TD, Kohou has yet to allow a TD this season as well. While Allen will get peppered with his usual targets you have to play him but I would lower my expectations in this Week 14 matchup.
Verdict: Lower Expectations
Keenan Allen had a 31% target share today against Vegas, the highest mark of his season.

— JJ Zachariason (@LateRoundQB) December 5, 2022
---
RELATED CONTENT