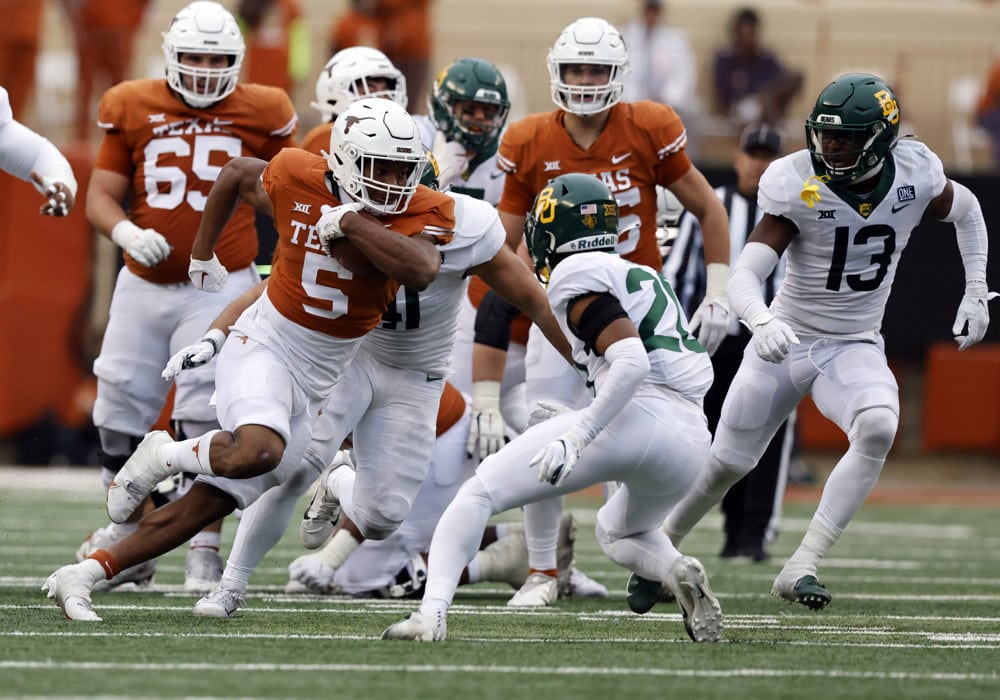 SGPN arrives with the 2023 Dynasty Rookie Rankings. The 2023 dynasty rookie draft class has been hyped up all season. Everyone is telling you to collect those picks; everyone is telling you not to trade those picks away. Who are the players behind the picks that we are all excited about? It's hard to believe, but the college football season is almost over. Your dynasty season might be over already, and you need to start planning for next year.

You have to consider trading players for picks, or if you are a contender, trading players for picks. There is a lot to be excited about with this class at all of the positions. Let's take a look at the class and the players you will be drafting next off-season.
More SGPN Fantasy Football Content
SGPN Fantasy Football Rankings
Follow SGPN Fantasy Football on Youtube
---
2023 Dynasty Rookie Rankings
Top 25 2023 Dynasty Rookie Rankings
1. Bijan Robinson (Age 20) – 6'0 220 lbs
Texas
Projection: Mid-1st Round Pick
Bijan is the clear-cut #1 pick in 1QB drafts and will be a top-10 dynasty RB as soon as he declares for the draft. He is one of the most complete RB prospects we have seen in a long time. If you have the 1.01 in your draft or can find a way to get there, you will want to do so.
Robinson is an imposing runner with his combination of size and speed. He is not just a straight-line runner; he shows patience and the ability to force missed tackles. Robinson has soft hands and can make big plays happen in the passing game. This guy is absolutely electric and is the complete package.
---
2. Jahmyr Gibbs (Age 20) – 5'11" 201 lbs
Alabama
Projection: Mid-2nd Round Pick
There will be a lot of talks this offseason about who is the #2 RB of the class. Tucker and Evans both can easily make a case. This will be a lot of fun, and draft capital, as well as a draft landing spot, will play a huge factor.
Gibbs is currently my #2 because of his combination of rushing and receiving ability. He has elite pass-catching skills and is an extremely talented runner. His versatility will allow him to fit any offensive scheme and stay on the field.
---
3. Jaxon Smith-Njigba (Age 20) – 6'0" 196 lbs
Ohio State
Projection: Mid-1st Round Pick
The hype for JSN has cooled a bit this season due to the emergence of 2024 WR1 Marvin Harrison Jr. Let's not forget how good this kid is and who we can compare him with. Just like Harrison Jr., JSN was outperforming both Garrett Wilson and Chris Olave last season. This stacked WR room had Jameson Williams transferring to Alabama. He is the next stud Ohio State player, and yes, there is something to do with pedigree.
This coaching staff, with Ryan Day and Brian Hartline has been a WR factory. He is a similar-sized player to Olave, McLaurin, and Wilson and might even be a higher-graded prospect. There will be some discussion between him and Addison for the WR1; I am sticking with JSN.
---
4. Jordan Addison (Age 20) – 6'0" 175 lbs
University of Southern California (USC)
Projection: Mid-1st Round Pick
Jordan Addison is an absolute stud and has produced every year. As a freshman, the QB rating when he was targeted was 97.0. Addison averaged 11 yards a catch and had 60 receptions and four touchdowns. He then broke out in 2021 with Kenny Pickett. Addison averaged 15.9 yards per catch on 100 catches, with 17 touchdowns.
Just an absolute monster year that got him plenty of accolades, including the Biletnikoff award for being the nation's top WR. He was the #2 WR behind Jaxon Smith-Njigba per PFF.
When Pickett was drafted, Addison decided to transfer. The massive demand and huge NIL contracts had something to do with it as well. Universities were throwing money to Addison, who ended up going to USC with Lincoln Riley and the top QB of 2024, Caleb Williams. Addison continues to dominate with eight touchdowns already this season while averaging 15 yards a catch. Addison is a top-10 pick and will offer a true #1 upside wherever he is drafted.
---
5. Zach Evans (Age 21) – 6'0" 215 lbs
Ole Miss
Projection: 3rd Round Pick
Zach Evans is an extremely exciting RB and another transfer. Evans transferred from TCU to Ole Miss, and this has only helped his stock. A step up in competition with another season of great production. Evans is an elusive and speedy runner who averaged 7.7 yards a carry when at TCU as a freshman.
As a sophomore, he was uber-productive, with 648 yards in just six games. Evans again averaged 7 yards per carry and averaged 13 yards a catch on top of it.  I believe that Evans and Gibbs are a tier ahead of the rest of the class and just below Robinson.
---
6. Quentin Johnston (Age 21) – 6'4" 201 lbs
Texas Christian University (TCU)
Projection: Top 10 Pick
Johnston has the prototypical size for an outside WR, but he moves like a smaller WR. His quick feet and crisp route running allow him to move around the field. His size is extremely difficult to match up with as he has a big catching radius to go with his 6'4" frame. Johnston is a physical runner when he gets the ball in his hand.
An underrated part of his game is his ball-tracking and big play ability. If Johnston went to a more prolific offense with a big-time QB, he would be talked about even more. He just looks dominant out there, and he is a huge part of why the Horned Frogs are undefeated.
---
7. Jalin Hyatt (Age 21) – 6'0" 185 lbs
Tennesee
Projected: Top 10 1st Round Pick
Jalin Hyatt has come out of nowhere and is making an argument to be the top WR in this class. He broke out this year after Cedric Tillman went down and just lit up the Alabama secondary. Hyatt has good size and length to beat outside defenders. His speed and ball tracking might be the best in the class. Since that game, he has absolutely exploded.
In 2022, he is averaging 19.2 yards per reception, and the QB rating targeting him is 158.3. Hyatt has a mind-blowing 15 touchdowns on his 58 catches. He also has 1,116 yards receiving, and the season isn't even over yet.
Hyatt will be a very interesting player this offseason, as a lot of people will point to his one year of production and late breakout age as a red flag. If the NFL Drafts him as the top WR in the draft, people will have some tough decisions to make.
---
8. Blake Corum (Age 21) – 5'8" 210 lbs
Michigan
Projection: 2nd Round Pick
Corum will be a Heisman finalist, and he has had a monster 2022 campaign. He is averaging 5.9 yards per carry on a whopping 245 carries this year. Corum has an amazing 18 touchdowns on the year. Corum is a powerful runner with a lower center of gravity.
He also has a knack for the big play and a nose for the endzone. Corum also has 7.1 yards per catch with 80 receiving yards on 11 receptions. Corum had 24 receptions in 2021, showing he isn't just a rusher.
---
9. Zach Charbonnet (Age 21) – 6'1" 220 lbs
UCLA
Projection: 3rd Round Pick
Zach Charbonnet has been one of the most productive backs in the country for two seasons in a row. His career got off to a rocky start when he transferred from Michigan following his Freshman season. In 2021, he started a full season for UCLA and exploded onto the scene. Charbonnet had 1,334 yards of offense with 13 touchdowns.
Averaging 8.2 yards a catch at his size is extremely impressive. This year he has been even better, averaging 9.1 yards per catch. His rushing yards have always increased from 5.6 to 7.3 yards a carry. Charbonnet has 1,539 yards in just nine games.
---
10. Tank Bigsby (Age 21) – 6'0" 212 lbs
Auburn
Projection: 3rd Round Pick
Tank is one of the best runners in this class, and do not let the name fool you; he is quick. Tank runs a 4.48 and averages 5.4 yards per carry in his three years of SEC play. Bigsby has great contact balance and a great center of gravity. Bigsby might be the second-best pure runner in the class behind Bijan.
The auburn offense as a whole has been struggling, and overall the production is lacking. Bigsby still has averaged almost 100 yards of offense a game, including his freshman season. In 10 games, he put together 918 all-purpose yards. His sophomore campaign was his best work, with 1,283 yards in 13 games.
This season is not over, and he has 1,088 all-purpose yards in 11 games. Doing the majority of his work on the ground, Bigsby has impressed and is projected to be 3rd/4th round pick. If he gets 3rd round draft capital, his stock will rise.
---
11. C.J. Stroud (Age 21) – 6'3" 205 lbs
Ohio St.
Projection: Top 5 Pick
Stroud is my top QB, but we are splitting hairs with these two players. Stroud looks like he is headed for either the Houston Texans or the Carolina Panthers. The Panthers are very interesting as we don't know who the coach will be. If they get an offensive-minded coach that has had success with QBs, that could make the difference for stroud or young.
The recent success of Justin Fields helps Stroud out for those helmet scouting. A lot of "another Ohio State quarterback" comments will be said this off-season. Stroud's decision-making and arm strength are a big part of why he is my 1.
The bigger body comes with a bigger arm, like his ability to push the ball down and his ability to make tight-window throws. Stroud also has the ability to layer it and put the touch on the ball when needed. He attacks the defense with confidence, and he has the upside you are looking for in fantasy football.
---
12. Bryce Young (Age 21) – 6'0" 194 lbs
Alabama
Projection: Top 5 Pick
Just like Stroud, the landing spot could play a role here. This is a dynasty, but don't underestimate the importance of the first few years of development. Confidence is huge, and the situation is a huge factor in helping build it. The QB and Coach pairing are crucial, can't wait to see who Young ends up with. Young reminds me a lot of fellow Alabama QB Tua.
Despite being a slight frame, he is a tough kid with a strong arm. We have seen a trend in NFL quarterbacks that played baseball being short stops. That arm flexibility and those quick hands have translated well to the new NFL.
Young is another one of those players, and we have seen him show the different arm angles and use his quick hands to create a quick release. Young will be a top 3 pick in your Superflex rookie drafts and could be a top 12 pick in your one quarterback league.
---
13. Michael Mayer (Age 21) – 6'6" 235 lbs
Notre Dame
Projection: Mid-1st Round Pick
Michael Mayer is the top tight end in this class, and it isn't relatively close. Mayer is a projected first-round pick. He is a traditional tight end with the ability to block and a bigger frame. He is not as athletic as Kyle Pitts and is built more like a Pat Freiermuth.
Patient dynasty managers will get rewarded if he falls into the 2nd round of your drafts. We know how difficult it is for this position to give you consistent fantasy production.
We also know how important it is to find an option you can count on. A contending team could take him at the end of the 1st and wait, he could be your starting dynasty tight end for a very long time.
---
14. Josh Downs – (Age 21) – 5'10" 175 lbs
North Carolina
Projection: Early 2nd Round Pick
Downs is a stud WR, and he is a good example of the depth this class offers. He has everything you are looking for in a dynasty WR. Early Breakout age (check), college dominator rating (check), and is an early declare.
The analytics guys will be in love with Downs, and the film guys won't be disappointed, either. Huge potential with Downs, who has great speed and deep threat ability combined with short-speed quickness for PPR upside.
---
15. Devon Achane (Age 21) – 5'9" 185 lbs
Texas A&M
Projection: 2nd Round Pick
Devone Achane might be the fastest offensive player in this draft, with an unofficial 4.24 40 reported. Achane is a big play waiting to happen, and he gets big chunks when he touches the ball at 6.8 yards a clip in 2021.
This year he has a modest 5.6 yards per carry with 5.4 per catch. Achane is a smaller running back at only 185 lbs and will project more as a satellite back.
His ability to catch the ball and make plays in space will get him on the field, and teams will pay up for that speed. You will have to pay for your drafts too.
---
16. Sean Tucker (Age 21) – 5'10" 205 lbs
Syracuse
Projection: 3rd Round Pick
Sean Tucker has put together a great college career and will be one of the top running backs in this class. I have concerns about his game translating to the NFL. He has a slight frame and is an indecisive runner.
Tucker's numbers are far better than most of the backs in his class. In almost three seasons, he has 3,057 rushing yards with 25 rushing touchdowns. Tucker also has 63 receptions for four more touchdowns.
Tucker is averaging 5.4 yards per carry and 9.8 yards to reception. All of these are extremely impressive. Tucker's statistics were a little bit more impressive last season, and his stock is trending down. Currently, he is projected to be a day-three pick, and draft capital is huge.
---
17. Kenny McIntosh (Age 22) – 6'1" 210 lbs
Georgia
Projection: 4th Round Pick
McIntosh is the pass-catching back in this backfield, and he took over for James Cook in this offense. He had 33 receptions already this year for 342 yards, and his dual-threat ability will be sought after in your drafts.
McIntosh isn't just a satellite back. His ability to run makes him a complete back. He could be a riser due to his PPR upside.
---
18. Rashee Rice (Age 21) – 6'2" 203 lbs
Southern Methodist University (SMU)
Projection: Late-2nd Round Pick
We have seen steady production from Rice, but this year he has exploded. This year he broke out and has 1,208 yards so far. Rice has matched his nine receiving touchdowns from last year already and has upped his yards per catch to 14.6.
Some questions regarding the route tree and smaller school competition will come up. The production is undeniable, and he looks absolutely dominant out there.
He has the short-area quickness you are looking for in a slot WR and has the speed to threaten the defense deep. Watch the tape; he is one of the most fun players to watch in the country.
---
19. Zay Flowers (Age 22) – 5'10" – 172 lbs
Boston College
Projection: 4th Round Pick
Flowers is a 4.3-speed guy and could work his way into day 2 with a solid combine. Flowers is close to 1,000 yards on the season and already has ten touchdowns this year.
Last year Flowers averaged 17 yards a catch, and that has gone down. Most project him to be a slot WR due to his size but also due to his strengths. He will be on a lot of people's sleeper lists this draft season.
---
20. Hendon Hooker (Age 24) – 6'4" 218 lbs
Tennessee
Projection: Mid-1st Round Pick
Hendon Hooker, unfortunately, tore his ACL last week, and that will play a factor throughout the draft process. Teams will not be able to watch him work out, and teams will have more medical questions for him.
He still has done enough by most scouts to be a 1st round pick. Hooker has some rushing upside that will be exciting for dynasty managers. You will have to wait on him; he may not be ready to go on week one if given the opportunity.
The landing spot will be interesting for him as the team will have to be patient with his recovery. You will also have to wait for fantasy football purposes.
---
21. Cedric Tillman (Age 22) – 6'3" 215 lbs
Tennessee
Projected: 3rd Round Pick
Tillman was gaining some steam earlier this year and has now taken a backseat to Hyatt. Tillman has great size and was dominating at to start of the season. He had not been very productive until this year and was on the verge of a breakout.
He, unfortunately, was injured and didn't play for a month. During that month, Hyatt has taken over as one of the top wide receivers in the country. Tillman will be highly debated this offseason, but likely will end up being a back end 2nd or early 3rd round pick in your rookie drafts.
---
22. Parker Washington (Age 20) – 5'11" 184 lbs
Oklahoma
Projection: 3rd Round Pick
Washington is a good WR in a bad situation. Penn State's QB play the last few years has really held down their WR production. Washington projects to be a slot in the NFL with sure hands and great route running. Washington will be a 2nd round pick in your rookie drafts and could be a PPR machine.
---
23. Chase Brown (Age 22) 5'11" 205 lbs
Illinois
Projection: 4th Round Pick
Chase Brown is another super-productive running back with over 1,500 rushing yards this season. Brown is a smaller-speedy back with an unofficial 4.42 40.
Chase has run for almost 500 more yards and doubled his receiving production from 2021 to 2022. Brown's ability in the receiving game has to be exciting for NFL scouts and is definitely exciting for fantasy football.
---
24. Marvin Mims  (Age 20) – 5'11" 184 lbs
Oklahoma
Projection: 4th Round Pick
Mims did not follow Caleb Williams and Lincoln Riley to USC. He stayed put and has been doing just fine this year. Expect Mims' name to be called early in the draft.
Mims is a projected late 1st round pick. His unofficial 40 is 4.46, and big play ability. Mims averaged 22 yards a catch last year and 18 yards a catch this year. This guy picks up chunks when he catches the ball and has good size.
---
2023 Dynasty Rookie Rankings by Position
Quarterbacks:
C.J. Stroud, Ohio State
Bryce Young, Alabama
Hendon Hooker, Tennessee
Anthony Richardson, Florida
Will Levis, Kentucky
Jaren Hall, BYU
Tanner McKee, Stanford
Michael Penix, Washington
Sam Hartman, Wake Forrest
Bo Nix, Oregon


---
Running Backs:
Bijan Robinson, Texas
Jahmyr Gibbs, Alabama
Zach Evans, Ole Miss
Blake Corum, Michigan
Zach Charbonnett, UCLA
Tank Bigsby, Auburn
Devon Achane, Texas A&M
Sean Tucker, Syracuse
Kenny McIntosh, Georgia
Chase Brown, Illinois


---
Wide Receivers:
Jaxon Smith-Njigba, Ohio State
Jordan Addison, USC
Quentin Johnston, TCU
Jalin Hyatt, Tennesee
Josh Downs, UNC
Rashee Rice, SMU
Zay Flowers, Boston College
Cedric Tillman, Tennessee
Parker Washington, PSU
10. A.T. Perry, Wake Forrest
---
Tight Ends:
Michael Mayer, Notre Dame
Dalton Kincaid, Utah
Darnell Washington, Georgia
Arik Gilbert, South Carolina
Luke Musgrave, Oregon State


---