Dynasty Tight End Rankings are really difficult because there are just so few of them that you can count on. It is much easier to move on from a veteran wide receiver with the recent influx of talent. Tight Ends start to decline between the ages of 30 and 32, even the best ones. We saw it with Jimmy Graham and with Rob Gronkowski. Mike Braude, who writes for Apex Fantasy Leagues, "88.7 percent of the peak seasons take place prior to the age 32 season."
This points directly at Travis Kelce and Zach Ertz, who are 2 of the top tight end options, and of course, Kelce, who has been 1 or 2 for 5 of the last six seasons. Travis Kelce is on pace for another top 2 tight end finish, if not tight end #1. Zach Ertz is very interesting as he just had a serious injury that ended his season and no doubtedly lowers his value.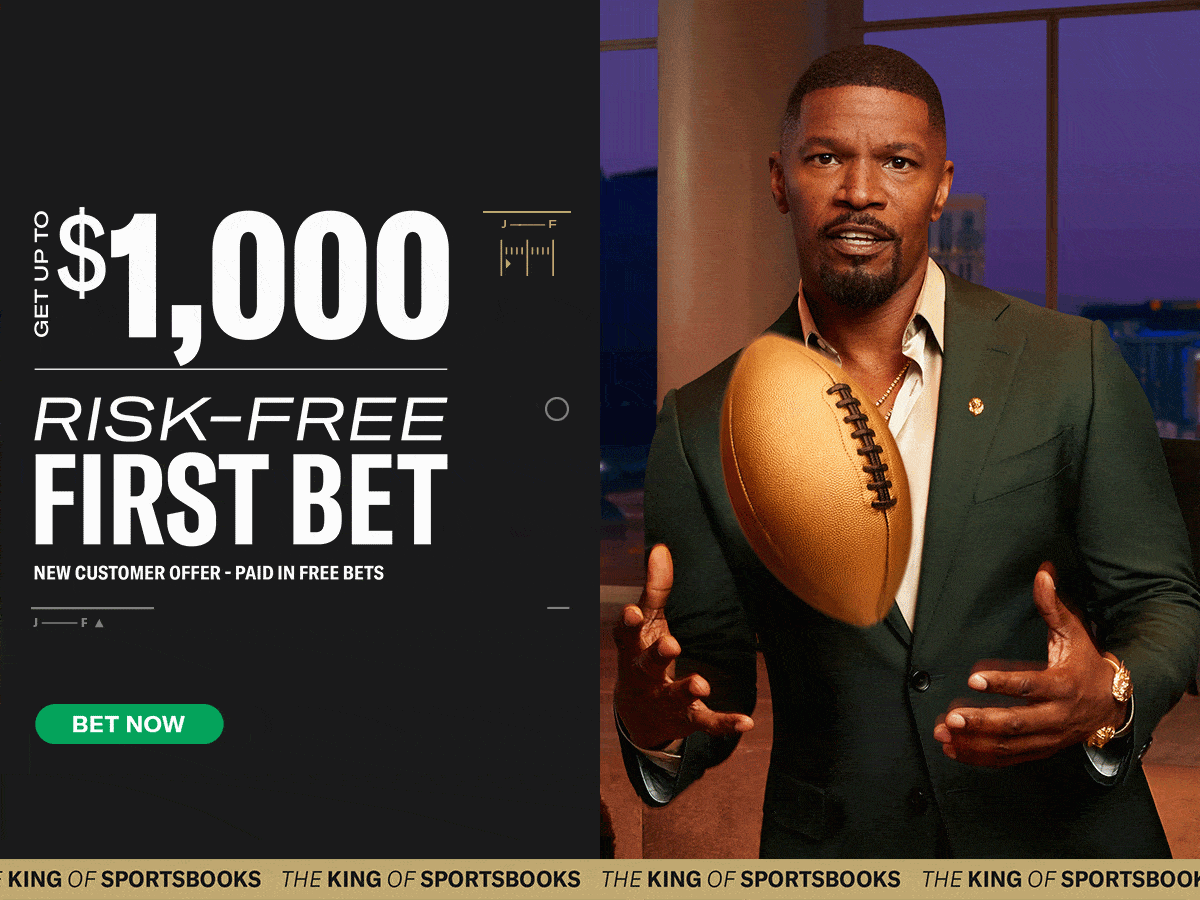 MORE SGPN FANTASY FOOTBALL CONTENT
Week 12 IDP Fantasy Football Preview 
SGPN Fantasy Football Rankings
Follow Fantasy Football on Youtube Channel
---
Dynasty Tight End Rankings (Updated November 2022)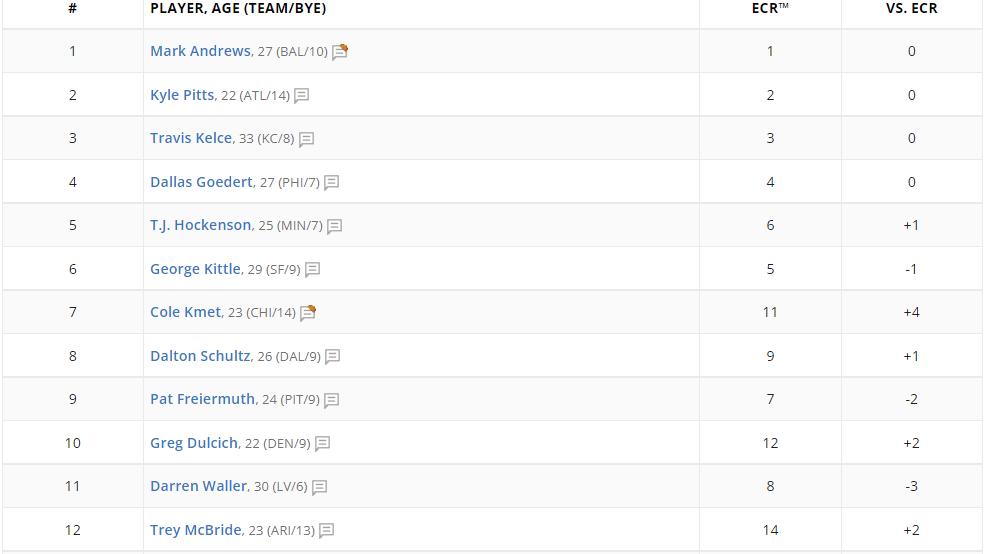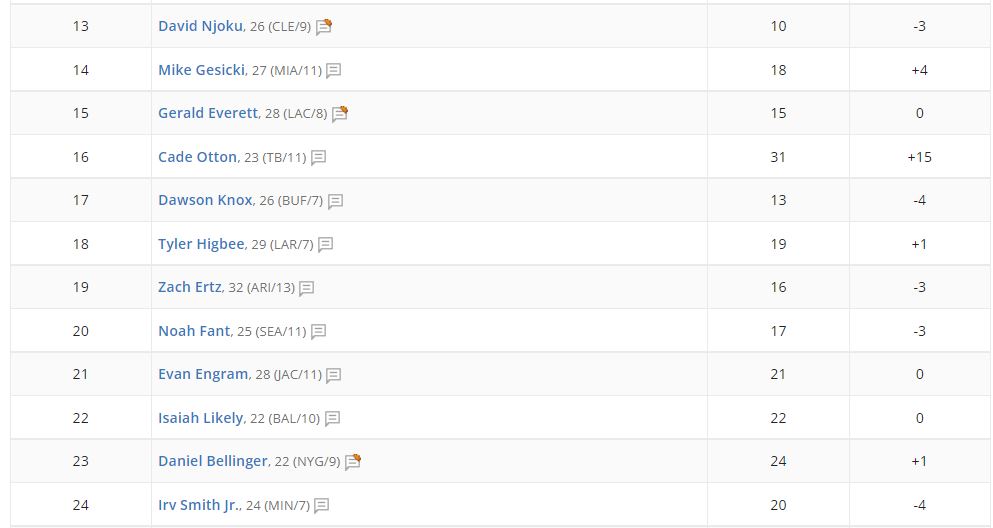 Dynasty Tight End Risers
#7 – Cole Kmet (Age 23) – Chicago Bears
My Rankings: TE7
SGPN Consensus Rankings: TE10
FantasyPros Consensus Rankings: TE11
Cole Kmet was a breakout candidate, and that looked like a poor bet at the beginning of the season. As the team has gotten better, so has Kmet. Cole Kmet had 0 touchdowns last year and now has 5 in the last three weeks. Kmet has the high draft capital, being drafted 43 overall, and the athletic profile to be a top tight end. Hopefully, you bought low earlier in the season, and his stock is rising. With his age and the tight-end landscape, it will be hard to trade him right now.
#10 – Greg Dulcich (Age 22) – Denver Broncos
My Rankings: TE10
SGPN Consensus Rankings:
FantasyPros Consensus Rankings: TE17
The rumors this summer that Dulcich could be the starting Tight End in this offense are true. Dulcich hit the ground running, scoring a touchdown in his first two games played. At 22 years old, this is an exciting player. Dulcich ran a 4.70 40 at 6'4", 243 lbs, and is currently averaging 14.8 yards per reception. Studying tight ends this offseason, we are looking for 12+ yards per catch.
Something we have seen a big jump in for Cole Kmet. Another key stat to a successful tight end is being top 3 in your team in targets as well as air yards. In the first four games of his career, Dulcich is on pace for 1,228 air yards and 89+ targets. He is going to be a key piece in this offense for years to come.
#12 – Trey McBride (Age 23) – Arizona Cardinals
My Rankings: TE12
SGPN Consensus Rankings: TE15
FantasyPros Consensus Rankings: TE14
Trey McBride was a monster in college and was the consensus #1 Tight End in the draft class. Zach Ertz being ahead of him was good for his long-term development as he can learn from one of the best. But, bad for his short-term outlook. Now Zach Ertz is out for the season and questionable for the start of the season with a torn ACL.
Ertz is 32 years old and will be coming off a major injury next season. The team signed him to a 3-year extension, but there is an out in 2024 that could likely be used. McBride still is a long-term play, but rookie tight ends usually take 2-3 years to develop historically anyways.
#14 – Mike Gesicki (Age 27) – Miami Dolphins
My Rankings: TE14
SGPN Conensus Rankings: TE14
Expert Consensus Rankings: TE18
Mike Gesicki is one of the most athletic tight ends in the league and turned in a perfect RAS score. His player profiler comparison is Vernon Davis. He is a free agent next year, and we will see if the Dolphins keep him. It will be very interesting to see where he goes for Dynasty managers. Gesicki has only eclipsed 100 targets once in his career.
He was targeted 112 times in 2021; he turned that into 73 receptions for 780 yards. Unfortunately, this was a career-low with only two touchdowns. The offense last year was not half as good as it is this year. Unfortunately, Gesicki has fallen down the target totem poll behind Hill and Waddle.
#16 – Cade Otton (Age 24) – Tampa Bay Buccaneers
My Rankings: TE16
SGPN Consensus Rankings: TE26
FantasyPros Consensus Rankings: TE33
Cade Otton was a great college tight end, and he couldn't have gotten a better landing spot. This spot gave her the opportunity to play early, and he has earned playing time. The more he plays, the more we can see the talent. Otton is quickly becoming one of Brady's favorite targets and is already the clear-cut starter.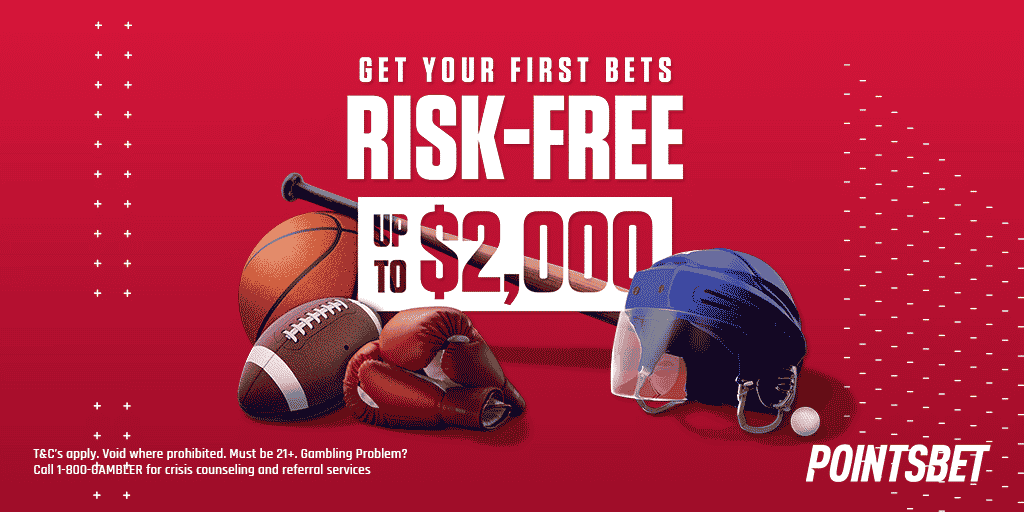 ---
Dynasty Tight End Fallers
#11 – Darren Waller (Age 30) – Las Vegas Raiders
My Rankings: TE11
SGPN Consensus Rankings: TE9
FantasyPros Consensus Rankings: TE8
Darren Waller had a late-career breakout and has been one of the premier tight ends in the league for the last few seasons. We saw a decline in 2021 following back-to-back 1,000-yard seasons. Mostly due to injury but also due to the breakout of Hunter Renfrow. But, this year, the team changed the coaching staff and added Davante Adams.
Adams has been soaking up targets, and neither Waller nor Renfrow have been able to do anything. Waller signed an extension at the beginning of the season, which brought optimism, but he has missed most of this season due to injury. His value is low, and some may see him as a buy low, but that may be true.
But I am not bringing him up the rankings until we see more. In the last 14 games in which Waller has played 50% snaps or more, he is averaging 8.3 fantasy points per game. 
#9 – Pat Freiermuth (Age 24) – Pittsburgh Steelers
My Rankings: TE9
SGPN Consensus Rankings: TE8
FantasyPros Consensus Rankings TE7
Freiermuth is an interesting player, and we have seen flashes. This season he has been a top-10 tight end 50% of the time, finishing TE8, TE10, TE7, and TE4. The other half of the time, he was TE22, TE33, TE15, and TE17. The hope was that the Chase Claypool trade might help him; we have not seen that yet. This offense is changing under new quarterback Kenny Pickett, and there are a lot of questions. The three concussions in two seasons can't be ignored either as a concern. 
#17 – Dawson Knox (Age 26) – Buffalo Bills
My Rankings: TE17
SGPN Consensus Rankings: TE13
FantasyPros Consensus Rankings: TE12
Dawson Knox had a breakout in 2021 on the back of being hyper-efficient and scoring nine touchdowns. He was due for some regression, and we have seen that happen. Knox has two touchdowns this season and has been a top-10 TE only one time this season. He has finished TE20 or worse four times. Knox was extended this offseason with a big contract, and that caused his dynasty value to increase. He is on one of the best offenses in the game but is not getting enough opportunities.
#19 – Zach Ertz (Age 32) – Arizona Cardinals
My Rankings: TE19
SGPN Consensus Rankings: TE12
FantasyPros Consensus Rankings: TE16
Zach Ertz has been one of the top tight ends for a very long time. He picked up right where he left off when he was traded to Arizona. Ertz has been a high-floor, low-ceiling tight end, and this year he was one of the rare consistent tight ends. But he just was lost due to an ACL injury and will be recovering at the beginning of the season next year.
In 2024, at his age 34 season, he could be on the move as the team has an opt-out built into his recent extension. It will be interesting to see if the Cardinals move to McBride sooner than that. Ertz could be a great buy low for a contender to stash right now, but his value is definitely tanking right now.