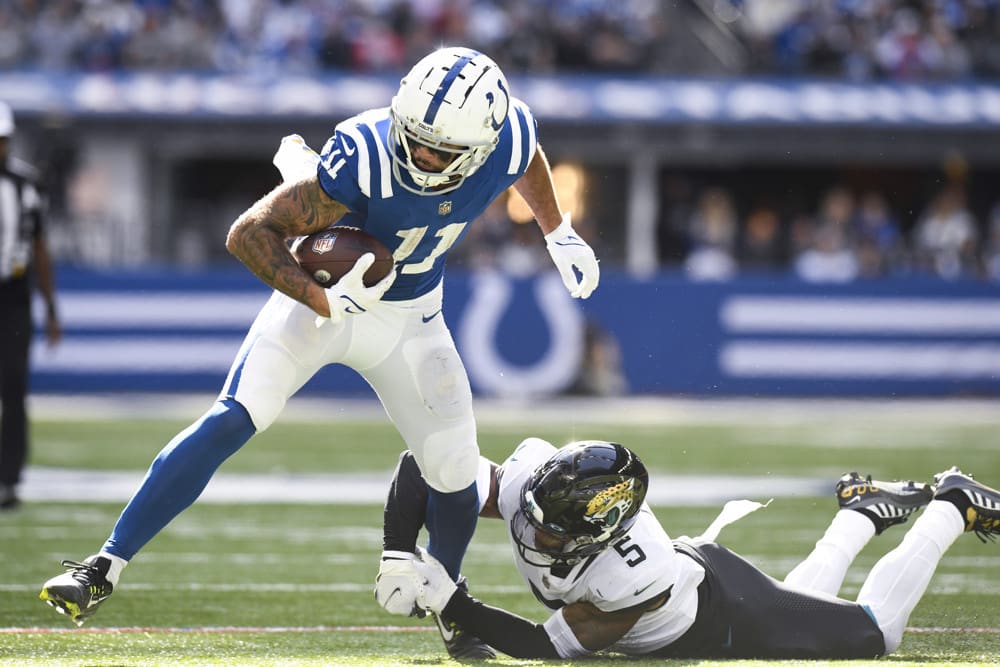 I would like to apologize for last week's absence. We had family visiting from Tennessee and they wanted to go camping off the grid here in Northern California all weekend. I even had some Chris Olave lineups locked since Friday. In addition to getting this exercise back in the swing of things, the DFS Flowchart received a makeover this week. It outlines the same general thought processes as before, but now portrays different avenues one can take when architecting that optimal GPP slate breaker. After all, it is definitely more important to nail down a few core plays that appear in most of your lineups. Some strategic leverage plays and value plug-ins can wrap it all up in a bow.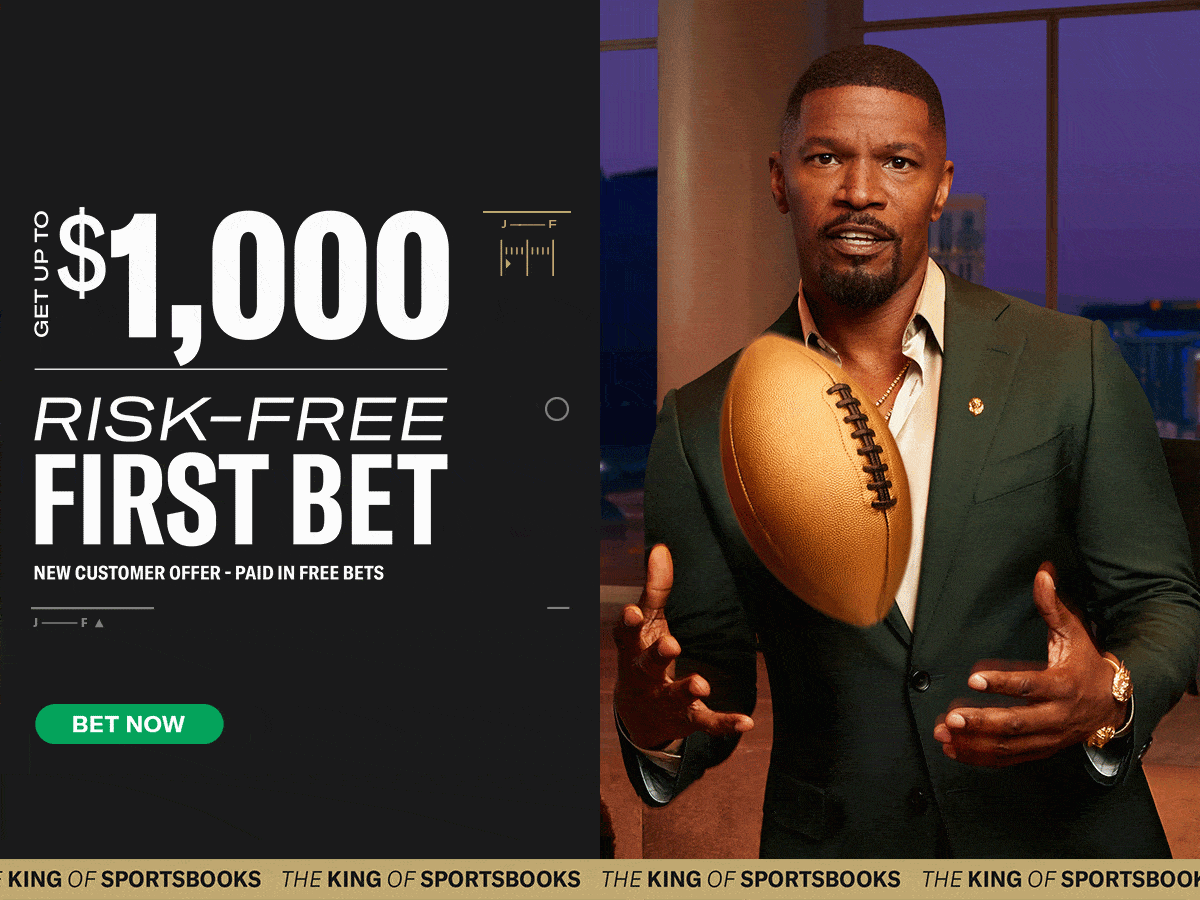 There is a multitude of players who are priced incredibly well for their upside and a ton of leverage to take advantage of. I will be attacking a few high-total games with very little fanfare. This week is just different. For savvy DFS players, it's different in an exciting way. The chalk is more likely than ever to bust this week. Sunday cannot arrive soon enough. Let's get flowing.
MORE SGPN FANTASY FOOTBALL CONTENT
---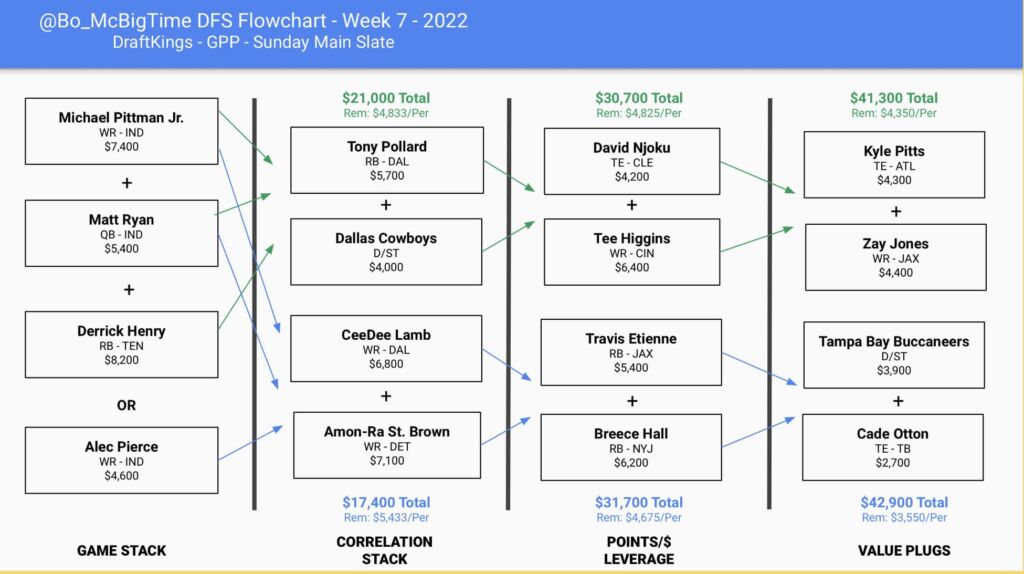 ---
You're Stacking Them?!
Yes, the Colts are back on my radar. I'm chasing last week's points because this week also appears to have a lovely amount of upside, value, and leverage on the field for GPP contests. In smaller tournaments, I might be tempted to stack the Bengals and Cowboys a lot more. There is a lot of shootout potential in this AFC South clash that hardly anyone is honed in on. Matt Ryan was excellent last week versus the Jags. Amazingly, he and his top two receivers are not picking up any ownership on Run the Sims. I have no qualms about double-stacking Pittman and Pierce this week versus a horrendous Titans secondary. I also like the idea of sneaking Derrick Henry's upside in as a runback to complete the game stack. There are still so many ways to go after that.
---
Correlation into Causation
Dallas and Detroit are picking up quite a bit of chalk this week, thanks to the assumed return of Dak Prescott. I still really want a piece of that action, but one way to stab at the flow of this game without drowning in chalk is to stack Pollard (or Zeke) with the Cowboys DST. This is a wonderful time to break the mold and attack a high-priced DST with only 1% projected rostership. Pollard is my preference, since he is the one with the game-breaking big play upside. Coincidentally, if I double-stack the Colts, I can afford a face-off stack of Lamb and St. Brown. The former is very chalky, while the latter is surprisingly not at all.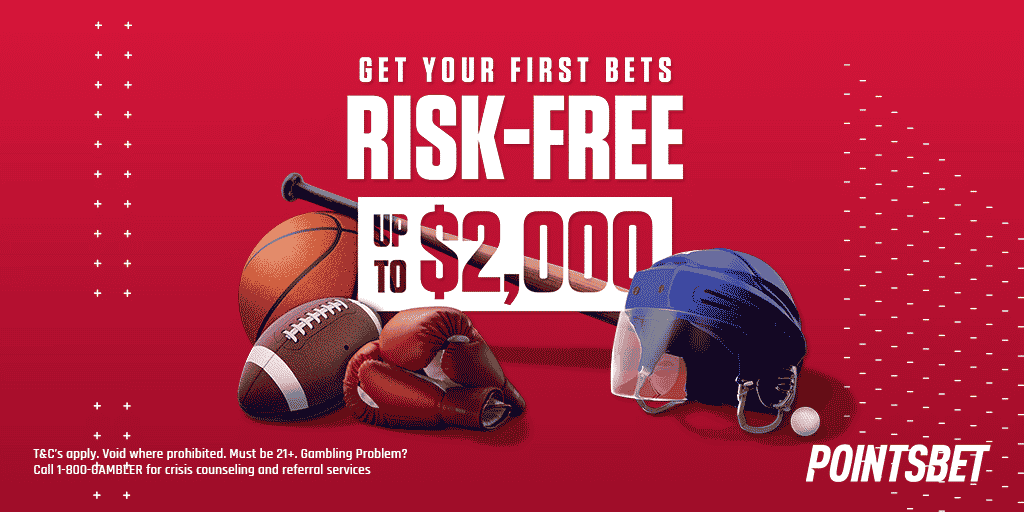 ---
Running Wild
Breece Hall and Travis Etienne are incredible talents with a continued pattern of increased usage. They are also both top-8 in projected points-per-dollar on DraftKings at the RB position. That second avenue loads up on Wide Receiver but also leaves enough salary to roster both Hall and Etienne in wonderful matchups. I normally don't worry about ownership at RB because the chalky plays are a lot less likely to let you down than a WR or TE. Neither of these guys is as popular as Josh Jacobs this week but cost significantly less against the salary cap.
---
Pinching Silver Dollars
The values this week definitely don't scrape the bottom of the fish tank. They offer incredible upside for their salary instead. Pitts will be moderately chalky, but my gut is telling me his role will be much different this week when the Bengals blow the Falcon's defense off the field. Zay Jones is beloved by Trevor Lawrence this season, with Lawrence rolling into Week 7 as the QB9 in fantasy. The Giants are 30th in defensive DVOA this season and have absolutely no business at 5-1.
The Bucs DST carries the second-highest salary on the slate behind the Cowboys. They also face an atrocious Panthers team and are projected as the second-most optimal DST on the slate with only 6% projected ownership (RTS). Otton is a target vacuum who continues to earn Tom Brady's trust. His salary makes him a wonderful spend-down option at TE who is also popping up in the simulations as an optimal play.
---
RELATED CONTENT