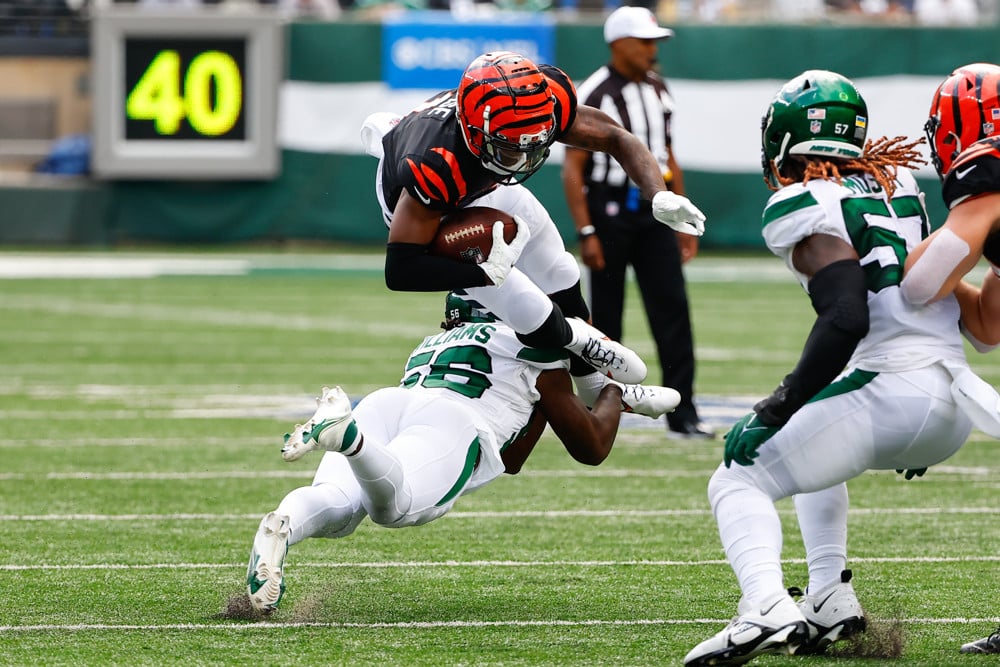 Welcome back, and thank you for joining us again for the NFL's week 7 IDP fantasy football footnotes. And, of course, we're right to it with our risers, fallers, pros, and regular Joe's footnotes. So we're covering NFL locker room reports and any scenario changing. And/Or just passing on some of the in-house rumors and statements by the local beat writers. Whatever it is. If it's NFL defensive player related, and could change the game somehow. It's always going to be worth talking about IDP fantasy football footnotes.

MORE SGPN FANTASY FOOTBALL CONTENT
Fantasy Football Youtube Channel
---
Week 7 IDP Fantasy Football Footnotes
Bad Example?
I'm unsure if you've seen my articles, or perhaps we've talked about this on SGPN's IDPro Players Pod. But it's a true mystery why the Jets insist on continuing to play linebacker Quincy Williams. He's clearly not all that good, but he just sent Kwon Alexander back to the bench. Last year it seemed like production by default his first year stepping in with all the injuries and such that seemed to get his number to come up. And I'm truly starting to believe what Johny The Greek said on our pod. And that was that big brother Quinnen Williams playing time. Indeed is included somehow in little brother Quinnen William's nice contract.
It leaves me wondering if this has any effect on the locker room in real life. But I got to admit. That all came to mind after I had put a waiver wire claim in a shallower league on Quincy. All based more on the great IDP ceiling the position carries. Rather than knowing it's secure by the person playing it.Week 7's IDP Chief Concern
---
Week 7's IDP Chief Concern
So far this season, the Cheifs inside linebacker Nick Bolton has lived up to his LB1 status. And that was despite a questionable start after it looked like Willie Gay was cutting into his production a bit. But since then, it's leveled off nicely. And Bolton is one of the few who has been able to maintain his last offseason higher-end expectations.
The concern, which likely isn't anything. But Willie Gay is about to come off suspension. And now, will the Chiefs sit Darius Harris? He's stepped in and performed as well as we could have wanted. And after being benched the second week, we thought we could count on him to blow a coverage. He's graded on par and just shy of what PFF has Nick Bolton.
So as an IDP manager, one would think. I shouldn't assume anything when Willie Gay has a low PFF score for the couple of games he played. And how would putting in a linebacker with Bolton that teams might prefer to pick on? And the Chief concern. Whether or not there will be any effect of Bolton's consistent fantasy football average?
---
ADP Gold
Suppose we were to think back to this past offseason. Who sticks out in your mind as a linebacker that was sorely under-drafted? I guess I'll go with the Falcons signing Rashaan Evans. Which at the time just threw another curve into an already confusing situation. With Deion Jone's contract and shoulder injury drama. To whether or not IDP fan favorite Mykal Walker would really get his shot. And when I look back and remember those deep drafts we had and Walker and Jones were the Falcon's main targets. I intentionally let Rashaan Evans slip by, even late. And I'm talking about even seeing him going undrafted.
Catching us up to date on how that went. It's heading into week seven and likely went as well as we could hope for. Walker, in the end, did get his shot, although Deion Jones drafters aren't excited yet. Because the whole trade with Cleveland did clear up the rest of the Falcon's ILB season, his is still wavering in the wind until now, this coming week.
And those Evans managers? They are enjoying a late-round to waiver-wire pickup as a top-20 linebacker in most IDP formats. He's played nearly all the snaps. Many were predicting more of a two-down run-stopping roll. After all, he was getting faded out in Tennessee and lost his LB1 ceiling. And his coverage skills are far from his strength for this new Falcon's defensive scheme. So lesson learned again. Even when we're sure we got it figured out. True ADP IDP gold is hindsight. And that's if you've been lucky enough like this and grabbed Evans somewhere or somehow.
---
Impressive Week 7 IDP Status
In the early offseason, before the Rams signed Bobby Wagner. Inside linebacker Ernest Jones had LB1 written all over him. But now, after the fact, we should still really be impressed. Because the Rams actually did give him more snaps than traditional for the second ILB in this scheme. But he's managed to produce as he has in nearly every contest. And did it with only averaging 60% of the snaps available. Noting here, in weeks 5 and 6, he saw a more stable 75%.
Here's the really impressive part if we look at it as playing time versus production. There are just two players ahead of Jones in points per 100 snaps played. And that Denver Josey Jewell. It isn't shocking when he's healthy to see, considering his position and full-time role. And then there is Tampa Bay's Devin White. And he's enjoying a really nice top-tier IDP rebound from his rookie season. Then in the third spot is Jones.
Now, this doesn't really clear up how well this reflects on Jones. But considering points per 100 snaps played. Jones is the only one in the top dozen inside linebackers, so far, that has basically been viewed as a part-time player. And played every contest with a weekly average of less than 65%. This just seems like to me, he's overachieving on a regular basis. And the main reason this second ILB position for the Rams is working out better now than it has in the past is Jones. And that stands out right now with PFF's nice solid 74 grade as a backup.
RELATED CONTENT