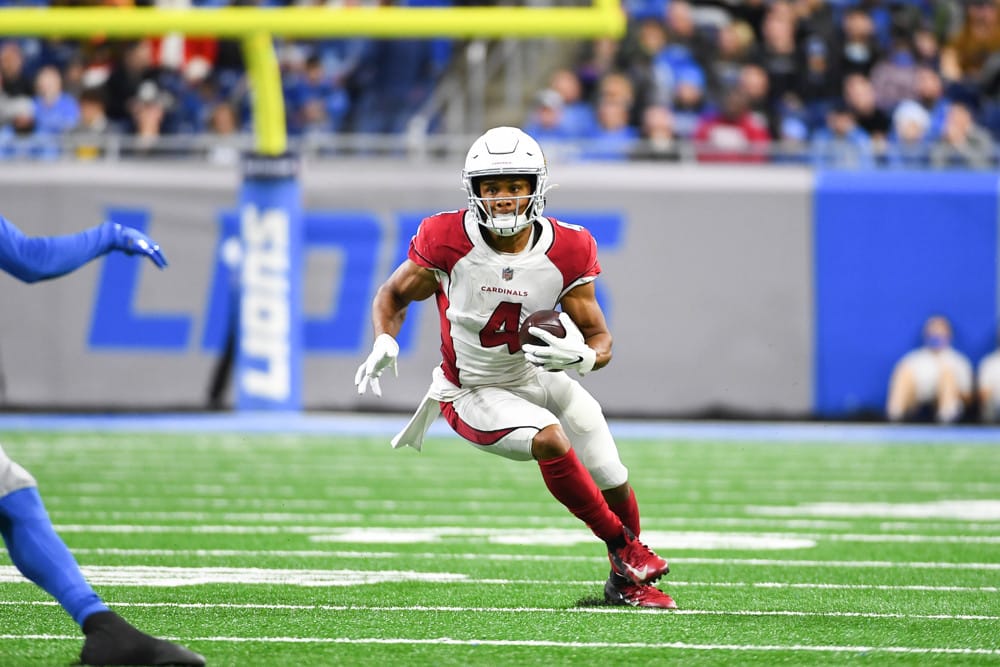 Another week of NFL action is in the books and we are in the thick of it with bye weeks and injuries beginning to accumulate. Many late-season matchups are won on the waiver wire which is why SGPN is back with another Week Six FAAB cheat sheet. Not only are the players your targeting important, but how much you spend to acquire these players is important as well. Not overspending and keeping some money in the waiver wire war chest is essential as your looking to make a playoff push. In a week where not many waiver wire pickups stand out, I'm preaching conservative spending.

In addition, I always like to remind folks to get a little creative with their FAAB bids when trying to acquire players. If i recommend bidding 10% on a player don't be afraid to add a $1 or $2 to that total to differentiate yourself. Most fantasy managers bid in increments of 5 or 10. So by bidding $6 or $11 on a player you're increasing the likelihood of landing that player. As always, check back daily with SGPN as we produce fantasy football content daily.
MORE SGPN FANTASY FOOTBALL CONTENT
Fantasy Football Youtube Channel
---
Fantasy Football: Week Six FAAB Cheat Sheet
Potential Gems (10-20% of FAAB)
There is no one that you should be spending a significant portion of your FAAB this week on. Double-check and confirm players like Darrell Henderson, Brandon Aiyuk, and Tua Tagovailoa aren't on waivers as they would be exceptions. In most leagues that is not the case though so we will skip these names in favor of players actually on your waiver wire.
---
Mid-Tier Targets (5-15% of FAAB)
Rondale Moore – WR – Arizona Cardinals – 10%
Marquise Brown's unfortunate injury has opened the door for Rondale Moore to continue to become an even larger part of the offense. DeAndre Hopkins comes back this week which will allow Moore to play as the WR2 for the Cardinals which is a role he is more suited for. Moore played 99% of the snaps this past Sunday and he's drawn 18 targets over the last two weeks. In addition, Kyler Murray still leads the league in pass attempts and the Cardinals are second in rate of play. Given the Cardinals could be playing from behind a lot of games as well this is a recipe for fantasy football success. I don't overspend my FAAB on Wide Receivers, however, in a down waiver wire week I'm willing to go as high as 10%.
Robbie Anderson to the Cardinals is actually a good thing for Rondale Moore, as it keeps him in the slot, which is where he thrives

— Adam Koffler (@AdamKoffler) October 17, 2022
---
Alec Pierce – WR – Indianapolis Colts – 8%
Alec Pierce went behind many of the other rookie Wide Receivers in fantasy drafts this past Summer. Nonetheless, he is finding a lot of success early on in his career. He was a second-round pick by the Indianapolis Colts in this past NFL draft and was known as a big play threat coming into the NFL. Despite playing behind Parris Campbell most of the season, Pierce has increased his snap share considerably over the last couple of weeks. I expect this to continue as Campbell has largely been ineffective, and Ashton Dulin is out for the remainder of the season. He's also scored at least 12 fantasy points per game each of the last three weeks. While he may not have a high ceiling he should have a solid fantasy floor with by weeks right around the corner. His success will likely go though as Matt Ryan does.
Michael Pittman Jr. x Alec Pierce combination over the last month:

MPJ = 29 receptions (39 targets), 296 yards

Pierce = 18 receptions (27 targets), 271 yards, TD#Colts have their new stud WR tandem. pic.twitter.com/qsvL6uFGNo

— Indy Source (@SourceIndiana) October 17, 2022
---
Kenyan Drake – RB – Baltimore Ravens – 7%
Kenyan Drake exploded back onto the scene this past Sunday racking up 119 yards on just 10 rushing attempts. This opportunity was opened up due to JK Dobbins exiting the contest early due to knee discomfort. His status will need to be monitored going forward, but the next man up in the backfield appears to be Drake. If Dobbins were to miss more time Drake would have flex appeal until he returned. He is a priority add this week for those who are Running Back needy as there likely won't be many options on the waiver wire. With Dobbins and Gus Edwards returning soon from injury, fantasy managers should be cautious about spending too much on Drake.
I would not be chasing Kenyan Drake's performance. Dobbins knee tightened up during the game and he didn't play in the second half and Gus Edwards could be back at any time. I'm assuming Drake will still have a role of some sort but I still wouldn't have any confidence in him.

— Wyatt ???? (@WyattB_FF) October 17, 2022
---
Chase Claypool – WR – Pittsburg Steelers – 6%
Chase Claypool has had a rough start to the season despite playing a significant amount of snaps in each game. This finally changed this past Sunday with him catching all seven of his targets for 96 yards and a touchdown. It was much needed as no other receivers for the Steelers were able to generate much success. With Pat Freiermuth's status up in the air for the near future, there is plenty of room for Claypool to capitalize on this performance. While his fantasy performances might be up and down in an inconsistent offense, that's a problem the rest of the receivers on this list have as well. He will likely have value in the coming weeks with bye weeks and injuries piling up.
Me: Chase, how does it feel to get a win like that?@ChaseClaypool: "It feels awesome. Gunner, come here real quick..he gave me a celebratory dip, it's my first time ever. I can't really with all these lights but it feels good." ???? pic.twitter.com/dOS6oV72pG

— Emily Giangreco (@EmilyGiangreco) October 17, 2022
---
Robbie Anderson – WR – Arizona Cardinals – 6%
Perhaps DJ Moore should take a note from Robbie Anderson's playbook on how to get out of Carolina. After an outburst on the field, this past Sunday Anderson was traded to the Arizona Cardinals. This is great news for his fantasy football value as the Panthers are a disaster on offense. The Cardinals have their own struggles but Kyler Murray is a much better Quarterback than who Anderson's been playing with in Carolina. With Marquise Brown likely out a substantial amount of time, Anderson could have a role in the offense right away. As I stated earlier this is a fast-paced offense that throws the ball a ton. If they can sustain long drives and find some consistency Anderson has WR3 potential.
into the 4th year with Kliff Kingsbury & a QB drafted #1 overall with cost-controlled cap hits for 4 straight years:

26-28-1 (.481)
1 winning season
0 playoff wins

surely Robbie Anderson is the missing piece

— Warren Sharp (@SharpFootball) October 17, 2022
---
Robert Tonyan – TE – Green Bay Packers – 6%
Robert Tonyan had his best performance of the season in Week Six catching 10 passes for 90 yards. With the Tight End position being an absolute disaster this year, we're looking for just about any bright spots. Tonyan is getting healthier after returning from an ACL tear last year and has been brought along slowly. He received a season-high snap share this past Sunday though playing on 63% of offensive plays. Given the struggles of the Green Bay Packer offense, Tonyan is another player with an opportunity to increase his workload in the coming weeks. Given the lack of fantasy talent at the position, he's already a borderline TE1 going into his matchup next week. If you're struggling to find a starter at Tight End, Tonyan should be one of your top priorities.
Pre-Injury averaging 9.3 ppg
This season averaging 5.8 ppg

Robert Tonyan #GoPackGo

Pre-Injury averaging 4.5 ppg
This season averaging 6.9 ppg
*The ONLY ONE averaging more than his pre-injury average!

????????

— Tom Christ, PT, DPT, OCS (@FantasyInjuryT) October 18, 2022
---
Honorable Mentions
Daniel Bellinger – TE – New York Giants – 6%
Deon Jackson – RB – Indianapolis Colts – 5%
Hunter Henry – TE – New England Patriots – 5%
---
Speculative Fliers and Potential Sleepers (>0-5% of FAAB)
Tyquan Thornton – WR – New England Patriots – 3%
Tyquan Thornton missed the first four games of the season this year as he recovered from a shoulder injury. He made his debut in Week Five and followed it up with a fantastic performance in Week Six. He caught 4 passes for 37 yards and accounted for 2 touchdowns. Thornton has a small frame but is extremely explosive which are skills he put on full display. Devante Parker and Jakobi Meyers are still the top options in the offense, but Thorton could have boom/bust fantasy value with his big play ability. If Parker or Meyers were to miss time Thorton could be a flex option for fantasy football managers.
---
Ben Skowronek – WR – Los Angeles Rams – 3%
Ben Skowronek has been remarkably consistent in a dysfunctional Los Angeles Ram offense over the first six weeks of the season. He's operated as the WR3 and has outproduced his teammate Allen Robinson in four of six matchups. Robinson's managers rejoiced this past week after a breakout performance, but that shouldn't overshadow his disappointing season to date. Skowronek is a very safe option on the waiver wire as well as he's posted 10 PPR points in three of his last four games. If you're desperate for a fill-in starter in the coming weeks you could do much worse than the second-year receiver.
---
Bailey Zappe – QB – New England Patriots – 3%
Bailey Zappe has performed admirably these last three weeks since Mac Jones and Brian Hoyer suffered injuries. In Week Six he threw for 309 yards, 2 touchdowns, and no turnovers. While talks of a Quarterback controversy are ridiculous, Zappe has shown he could have fantasy value while Jones remains sidelines. He could return as early as this week but that doesn't mean you should skip over Zappe on the waiver wire in superflex formats. With him performing well the Patriots could opt to wait to bring Jones back till he is fully recovered.
Honorable Mentions
Taylor Heinicke – QB – Washington Commanders – 2%
Mecole Hardman – WR – Kansas City Chiefs – 2%
Wan'Dale Robinson – WR – New York Giants – 1%
---
RELATED CONTENT