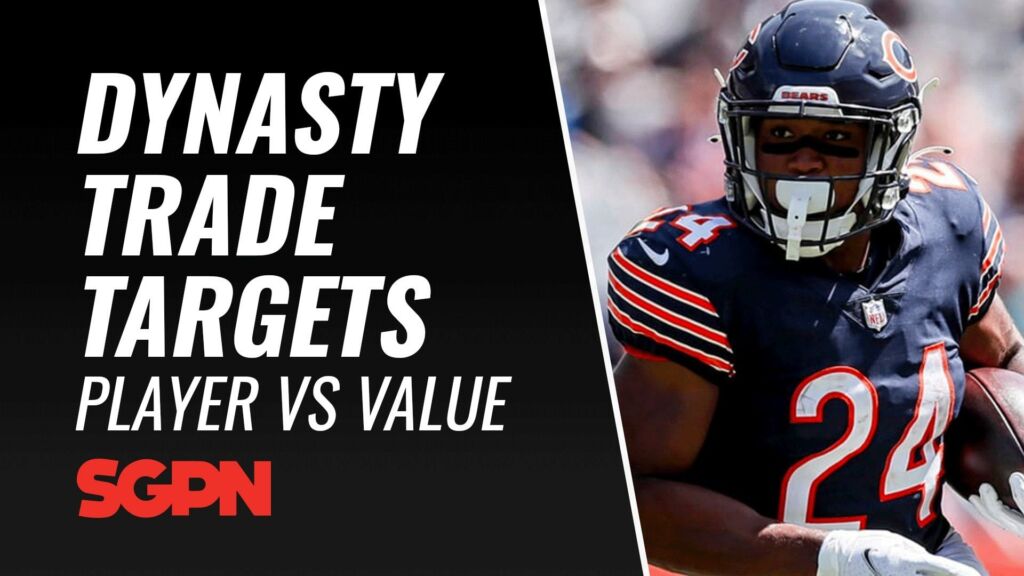 This is the time of the season when you see a lot of trades happen. Week 1, most of us held to make sure we didn't overreact. In week 2, we saw people repeat their performances or have better or worse performances. Week 3 is where you can start to identify some patterns. Now you can use this data to start to craft some trades based on where you see your team.  Whether you are buying or trading, the ultimate goal is to improve your team and profit.
You do not want to trade someone away and find out later you could have gotten more. You also do not want to be that guy that overpays, and the entire group chat lets you know it. Let's talk about some values, don't forget to join our discord channel for all of your fantasy football needs. Also, make sure you check out our trade value charts. Justin Marks put together both a redraft and a dynasty trade value chart for you for free.

More Fantasy Football Coverage
Early Week Five Waiver Wire Targets
SGPN Fantasy Football Rankings
---
Dynasty Trade Targets: Player Vs. Value
Early 2023 1st
| | | | |
| --- | --- | --- | --- |
| QBs | RBs | WRs | TEs |
| Deshaun Watson, CLE | Jonathan Taylor, IND | Tee Higgins, CIN | None |
| Jalen Hurts, PHI | Najee Harris, PIT | Deebo Samuel, SF | |
| Trevor Lawrence, JAX | Joe Mixon, CIN | Tyreek Hill, KC | |
| | Christian McCaffrey, CAR | Amon-Ra St. Brown, DET | |
| | Breece Hall, NYJ | Stefon Diggs, BUF | |
Quarterbacks
Quarterbacks typically do not carry much value in one quarterback league. I wouldn't trade an early 2023 1st for any quarterback unless it were Superflex. There are a few quarterbacks that you could trade for or buy for this cost.  Most are worth much more, and both Jalen Hurts and Trevor Lawrence might even cost you more at this point. Players like Herbert, Allen, Jackson, and Mahomes are not listed because they would cost much more in a Superflex format.
Running Backs
If you are rebuilding, you are selling almost all of your RBs. At the least, you should be moving RBs that are over 25 years old. The good news, all contenders will want to buy running backs. The bad news, most of their picks will be late in value. If you are a contender, you may have to add a 2nd to make a late 1st worth it. For contenders to get some of these middle-tier guys and multiple 1sts to get top-tier guys. Running backs not listed would cost more than an early 1st.
Wide Receivers
The last few wide receiver classes have really injected some serious talent into the league. A lot of recent picks would cost most than an early 2023 1st already. There were a lot of jokes about the 2022 class, but a handful of wide receivers are already rising up the dynasty rankings. Guys like Garrett Wilson, Drake London, or Chris Olave were early to mid 1sts this year. It would take an early 1st or more to pry them away from someone now. Wide Receivers not listed would cost more than an early 2023 1st.
Tight Ends
None, they are either too high or too low. Kyle Pitts and Mark Andrews have separated themselves from the pack.  They would likely cost you more than an early 1st. I wouldn't trade an early 2023 1st for Kelce. I wouldn't expect to get an early 2023 1st for Kelce, either.
---
Middle 2023 1st
| | | | |
| --- | --- | --- | --- |
| QBs (SuperFlex) | RBs | WRs | TEs |
| Matthew Stafford, LAR | Javonte Williams, DEN | Rashod Bateman, BAL | Travis Kelce, KC |
| Tua Tagovailoa, MIA | Austin Ekeler, LAC | Terry McLaurin, WAS | |
| Dak Prescott, DAL | Alvin Kamara, NO | Mike Evans, TB | |
| Russell Wilson, DEN | Nick Chubb, CLE | Chris Godwin, TB | |
| Trey Lance, SF | Dalvin Cook, MIN | Diontae Johnson, PIT | |
Quarterbacks
This is a tough group as there are several guys that are going to cost several firsts, and with so many inconsistent performances, it will be hard to invest a 1st in any of these guys. That being said, if you want a top 12-15 dynasty QB, it will cost you in SuperFlex.
Running Backs
Most of the top backs in the league are in the 26-28 range, which for dynasty purposes, is OLD. It is tough to spend a mid-1st for a guy that you might only have for 1 or 2 years, but that is going to be the price as other contenders will be bidding against you, especially with a good crop of running backs coming in 2023. Chubb and Ekeler are obvious sells if you are not a contender.
Wide Receivers
The WR position is overflowing with talent, and the next two classes look to be just as fruitful. You can get some really solid veteran WRs for the price of just a random 2023 1st right now. Great time to buy as you can get some really good players and not have to pay a ton at this position.
Tight Ends
A mid-1st might be too much for Kelce, being he is 32, but you aren't going to get him for much less. With the tight-end wasteland out there, hold out for top dollar if you can.
---
Late 2023 1st
| | | | |
| --- | --- | --- | --- |
| QBs (SuperFlex) | RBs | WRs | TEs |
| Aaron Rodgers, GB | Dameon Pierce, HOU | Marquise Brown, AZ | Darren Waller, LVR |
| Kirk Cousins, MIN | Aaron Jones, GB | Jerry Jeudy, DEN | |
| Zach Wilson, NYJ | Derrick Henry, TEN | D.J. Moore, CAR | |
| Derek Carr, LVR | Leonard Fournette, TB | Mike Williams, LAC | |
| Kenny Pickett, PIT | A.J. Dillon, GB | Amari Cooper, CLE | |
Quarterbacks
This is a mixed bag of older veterans that are depreciating assets. This group also has some unknowns with both Pickett as well as Wilson. Joe Flacco's production brings a lot of hope for Zach Wilson, but his disappointing rookie season still brings concern. This could be a risky pick, but the upside is very enticing. Pickett was borderline, but the price will get here soon as Trubisky continues to struggle.
Running Backs
At the mid-point of the season, the rebuilders and the contenders will swap picks for veteran backs. Miles Sanders and Josh Jacobs might have joined this group with their performances. Those guys had career days, and you might be able to cash in. Dameon Pierce continues to impress and get more work, I would not sell for less, and I would try to get more.
Wide Receivers
Again, you can get some great value here. There are so many good wide receivers that you can go shopping, and a 1st round pick is enough to bring in some good players. George Pickens and Romeo Doubs may have moved themselves up to this tier.
Tight Ends
Darren Waller is off to a slow start, but he is still seen as one of the top tight ends in the league. I would sell quickly if I could find someone to give me a 1st for him. That new contract should help sell him.
---
Early 2023 2nd
| | | | |
| --- | --- | --- | --- |
| QBs | RBs | WRs | TEs |
| Carson Wentz, WAS | Elijah Mitchell, SF | Romeo Doubs, GB | T.J. Hockenson, DET |
| Jameis Winston, NOS | Travis Etienne, JAX | George Pickens, PIT | Pat Freiermuth, PIT |
| Jared Goff, DET | David Montgomery, CHI | Michael Thomas, NO | Dallas Goedert, PHI |
| Tom Brady, TB | James Conner, AZ | Christian Kirk, JAX | Dalton Schultz, DAL |
| Ryan Tannehill, TEN | Kareem Hunt, CLE | Keenan Allen, LAC | Dawson Knox, BUF |
Quarterbacks
Next year's class has some good quarterback talent, but not enough to take everyone's job. Some of these guys below will still be starters next year. But, some will definitely not, and you need to take that risk when trading for them. We have already seen major injuries to half a dozen QBs, and we aren't even through Week 4 yet. Contenders will need QBs; this is a good group for rebuilders to move on from.
Running Backs
The running back two positions have been really ugly this year. A different group of guys each week as some team's backfields have had different usage each week. Here is a group of guys that all have some value this year with some potential value next year.
Wide Receivers
Rise and repeat, great wide receivers with low cost.
Tight Ends
You might not want to pay an early 2nd for these guys, but you will probably be forced to. This is the middle-tier group, and its owners know it.
---
Middle 2023 2nd
| | | | |
| --- | --- | --- | --- |
| QBs (SuperFlex) | RBs | WRs | TEs |
| Daniel Jones, NYG | Cam Akers, LAR | Eliajah Moore, NYJ | Zach Ertz, AZ |
| Davis Mills, HOU | Khalil Herbert, CHI | DeAndre Hopkins, AZ | Trey McBride, AZ |
| Matt Ryan, IND | Rhamondre Stevenson, NE | JuJu Smith-Schuster, KC | Gerald Everett, LAC |
| Jimmy Garoppolo, SF | Rashaad Penny, SEA | Gabriel Davis, BUF | Tyler Conklin, NYJ |
| Baker Mayfield, CAR | Brian Robinson Jr.,WAS | Curtis Samuel, WAS | David Njoku, CLE |
Quarterbacks
This is the desperation group, and if you are making a move for this crew, you probably are a bit desperate. Unless you are holding out for Dak or Deshaun, I hate to break it to you…But, you might not be a contender. If you have these guys, sell now. The futures do not look bright for any of these players.  This is probably the highest you can get; I wouldn't take much less, though.  As more injuries happen, people will need these guys.
Running backs
There are not many starting RBs that you can get for a 2nd round pick. But, with some unknown around these players, I think you can get a 2nd for them.  Akers and Stevenson's values are rebounding. They both might be higher after this week. Penny just opened up a selling window; take advantage.
Wide Receivers
Again, another solid group for cheap. I like Doubs and Pickens are buying right now; both have some great upsides. Curtis Samuel could be a great sell candidate as he has been off to a hot start.
Tight Ends
It is really hard to find tight ends right now, and if you can buy one for a 2nd, you should do it. McBride is a great stash and both Ertz and Everett are every-week starters right now. Conklin is more of a sell than anything for me, but his production has increased his value after some off-season excitement.
---
Late 2023 2nd
| | | | |
| --- | --- | --- | --- |
| QBs (SuperFlex) | RBs | WRs | TEs |
| Marcus Mariota, ATL | Cordarelle Patterson, ATL | Allen Robinson Jr., LAR | Irv Smith Jr., MIN |
| Geno Smith, SEA | Michael Carter, NYJ | Allen Lazard, GB | Robert Tonyan Jr., GB |
| Mitch Trubisky, PIT | Ezekiel Elliot, DAL | Hunter Renfrow, LVR | Tyler Higbee, LAR |
| Malik Willis, TEN | Alexander Mattison, MIN | Darnell Mooney, CHI | Evan Engram, JAX |
| Desmond Ridder, ATL | Devin Singletary, BUF | Brandin Cooks, HOU | Logan Thomas, WAS |
Quarterbacks
This is an even more desperate group. If you can't buy any of the above players, you may have to look to these options.
Running Backs
If you are a contender and you are looking to stock up, you probably only have late picks.  You do not want to give up a 1st for guys that might just give you one year of production. But, you will have to use a 2nd because the 3rd won't buy anything worth starting. Elliot's volume makes him someone might want to buy; Pollard is probably the same price. Pollard is obviously the better long-term option. He should be the better short-term as well….but Dallas continues to feed Zeke.
Wide Receivers
There are so many good wide receivers it is hard to sell some guys that you like. These guys probably have more value to you than your league mates. You are bringing Allen Robinson Jr. to the pawn shop with a smile, and they are telling you "best I can do is a late 2nd."
Tight Ends
I would rather pay up than go with some of these guys. These are more for the sellers, taking advantage of others' needs.
---
2023 3rd
| | | | |
| --- | --- | --- | --- |
| QBs (SuperFlex) | RBs | WRs | TEs |
| Tyler Huntley, BAL | Nyheim Hines, IND | Greg Dortch, AZ | Isaiah Likely, BAL |
| Jacoby Brissett, CLE | Jamaal Williams, DET | Kadarius Toney, NYG | Jelani Woods, IND |
| Matt Corral, CAR | Isaiah Pacheco, KC | Adam Thielen, MIN | Daniel Bellinger, NYG |
| Sam Howell, WAS | J.D. McKissic, WAS | Tyler Lockett, SEA | Albert Okwuengbunam, DEN |
| Cooper Rush, DAL | Jeff Wilson Jr., SF | Jakobi Meyers, NE | Cole Kmet, CHI |
Quarterbacks
Third-round picks typically do not carry much weight; you won't be able to buy much. But, if you end up hitting on someone with a 3rd, it will be worth it.
Running Backs
This is a group of handcuffs and satellite backs, and they are well worth a 3rd. Perfect for rebuilders to sell and contenders to buy to load up. You may have to pay up for Williams, and if I have Swift, I am probably doing it. He is an RB1 when Swift is out, and unfortunately, Swift continues to miss.
Wide Receivers
Some depth and some upside fliers.
Tight Ends
Yes, I put Cole Kmet here. If you have Kmet, you probably have just to hold. But, the honest question. Is anyone trading a 2nd for Kmet and feeling good about it? Bellinger, Likely, and Woods are all very interesting in an ugly tight-end landscape.
RELATED CONTENT