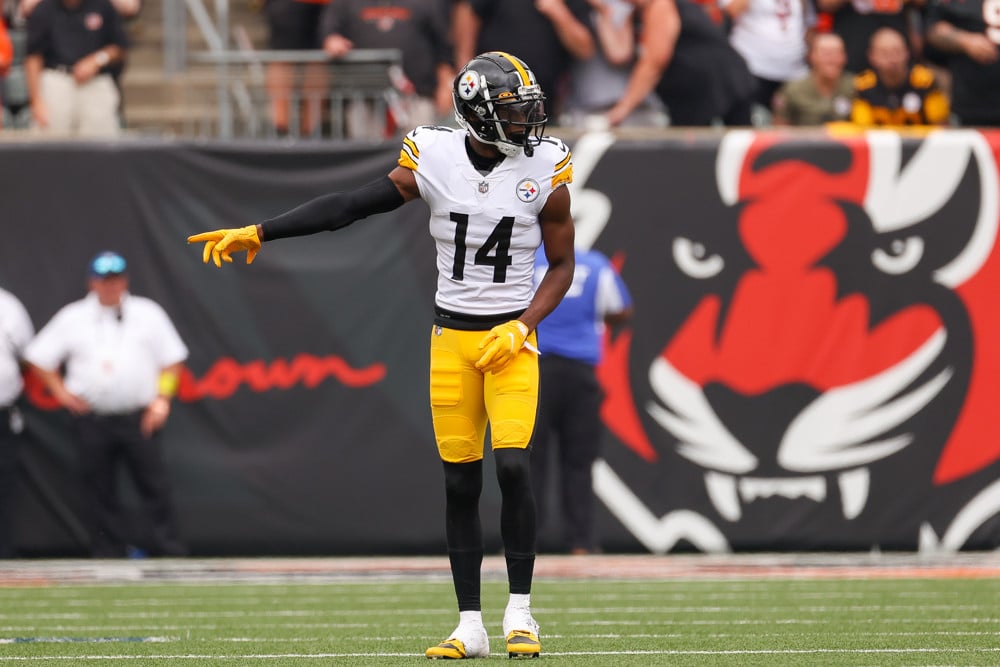 We're four weeks into our quests to win a fantasy football championship. However, maybe it hasn't gone as planned. Perhaps you just need some insurance on your bench. Either way, you're ready to look for Week Five waiver wire targets.

Your fantasy season isn't over! Even if you haven't won yet, don't give up. The waiver wire is where most fantasy seasons are won or lost. Even if your team won this week, it's important to scour the waiver wire and keep adjusting and changing with what you see. Let's take an early look at who's available, and worth picking up.
MORE SGPN FANTASY FOOTBALL CONTENT
---
Early Fantasy Football Week Five Waiver Wire Targets
Melvin Gordon RB Denver Broncos (76% Rostered)
Gordon's roster percentage is a little bit higher, but he needs to be mentioned. If Gordon is available in your league he most likely needs to be the top target. This is an early reaction article so we don't have the entire story on Javonte Williams yet. However, after his injury and being ruled out so quickly it doesn't sound promising. Williams left the building on crutches and is scheduled for an MRI Monday. Gordon's sub-par performance Sunday doesn't concern me one bit. Gordon is the clear number one back in Denver if Williams is out.
---
Michael Gallup WR Dallas Cowboys (59% Rostered)
Gallup had a touchdown in his return to the field this weekend. He was only targeted three times in the Cowboy's win over the Commanders. However, the 24-year-old Gallup looked fully healthy and ran good routes. Keep in mind Cooper Rush was still in at Quarterback, once when Dak Prescott returns these numbers will undoubtedly go up.
---
George Pickens WR Pittsburgh Steelers (58% Rostered)
Pickens finally had the game everyone has been waiting for from the highly touted rookie. Eight targets and six catches for 102 yards. Mitch Trubisky was benched Sunday in favor of rookie Quarterback Kenny Pickett. Pickett looked much better than Mitch and has been building a relationship with his fellow rookie. Pickens has seen over 71% of snaps each week and gotten better each game as well. Pickens hasn't found the end zone just yet, but expect that to change soon.
---
Josh Reynolds WR Detroit Lions (34.0% Rostered)
Reynolds showed up yet again this week. With Amon-Ra St. Brown, D.J Chark and D'Andre Swift all missing Sunday's game, it was up to a few others to pick up the slack. Pick up the slack they did, the Lions are averaging 35-points per game and giving up another 34.5 per game. This offense is going to have to continue to air the ball out and put up points. Reynolds saw 80%, 72%, and 79% snap shares in weeks 1-3. This week he caught seven of his eight targets, for 81 yards and a touchdown. Last week Reynolds caught six of ten for 96 yards. Even when the Lion's other weapons come back, Reynolds has proven he'll get snaps and give you production.
---
Will Dissly TE Seattle Seahawks (5% Rostered)
The former Montana Gatorade player of the year has had a few flashy games over the years. Russell Wilson just didn't consistently target the Tight End position. He's quickly become a favorite target of Quarterback Geno Smith. On the field for 67% of snaps in week one, and 61% in week three. Dissly saw four targets and went for 39 yards and a touchdown. A touchdown in three of four games this season cannot be overlooked.
---
Geno Smith QB Seattle Seahawks (20% rostered)
I talked about Smith's target at Tight end, now let's talk about Geno. If you need some Quarterback help, Smith is becoming a reliable guy to start. Week two was a bit of a letdown, but in all three other games Geno has delivered, 23/30 320 yards, and 2 touchdowns through the air. 7 rushes for 49 yards and an additional touchdown on the ground in week 3. Geno has two passing touchdowns in three of four games this season. His weapons are solid in D.K Metcalf, Tyler Lockett, and Will Dissly. If you need some help at the position, he's good enough to get you through week to week.
---
Mike Boone RB Denver Broncos (0% Rostered)
I mentioned Melvin Gordon above, if Gordon isn't available Boone is worth a look. Boone got the first carry after Williams went down. There aren't a ton of obvious waiver pickups like last week at the position, so keep an eye on this Javonte situation. If he's going to miss time Boone has the possibility of paying off for you.
---
Latavius Murray RB New Orleans Saints (0% Rostered)
The 32-year-old running back probably isn't the answer as the future of your dynasty team. However, Alvin Kamara and Michael Thomas were ruled out prior to the early London game, and then Mark Ingram left the field for a spell. Ingram did return, but Murray was effective in the action he saw. 11 rushing attempts for 57 yards, a touchdown, and a catch for 8 yards. Monitor the Kamara situation, but Murray might be worth an early week stash just in case either Kamara or Ingram doesn't play. If both don't play Murray could be the steal of the week.
---
Devante Parker WR New England Patriots (38% Rostered)
Parker made an appearance in SGPN contributor JUSTIN MARK's early waiver article and was 32% rostered at the time. At only 38% this week it's time to pick Parker up now if you missed out last week. Without Mac Jones, it was scary to pick up or play Parker, but he showed up anyways. Backup Brian Hoyer left the game early with a head injury and in stepped rookie Bailey Zappe. Just 2 catches this week from Parker but one was a touchdown catch. Last week Parker went 5 for 156 and had 10 targets. With Jakobi Meyers unreliable due to his injury, Parker is the number one option. Zappe will continue to look his way, and Mac Jones could also return in the next few weeks.
---